Last Updated on October 22, 2020 by
Every man who has experienced dandruff knows how embarrassing it is to have white flakes on your scalp. Not only does the condition make you uncomfortable, but it is also challenging to treat. No matter how much you try, looking good while you have dandruff is a tall order. Dandruff occurs on an oily scalp due to the overgrowth ofyeast-like fungus known as Malassezia. This fungus occurs naturally on the scalp and feeds on the sebum or oils that are secreted by hair follicles. When the fungus irritates the scalp, the immune system responds by releasing white blood cells to the irritated patches causing a build-up of skin cells. As the extra skin cells die, they are clumped with sebum and become white and flaky. It is these white flakes that are known as dandruff.
Maybe you have tried all the home remedies available or drugstore products that don't seem to work. Worry not, our grooming expert made a list of the best anti-dandruff shampoo for men that are tried and tested. This guide also covers what to look for in an anti-dandruff shampoo and questions you might have concerning them.
In this section, we look at the seven best men's anti-dandruff shampoos, their features, and how to use them in an intensive and unbiased way. Read on!
Top 7 anti-dandruff shampoo for men For 2020 (Best Picks)
In a hurry? Check the bestseller top anti-dandruff shampoo for men from Amazon. Just check the product link, the details and price.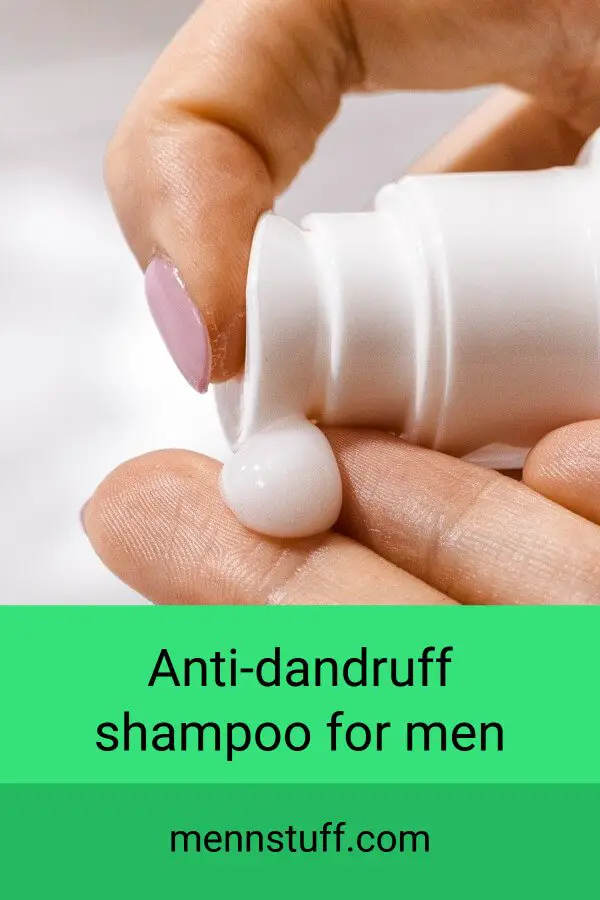 1. Neutrogena T/Gel Daily Control 2-In-1 Anti-Dandruff Shampoo
This product tops our list because of its outstanding features that make it every man's favorite. T/Gel is non-drying and leaves you with clean, bouncy, and softer hair instantly. Its active ingredients, vitamin E, and pyrithionezinc help relieve itchiness and combat flakes. It also contains wheat proteins that nourish the hair and protects it from further damage. It is easy to use and safe even on colored hair.
Experts recommend using this shampoo at least twice a week or as directed by your physician. However, this product is gentle enough for daily use. When using this shampoo, wet your hair first and apply a generous amount of the product. Rub it on your hair and scalp and let the lather sit for about 5 minutes then rinse thoroughly.
Key features:
Fast-acting relief against dandruff
A combination of shampoo and conditioner that relieves dandruff cleanses the scalp and leaves hair soft in one step.
Contains pyrithione zinc that relieves itching and flaking of the scalp
Contains vitamin E for moisturizing and wheat proteins to nourish and protect against damage
Has a fresh scent, is non-drying and safe for color-treated hair
Specifications:
Brand: Neutrogena
Weight: 0.16 ounce
2. Nizoral Dandruff Shampoo For Men
Are you looking for the most effective dandruff shampoo that has clinically proven ingredients? Then this product is for you. Everyone that has used this product testifies of its effectiveness. A little goes a long way since it lathers easily.Nizoraldoesn't just address the symptoms; it gets right to the root of dandruff as it kills the fungus that causes it.It containsketoconazole 1%, which is an active ingredient that binds to your hair's natural protein to kill dandruff.
Key features
10x more effective
Controls hair loss
Has clinically proven ingredients
Kills the fungus causing dandruff
Leaves Hair Soft, Clean & Smelling Fresh
Specifications:
Brand:Nizoral
Weight: 4 ounces
3. Head And Shoulders Anti Dandruff Shampoo
Head and shoulders shampoo and scalp care is an excellent remedy to dandruff and hair breakage. It has an active formula that removes oils and flakes while moisturizing and protecting each hair strand against dandruff. This product is made from scalp care experts, thus assuring you protection from itch and dryness that's associated with dandruff with regular use. If you fancy fresh-smelling hair, then this is the product for you. has a lasting scent of green apples that makes your hair smell clean all the time.The shampoo is also safe to use on color-treated, curly, or textured hair types.
Key features:
fights flakes and leaves your scalp clean
invigorates your hair and scalp
From the scalp care experts; the makers of America's #1 dandruff shampoo
With regular use, it refreshes scalp to relieve the symptoms of dandruff while cleansing and hydrating hair
Specifications:
Brand: head and shoulders
Weight: 4.46 pounds
4. Argan Oil Dandruff Shampoo For Men
This shampoo has been proven to work like a charm; it is sulfate-free and great for all hair types. Argan oil is made of natural ingredients that strengthen the hair and eliminate frizz. It also contains avocado oil, jojoba & peach kernel that rejuvenate the hair while nourishing the scalp. For men with a sensitive scalp, this is the best shampoo option as it guarantees you no itching.The shampoo is specially formulated to give you hair that's soft, smooth, shiny, moisturized, and voluminous. with hydrating emollients that help to plump up fine and thin hair strands for luscious locks. The ultra-nourishing ingredients revitalize your hair follicles and strengthen hair strands.
Key features:
Hypoallergenic and contains high quality pureMoroccan argan oil making it gentle yet effective
Great for all hair types, including color-treated hair.
 Contains Vitamin A,B1, B2, D& E that increases the strength of hair while eliminating frizz.
It is made of natural ingredients with no artificial additives making it great for people with sensitive scalp
 Has silk protein & phytokeratinto promote repair of frizzy, damaged hair
Specifications:
Brand: maple holistic
Weight: 8oz
5. American Crew Anti Dandruff Sebum Control
Formulated by hair care experts, this shampoo is designed to eliminate dandruff and also restore thinning hairlines. It cleanses your scalp and leaves you feeling rejuvenated. By the time you've used this 8.4 oz bottle halfway, the results will be evident. This shampoo contains peppermint and tea tree oil, which leaves you feeling refreshed. It also contains pyrithione zinc, which guarantees you anti flaking and superior cleaning. The makers of this shampoo understand that men do not like a long wash day routine; that's why they made it easy to use. You only need to apply the shampoo on wet hair and leave it in for two minutes then rinse off. This shampoo also has a clean and fresh scent, which is a plus for you.
Key features:
formulated with zinc pyrithione which prevents flaking and itching
freshens and hydrates thus restoring the healthy look of hair and scalp
Contains rosemary that regulates sebum production for strength and shine
Excellent for oily and dry hair
Has a soothing scalp effect due to the peppermint oil
Made by professionals in men's grooming products thus guarantying quality
Specifications:
Brand: American crew
Weight: 8.4 ounces
6. Dove Men+CareDermacare Scalp 2-In-1 Shampoo + Conditioner, Dandruff Defense
This 2 in 1 shampoo from dove is specially formulated to give you the cleansing properties of a shampoo and the strengthening qualities of a conditioner. It eliminates dandruff while faltering the effects of hair loss on aging men. This shampoo hydrates, thus stopping the itching and flaking that comes with dandruff. Men who experience thinning hair lean towards this product because it has zinc pyrithione and caffeine that strengthen and thicken the hair. Dove men care shampoo helps you to restore the strength of your hair as you fight dandruff. The pH of your hair is also rebalanced with regular use, thus restoring your natural sheen. The price is quite pocket-friendly, thus making it a favorable option for daily use as you fight dandruff.
Key features:
Excellent remedy for thinning hair
Contains zinc pyrithione and caffeine for more robust and thicker hair
hydrating thus stops itching and flaking
rebalances pH and restores natural sheen
Specifications:
Brand: dove
Weight:12.8 ounces per bottle
Quantity: 2 bottles per pack
7. Brickell Men's Natural And Organic Daily Strengthening Shampoo For Men,
Brickell's brand is famous for producing quality and luxurious skincare and grooming products for men. This shampoo isn't any different. It has natural and organic ingredients that are ideal for a sensitive scalp. Not only does this shampoo fight dandruff, but it also lets your scalp breathe. This shampoo has a luxurious feel as it lathers and glides through your hair all the way to the roots. It is suitable for all hair types, including colored and curly hair. It has peppermint oil, tea tree oil, and aloe Vera as some of its main ingredients. These ingredients work excellently together to eliminate dandruff.
Key features:
Creates healthier, fuller hair with a unique combination of natural ingredients
Formulated for men of any age with any hair type – especially those with thinning, dull, or damaged hair
It is safe for color-treated hair and daily use.
Leaves your hair looking fuller, healthier and shinier
Peppermint and tea tree stimulate the scalp, encouraging hair growth, preventing dandruff, and creating a refreshing scent
The main ingredients are Natural, certified and organic, including aloe vera, pro-vitamin B-5, vitamin E, silk amino acids, tea tree oil, and peppermint
It is 97% natural, 83% organic.
Specifications:
Brand: Brickell's
Weight: 8ounces
Factors to Consider When Buying Anti- Dandruff Shampoo
Are you tired of trying every recommended solution to dandruff?  Have you bought products that don't seem to work? If you answered yes, then this guide is for you. Every man who has experienced dandruff knows how hectic and draining it is to find a lasting fix. The discomfort and embarrassment that comes with having dandruff as a man pushes you to keep trying new products. In this guide, we help you to know the right product for you to buy, thus saving you your precious time and money. Below are the factors you should have in mind when choosing an anti-dandruff shampoo:
• The  Ingredients  in the shampoo
When looking for an anti-dandruff shampoo, always read the ingredients. This is important because it will help you identify a product that cleanses while avoiding irritation. Always stay away from products whose ingredients cause allergic reactions to your scalp. If you are not sure of components that might be harmful, it is recommended to see a dermatologist and get the right shampoo prescription. Here's a list of common shampoo ingredients and their purpose:
This is an anti-fungal that reduces the amount of Malassezia on the scalp, thus helping the breakdown of the dead skin cells on the scalp. An active ingredient in most anti-dandruff shampoos since it is quite gentle.
It is an active ingredient in most shampoos since it offers an anti-itching effect to the scalp. Coal tar slows down the production of skin cells on the scalp, thus reducing the appearance of dandruff. Shampoos containing coal tar should be allowed to rest on the scalp for at least five minutes before rinsing out. Doing this gives the ingredient time to reach the skin cells on the scalp.
Sulfur andSalicyclic acid
This combination treats dry scalp by temporarily controlling the itching and scaling that is caused by dandruff.  Salicylic acid is a mild antiseptic that breaks down dead skin cells to reduce flaking, thus revealing new skincells underneath. Sulfur is then able to reduce the fungus that causes dandruff.
This active ingredient fights dandruff by getting rid of Malassezia. Shampoos containing selenium sulfide should only be used once or twice per week.
This is an anti-fungal agent that is known to work even when all others fail.
When looking for an anti-dandruff shampoo, read the instructions for use and make sure it suits your need. Some shampoos are only meant for natural hair, while others are not recommended for daily use. If, for example, you have colored hair, always go for a shampoo that indicates on the label that it is suitable for colored hair. Also, if you need to clean your hair regularly, go for those shampoos that you can use daily without being too harsh on your scalp.
The cause of your dandruff
Knowing the cause of your dandruff makes it easier to find the shampoo that works for you. Dandruff could be caused by seborrheic dermatitis, which is the irritation of an oily scalp. This type is eliminated by a shampoo that soothes irritation and regulates the production of sebum. You could also have seasonal dandruff as a result of the weather drying out your scalp. If this is the cause, go for an anti-dandruff shampoo that has moisturizing properties. The overgrowth of Malassezia causes the most common dandruff. This type can be treated by alternating two different types of anti-dandruff shampoo. This ensures the fungus does not build up resistance toward the shampoo. Sensitivity towards hair care products can cause itchiness and dandruff. If dandruff appears after trying out a new product, discontinue use as you could be allergic to some ingredients. Dandruff can also appear due to poor hair hygiene practices that result in the build-up of dead skin cells. The use of clarifying anti-dandruff shampoo corrects this type.
How To Properly Wash Your Hair
Frequently Asked Questions on the Best Anti-Dandruff Shampoo for Men
In this section, we look at the most common questions on the best anti-dandruff shampoo for men.we hope to answer all the questions you might be having concerning them and help you make an informed buying decision.
Q. What is the difference between regular shampoo and anti-dandruff shampoo?
Both regular shampoo and anti-dandruff shampoo are designed to clean, moisturize, and soften your hair. They leave your scalp feeling good and smelling fresh. However, for a shampoo to fight dandruff, it has to have specific ingredients that are not found in regular shampoo. Anti-dandruff shampoos contain anti-fungal and antibacterial agents that have different functions in fighting dandruff. Ingredients such as salicylic acid, selenium sulfide, zinc pyrithione, ketoconazole have anti-fungal and anti-itching properties. The combination of ingredients in anti-dandruff shampoos alters the scalp's pH balance, unlike regular shampoo. The other difference between the two is the usage. Regular shampoo can be used daily, while most anti-dandruff shampoos recommend a maximum usage of twice per week.
Q.  How does anti-dandruff shampoo work?
Anti-dandruff shampoo works by eliminating Malassezia, slowing down the build-up of dead skin cells, and regulating the production of sebum. The active ingredient present in the shampoo dictates how it works. Different anti-dandruff shampoos are made with different ingredients to address specific types of dandruff. One person may use a shampoo and completely get rid of dandruff, yet the same product fails for the other person. The key to choosing the right shampoo is to check the ingredients and confirm they have the properties to treat your type of dandruff.
Q. How often should I apply anti-dandruff shampoo?
Consistency is essential when fighting dandruff. Always read the label of your shampoo to know whether it is gentle enough for daily use. Most anti-dandruff shampoos recommend twice-weekly usage. This is because some of the ingredients in the product can irritate the scalp when overused. It is essential to continue using anti-dandruff shampoo for some weeks after dandruff disappears; this reduces the chances of dandruff reappearing. Another important tip for using anti-dandruff shampoo is to use only for the specified period for it to be effective.
Q. Does anti-dandruff shampoo dry out the hair?
Different hair types react to the product differently. Some ingredients used in anti-dandruff shampoo can make your hair feel dry. Always check out for quality shampoo whose ingredients do not harm your hair type. If you are unsure of which ingredient may dry your hair out, go for a shampoo that has moisturizing ingredients. Aloe Vera, glycerin, and Shea butter are excellent choices. You could also consider using your shampoo alongside an anti-dandruff conditioner for best results.
Q. How do I apply anti-dandruff shampoo?
Apply anti-dandruff shampoo doesn't need any particular skill or technique; it is the same as a regular shampoo. Wet your hair with warm water, then apply a generous amount of anti-dandruff shampoo and rub in. Make sure it gets into the scalp and wait about five minutes. This step allows the ingredients to work their way into the skin cells. Rinse out the shampoo thoroughly to avoid the risk of skin irritation.
Final word
As a man with commitments and responsibilities, you don't want a tedious grooming routine that is as a result of dandruff. That is why anti-dandruff shampoo for men was invented. This shampoo helps fight common dandruff right under your shower, saving you time and money. Before buying an anti-dandruff shampoo, you have to know which one suits you best. This guide aims at making your search easy and informed. Make sure you consider the cause of your dandruff to get the right product. Hair experts say you should read through the ingredients and know what you're putting into your hair. Avoid shampoo that has ingredients which you are allergic to at all cost. Reading the ingredients will also help you to know how often you can use the product.
With many anti-dandruff shampoos for men in the market today, finding the right one can be confusing. You need to research and sample a few before settling on one. Sampling can be costly and time consuming for you. This guide has a list of tried and tested shampoo for men. We aim to contribute positively to your efforts to fight off dandruff. Read through our list of top anti-dandruff shampoo and see which one suits your specific need. It is advisable to see a dermatologist for a lasting cure if dandruff keepsreoccurring. We hope you get your perfect match from our guide and enjoy the much-needed relief from dandruff. All the best!
References
https://en.wikipedia.org/wiki/Dandruff
https://en.wikipedia.org/wiki/Shampoo
Last update on 2022-11-01 / Affiliate links / Images from Amazon Product Advertising API