Last Updated on October 22, 2020 by
Scented candles do more in our spaces than just setting a romantic mood. Scents help a room feel fresh and relaxing, and candles achieve that best. Traditionally, candles were designed with feminine scents leaving men out of the game. When candles for men were introduced to the market, they all smelled like pine. Nowadays, things have changed, and men are into beautiful spaces that smell amazing. This change has made even candle makers to up their game and meet men's demands. You can now find scented candles that are specifically designed and packaged for men
As a man that loves well-scented spaces, candles are a must-have. Candles can be used as a source of light when lights go off. You can also use candles to set a romantic atmosphere when your SO comes over. For you to choose the right scented candle that is masculine and lasts long, you need to know what qualities you are looking for. In this guide, we tackle all the nitty gritties of choosing the best manly-scented candle and top scented candles for men. Keep reading!
Top 7 candles for men In 2020 (Best Picks)
In a hurry? Check the bestseller top candles for men from Amazon. Just check the product link, the details and price.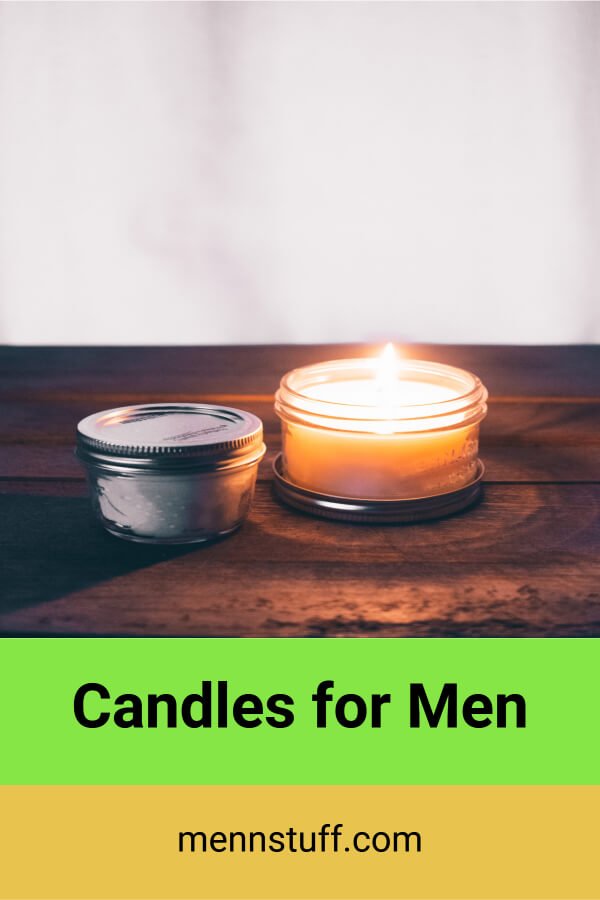 7 best-scented candles for men
Choosing a scented candle is so confusing since they all smell fantastic before they are burnt. Whether it's your first time or you want to replace the one you had, you will always be in a dilemma over which one is better. We made it easy for you to get the best candle next time you go shopping. Here's our list of top seven candles that we have tried and can guarantee they will exceed your expectations. Not only do they have a great scent, but they also have a long burning time giving you immense value for your money.
1. Smell My Nuts Scented Mason Jar Candle by Our Own Candle Company
Do you want your house to smell like freshly baked banana bread even though you can't bake? Then try this candle. This candle makes your home smell amazing without being too overpowering. The name of the candle, which is beautifully displayed on the jar is also a great conversation starter. Every guest that visits your home or office will want to know where the beautiful scent is coming from. Make sure the well-designed mason jar is visible so that you don't have to explain the candle's name (on a light note). The candle has a total burn time of 100 hours and has a clean burn without wax build-up.
Key features:
Combination of Banana Nut Bread, Toasted Coconut and Hazelnut scents
Made of specially blended soy and paraffin wax
Has a wick that is free from lead and has a straightener to ensure proper burning
Has a burning time of 100 hours
A great, long-lasting scent that eliminates odour
Affordable and great for gifting
Specifications:
Brand: Our own candle company
Model: Smell my nuts
Weight: 1.7 pounds
2.Man cave by Old Factory Scented Candles
This premium aromatherapy and gourmet candles come in scents that every guy loves.  The pack comes with three glass votive candles that are an ideal gift for any occasion. These scents are carefully chosen and complement each other when burnt at once. Candles contain premium fragrance oils that ensure you get the most enjoyable scents that are not overpowering. They burn clean without leaving an abrasive after scent. Each candle has a burn time of twenty hours but can last for up to 30 hours when the wick is trimmed, and candle kept away from draught. Old Factory Candles are handmade with 100 % natural ingredients making them an essential for every office or home. They contain natural soy wax, cotton candle wicks and natural fragrance oils to keep your space fresh and odour free.
Key features:
Masculine scents that are ideal for any man cave
Hand-poured in the USA using natural soy wax, cotton candle wicks and premium fragrance oils
Burn time of twenty hours which can be extended to 30 hours with proper care
Clean burning and lead-free making them environmentally friendly
Nicely packaged and makes a great gift
Specifications:
Brand: Old factory
Model: Mancave
Scents: leather, razor and mahogany
Weight: 1.8 pounds
3. Leather mahogany by Chesapeake Bay Candle
Leather mahogany candle has a combination of spicy and floral scents which provide an elegant and warm complexity. It is made of soy wax and a lead-free wick thus delivering a clean burn. This candle is packaged in an attractive frosted glass jar than has a wooden lid with twine embellishment. Leather mahogany's candles design is stylish and minimalistic, making it ideal for gifting as a home décor piece. The candle has a pleasant scent which is not overwhelming and a total burn time of 80 hours to give you value for your money.
Key features:
Made with blended soy wax
Packaged in a frosted glass with a wooden lid that has a twine embellishment
Has a lead-free wick and delivers a clean burn
Burn time of 80 hours
Perfect gift idea for any occasion
Comes in a variety of nature-inspired fragrances
Specifications:
Brand: Chesapeake Bay candles
Model: leather mahogany
Scent: citrus, black amber, leather and sandalwood
Weight: 2.5 pounds
4. Wood Wick Candle Fireside Large Jar
Do you want your home to feel cozy and smell great? This candle will help you achieve that. Wood wick candle has a natural wooden wick that is specially designed to create the soothing sound of a crackling fire. With well-blended ingredients that bring about a masculine scent, this candle helps you relax and enjoy the warm feeling of being home. Burn time for this candle is 180 hours, and it has a clean burn that leaves a sweet and woody scent at your place. If you want a perfect gift for a man, the design of this candle might convince you to buy it.
Key features:
Natural wooden wick
Total burn time of 180 hours
Balances the natural scents of amber, vetiver and musk
Fragrances created to perfectly capture the essence of a cozy evening by a warm fire
Beautiful packaging that makes for a great gift
Comes in an elegant and reusable jar
Specifications:
Brand: wood wick candle
Model: fireside
Scent: amber, vetiver and musk
Weight:2.5 pounds
5. Lulu Candles | Jasmine, Oud & Sandal Wood
Ever since we started exploring scented candles, this is the sweetest yet subtle candle scent we've come along. It combines natural fragrances of jasmine, oud and sandalwood to leave your room smelling fresh. If you love scented candles but cannot use them maybe because of allergies or asthma, we highly recommend trying this out. The candle burns slowly and evenly and has a burn time of 40 hours. It comes in an aesthetically appealing jar that makes it ideal for home décor purposes too. This candle is made of soy wax, making it eco-friendly and vegan.
Key features:
Vegan, paraben-free and cruelty-free
Made with ecofriendly soy wax
Long-lasting and clean burn
Handcrafted in the USA for the best quality scents
Natural and subtle scents
Beautiful and affordable
Specifications:
Brand: lulu candles
Model: No.14 soy candle
Scent: jasmine, oud and sandalwood
Weight: 9.1 ounces
6.Urban Concepts by DECOCANDLES
Want to know how real tranquility and serenity feels like? Smell this candle. The candle is carefully handcrafted to combine the fantastic fragrances of lemongrass and wild basil. It has an edgy and decorative look that makes a statement and also sets the mood. This candle is long-lasting and has a clean burn. We cannot overlook the minimalistic jar and cork topper that makes the candle stand out in any setting. If you want a candle that set a relaxing mood in your space, then this is our best bet. Deco candles pride themselves in making outstanding candles that are appealing to the eye, affordable and great smelling.
Key features:
Sweet and relaxing lemongrass basil scent
Beautiful jar ideal for home or office décor
Long-lasting and clean burn
Functional minimalistic jar and cork topper
Hand-poured in the USA and highly scented
Specifications:
Brand: Deco candles
Model: urban concepts
Scent: tranquillity (lemongrass and basil)
Weight: 1.25 pounds
7. Moroccan Amber by Nest fragrances
These luxury scented candles have been designed by accomplished perfumers in the world's best fragrance houses. Moroccan amber classic candle by nest fragrances has notes of Moroccan amber, sweet patchouli, heliotrope and bergamot that are heightened with a hint of eucalyptus. This everyday collection combines color, texture and fragrance to enhance everyday living and entertaining experience. The candle comes in glass vases that are designed to complement the beauty of its surroundings. With this candles' elegant shape and modern stripe etching will go well with any décor. The candle is long-lasting and has a burning time of 60 hours. This is the perfect scent for any gent that loves a strong and masculine scent. You can buy this as a gift for someone who loves cologne since they will love its scent.
Key features:
Made of a blend of soy wax and paraffin
Comes in a decorative glass vessel
Has a burn time of 60 hours
A luxury scent that lasts long after the candle goes off
Premium packaging that makes it an ideal gift
Specifications:
Brand: Nest fragrances
Model: Moroccan amber
Scent: Moroccan amber, sweet patchouli, heliotrope and bergamot
Factors to consider when choosing scented candles
Choosing the best candle for your home, office or hotel room can be more challenging than it sounds. A lot of factors come to play such as the brand, type and even composition of the candle. You need the right knowledge to choose a candle that won't disappoint you. We took on intensive research to try and establish the key pointers to a good quality candle. Here are some factors you should not overlook when choosing a scented candle.
When choosing a candle, you have to make sure you know what exactly you will use it for. People use candles for fragrance, room décor, lighting or ambience, and purpose will guide you on the type of candle to get. If you need a candle to add a fresh fragrance to a room, you will need a candle with a large surface area. The size of the room should also guide you to choose the strength of a candle's scent. Small spaces need light scents lest the scent be overpowering and unattractive. For larger spaces, you can experiment with stronger scents since they diffuse faster. Whichever scent you choose should also blend in with the room's atmosphere . It might not make sense if you use floral scents in the kitchen. If you need a candle for décor purposes, you should go for one that looks attractive and noticeable. Most candles nowadays are designed to look 'Pinterest worthy' and give your space an upgrade even without being lit. Novelty candles are best for décor since they are designed with peculiar and appealing shapes.
Type of wax in the candle
The type of wax that has been used in making a candle dramatically impacts its ability to hold scent and its burning time. Soy and paraffin wax are the most used in candle making. Soy wax is 100% natural and environmentally friendly. It is made from hydrogenated oil that's extracted from soybean, and burns slower while producing least soot. Soy wax holds fragrances well but does not dissolve colour pigments completely. Candles made of soy wax mostly have pastel colours. Paraffin wax, on the other hand, is synthetic and most versatile. Made from byproducts of refined oil and is very affordable. Candles made of paraffin wax burn much faster and are not eco-friendly. Beeswax is also used occasionally in candle making, and it is more expensive but natural and environmentally friendly. Candles made of beeswax are luxurious and burn for the longest time. Beeswax is also versatile and can be used to make tart, votive, pillar, tealight, taper or container candles. When buying a candle, make sure you know the type of wax used and ensure it is environmentally friendly.
For scented candles, price is a good indicator of the quality of the candle. If a candle is too cheap (before any discounts) such that you doubt the price, it is not worth buying A candle made of beeswax is pricier compared to one made of paraffin wax. A candle's packaging will also impact its price. If you are looking to gift a candle to someone, choose an elegant packaging such as a jar candle. Burning time of the candle, which will be indicated in hours is also directly proportional to the price. When buying a candle, avoid the extremely cheap ones since they are not long-lasting nor environmentally friendly.
Frequently Asked Questions on The Best Candles for Men
Searching for the best candle for yourself or to gift someone can be puzzling, and if you are a curious person, you will be left with a lot of questions. We looked at the most common questions on candles for men and answered them hoping to solve the puzzles you might have.
Q. Should you burn a candle overnight?
Most people ask whether it is okay to burn a candle while they sleep, and the answer is no. The risks involved when you leave a candle burning are way too many. You risk inhaling harmful carcinogens and volatiles that are present in certain wax types and also burning down your house. Whatever the situation, it is not necessary to light a candle when you are going to sleep. Never light a candle and leave it unattended for safety reasons.
Q. Why are scented candles so expensive?
Not all candles are pricy, but scented candles cost more because they are designed for luxury. They use the highest quality of ingredients such as natural oils and waxes that burn without producing soot. Scented candles also have unique scent combination which are costly to bring together, and the elegant packaging too cannot be overlooked. These candles also have a longer burning time compared to regular candles. For scented candles, what you pay for is what you get.
Q. How can I make my candle last longer?
Having spent quite some money to buy a scented candle, you want to burn it for the longest time to get value for your money. A great tip to ensure your candle lasts longer is to ensure the wax burns evenly. You can trim the candle wick before lighting to ensure it burns evenly to melt the wax across. Doing this ensures you prevent the wick from sinking into the wax, making it unusable.  ¼ inch is the best length for a candlewick since it reduces the risk of smoke that may burn your candle jar. You can trim the wick using nail clippers for the perfect cut. Avoid placing the candle where there is draught since it will burn unevenly and reduce its life. Buying high-quality candles can also save you the hassle of having to replace your candle now and then.
Q. What are the different types of candles?
There are various shapes, sizes and uses of candles. Some are long, others wide and others extremely small. Let's look at some types:
Votive candle – these are tall candles that are usually put in a candle holder and are mostly used in church.
Tea lights- these are tiny candles with a short burn time mainly used for décor. They are the candles you will find at candlelit dinners
Jar candles- these are the most popular type. The candle is well packaged in a jar and is great for gifting.
Taper candles- these are what comes into your mind when you think of candle. They are long and thin candles that are supported by candle holders and have a burn time of around 5 hours
Q. Can vegans use candles?
Veganism is a lifestyle that involves doing away with any animal product. Some candles have animal products such as beeswax and stearic acid in their ingredients. Others are either 100 % plant-based such as soy wax candles, and vegans can use such candles. Some manufacturers are kind enough to indicate if their candles are suitable for vegans.
How to burn a candle the RIGHT WAY
Final word
Candles contribute immensely to the atmosphere in your office or bachelor pad, and they never go out of season. If you are just beginning to embrace scented candles, choosing the right scent can seem like rocket science. However, with the correct information, you will enjoy trying out various candles that all smell amazing.
When selecting a scented candle, you need to know where you will use it. Knowing this helps you to choose the scent that blends in well with that place's ambience. For example, fruity scented candles will be fantastic for the kitchen while refreshing scents will be best for the bathroom. You also need to have a close look at the ingredients to ensure they're quality and environmentally friendly.  It is essential to buy the right candle for the purpose you intend to use if for. Most masculine scented candles have a monotonous musky scent. Always research on which candles have better scents so that you don't end up with the same boring fragrance. Our guide has some of the best unique masculine scents that will enable you to explore the world of candles
Pricing of candles varies in proportion to their quality. When quality ingredients and expertise go into the making of a candle, it won't be cheap. You can find a high-quality candle that is not exorbitantly priced, such as the ones we have featured.
We hope that reading this guide will arm you with all the relevant information you require to choose the best candle for your masculine taste.
Last update on 2023-05-26 / Affiliate links / Images from Amazon Product Advertising API