Last Updated on December 11, 2020 by Reiner Chase
Every style-conscious gent owns a pair of Chelsea boots or plans to own one. Chelsea boots are an excellent companion to any outfit, whether formal or casual. These boots are functional, stylish, and comfortable and have a fascinating history and origin.
The design of the Chelsea boot is credited to J.Sparks-Hall, who was Queen Victoria's shoemaker. The shoemaker claimed that the queen walked in these boots daily as proof of the value she attached to the invention. The boot became famous for walking as well as horse riding. In the 1950s, the Chelsea boot became popular in the UK and was worn by almost everyone. People began associating these boots with a street in Chelsea in inner western London known as King's road. It is believed to be the reason why the name "Chelsea" became associated with the boot. Shoemakers all around the world made variants of the Chelsea boots that could be worn with different outfits. The most popular variant is one with Cuban heels and pointed toes that were created by Anello& Davide for the Beatles.
Though the designs and specifications of the Chelsea boot keep changing, the concept and style remain the same. They are elegant and a must-have for anyone wishing to stand out. This guide focuses on the best Chelsea boots for men, how to choose as well as the frequently asked questions on Chelsea boots. Read on!
Top 7 Chelsea boots for men In 2021 (Best Picks)
In a hurry? Check the bestseller top Chelsea boots for men from Amazon. Just check the product link, the details and price.
| # | Preview | Product | Rating | |
| --- | --- | --- | --- | --- |
| 1 | | Bruno Marc Men's Urban-06 Tan Suede Leather Chelsea Ankle Boots - 11 M US | 10,708 Reviews | Check Latest Price |
| 2 | | Dr. Martens unisex adult Chelsea Boot, Black Wyoming, 7 Women 6 Men US | 11,278 Reviews | Check Latest Price |
| 3 | | Deer Stags Men's Rockland Dress Comfort Chelsea Boot/Black/ 9 / Medium | 5,408 Reviews | Check Latest Price |
| 4 | | Dr. Martens unisex adult Chelsea Boot, Black Wyoming, 11 Women 10 Men US | 1,978 Reviews | Check Latest Price |
| 5 | | Timberland Men's Redwood Falls Chelsea Boot, Wheat Full Grain, 9 | 165 Reviews | Check Latest Price |
| 6 | | Unlisted by Kenneth Cole Men's Peyton Chelsea Boot, Cognac, 10 | 260 Reviews | Check Latest Price |
| 7 | | UGG Men's Biltmore Chelsea Boot, Black, 11 | 1,775 Reviews | Check Latest Price |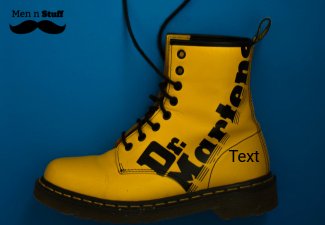 Seven best Chelsea boots for men
Choosing the best Chelsea boot that has the best qualities and price needs keen research. Sometimes, it involves trial and error, and we bet you don't have that much time and resources. We made it easier for you to find a perfect Chelsea boot without guessing. We have listed the top seven Chelsea boots that have stood the test of time and guarantee you value for your money. Here we go:
1. Bruno Marc Men's Suede Leather Boots
if you are looking for a comfortable and stylish shoe that will leave you getting compliments left, right and center, then this is the shoe for you. With a flexible rubber sole and a stacked heel that can provide exceptional cushion and shock absorption for maximum comfort. It has excellent construction to guarantee you long wear. The sole is excellently sewn into the high-quality upper suede with an even and straight stitching. Both the sole and the suede are a high quality composite material that will wear well. They are also comfortable to wear and have an excellent fitting. This Chelsea boot is the best quality boot for that price.
Key features:
Made from premium Suede Leather
Has a synthetic and durable sole
Classic round toe design
Heel measures approximately 1 inch."
Platform measures approximately 0.5 inch
Flexible and comfortable ankle boots
Specifications:
Designer: Bruno Marc
Color: available in different colors
Material: suede
2. Hawkwell Men's Dress Casual Chelsea Boot
This Chelsea boot offers the perfect edgy and sophisticated look. It features a plain round toe design, cushioned footbed insole, and rubber outsole. The upper is made of high-quality synthetic to give you that sophisticated, timeless look. The elastic on the side is high quality for a perfect fit, and has a pull tab for easy wearing and removing. The outsole is made of soft rubber, making it flexible, stable, and durable.
Key features:
Has a rubber sole
Heel measures approximately 1 inch."
Shaft measures approximately ankle-high from arch, heel measures approximately 1."
 Handmade from superior material with a sophisticated technique
Soft TPR outsole making theboots sufficiently stable and durable
Ankle-high cut with twin elastic side panels and pull up the tab for easy wear and removal
Can be worn with both formal and casual outfits
Specifications:
Brand: Hawkwell
Color: Black, Brown, Grey, Coffee, Tan, Navy
Material: synthetic
3. 2976 Leather Chelsea Boot
The 2976 Chelsea boot has all the hardiness, fit, and ease of use as its Victorian predecessors plus killer style. It has all the signature Doc's details like iconic stitching, grooved sides, and heel-loops.it is built using the most excellent method of construction to make it last. This boot has a Goodyear welt that is heat-sealed to the sole. The 2976 is made with highly durable leather and has an AirWair sole, which is oil and fat resistant. It also has excellent abrasion and slips resistance. They are easy to clean, and you can use Dr. Martens Wonder Balsam to protect the leather and keep your boots clean, soft, and supple.
Key features:
Made from soft tumbled leather
Has a synthetic sole that is air-cushioned
The sole is slip-resistant
 Has a Goodyear welted stitch, grooved sides, and heel
Has an elastic pull tab for easy wear and removal
Specifications:
Brand:Dr. Martens
Material: smooth leather
4. Blundstone Dress Series Chelsea Boot
You can never go wrong with Blundstone's brand. This boot is quality and comfortable for everyday use. They have a rubber sole that absorbs all the hardness of walking and prolongs the life of the boot. They are made of high-quality full-grain leather that offers the right thickness and protection.With regular care and maintenance,they give the best foot protection without cracking or allowing water to penetrate. These boots pair well with any outfit, whether casual or official, due to their sleek design. They are designed for easy wearing and removal with a front and back pull loop. They are light compared to other boots and are always warm regardless of the weather. You can wear them with socks or without.
Key features:
Made from 100% Leather
Has a rubber sole for comfort and durability
 The shaft measures approximately 6″ from arch
The boot opening measures approximately 10″ around
Has pull tabs for easy wearing and removal
Light and easy to walk in
They keep your feet warm
Specifications:
Brand: Blundstone
Material: leather
5. Ferro Aldo Sterling MFA606325 Men'sChelseaBoots
the quality of these Chelsea boots is amazing and will blow you away. They are comfortable and stylish and will exceed your expectations. They are fashionable with a nice and elegant man-made material. They pair well with any outfit and make your casual outfit to stand out. These boots are double stitched for a longer lifespan and stable construction. They have a non-skid sole for flexibility and traction, and this makes them ideal for any activity or environment. The elastic gore on the side is of excellent quality and gives a snug fit without making the shoe hard to wear or remove.
Key features:
 Made with high-quality synthetic leather for durability, water-resistance, and breathability.
Has a heel spine for reinforcement and extra comfort
Has a padded interior and double stitched exterior for resistance and traction with every step
Has a three-layered synthetic sole for flexibility and comfort
Has a heel tab to prevent folds when wearing and for easy removal
Specifications:
Brand: Ferro Aldo
Material: synthetic leather
6. Clarks Men's Bushacre Hill Chelsea Boot
Clarks prides themselves in quality and durable men's footwear, and this Chelsea boot is not an exception. These premium leather boots are made to stand out and last for decades. They are strong, comfortable, and durable. They have a beautiful finish that makes them pair well with almost all outfits. They look good and stand out, and you will be tempted to wear them on all occasions. When the leather is well maintained, it will keep looking elegant for years. They have smooth textile linings and a durable rubber outsole that makes for a comfortable fit. Pair them with khakis or jeans for a sharp, fashion-forward look.
Key features:
Made from synthetic premium leather
They have a rubber sole for comfort
Shaft measures approximately ankle-high from arch
Heel measures approximately 1 inch."
Boot opening measures approximately 9.5″ around
 They have a heel height of .99 inches
 The boot dimensions are: shaft Width4.33 inches, Shaft Circumference8.55 inches, Shaft height 5.11 inches
They have a stretch-gore entry, durable rubber outsole, and smooth textile lining for extra comfort
Specifications:
Brand: Clarks
Material: premium synthetic leather
7. La Milano Men's Chelsea Boots
these are the perfect leather Chelsea boots for any style and occasion. They are made from genuine leather, making them more durable than those made of synthetic leather.They are shiny and look sharp with a suit or just as lovely with a pair of jeans. They have buckle straps that are a nice touch and look classy and sturdy. The packaging of this shoe is elegant and can count for a lovely gift. They also have impeccable and clean stitching that makes them stand out. They have excellent breathability and a 3- layer insole that gives you incredible all-day comfort.This classic and comfortable Chelsea boot is perfect for work, occasions, parties, or any other formal or casual events.
Key features:
Rubber sole for extra comfort
  3- layer insole for incredible comfort
Easy to wear slip-on design for a comfortable fit
Side zipper closure and elastic goring for easy wear and removal.
Stylish and fashionable look due to the premium genuine leather upper and twin buckle design
Flexible and durable rubber outsole.
Versatile and suitable to wear on any occasion
Specifications:
Brand: la Milano
Material: genuine leather
Factors to consider when buying Chelsea boots
The search for the perfect Chelsea boot that will be comfortable and amp your style can be fun and daunting at the same time. All the shoes in the market look good, and you want them all, but you have to work with a limited budget. We researched and came up with a few things that will help you choose the Chelsea boot of your dreams that will last for decades. Here we go:
• The material of the Chelsea boot
When buying Chelsea boots, the material is the one feature you cannot afford to overlook. The material that the boot is made from will have an impact on its durability and appearance. The best material for a Chelsea boot is either leather or suede. Chelsea boots made of suede are versatile and great if you want a soft and textured shoe. However, suede is delicate and prone to blemishes and stains, making them harder to clean and maintain. The leather Chelsea boot is a favorite among most men because of its durability. Leather is also easy to care for, and it is stylish and classic. If you want the best quality leather boot, go for calfskin or top grain leather. They look the best, and they develop a lovely patina over time. You can also buy genuine leather if you are on a tight budget or want a shoe that will last for a maximum of two years. Genuine leather might sound fancy, but it dries out and cracks with several wears.
The Chelsea boot is laceless, sleek, and streamlined. They are designed in a way that you cannot tighten them while wearing, and this is the reason you should buy one with a snug fit. When fitting the shoe, always wear thick socks to prevent you from buying a pair that's too tight. Before buying a shoe, always make sure that you read the manufacturers fitting guidelines to know whether it has a smaller or larger fitting. From our research, most Chelsea boots have a larger fitting, thus the need to know your size before you buy. The quality of the elastic at the side also determines how well the shoe fits. Go for a shoe with a high quality elastic that does not lose elasticity with a few wears. Doing this ensures the sure you buy doesn't become oversize as a result of the elastic gore loosening.
Chelsea boots come in different colors, such as blue, beige, black, brown, white, or tan. Most men are used to the usual black or brown when picking a shoe. It is okay to change colors once in a while. Even though black and brown are classic and timeless, you can buy a blue or grey shoe for a change in your wardrobe. When deciding which color to buy, consider your sense of style and the current trends in fashion.
Quality footwear is not cheap, and that is the case for Chelsea boots. If you want a quality Chelsea boot that will last for years, be willing to part with a good amount. For Chelsea boots, what you pay for is what you get. A high-quality Chelsea boot is an investment that is worth saving up for. It is made of the best quality material and has professional construction making it a long-lasting wardrobe investment piece. You can find an inexpensive pair that's stylish, but these types don't last for more than two years.
The quality of the outsole
When buying a Chelsea boot, always have a look at the outsole and the material it is made of. A good pair should have a sturdy outsole that can be repaired when worn out. The stitching detail on the sole should also be strong and durable. The quality of the outsole and stitch design constitute the quality of craftsmanship and lengthen the life of the shoe.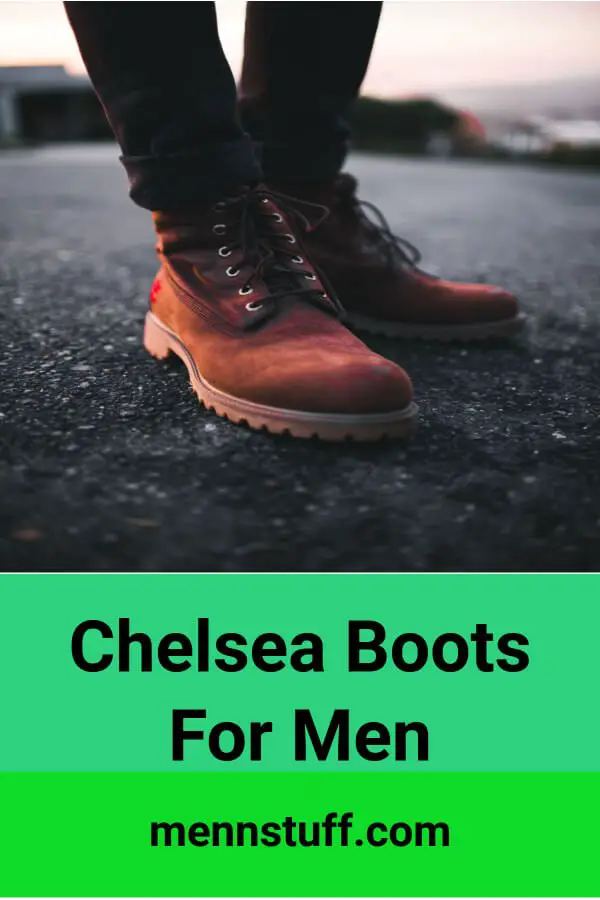 HOW TO STYLE CHELSEA BOOTS
Frequently Asked Questions on The Best Chelsea Boots for Men
Q. What is the difference between Chelsea boots and chukka boots?
Chelsea boots are ankle-length boots that are made from either leather or suede and have an elastic ankle closure to make them comfortable to wear. They are versatile and can be worn with almost any attire. Chukka boots, on the other hand, are ankle-length boots that are laced and rounded. They are also made of either suede or leather but have a shorter cut and more rounded toe cap compared to Chelsea boots. Their design makes them more appropriate for pairing with casual outfits. Chukka boots are considered drawn back, while Chelsea boots are known to stand out.
Q. How should I style Chelsea boots?
Chelsea boots are versatile and stylish and can be worn with any type of outfit. However, you need to know what boot looks best on what outfit. Chelsea boots come in different colors and materials. Suede Chelsea boots go well with casual attire, and you can pair them with your favorite denim jeans, a t-shirt or a button-down shirt. For business and formal look, pair your leather Chelsea boot with a suit or a button-down and khakis. The color of your Chelsea boot also impacts your style significantly. Brown, white and beige Chelsea boots complement your casual attire and make you stand out while black, tan, and navy-blue boots go well with official or smart casual outfits.
Q. How do I care and maintain my Chelsea boots?
Chelsea boots are stylish, versatile, and should be adequately maintained for them to last long and keep looking good. Caring for your Chelsea boots is easy and should be done regularly and after every wear. Use a soft brush when cleaning Chelsea boots to remove dirt from the surface of the shoe. After brushing, wipe the shoe with a damp cloth and leave to dry outside or dry with a towel. Do not dry Chelsea boots under a dryer or radiator as this dries out the shoe and causes them to crack. Always store your boots properly in a shoe rack for them to maintain their shape.
Q. How should Chelsea boots fit?
Chelsea boots are close-fitting and should fit snugly around your feet. For a perfectly fitting Chelsea boot, always buy your size and wear socks if they feel loose. Avoid the temptation of buying a bigger size since the elastic stretches out with time. When fitting the shoe before you buy, always ensure that there is no space between your ankle and the boot. The reason why Chelsea boots have an elastic side is to enable them to have a close-fitting without leaving the gap.Chelsea boots have a tab or handy loop that makes it easier for you to wear and remove them while maintaining the snug fit.
Final Word
The Chelsea boot is an iconic piece of footwear that has remained stylish and fashionable over the years. Since the time of their invention, they have been popular with the royals, celebrities, and everyone else. You can never have too many pairs of Chelsea boots since they are always functional with almost all attires. Chelsea boots come in different materials ranging from the finest calfskin leather to the softest suede. They also have different colors, designs, and prices, and that is why you need to know which Chelsea boot style suits you best.
When buying Chelsea boots, it is essential to choose a quality material that looks good and lasts long. If you are on a budget, consider getting the best material that is within your budget rather than buying a cheap pair that will need replacement sooner. It is also essential to consider buying a shoe that will give you the most wear in terms of color. Choose a color that you can wear on most occasions if you are planning on buying just one pair. It is advisable to get a shoe that is easy to clean and maintain to have it last for years. The way you store and style your shoes will also impact their durability.
For you to end up with an excellently designed Chelsea boot that will last longwith proper maintenance, consider its functionality and fit. Beautiful and well-designed Chelsea boots will fit well without a hassle and will pair excellently with almost any outfit. We hope that this guide offers all the information you need to help you choose the best Chelsea boot. Enjoy buying and upgrading your wardrobe with the elegance of Chelsea boots.
Last update on 2023-06-03 / Affiliate links / Images from Amazon Product Advertising API