Last Updated on October 29, 2020 by
Do you have sensitive skin and are tired of getting itchiness and irritation on using deodorants? Do you also desire to keep those body smells at bay and still feel comfortable? If you answered in the affirmative to either or both questions, then we have a solution. All you need is a natural deodorant without aluminum, sulfates, or parabens.
No one is comfortable around someone with smelly armpits or foul body odors regardless of whether they have sensitive skin or not. That's why you should put the odors under control especially if you are fond of the gym or work for long hours in the office.  
Choosing the best deodorants for men with sensitive skin may not be very easy since you must pick one that doesn't irritate your skin. You may want to choose a product that gets rid of body odors and block sweat as well. In this guide, we highlight the best deodorants that have been tested and certified as not only effective but also harmless on your skin. Read On and get what suits you;
Top 7 Deodorants For Men In 2020 (Best Picks)
In a hurry? Check the bestseller top Deodorants For Men from Amazon. Just check the product link, the details and price.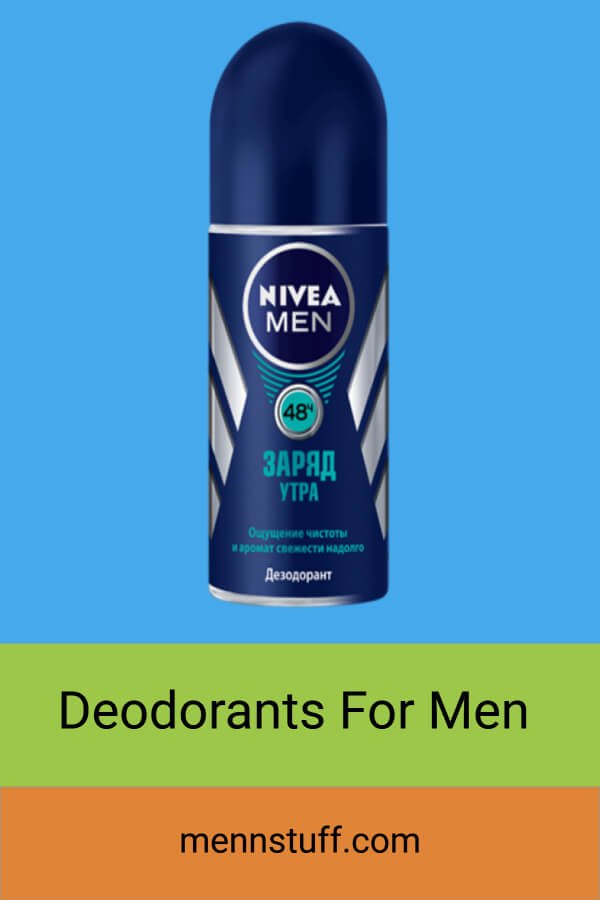 Best Men's Sensitive Skin Deodorants – Top Reviews
1. Native Deodorant For Men and Women
2. Dove Men + Care Antiperspirant Deodorant
3. Natural Aluminum-Free Deodorant Stick
4. Tom's of Maine Natural Long-Lasting Deodorant
5. Certain Dri Prescription Clinical Antiperspirant
6. ZeroSweat Antiperspirant Deodorant
7. Speed Stick Deodorant
1. Native Deodorant For Men And Women
Native deodorant is light and fresh under your arms and it is free of aluminum, phthalates, parabens, and talc. You will comfortably get protection against wetness and odors without staining your clothes since this product is vegan, gluten-free, and cruelty-free.
Native deodorant is solid and you will easily apply it without any hitches or fear of irritation. Its high-performance formula makes the perfume effective in eliminating sweat smell leaving you feeling dry and fresh all day. There are a variety of scents to choose from giving you the liberty to smell the way you like.
Key Features:
1. Contains ingredients like tapioca and baking soda to neutralize bacteria
2. Does not contain  parabens, aluminum, phthalates, and sulfates
3. Cruelty-free
4. Easy to apply
5. Effective protection against wetness and odor
Specification:
1. Manufacturer                Native
2. Product dimensions     4.5 x 2.4 x 1.2-inches
2. Dove Men + Care Antiperspirant Deodorant
If you are looking for a deodorant that gives you long-lasting protection against body odors, then think about Dove Men Antiperspirant. This perfume comes with extra fresh scents that keep smells and sweat at bay for more than 48 hours. You are sure to remain comfortable upon application since Dove formula is clinically proven to be non-irritating and to work well for sensitive skin. 
Your underarms will also remain soft due to the 1/4 moisturizing technology and a fresh scent that leaves you feeling invigorated and refreshed. You will also have the freedom to choose your desired scent as this deodorant comes in a range of smells including aqua impact, clean comfort, cool silver, and extra fresh. 
Key Features:
1. 48-hour wetness and odor protection
2. Dermatology recommended for sensitive skin
3. Contains moisturizing properties to boost skin's natural moisture barrier
4. An invigorating and refreshing scent
5. Clinically proven non-irritating formula
Specification:
1. Manufacturer                       Dove
2. Size                                     2.7 ounces
3. Product dimension              8.6 x 6.1 x 3.4-inches
3. Natural Aluminum-Free Deodorant Stick
If you have ever tried a natural deodorant and got disappointed, you will appreciate having one that works. This natural aluminum-free deodorant provides all-day protection and does not clog your underarm pores as other brands do. You will use this product without the fear of any harmful effects since it does not contain chlorohydrate, aluminum, zirconium, or other toxic chemicals like parabens and phthalates. 
You can comfortably use this antiperspirant daily for three months which makes it cost-effective. It is clear and invisible and will, therefore, not stain your clothes. You will also not experience any irritation on your skin since the pH is balanced to work perfectly on sensitive skin. 
Key Features:
1. Safe, effective, and remains fresh all-day
2. Nourishes the skin and detox your body
3. Contains native essential oils with no synthetic fragrance
4. 60-day money-back guarantee
5. Non-toxic and cruelty-free
Specification:
1. Manufacturer             Super Natural Goods
2. Product dimensions  1.4 x 2.5 x 5-inches
4.Tom's Of Maine Natural Long-Lasting Deodorant
Tom's Maine natural deodorant is aluminum-free and comes in tea tree scent. This perfume provides you with 24-hour protection from odor with all-natural ingredients. If you are tired of body and sweaty smells but have sensitive skin, then this deodorant by Tom's of Maine is the go-to product.
You will remain fresh all day as it contains a blend of natural fragrances with no artificial preservatives or scents which may irritate your skin. Tom's of Maine adheres to the superior standards of established environmental and social performance, legal accountability, and public transparency to balance purpose and profit. 
Key Features:
1. Manufacturer             Tom's of Maine
2. Scent                          Tea Tree
3. Size                            2.25 ounces
4. Product dimensions   3.8 x 2.3 x 4.7-inches
5. Certain Dri Prescription Clinical Antiperspirant
Excessive sweating can be quite uncomfortable especially if you work for long hours or workout at the gym. You will do everything possible to eliminate the smells but it gets very challenging if you have sensitive skin. This antiperspirant by Certain Dri is recommended by doctors for unnecessary sweating as it contains 12% aluminum chloride which is an effective ingredient for hyperhidrosis. 
You will enjoy a protection of up to 72 hours against excessive perspiration but you should apply sparingly at night on dry underarms. It is advisable not to apply immediately after taking a shower or shaving as well as on irritated or broken skin. 
Key Features:
1. Recommended by a doctor for excess sweating
2. Strong, effective antiperspirant
3. Up to 72 hours of protection
4. Suitable for those with hyperhidrosis condition
5. Certified cruelty-free by PETA
Specification:
1. Manufacturer                      Certain Dri
2. Product dimensions            1.6 x 2.6 x 5.2-inches
3. Size                                      3.52 ounces
6. ZeroSweat Antiperspirant Deodorant
ZeroSweat antiperspirant is suitable for keeping your armpits dry and stopping excessive sweat. The deodorant gets absorbed into the glands causing them to produce sweat and gives up to seven days of protection.  
You will get clinical-strength protection without clogging the pores like other antiperspirants. With this deodorant, you do not have to undergo costly surgeries, procedures, or injections to stop the embarrassing moments of stained shirts or sweaty odors. 
Key Features:
1. Reduces underarm sweat
2. Provides up to seven days of protection with a single application
3. Provides superior strength antiperspirant without a prescription
4. Stops stains under the arms
5. Safe and effective
Specification:
1. Manufacturer                  ZeroSweat
2. Size                                1 Fl Oz
3. Product dimensions        2 x 2 x 4-inches
7. Speed Stick Deodorant
Nothing kills your confidence than body odors and stained shirts under the arms. Speed Stick deodorant has a solution to this problem with its odor-fighting formula that offers you 24-hour freshness. You will feel masculine, clean, and confident upon application using the guard applicator that is comfortable and easy to control. 
Key Features:
1. Aluminum-free
2. Clean masculine scent
3. 24-hour protection from odor
4. All-day freshness
5. Includes comfort guard applicator
Specification: 
1. Manufacturer                         Speed Stick
2. Product dimensions               2.7 x 2.5 x 5.6-inches
How To Choose A deodorant For Men With Sensitive Skin
If you have sensitive skin, you will agree with us that picking the right deodorant is not an easy process. You need to know how to pick one that will not irritate your skin and yet work efficiently. Unlike men with normal skin who have a variety of deodorants to choose from, there are only a few of these products for sensitive skin.
Most perfumes for sensitive skin do not also offer protection against odors that you desire. The following factors are essential when purchasing these hygiene brands;
1. Ingredients
When choosing the best deodorant for men with sensitive skin, be sure to avoid the following ingredients;
a) Aluminum
b) Alcohol
c) Parabens
d) Artificial fragrances
Aluminum
Aluminum is a popular ingredient in deodorants since it clogs pores and prevents odors but research has shown that it could be associated with some cancers. If you have sensitive skin, you should avoid it as it may also irritate.
Alcohol
A self-care product for sensitive skin should have zero percent alcohol content. Ensure that you read the label to avoid this ingredient which may cause your skin to dry out and get antiperspirant irritation. Alcohol is used to dissolve antiperspirant ingredients such as aluminum compounds since it dries fast and feels cool on the skin. You can choose an antiperspirant stick that is safer on your skin.  
Perfumes
Artificial fragrances are also a major cause of sensitivity and rashes on the skin. Read through the label and avoid those products that contain body-masking fragrances. If the list of ingredients includes words like parfum, perfume, or fragrance, then do not go for this deodorant.
Parabens
Parabens are used widely in cosmetics as preservatives but they are also main irritants to sensitive skin or areas with razor cuts or burns. Although major brands of deodorants are paraben-free, you can also look out for compounds such as methylparaben or propylparaben and avoid them too. 
2. Antiperspirant Properties
Antiperspirant and deodorant products are different. A deodorant gets rid of bad odors by neutralizing the bacteria that causes the smells or covering them up. Antiperspirants on the other hand block the pores thus reducing the amount of sweat that you produce. 
Getting a deodorant with antiperspirant properties means that you will sweat less, giving little conducive environment for bacteria to thrive.  Lack of bacteria eliminates body odor. 
3. How Long it Lasts
An effective deodorant lasts for 24 hours and above giving you the protection that you need from bad odors. You can also get one that goes for several days without re-application which is cost-effective. 
4. Type 
There are three major types of deodorants that you can pick from depending on your taste as well as how sensitive your skin is;
a) Gel 
b) Spray
c) Stick
Gel
Gel deodorants feel fresh to the touch and they are the latest innovation. You should not over-apply the product to avoid it collecting and feeling sticky or slimy. A gel is long-lasting and clear so as not to stain or streak your clothes. 
These deodorants are however weak in terms of fragrance strength. 
Spray
Spray deodorants are common in the market both online and physically and most of them come in aerosol cans. This product has a thinning nature which makes it absorb quickly without you feeling the discomfort of sticky sensation under your arms. 
Spray deodorants do not leave streak or stain marks on your shirt and they are also not noticeable.
Stick
These deodorants, also known as 'roll-ons,' are classic with stick shape and unfailing deodorizing formula. Their application is by rubbing across the underarm a few times. You should apply evenly to avoid clumping up on the skin or the hair on the armpit. 
Stick deodorant is long-lasting and gives the best anti-odor protection. It can, however, stain and streak your skin or clothing. This beauty product is quite affordable and a great solution for smells.
5. Fragrance
The fragrance of your deodorant depends so much on personal aesthetics and preference. Common scents include Woody or forest-related, oceanic, pine, or fruity smells. Ensure that the fragrance you choose suits your needs. 
If you would like to strike a balance between masculinity and fruity sweetness, choose a citrus scent. If on the other hand, you plan to wear body spray or cologne, you can pick a deodorant that is fragrant-free to avoid clashing or covering up your cologne. 
6. Cost
The cost of your deodorant also plays a great role when choosing. Be sure to get value for your money with your pick. If you choose a product to use daily, it may be ideal to go for an inexpensive one. 
How long this perfume lasts will also dictate the number of times you will need to re-apply. You can also look for a multipack with various sticks in one package as this will save you on cost and still keep you smelling fresh.
How Can You Tell That Your Skin Is Sensitive?
When looking for beauty care products, there is a need to know your skin type. A skin that is easily irritated does not always qualify to be sensitive. Some environmental factors and cosmetics may cause itchiness, redness, or breakout even on a skin that is not sensitive.
Some medical conditions such as eczema, rosacea, and allergy may also cause irritation that can be mistaken for sensitivity. You will know that your skin is sensitive from the following symptoms;
1. Reacting to Certain Triggers
Sensitive skin reacts to soaps, perfumes, detergents, fragrances, and other skincare and household products. It can also react to weather conditions such as sun, wind, and cold. You can consult a dermatologist to help choose what is right for the skin. 
2. Redness on the skin
If you experience red rashes, bumps, flushing, blushing, or dilated blood vessels that are red chances are that your skin is sensitive. The redness goes if the irritant is removed or by applying the right treatment. 
3. Itchiness
If your skin gets itchy or tight especially after using harsh cleansing products or when the air is dry and cold, then this shows sensitivity. 
4. Dryness
Very dry skin causes sensitivity as it doesn't protect the nerve ending. You may get more irritation during dry, cold weather or wind.
5. Flaky and Peeling Skin
If your skin flakes or peels on the application of deodorant or becomes painful, it is a sign of sensitivity. Look for a product that is gentle on the skin.
6. Eating well
Minimize the intake of strong-smelling foods such as garlic and onions and increase fresh vegetables and foods in your diet. Oily or fatty foods change the chemical composition of the sweat and provide a conducive environment for bacteria and should be minimized.
Being overweight which is also a result of poor diet may also lead to heavy sweating which in turn leads to bad odors.
7. Use hydrogen peroxide and water mixture
This mixture helps to flush out and get rid of excess bacteria from your armpits. You should mix well water and hydrogen peroxide in the ratio of 1:1 and scrub your armpits thoroughly using a washcloth or sponge soaked in the solution.
You should then apply your deodorant to prevent the bacteria from returning. 
8. Washing your clothes
Your sports or regular workout clothes need frequent washing to eliminate odors. Clean clothes will keep away the bacteria that cause body odor as they will not have a good environment to multiply.
9. Shaving your underarm hair
Your underarm hair is an excellent breeding spot for bacteria that cause odors. Shaving this hair enables you to clean your armpits and to get rid of excess sweat that gets trapped here and eliminate bacteria.
Frequently Asked Questions 
Some questions arise about deodorants for men with sensitive skin. Below are some of the FAQs and their answers that are helpful;
Q. Can I Apply Deodorant If I Have Dry Skin Under The Arms?
A. Yes, you can apply a deodorant but it is advisable to first apply a moisturizer or lotion. A moisturizer gets absorbed into the skin and helps to trap the existing water and prevent the pores from further leaking. 
You can also use a deodorant that has antiperspirant properties to reduce the amount of sweat. 
Q. When Should I Apply A Deodorant?
You should apply your deodorant immediately after taking a shower to make it more effective. You can reapply later in the day depending on the product you are using and how long it lasts. If your deodorant lasts for twenty-four hours or more, there may be no need for reapplication.
Q. How Can I Eliminate My Body Odor?
A. Body odors are caused by a combination of factors and eliminating them depends on this cause. Bacteria are the main reason for body odors as they thrive well in the sweaty areas of the skin. Deodorants are great in getting rid of the body smells but you may also need some other practices to help keep these odors at bay. 
Q. Is It Okay For A Man To Use Women's Deodorant?
A. Yes, it is okay for a man to use a woman's deodorant but it depends on your taste. It is normally little or no noticeable difference between women's and men's deodorants apart from their fragrances. You can, therefore, use a lady's perfume and still feel fresh.
Deodorants for sensitive skin for both men and women use the same types of natural ingredients and essential oils to avoid inflaming or irritating the skin. There may be no need to go for women's products since there are several masculine-scented deodorants which do not irritate your skin. 
How To Apply Deodorant
Final Word
Having a sensitive skin should not discourage you from applying deodorants. Most of the beauty care products are gentle and non-irritating and will give you the desired results.
You do not need to cope with the bad body odors for the fear of getting irritated when you apply the beauty care products. Ensure that you know what triggers the sensitivity and avoid it then use the right type of perfume for your skin.
Combined with the right hygiene practices, deodorants will play a great role in eliminating body odors and keep you feeling confident all day. Ensure that you eat a well-balanced diet, wash your clothes frequently, and shower properly as well as avoid strong-smelling foods.
Ensure that you also avoid deodorants that contain harmful ingredients such as aluminum, parabens, artificial fragrances, or alcohol that may irritate the skin more. Go for natural ingredients as these will help your skin feel smooth and cool. 
Last update on 2022-11-01 / Affiliate links / Images from Amazon Product Advertising API