Last Updated on October 22, 2020 by
As a gentleman, a watch is not only a timepiece, but also an expression of your personality and style. In this era, every man seems to always have their smartphone at hand, thus making it easy to know the time just by a glance. However, the appeal and elegance of a good watch haven't faded away, and digital watches are still very relevant. Digital watches now have elegant features such as GPS, music, water resistance, inbuilt compass and many more.
A digital watch is an excellent and stylish companion, whether you are going swimming or hiking or even for an important business presentation. A good watch is functional and also accentuates your appearance. There is a wide range of digital watches in the market from luxurious and expensive pieces to affordable and functional ones. Whether you want to own a watch as a store of wealth, or a timepiece or a fashion statement, you need to choose the best and most durable one. In this guide, we discuss seven of the best digital watches for men, how to choose the best for you and frequently asked questions on digital watches. Read on!
Top 7 digital watches for men in 2020 (Best Picks)
In a hurry? Check the bestseller top digital watches for men from Amazon. Just check the product link, the details and price.
Seven best digital watches for men
This go-to timepiece is reliable, comfortable to wear and affordable. It is shock resistantto protect it from vibration and all sorts of impact. It offers high-tech functions such as a multi-function alarm, 1/100-second stopwatch, countdown timer, hourly time signal, auto calendar, and 12- and 24-hour time formats. This rugged watch has a water resistance of up to 660ft.
It has a backlight that makes it easy to see the face of the watch, even in dark places.it is durable and gives you an extraordinary value for your money.
Key features:
Shock resistant to withstand excessive impact and vibrations.
Has a comfortable resin strap
Quartz digital movement with the accuracy of +/- 15 seconds per month
Has a multi-function alarm
Has  1/100-second stopwatch
 Has a countdown timer with a 24-hour range
Has an hourly time signal, auto calendar, and 12- and 24-hour formats
Has a protective mineral dial window
Water-resistant to 200 m (660 feet)
Specifications:
Brand Name: Casio
Model number: DW5600E-1V
Bezel function: Stationary
Movement : Quartz
Water-resistance depth:660 Feet
If you are looking for a reliable and stylish everyday timepiece and accessory, then this is the perfect buy for you. It is very affordable for the features that it offers and also very durable. This watch is ideal for you if you are looking for functionality and a quality-yet-minimalist digital watch.The numbers display is large and easy to read, with only the information you need and nothing else. The watch itself is so thin and light that you'll often forget you're wearing it. The watchband, unlike most stainless steel bands, is easy to adjust without special tools or having to add or remove links.
Key features:
Has a stainless Steel Band
Water Resistant
Has an LED backlight Afterglow
Offers dual time display
1/100-second stopwatch Measuring capacity: 23:59'59.99" Measuring modes: Elapsed time, split time, 1st-2nd place times
Has a multi-function alarm (One-time or 7-time snooze)
Has an hourly time signal
Full auto-calendar (to the year 2099)
12/24-hour format
Regular timekeeping: Hour, minutes, seconds, pm, month, date, day
Specifications:
Brand: Casio
Model number: EAW-A-178WA-1
Movement: quartz
Water resistance depth: 30 meters
Are you an outdoor person who loves exploring? If yes, then this is the perfect watch for you. This rugged outdoor watch was built to be the true adventure companion in whatever activity you love.The Timex Expedition collection was built to withstand whatever life throws its way. With outstanding features such as the chronograph functionality that allows you to track your personal bests and an indigo backlight that illuminates excellently in the dark, you have no reason not to own it. The simplicity of this watch is to die for; it is not only easy to set but also easy to read with date, month and day features. It has a durable and high-quality nylon watch band that withstands even the harshest conditions.
Key features:
 Has nylon fast wrap strap with hook & look closure
100-hour chronograph with lap & split times; 24-hour countdown timer; month, day & date calendar
Has three daily, weekday or weekend alarms with 5-minute backup; 24-hour military time mode; 2 time zones
Black 33 millimetre resin case with acrylic lens
Has grey digital display
The  Indigo light-up watch dial illuminates excellently in the dark
Water-resistant to 100 meters (330 feet) making it suitable for snorkelling, as well as swimming, but not diving
Specifications:
Brand:Timex
Model number: TW4B02400
Movement:Quartz
Water resistance depth: 100 Meters
Are you looking for an elegant and sporty watch that is easy to read? This cakcity watch is the right match for your needs. It has a bright light function that gives you outstanding visibility even in the dark. The display can be read easily by someone with low vision without squinting. It is easy to set and has features such as a stopwatch and alarm clock. It is water-resistant and can be worn while swimming, in the shower and any day to day activity.
Key features:
Has a fashionable sporty dial design with a military outlook
Has a large Dial and numbers with light to show the time clearly in the dark
Has a stopwatch, military 24H time mode, and LED backlight functions making it perfect for all kind of sport and daily use
Shock Resistant, perfect for both outdoor and indoor sports, such as running, climbing, and fishing
Water resistance of up to: 164 Ft / 50 M
Specifications:
Brand: Cakcity
Movement:Japanese Automatic
Water-resistant depth: 50 Meters
This fantastic watch with a classic military style and functionality is a favourite among many. Everyone who has opened it compares its functionality to popular and expensive brands such as the Gshock. It is quite affordable for the features that it has and a must-have for any man who needs a watch and does rough work daily. It is durable and easy to set and use. This watch is water-resistant and can be worn on a daily basis.
Key features:
Equipped with alarm clock function
Has a Japanese chipset to provide precise timekeeping
Water-resistant thus convenient for daily life
Has a chronograph display with a range of 23 hours, 59 minutes, 59.99 seconds.
Has 12/24H format
Has an Auto calendar
Specifications:
Brand:Palada
Water resistance: 50M
This watch is the high-end companion for outdoor enthusiasts. It has exemplary features such as the intelligent storm alarm and a built-in altimeter that displays your current elevation and shows how much you've climbed or descended. It also includes a barometer, which measures and records air pressure to help you predict changing conditions. This watch also has several traditional watch functions, including dual times, a date display, and an alarm. It also predicts times for sunrise and sunset to help you maximize your daylight hours. Besides,it has an automatic Altimeter/Barometer mode that senses movement or lack thereof and switches between the altimeter and barometer accordingly; a depth meter that provides accurate water depth readings to 30 feet; and the ability to function in English, German, French, and Spanish. It gives you great value for your money.
Key features:
Has an altimeter that tracks your vertical movement, a barometer that tells the trend in air pressure, and a compass to point the way
Has a weather Trend graph and storm alarm along with preset sunrise/sunset times for over 400 locations to help you stay safe and plan your activities
 stylish design and variations
Wrist top computer watch with altimeter, barometer, compass and weather indicator
Intelligent storm alarm senses drop in air pressure and notify you of approaching storms
Accurately measures depth to 30 feet
Specifications:
Water resistance: 100 feet
Weight: 2.26 ounces
Warranty: 2 years
This is your go-to watch that is light and easy to read.it has a classic military look that makes it appear more expensive than it is. It has a fantastic backlight that makes it easy to read in the dark. It is durable and ideal for anyone with a very active lifestyle.
Key features:
 Has an adjustable black 15mm resin strap that fits up to 8-inch wrist circumference
Has a 24-hour stopwatch; customizable daily alarm; 2 time zones
 Has 24-hour military time mode; optional hourly chime; day & date calendar
Water-resistant to 50m (165 ft): In general, suitable for short periods of recreational swimming, but not diving or snorkelling
Specifications:
Brand: marathon by Timex
Model: TW5K94800
Movement: quartz
Water-resistant depth:50 Meters
Factors to consider when choosing the best digital watch
Buying a brand new watch is exciting and also unnerving for a first-timer. You need to choose one that reflects your style and personality while sticking to your budget. In this guide, we take you through important things to consider when choosing the perfect watch that suits your need and desire.
• Your budget
Digital watches vary in prices ranging from budget ones to extra luxurious ones. Before buying a watch, you need to know how much money you are comfortable spending. Knowing your budget helps you narrow down on choices, thus saving you time. Whether you want a luxury watch or just an affordable one, your budget will help you decide on the one to settle for. Having a budget in place willgive you an idea of the features you will get. You can find a watch with more functionality and durability without breaking the bank.
When choosing a digital watch, it is essential to have in mind your preference in terms of brand, functionality and the material of the watch. If you prefer a watch that flaunts your success and achievements, then a luxury watch is the way to go.PatexPhillipe and Rolex are among the most popular and reputable luxury brands.
Military watches are great if you prefer a watch that is durable and functional. Most people who are outgoing and sporty prefer military watches. Casio, G-shock and Luminox are the most popular military watch brands.
You might also lean towards vintage watches as opposed to brand new ones. You can always buy vintage watches from authentic and authorized sellers. Your personal preference will be the final determinant of the watch you end up choosing. Choose a watch that you love since you will have it on your wrist almost all the time.
The features you want in a watch.
The features you want in a watch are closely related to the purpose of which you will be using the watch. You may need a timepiece that you can use when swimming or diving; thus, you will look for how much water resistance you need. You can also be looking for a watch that is easily visible while you are in the dark. You may also be a pilot looking for a watch that can survive drastic changes in pressure and temperature or one that is protected from magnetic fields. Multifunctional watches are now a trend, and it is easy to find a watch that has most, if not all, of the features you need.
The material of the watch
Watches are made from different which contribute to the overall weight, price and even durability of the watch. Thereexist watches whose outer body is made of carbon, stainless steel, titanium, gold, glass, and ceramics among others.
Ceramic watches are ideal if you are looking for heat and scratch resistance on your watch.Stainless steel watches are an excellent option for people with sensitive skin since they are rust-resistant. Watches made of this material are also of high quality.Watches made of titanium are extremely strong but lightweight. They are three times stronger than steel watches thus making them pricier.Gold watches are robust, outstanding and expensive.  Choose a material that will not irritate your skin and that you will feel comfortable wearing. You may want to ditch the gold watch when going for a walk in the park but might prefer to wear it to a meeting of the elites.
Your personality and style
As we mentioned earlier, a watch is an expression of your personality. The watch you choose should speak about your sense of style. A watch that suits your personality will also fit your lifestyle and wardrobe. If you are an outdoor person, consider a functional piece such as a fitness watch that will be easy to see in different lightings. You should also get a watch with features such as GPS and water resistance
If you are a minimalist, you will prefer a watch that is free from complicated displays and has an understated band giving you a classic and elegant charm. For the high roller, you need a watch that makes a statement and accessorizes your bold outfits efficiently, such as a gold watch. Whatever your style is, a watch is a great accessory that is functional and expresses it.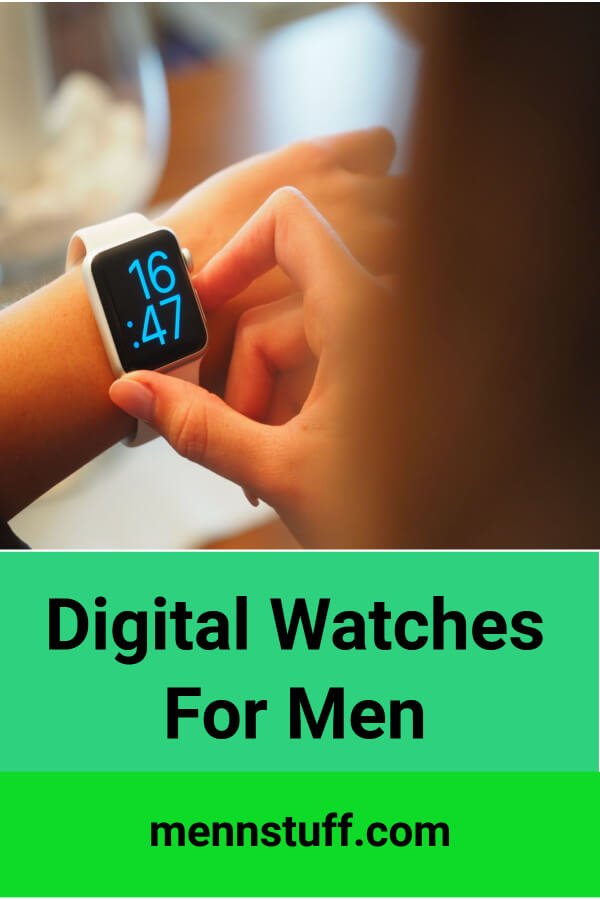 Secrets Tips on How to Take Care of Your Watch
Frequently Asked Questions on the Best Digital Watches for Men
1. Q. How do digital watches keep time?
A digital watch keeps time using a quartz movement. A tiny quartz crystal that is cut into the shape of a tuning fork vibrates at 32,768 times per second when electricity passes through it from the battery. A circuit in the watch then counts 1 second for every 32,768 vibrations. The vibrations of the crystals are very consistent owing to their molecular structure. Every time that the quartz movement counts the vibrations, it produces an electric pulse that is counted by a counter circuit. The counter circuit then converts the signal into a binary number. The binary number is then converted through basic calculations into hours, minutes and seconds by a microchip. It is this microchip that sends a signal to the LCD screen to display a series of numbers in the way of a 7-segment display.
Q. Why does my digital watch lose time?
Digital watches lose or gain up to 20 seconds per month. This can be attributed to the varying temperature and pressure that, in turn, changes the vibration of the quartz crystal slightly. Lower temperature causes the crystal to vibrate slower while higher temperature makes it vibrate faster. High air pressure makes the vibrations slower while low air pressure allows the crystals to vibrate faster. It is this very little change in vibrations that will eventually reflect on your watch as lost or gained time.
Q. When should I replace my digital watch's battery?
It is not recommended to change the battery of your watch unless it is extremely necessary. The reason why it is not advisable is that opening the seal of the watch compromises the factory seal and could mess up the water-resistance of the watch. Sometimes the watch becomes slow, or the readout fades, and the backlight loses its brightness; thus, a battery change is unavoidable. When such happens, you could change your battery quickly and make sure you reset the time and date. If you find it hard, you can consult a watch dealer to change the battery for you.
Q. How do I clean my watch?
It is advisable to clean your watch once every two months if you wear it often. The best way to get your watch cleaned is to take it to a professional jeweller to do it for you. However, you can still do mild cleaning on your watch. First, you need to clean the watch band using water and mild soap mixture or leather cleaner if the bands are made of leather and polish it with a lint-free cloth. Secondly, check the nooks and cracks and remove any dirt that might have accumulated using a toothpick. Finally, wipe the face of the watch gently to avoid scratching the glass.
Final Word
The feeling of buying a new watch is incomparable to any other. It is exciting and leaves you wanting to get more. A watch guarantees you a lifetime of companionship and functionality if you service it as required. Buying the right watch can also be daunting, and that is why reading a buying guide is a great step in the right direction. A watch is not only a timepiece but also an expression of your style and functionality.You need to put your best foot forward when choosing such a small piece that does so much.
Always consider your likes and what you want to achieve with your watch when buying. Statement pieces are expensive, but worth it. A good watch is worth saving for and investing in. You need to choose the right watch for your lifestyle to get the most out of it. Always make sure that you maintain your watch carefully according to the designer's guidelines.
It is always advisable to buy your digital watch from a reputable retailer. Doing this mitigates the risk of getting duped. You are also guaranteed of quality and authenticity. Buying a watch without getting a receipt may reduce its resale value in case of a trade-in. We hope that this guide will help you in your search for the best digital watch. Enjoy the buying process and the experience of having a new digital watch.
Last update on 2022-11-01 / Affiliate links / Images from Amazon Product Advertising API