Last Updated on October 22, 2020 by
For a long time, exfoliating has been known to be a ladies' affair since men did not have a defined skincare routine, but today things are different. Gone are the days when men only used to pop in the shower and take a quick bath, nowadays they have upped their game in regards to grooming. The modern man now embraces using the right products for grooming and skincare. Facial scrubs or exfoliators have become an essential part of everyday routine for healthier skin.
 Exfoliating removes dead skin cells, unclogs pores, and removes dirt and excess oil, leaving you with a healthy and handsome glow. Every man needs the right facial scrub as part of his grooming kit. This guide helps you know what to look for in facial scrub and gives a list of the best facial scrubs for men. Keep reading!
Top 6 Facial Scrubs for Men In 2020 (Best Picks)
In a hurry? Check the bestseller top Facial Scrubs for Men from Amazon. Just check the product link, the details and price.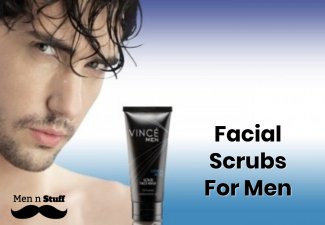 6 Best Facial Scrubs for Men
Brickell'sproducts are famed for quality and variety in men's skincare. Brickell'smen's renewing face scrub is not an exception when it comes to quality. Not only does it clear dirt and excess oil, but it also removes dead skin cells leaving you rejuvenated. The ingredients in this product are the reason you should have it already. It contains finely ground pumice that unclogs pores leaving your skin fresh, clean, and ready for a shave. When used pre-shave, it lifts whiskers giving you an ultra-close shave. It also has jojoba beads that exfoliate and minimize pores' appearance, leaving you with brighter and softer skin. It is 70% organic and free from parabens and colorants. The icing on the cake is that this exfoliator also has an amazingly fresh scent that combines coffee, green tea, and patchouli fragrances.
Key features:
Comes in a travel-friendly pack size
Suitable for any men of any skin type
 Helps to get rid of oily build-up, blackheads, or ingrown hairs when usedin skincare or shave routine
Made of Natural & Certified Organic ingredients, including aloe Vera, avocado butter, vitamin E, pumice, and jojoba beads
Specifications:
Brand:Brickell
Weight: 2.9 ounces
This m3 naturals face and body scrub is innovatively formulated with natural ingredients to detoxify and rejuvenate your skin.Your skin will thank you after using this product to exfoliate. If you are suffering from acne and blackheads, this charcoal scrub will help you fight them, leaving your skin feeling tighter and looking brighter.It also has anti-aging properties that reduce wrinkles, oil, and skin impurities. This product is infused with hydrolyzed collagen and stem cells, which rejuvenate your skin by repairing damaged skin tissue and protecting the skin from free radicals. Activated charcoal traps chemicals and prevents their absorption in the body, leaving your skin looking younger and healthier.
Key features:
Combined with Dead Sea salts to provide the ultimate oil and impurities cleanse for your skin
Infused with collagen and stem cell providing a boost in natural collagen while increasing skin cell longevity
Has anti-aging properties that reduce the appearance of wrinkles
draws out unwanted toxins, dirt, and bacteria from your pores to detoxify and polish your skin
the unique blend of natural ingredients reduce the appearance of acne and blackheads
Specifications:
Brand: m3 naturals
Weight: 12 0unces
Rugged & dapper facial cleanser is specially formulated to deep clean and attack dirt, excess oil, and grime. It eliminates breakouts and acne without stripping the skin of moisture. This is the best exfoliator for men with sensitive skin since it's gentle, natural, and organic. This product regulates the overproduction of sebum, reducing acne breakouts on your skin. The active ingredients in this exfoliator make it a favorite among most men. It contains aloe vera, which is rich an anti-oxidant and has skin-soothing properties. It has tea tree oil, which is an anti-inflammatory and treats skin conditions. If you are looking for an efficient facial scrub that saves you time in the bathroom, then this is it
Key features:
Simple, fast and efficient to use
 Made of natural and organic ingredients
Suitable for sensitive skin
Has an anti-aging formula that boosts the production of collagen
Has a clean scent from the essential oils it contains
Doubles up as a face wash and an exfoliator
Specifications:
Brand: rugged & dapper
Weight:8 ounces
4. Dove Men+CareFace Scrub, Deep Clean plus
Dove Men+ care face scrub does the essential work in a skincare routine. It washes away dirt and oil, keeping your skin looking healthy and clean. This scrub contains natural pumice for gentle exfoliation. It also has refreshing scrubbing agents that activate on contact, cleansing effectively while fighting dryness. This scrub deeply cleans your face without stripping moisture. This scrub helps to replenish the moisture that can be taken from your skin by regular shaving and washing, leaving you with soft and smooth skin. It is a great buy for men with dry skin because of its moisturizing properties.
Key features:
Deep Clean exfoliating face scrub removes dirt and oil without stripping skin
Has refreshing scrubbing agents that activate on contact, cleansing effectively while fighting dryness
Contains natural pumice for gentle exfoliation leaving skin smooth and soft
Offers advanced protection for dry skin on your face
Clinically tested to thoroughly clean and care for skin
Specifications:
Brand: dove
Weight: 5 ounces
If a close, smooth shave is important to you, then Jack Black Face Buff Energizing Scrub is the perfect product. This scrub is a high-quality pre-shave cleanser and facial scrub that gently exfoliates for an easier, closer shave. It is made with superior natural and biodegradable ingredients. When used regularly, it effectively unclogs pores, prevents ingrown hairs, and minimizes shaving irritation. It also helps to remove oil, dirt, and dead skin cells, leaving a clear path for your blade.
It contains a bamboo powder, which is a mineral-rich granule that provides gentle exfoliation. It also has peppermint, which helps cool, invigorate, and refresh the skin. Licorice extract is another great ingredient that is added to soothe the skin and help reduce irritation. The Vitamin C in the scrub fights against free radicals, while the addition of allantoin soothes and calms skin.
This product is dermatologist tested, paraben-free, cruelty-free, and free of harsh surfactants.
Key features:
An excellent pre-shave for reducing razor burns
Made with superior and biodegradable ingredients
Works effectively to unclog pores, prevent ingrown hairs, and minimize shaving irritation
Made with bamboo powder for gentle exfoliation
Contains peppermint and allantoin that cools, refreshes and soothes skin
Packed with vitamin C that fights against free radicals thus slowing down the aging process
Vegan, free of artificial colorants and safe for sensitive skin
Specifications:
Brand: jack black
Weight: 3 ounces
If you are looking for a gentle and natural exfoliator that is ideal for sensitive skin, look no more. Thrive naturals have carefully created this product with natural ingredients such as jojoba, Arabica coffee, and carnauba. It doesn't contain microbeads that are known to irritate sensitive skin. The ingredients that have been used in the making of this scrub have anti-inflammatory and anti-microbial properties that are effective in healing the skin. You can also use this product right before shaving to prevent ingrown hairs.
Key features:
Made from premium plant-based ingredients that deep cleanse, energize, and help protect skin from stress and irritation
Natural ingredients help scrub off dry and dead skin, improving the skin's overall appearance, tone, and texture
100% natural with no artificial ingredients, synthetics, colors, or fragrances
Has juanilama that helps combat ingrown hairs, blemishes, and impacts of stress and pollution on the skin
Contains Fierillo extract that has anti-bacterial, anti-inflammatory, skin-healing, and anti-oxidant properties
Gluten-free and suitable for vegans
Specifications:
Brand: thrive naturals
Weight: 3.38 ounces
How to Effectively Apply Face Scrub
The main reason for exfoliating is to remove dead skin cells that build up on your face making you appear dull. Exfoliating also has other great benefits to your skin that make you feel like doing it daily. However, you may exfoliate and not get that glowing skin that you desire. This is as a result of not using a facial scrub properly. In this section, we discuss how to apply face scrub effectively step by step.
First step: Wet your face with Luke warm water to open up the pores and apply a quarter-size amount of men's face scrub onto the entire face.
Second step: Gently rub the facial scrub into the skin using your fingers in a circular motion. Avoid vigorous scrubbing, as this may irritate your skin.
Final step: rinse off the scrub with warm water, then follow it up with cold water. Doing this shrinks the pores and prevents excess oils and impurities from going back in.
After exfoliating, make sure you apply a face Moisturizer for firmer and smoother skin. Dermatologists recommend using a gentle exfoliator twice a week as part of a men's skincare routine or before shaving.
Factors to Consider When Buying Facial Scrubs for Men
Choosing the right exfoliator for the first time can be quite confusing and frustrating. Sometimes you don't know which qualities make a good scrub, and you are not in the mood to consult your lady friends. The many brands in the market make it even more confusing for you. You don't have to worry anymore; this guide highlights the things you should consider when choosing an exfoliator to make it easier for you.
• Your Skin Type
It is essential to know your skin type as this will determine the texture of scrub that will go well with your skin. You can either have oily skin, dry skin, normal skin, or combination skin, which is commonly referred to as sensitive skin. Men with normal skin can use any scrub that they fancy and still enjoy the benefits.
Oily skin- men with this skin type need a facial scrub that can reduce the production of sebum and penetrates deep into your pores. Penetration is especially crucial because it will unclog your pores and prevent breakouts. If you have oily skin, look for an exfoliator that contains salicylic acid as one of its ingredients. This ingredient unclogs blocked pores and regulates sebum production.
Dry skin- most men have dry skin. Dry skin is usually caused by flaking of the already dead skin skills. Men with this skin type always appear dull with rough skin texture. If you have this skin type, look out for facial scrubs with extra moisturizing ingredients to help you restore the lost moisture.
Sensitive skin- men with this skin type are always advised to consult a dermatologist before trying out random products. However, if you have this skin type, you should go for scrubs that are allergy tested and hypoallergenic.
The Ingredients In The Scrub
Before using any product on your skin, make sure you have a look at the ingredients. Some products may contain chemicals that will harm or irritate your skin, and you should, therefore, avoid such products. Let's have a look at some of the most common ingredients in facial scrubs and their benefits:
Beta hydroxyl acids- these are oil-soluble acids that penetrate the skin drying out excess oils and unclogging your pores. The most common is salicylic acid, which helps combat inflammation and acne.
Retinoids- these are derived from vitamin A and include retinol, adapalene, tazarotene, and tretinoin. They protect your skin from free radicals and promote collagen production.
Alpha hydroxyl acids– these are water-soluble acids that are mostly derived from fruits such as grapes, apples, apricots, etc. they work by peeling off the surface of the skin to reveal new and evenly pigmented skin cells. These acids reduce the appearance of wrinkles and offer remedy for mild hyperpigmentation.
The texture of the face scrub
Exfoliators generally have a gritty texture that helps to remove dead skin cells from the skin's surface. The degree of texture ranges from mild to rough and is usually determined by the size of the scrubbing beads used. Always try to stay away from products that have synthetic microbeads and lean towards those with natural microbeads. The smoother a face scrub is, the less likely it is to irritate your skin. Always opt for a fine face scrub that has natural scrubbing beads to get the most out of an exfoliator without being too harsh on your skin.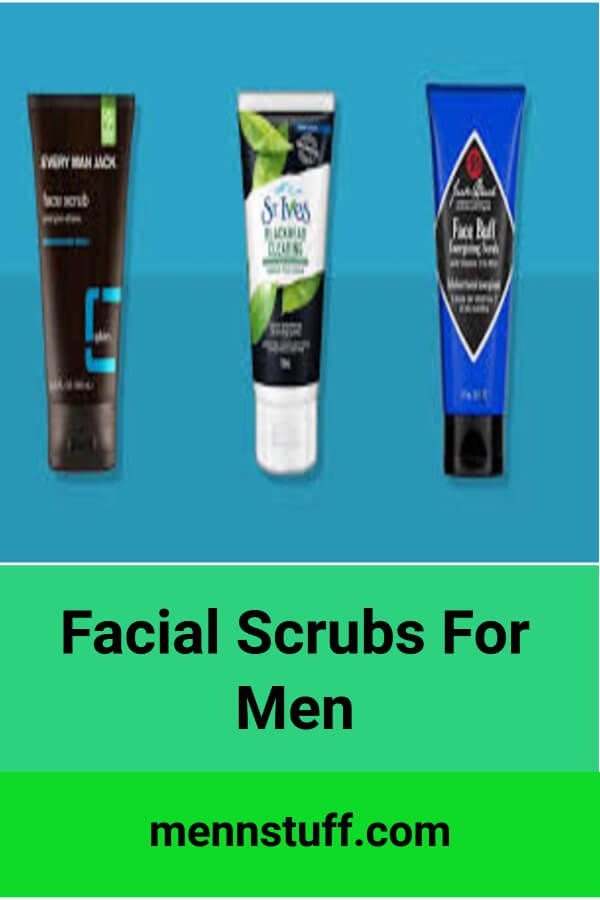 HOW TO WASH YOUR FACE PROPERLY 
Frequently asked questions on facial scrubs for men.
Q. How often should you use an exfoliator?
Unlike other skincare products such as a moisturizer or a face wash, which should be used daily, you should limit the usage of an exfoliator to at least twice a week. The reason for restricting usage is because exfoliators provide thorough cleaning to remove dead skin cells. If you're using it daily, you'll keep scrubbing and get to healthy skin that doesn't have dead cells leading to irritation and potential blemishes.
Q. What are the benefits of exfoliating?
The main benefit of exfoliating is that it gives you a vibrant and glowing skin in the long run. Exfoliating has also been proven to improve the effectiveness of other skincare products; as a result of unclogged pores. Men who exfoliate also have more elastic skin without wrinkles and sagging. These qualities can be attributed to the increase in collagen production, which is a result of long-term scrubbing.
Q. Can I use a body scrub on my face?
No. While both scrubs are meant for exfoliating, body scrubs is generally rougher and more aggressive. Dermatologists advise against using a body scrub on your face since your facial tissue is delicate. Body scrubs may irritate your face and not give you the exact results you are looking for. It is advisable to invest in a good facial scrub to add to your routine as a little goes a long way, and it might last for months.
Q. When should I exfoliate?
What time of the day you should exfoliate is more about personal preference. You may want to exfoliate in the morning as part of your grooming routine or before a shave. Doing this will ensure you have a radiant and rejuvenated look all day. You may also exfoliate at night just before bedtime to give your skin a chance to rejuvenate and regenerate. At this time, your face is also free from other products, thus giving it sufficient time to 'breath.' Skincare experts recommend alternating morning and evening exfoliation for the best results.
Q. Can I use an exfoliator if I have facial hair?
Yes, you can. Facial hair should not limit you from enjoying the amazing benefits of exfoliating. Exfoliating can help to get rid of ingrown hairs and also make your beard stand out because of having a healthy face. For men with facial hair, you only need to be thorough when rinsing out the product to ensure it is not left on the beard, making your efforts counter-productive.
Final word
Men's skincare industry is rising tremendously; this is due to men's incorporation of skincare products into their grooming routine. Exfoliating is beneficial and essential to every agent who is looking for healthy and glowing skin. This practice gets rid of dead skin cells that accumulate on the face causing the dullness. Exfoliating also regulates the production of sebum, making sure your face is not too oily. Exfoliating also prepares your skin for other skincare products making it a great practice when included in your routine.
When choosing the right facial scrub, you need to know your skin type, as this will guide you on the ingredients you should look out for. People with sensitive skin should always consult a dermatologist before trying any product on their skin. No matter your skin type, always look at the ingredients that make up a face scrub. Make sure it doesn't contain something you are allergic to or synthetic microbeads. It is also advisable to lean towards products made from natural and organic ingredients. For your face, the smoother the texture, the better the scrub is for you because you are sure it won't irritate your delicate facial skin.
Now that you know the benefits of exfoliating and choosing the best face scrub, you can select one product among those we suggested. Incorporate the facial scrub in your skincare routine and enjoy a myriad of benefits. Choose a facial scrub that has a refreshing scent, as this will encourage you to exfoliate often. It is also advisable to use a good moisturizer after exfoliating to give you that supple and beautiful skin. You can also adopt the habit of exfoliating right before a shave to prevent razor burns and ingrown hairs. Embracing a good skincare routine makes you more confident as you will always be incharge of how you look.
We hope that reading this guide will help you appreciate the importance of a well thought out skincare routine. By know, I'm sure you want to finish reading this and start exfoliating or buying an exfoliator right away. We wish you all the best in adopting a healthy skincare routine that incorporates a facial scrub. Cheers!
Last update on 2022-11-01 / Affiliate links / Images from Amazon Product Advertising API