Last Updated on October 22, 2020 by
For the majority of men, taking care of the hair is not something worth scratching your head. You just need a stylish haircut, apply a little balm, comb it, and you are good to go. However, when it comes to curly hair, you must learn how to shape, configure, and mold the strands properly. It can give you a headache trying to make the curls look uniform and not too styled.
If you have the right hair gel, you can easily manage your curls and wear the perfect look that you desire without breaking a bank. Purchasing a hair gel for men is one thing, but getting the right one that suits your desire or taste is another thing altogether. This buying guide covers the seven best products, their features, how to apply, as well as the factors to consider. There we go!
Top 7 Hair Gel For Men With Curly Hair In 2020 (Best Picks)
In a hurry? Check the bestseller top Hair Gel For Men from Amazon. Just check the product link, the details and price.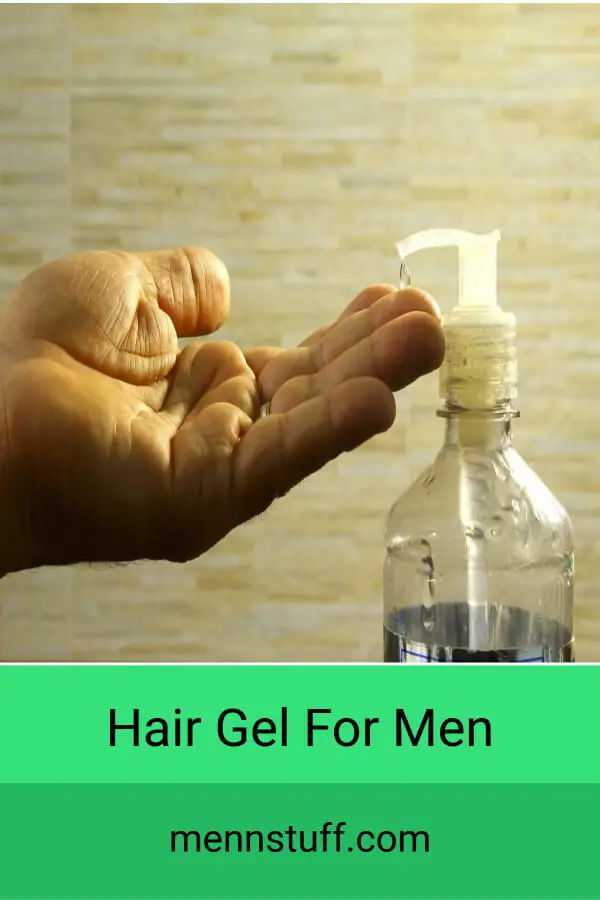 Best Hair Gel for Men with Curly Hair
First on our list is JOHNNY B mode gel, which is a great hair product that gives you control and muscle to tame difficult hair. The gel contains a non-alcoholic formula that has a high viscosity than other styling gels that work perfectly for medium to thick hair. It is also easy to rinse out. 
Styling your hair with the mode is quite easy as you just need to run a small amount of the gel through the hair and style as desired. You should then add a little amount of water to restyle and revitalize throughout the day when the gel dries.
Key Features:
An intensely thick, non-flake formula that is perfect for medium to thick hair
An alcohol-free formula that creates the appearance of thicker hair
Restyles or reactivates by adding water to hair when it dries
Has higher viscosity than other styling gels
Specification:
Brand      JOHNNY B
Model      B005659H3U
Size         16 Ounce
Our number two hair gel in the list is Cantu curling cream, and this is without any bias whatsoever. Your hair needs moisture and strength, and nothing provides that than this coconut curling cream by Cantu. The hair cream contains Shea butter that helps to define your curls without weighing them down. The award-winning formula of the cream saw it rated the Naturally Curly Best in 2013.
This cream is the best when it comes to defining, conditioning, and adding manageability to your curls as it makes them soft and elongated. The hair product is easy to apply, and you only need to smooth it onto your damp hair, section by section. You should begin at the root and work it towards the ends and not rinse. You can also use this product on dry hair to enhance the curls.
If your hair is waxy, you can use a little amount of Cantu cream and mix it with some water. Applying the mixture regularly gives you that attractive look on your hair that leaves people admiring you.
Key Features:
Moisturizes and strengthens the hair
Contains Shea butter that defines curls without weighing them down
Conditions, defines, and makes the curls soft and manageable
Suitable for both natural and textured hair
Perfect for all curls i.e., short, long, wavy, or coiled
Specification:
Brand          Cantu
Model          MD-FX51-5XNN
Size              12 ounce
Style hard-up holding gel by SEXYHAIR also finds its place at the top on our list, and we have our reason for this. This product is a high-performance hair gel that gives you shine and also a  maximum hold all-day. You can use the gel either on dry or damp hair to sculpt, mold, or form it into place. If you need to spike or achieve a sculpted, sleek, or refined look on your wet hair, you can be sure to do that using this maximum hold hair gel.
This Style Sexy Hair gel allows you to have control over the texture and hold of your hair for a perfect sexy look. The hair product also contains titanium dioxide and mica as added shining agents besides the blue color that helps to reflect light making the hair shinier. The reflection gives your hair extra shine that leaves it attractive all day long.
Key features:
Maximum hold and all-day shine
Contains mica and titanium dioxide as shining agents
Has a blue color that reflects light and adds shine to the hair
Can be used on damp or dry hair
The gel does not flake.
Water-soluble and washes away when shampooed
Specification:
Brand         SexyHair  
Model      
This hair styling gel by Free & Clear is a perfect product for those with sensitive skin. It does not have common chemical irritants such as fragrances, dyes, lanolin, formaldehyde, masking fragrances, and other preservatives. It is dermatologist tested to ensure that it does not harm you.
If you want a firm and long-lasting control, holding your hair in place, look no further than Free & Clear hair styling gel. You will style your hair without any fear of grease or sticky residue being left behind. The gel also repairs and nourishes damaged hair, minimizes flakiness, and adds body to the hair making it manageable and static-free.
Key Features:
Perfect for sensitive skin and scalps
Holds hair in place without leaving a sticky or greasy residue
Nourishes and repairs damaged hair
Reduces flakiness and adds body leaving the hair manageable and static-free
Provides long-lasting and firm control without any common irritants
Alcohol-free, phosphate-free, sulfate-free, gluten-free
Dermatologist tested
Specification:
Brand          Free & Clear
Model         B000LNWUIG
The Eco Styler Professional styling gel is an excellent hair product that contains olive oil. It helps your scalp to regulate its moisturizing system regularly. Besides regulating, Eco styler also retains the moisture in the scalp, thus giving you a healthier scalp and hair.
This weightless gel does not contain alcohol, and it provides your hair with a healthy shine and a maximum hold. It is suitable for professional use giving you a shiny look, as well as superior, feel all-day. The gel is easy to use, and you can apply it on either dry or wet hair. You should work the desired amount through the hairstyle.
Key Features:
Contains 100% pure olive oil for natural moisture retention
Provides maximum hold and a healthy shine
Retains moisture to your scalp for healthier hair
Free from alcohol
Weightless
Can be used on dry or wet hair
Specification:
Brand                           Eco Styler
Model Number            1811A
Size                               16-Oz
No products found.
This lightweight curl defining hair gel creates long-lasting curly hair. It has mega-moisture humectants, and it is enriched with olive oil and Shea butter. The hair product is ideal for both health and personal care and can be applied to all types of hair.
If you need scrunchy tight curls, apply generously to dry or wet hair and use a diffuser to style the curls into place. You should then allow the hair to dry. For elongated, bouncy, or spiral curls, you need to apply to wet or dry hair then stretch the curls gently while styling with your fingers. You can then use a diffuser, a hooded-dryer, or allow to air dry.
Aunt Jackie's lightweight gel is also suitable for braid-outs, coils, and twists. You should apply a little amount to sections of wet or dry hair, rod/roll set, then twist or braid each section. You then need to sit under a hooded dryer or let it air dry completely. Release each section as you fingerstyle into place.
  Key Features:
Creates long-lasting curly hair with mega-moisture humectants
 Enriched with olive oil and Shea Butter
Easy to use
Lightweight curl defining custard
Personal and health care
Specification:
Brand              Aunt Jackie
Size                 15 ounce
Color               Basic
No products found.
This 6-ounce styling gel by Got2b is a no-joke hair product that is non-sticky with a no-flake formula for crazy holds. It is also easy to unglue with a little shampoo causing no breakages on your hair. The gel is powered by a high-quality styling agent that allows you to take your hair to new heights.
You can use the gel on dry or damp hair and style it the way you want. The gel is easy to use, and you only need to squeeze a little amount into your palms, rub the hands together, and then distribute evenly throughout your hair.
Key Features:
Brand               Got2b
Size                  6-ounce
Factors to Consider When Choosing Hair Gel for Men with Curly Hair
Knowing the best hair gel for men with curly hair may not be enough unless you know the factors to consider. It may be challenging to pick the right one that suits your hairstyle, type, as well as the finish that you desire to have. Here are some of these factors that you need to look at:
The type of Hair
Your type of hair plays a significant role when it comes to choosing the right hair gel. If your hair is hard, for example, you may need a gel that is heavy to hold it into shape. A light or silky hair will require a lighter product that does not weigh it down. You should not also forget the volume of your hair, whether dense or smaller volume. A heavier gel will be ideal for voluminous hair as compared to a low volume.
The Sensitivity of Your Skin
Before choosing the hair gel, it is necessary to consider if your skin or scalp is sensitive to the hair product. Check the label to ensure that it is ideal for all types of skin and scalp, as this will not have any adverse effect on you.
Non-Flake
Some hair gels may flake when dry, and this may make your hair look unkempt. Always check the label to make sure that it contains non-flake agents for you to get the desired outcome and look.
Easy to use and Remove
A good hair gel should be easy to apply either by the use of hands or a diffuser. It should also be water-soluble to make it simple to remove with a little shampoo. The gel should also not leave any irritation when applied or after removing it.
No Chemicals or Alcohol
It is necessary to look at the label before purchasing the gel to ensure that it does not contain any alcohol or other harmful chemicals that may irritate the scalp. Check that it does not also contain harmful synthetic fragrances that can irritate your scalp or cause your hair to dry. You should also make sure that your gel contains no phosphates, sulfates, gluten that may cause your scalp to be scratchy or irritable.
Contains Moisturizers
A good hair gel should contain moisturizing agents to help your hair retain its texture. Lack of moisture to the hair or dry hair may result in dandruff and itchiness. To avoid this discomfort, you can choose a natural gel for men's hair that does not contain any alcohol or harmful chemicals. A gel with Shea butter or olive oil can be ideal.
A Strong-hold or Lighter Gel
It is crucial to look at your hair type before applying any gel. A firm-hold gel provides a stiff hairstyle that may make your hair brittle when left on for a more extended period. The brittleness may lead to hair breakage or make it turn more frizzy. It can also become rough, dry, limp, and eventually unmanageable hence no flexibility to style. A light gel, on the other hand, makes your hair manageable and helps to emphasize its waviness.
No Greasy Residue
A perfect gel should not leave any sticky or greasy residue when applied. It is essential to check the label and see that the gel does not have the waste, which makes your hair look unattractive or unkempt. The sticky residue may also cause your hair to look untidy and should be avoided at all costs.
Shiny ingredients
You should also look for a gel that has a bright color and ingredients that will add a shiny texture to your hair. Shiny curls look attractive and manageable as compared to dull ones. It is necessary to make sure that the gel you pick gives your hair a brilliant and beautiful appearance.
How to Style Men's Curly Hair Using Gel
Curly hair is a blessing as it enhances a fabulous look that is attractive. But unless you know how to style, it can be a challenge that can make you curse it. After picking the right hair gel for you from the list above, you will need to know how to apply it and get your desired look.
The following steps are ideal when styling the men's hair using a gel:
Shampoo Your Hair
For you to achieve the best results, you should first wash your hair with a suitable moisturizing shampoo. Scrub your scalp gently but thoroughly using your fingers then rinse properly.
Dry the Hair
Use a clean, dry towel to dry your hair gently. Ensure that you do not rub too hard to avoid damaging and breaking your hair or even pouf out the curls more.
Apply some Gel
Take a little amount of non-greasy gel onto your palms and rub them together. You should take the amount of gel that is enough for your hair, depending on its thickness. For thicker hair, you need a little more of the hair product for a firm hold while more delicate thinner hair needs only a small amount. Ensure that the gel you use does not have sticky or greasy residue.
Scrunch gel Into Hair
After applying the gel on the hair, you should then squeeze it on the scalp. Begin with the fringe to define the hairline and pat down the sides and back with any remaining gel. Using your fingers, you should point-style the tops of the bangs at the desired angle. At this stage, you are free to show off your fresh style with confidence.
Styles to Create Using Men's Hair Gel
Did you know that with the right hair gel for men, you can get tons of hairstyles without much effort? Below are some of these fantastic styles:
Tousled Quiff
The tousled quiff is a casual hairstyle that you can create using a high-hold gel. The gel enhances the shine of the curls as well as defines them. You should apply around a little amount of gel into wet, freshly-washed hair and use your fingers to comb the hair backwards. Apply the gel and set your style while ensuring that it looks messier. It is a relaxed casual style for the weekend. 
Modern pompadour
This hairstyle involves styling the front section of your hair straight up. It is also a casual style that you create by applying the gel on the fingertips. You should first blow-dry your hair then set it roughly with the gel tones downwards.
Defined Curls
This style is suitable for guys who love wearing their natural hair textures. You can define your gorgeous curls by using your hair gel to coat wet hair. The gel holds the natural curls in place when the hair dries.
Curly Fringe
To create a curly fringe hairstyle, you need to use a high-hold gel to make the unique curls stand out. The gel holds the natural hair texture nicely, and it coats individual coils setting them apart in your hair.
Edgy Angular Quiff
This hairstyle is pretty easy to create, and it gives you an excellent look. It is best done using a high-hold gel that will help keep the sides of the hair up. You will then need to comb the center section of the hair downwards and smooth down using your fingers. Use your comb to create two straight segments on the sides of your head and brush upwards. You should then brush the sides of your hair down to complete the look.
Slicked-Back Hair
Slicked-back is a classic hairstyle that always gives you a relaxed and laid-back look. You should use a suitable gel and apply it to your hair then comb it backward. You can leave the comb marks for new looks. You can also go for a smoother style by slicking the hair with your fingers. 
How To Use Hair Gel For Men
FAQs about Curly Hair for Men
The following FAQs about curly hair for men and their answers are necessary to help you know how to manage your curls
Q. How can I keep my curls defined and voluminous at the same time?
You should use weightless gel or other hair products to avoid weighing the curls down, as this can cause loss of volume. Make sure to keep the product light. It is also advisable to apply the gel to wet hair and diffuse it upside down with cold air.
Q. What mistakes should I avoid with my curly hair?
Avoid using hair products that contain harsh and drying chemicals such as sulfates and silicones. You should also avoid bleaching your hair, as this may damage the curls. If you must dye your hair, ensure that you consult a professional stylist.
Q. How should I dry my curly hair?
Avoid using an ordinary towel while drying the hair as this will cause frizz and damage to the hair. It is advisable to use a microfiber towel to scrunch the excess water out. You should then diffuse your curls on low-speed, cold air with your hair upside down. This method will give you the most volume of the hair.
Final Verdict
Curly hair can be a blessing to a man who knows how to take care.  It can also be hectic if you do not know how to style and which products to go for. However, with the right hair gel, proper care, and the best styles, you can enjoy your curls and always look forward to showing it off to the world.
Choose wisely and ber the envy to those you come across.
Last update on 2023-06-03 / Affiliate links / Images from Amazon Product Advertising API