Last Updated on October 22, 2020 by
One of the best health practices that you can engage in to improve your fitness is eating well. Achieving this goal comes with some sacrifices and discipline, which includes eating out less. You will need to observe and take care of what goes into your system. When you eat out from restaurants and other eateries, you may not have control of how the meals are prepared.
If you must achieve the objective of healthy eating and control the ingredients in your meals, then it means carrying your packed lunch to work, outdoor adventures, hiking, and so on. If you want to take prepared food around with you, it may be challenging unless you have safe storage space like a lunch box to keep the food in their ideal temperature until the time of eating. The best lunch box for men also protects your meals from spilling.
There are several lunchboxes in the market, and choosing the right one could be a challenge. In this guide, we have highlighted the six best lunch bags that we have tested and certified as not only hygienic but also classic and excellent in holding your meals in the right conditions.
Top 6 Lunch Boxes for Men In 2020 (Best Picks)
In a hurry? Check the bestseller top Lunch Boxes for Men from Amazon. Just check the product link, the details and price.
The 6 Best Lunch Boxes for Men
1. MIER 2 Compartment Lunch Bag for Men Women
The 2-compartment lunch bag for men and women by MIER is a leak-proof insulated cooler bag that is perfect for work and school. The bag has a top dry section that boasts of a yawning U-opening, and dual zipper pulls for automatic access. It is ideal for non-seeping items such as fruits, pies, or snacks. The cold bottom section is a no-leak insulated with soft PEVA liner that is perfect for drinks, juice, and water. It is easy to clean.
This lunch bag has thick inner insulation and food-grade safe PEVA liner that retains coldness or warmth.  It can help to keep the meals cold or warm and fresh for several hours. There are heat-welded seams to guard against leaks, and it is easy to wipe clean.
The detachable and adjustable strap makes the bag easy to carry, and perfect for most people as it fits around the shoulders. The unique 2.0 silicon handle ensures that you get a comfortable grip of the bag.
The thermos is quite convenient and flexible with a reliable cooler, a front zipper pouch for packing napkins and utensils, and two side pockets to accommodate other belongings such as cards, snacks, and keys. This item comes with a limited 2-year warranty that covers for manufacturer's defect, and is made following a strict set of specifications and quality standards. 
Key Features:
2-insulated tiers for seperating containers and bottles
A leak-proof bottom
High-density water-resistant fabric, durable SBS buckles, and zippers crafted the sturdy lunch box
7mm high-performance insulation and BPA-free PEVA liner
Soft TPR handle and detachable shoulder strap to give you different carrying style
Two sizes and multiple colors for different demands
Three additional pockets for quick access to your phone, napkins, keys, cards, and other tiny items.
Specification:
Brand                             MIER
Item weight                   16 ounces
Product dimension s      9.1 x 7. 1 x 10.6 inches.
2. ThinkFit Insulated Meal Prep Lunch Box
ThinkFit Insulated Meal Prep Lunch Box has six food portion control containers, a shaker cup, a pill dispenser, and two sizeable reusable ice packs. The box is popular with men and women who have active lifestyles, hectic work schedules, daily gym routines, or body build. Each portioned container has a lid that tightly seals for the freshest food and tastes possible.
This lunch box and utensils are made with durable, heavy-duty BPA-free plastic that is reusable, and the containers are freezable, microwavable, and safe in the dishwasher. The box has double insulation to keep your meals hot or cold. There are also three compartments on each side for packing your breakfast, dinner, salads, and snacks.
Key Features:
Includes six meal prep containers, a pill dispenser, shaker cup, and 2-large reusable ice packs
Includes lids that tightly seal for fresh food and taste
Reusable, microwave, and freezer safe
Made with heavy-duty BPA-free plastic
Double insulation to keep meals hot or cold
It has three compartments on each side for packing breakfast, lunch, dinner, snacks or salads
100% lifetime guarantee
Specification:
Brand                            ThinkFit
Item weight                  3.5 pounds
Product dimensions     16.5 x 7.5 x 8 inches
3. Arctic Zone Titan Deep Freeze Cooler
The Arctic zone titan deep freeze is a zipperless hardbody cooler with high-performance insulation. It has a radiant heat barrier that reflects heat rather than absorb it, thereby keeping your meals fresh for long. The patented flip-open zipperless lid allows for quick access to drinks and food.
This lunch bag features an FDA-compliant hard body liner that removes SmartShelf to keep hard stuff like drinks separate from soft things. Your sandwiches and other sweet foods will not be crushed. The SmartShelf will easily remove to provide one large compartment if you want to use the entire liner.
The coolers are designed for convenience and usability since and they feature an adjustable Backsaver shoulder strap with anti-slip shoulder pad. The belt helps to center the load weight to make the cooler more comfortable to carry. This bag is Rhino-Tech water and stain-resistant, and the wipe-clean Exterior is abrasion and puncture resistant that will not crack with time.
Key Feature:
Deep freeze high-performance insulation
Patented flip open zipperless lid for quick access
FDA compliant hardbody liner with removable SmartShelf
Features ultra-safe leak-proof, easy-clean interior lining
Has an insulated front pocket
Rhino-Tech water and stain-resistant, wipe-clean interior
Adjustable Backsaver shoulder strap with pad for convenience and usability
Specification:
Brand                              Arctic Zone
Product dimension         12.2 x 8 x 12.2 inches
4. Carhartt Deluxe Dual Compartment Insulated Lunch Cooler Bag
This lunch cooler bag by Carhartt is a dual compartment insulated lunch box made of heavy-duty fabric with rain defender. The cooler bag is a perfect size to bring food to work or the job site. The main section is insulated to keep your meals or snacks cold, and is also large enough to hold a 6-pack. The top dome includes a separate insulated compartment to keep the food organized. You will also have your fruits and veggies protected.
The Carhartt Deluxe lunch cooler bag features a front zippered compartment that is ideal for storing utensils and condiments. The soft-sided lunch box with a top handle and shoulder strap is made of heavy-duty rain defender water-repellent material. It features YKK zippers, metal hardware, triple-needle stitching.
Key Features:
100% synthetic
Dual compartment insulated lunch box made of heavy-duty fabric
Rain defender durable and water repellent
Insulated main compartment
Separate insulated top- a compartment for additional storage
Front zippered pocket for utensils
Top handle and shoulder strap for easy carrying
Features YKK zippers, metal hardware, ID tag, and triple-needle stitching
Specification:
Brand                              Carhartt
Item weight                    9.8 ounces
Product dimension         10 x 9 x 7 inches
5. HSD Lunch Bag Insulated Cooler
The HSD insulated cooler is a large thermal lunch box that is durable and tactical and made of military-grade material. The MOLLE/PALS webbing on the rear of the bag help to attach additional pouches for extra storage or to clip keys or pacifiers with carabineers to prevent them from getting lost.
This lunch bag has thick insulation that uses 8mm thick PE foam, unlike others that use 5mm thick foam. There is a durable aluminum foil lining to keep the food colder or warmer for longer. The bag's large size allows you to easily fit a 12-pack of beer or a 12 pack of soda or 2-3 standard size meal prep containers.
Key Features:
Made of 600D waterproof polyester
MOLLE/PALS webbing on the rear of bag for extra pouches
56-inch long adjustable, detachable shoulder strap with shoulder pad
Durable aluminum foil lining w/8mm PE foam insulation
Heavy-duty, yet convenient, grab handle with reinforced stitching
Dual mesh side pockets for extra storage of drinks
Large zippered mesh pocket under the lid for the extra organization or ice packs
Top of the line YKK zippers – easy to open and close with one hand
Phthalate, formaldehyde and lead-free and conforms to the CA65 standard
Foldable for easy storage
Specification:
Brand                            HighSpeedDaddy
Item weight                  1.36 pounds
Product dimensions      11 x 8 x 9 inches
6. MAZFORCE Original Lunch Box Insulated Lunch Bag
The original insulated lunch box's unique and robust MAZFORCE is a new insulated lunch bag that lets you seize your day with confidence. The design is built with the office gladiator, or a weekend warrior in mind. The container is combined with a laid-back California vibe to help you meet everyday challenges or weekend adventures with cutting-edge style.
With this unique lunch box, you are sure to keep your food fresh for hours. The ultra-thick foam core insulation technology helps your drinks remain cold and the sandwiches do not become spoilt. The bag is designed with a max-efficient, expandable side water bottle holder and a slim back pocket to leave you with plenty of space to pack all your food and snacks all day long.
This lunch bag is a secure fit for the on-the-go adventurer or professional. It is highly functional equipment that comes equipped with a detachable buckle handle that will always look excellent when tied to your backpack or alongside a briefcase. The insulated lunch bag is also compact enough to fit inside a backpack, a gym bag, or travel bag to keep up with your on-the-go lifestyle.
You should not worry about your safety since the bag is made free of PVC, lead, BPA, and phthalate materials, and has also undergone rigorous quality control tests. This lunch bag has family-safe, eco-friendly, and durable materials, including waterproof oxford fabric and leak-proof aluminum inner lining to protect you from spills or leaks.
Key Features:
a unique, robust, and new insulated lunch box.
Ultra-thick foam core insulation technology to keep the food fresh for long
Designed with a max-efficient, expandable side water bottle holder
Inside mesh pockets and slim back pocket to give you lots of space
A secure fit for the on-the-go professional or adventure
A detachable buckle handle that is excellent on a backpack or alongside a briefcase
Compact enough to fit inside a gym bag or a travel bag
Free from PVC, BPA, lead and phthalate materials
Specification:
Brand                           MAZFORCE
Item weight                 8 ounces
Product dimensions    4.5 x 8.7 x 10.2 inches
Factors to Consider when Choosing Lunch Boxes
Different people have varying tastes and preferences when it comes to picking a lunch box. However, one thing will be a priority to everyone; the safety of the food. No one would be so comfortable with a container that makes food to go stale within a few hours of storage. There are some essential features that the best lunch boxes for men must have to enhance their utility. These aspects include:
• Size
The size of the container that you buy depends on the space that you require for your drinks and food. You will need to pick a model that can accommodate all your items without being excessively bulky. Pick a thing that will not take up a lot of space in your home or office. The bag should not be too big or too small.
The design and construction of the box that you pick will depend on your taste and style. Ensure that you choose something that pleases you and what you will be proud showing off while in the company of friends or colleagues. The lunch bags should be made of robust materials such as long-lasting stainless steel.
The box you choose should feature some insulation properties to ensure that the food remains fresh until you take it. Some brands come with removable ice packs to enhance the insulation. You should review the features of the box before purchasing to ascertain its effectiveness
The lunch bag you choose should be portable to ensure that you can carry it around whenever needed. Check that it has some straps and handles for ease of use. The straps should be adjustable as well as detachable for maximum comfort.
When choosing a lunch bag, ensure that you pick one that is long-lasting. The container should serve you many months or even years without going back to the shops for another. You can look at the reviews from different users and pick the best brand or ask from friends and colleagues who may have good experiences.
A lunch box that comes with an included ice pack has excellent benefits. This important feature helps you to cut on the costs of eating out, and it also helps to keep your food and drinks fresh for a more extended period.
A good bag should have multiple pockets to enhance its utility. The pockets enable you to carry several items in an organized manner. The mesh compartments and zippered segments efficiently help to hold utensils, cell-phones, and napkins when required.
The material on the Exterior
Most lunch boxes for men have an exterior made of polyester, nylon, or cotton material. The material that you choose depends on the needs of the bag. The content will not only enhance the overall utility but also utilize its full capacity. Cotton is a sturdy material, but it easily stains and does not repel moisture. A combination of polyester and nylon makes the exterior rip-resistant, stain-resistant, and waterproof.
The Major Types of Lunch Boxes for Men
There are various types and sizes of lunch boxes for men, and when choosing the right one, it is essential to compare the categories. Here are some of them:
• Hard Shell Vs. Soft Shell
Hardshell lunch boxes for men do not lose their original shape and can keep the food temperature constant for more extended periods, but they are also bulky. The softer shell boxes, on the other hand, tend to lose their original shape, especially if you do not fill them up to the brim. They are, however, more comfortable to store and not bulky.
Lunch Boxes with Versatile Carrying Options
A right lunch box for men should have versatile carrying options. There are those with a padded top handle, including detachable straps that are necessary for carrying hands-free. There are also padded straps to help minimize stress on the shoulders.
Lunch Boxes with Multiple Compartments
A lunch box that comes with multiple compartments is ideal for holding essential items like napkins and utensils. They will help you organize the accessories safely and securely, which will be easy to remove. You can look for a bag with mesh and zippered pockets in either the interior or the Exterior.
What are The Benefits of Insulated Lunch Boxes for Men?
Insulated lunch boxes for men have several benefits that include the following:
• Balanced Temperatures
Insulated lunch boxes for men help to maintain the food at their original temperatures. The meals also remain fresh and tasty, and you will take it the way you wanted. You can have your warm meal in a chilly environment or a cold meal in hot surroundings.
Most insulated lunch cooler boxes are available at attractive prices. They are affordable, and you can buy them as gifts for your loved ones. You will also get a classic bag for carrying your meals comfortably.
Insulated lunch bags can hold cooked food and fresh ingredients separately. If you keep the meals at the ideal temperature, it will retain the flavor and taste. The meal does not become hard or softer, and you will enjoy it the way you wanted. You will, therefore, comfortably carry your meals for outdoor adventures, picnics, fishing expeditions, or road trips without worrying about it going bad.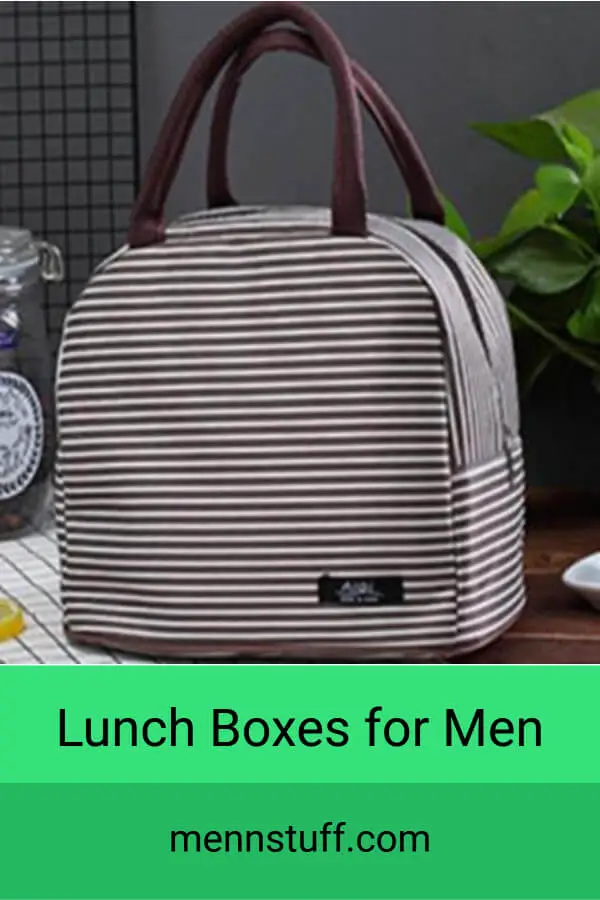 How To Clean A Lunchbox -Tips
Frequently Asked Questions about Best Lunch Boxes for Men
Several questions arise about the best lunch boxes for men. The following are the FAQs and their answers that are helpful:
1. Q. Is there a difference between the adult and child Lunch box
A. The lunch boxes for adults are made of metal materials such as tin or aluminum for durability. The lunch boxes for the kids, on the other hand, are made from vinyl or plastic materials.
2.  Q. Is the Insulation Alone Enough to Keep the Food Items Hot/Cold
  A. Insulation alone cannot keep the food hot or cold as it is not a cooling or heating method. The lunch bag must have ice or ice packs to help you maintain the coolness of your meals.  
3. Q. Which is the effective way to clean a lunch box?
   A. The method of cleaning your lunch box depends on the material making it. Some bags can be cleaned using a dishwasher while the softer ones can be cleaned using a washing machine. You should look at the manufacturer's instructions so as not to spoil it while cleaning.
Final Word
The best lunch boxes for men enable you to carry what you want, the way you want it for lunch, and enjoy your favorite meals. With these containers, you will be sure of your meals' safety since you are in control of the ingredients in your meals. It is, however, advisable that you take proper precautions when selecting the bags to pick the one which will hold your food at the right temperature and condition.
The container should also have enough compartments to hold the food, snacks, and salads separately to avoid them going bad. You should also be able to carry napkins and utensils comfortably. The bag should have adjustable straps that are padded for easy carrying.
Last update on 2023-05-26 / Affiliate links / Images from Amazon Product Advertising API