Last Updated on October 22, 2020 by
One of the items that you cannot afford to miss as a man who is mindful of your looks is a comb. We are not talking about any comb, but one that will help your hair to look healthier and fuller, which most men appreciate. The best men's comb helps to spread the natural oils around your follicles, giving your hair that sparkle that you need.
Not all combs are created the same, and when choosing, you need to avoid one made from the standard petrochemical plastic.  This material causes static, which easily chips, and turns the teeth of the comb into scalp piercing needles. Most high-quality combs are made of wood since it does not react poorly with your hair.
This guide highlights the seven best men's combs, what to look for when purchasing, and the different types of combs available. Read on and pick the right one for your style:
Top 7 Men's Combs In 2020 (Best Picks)
In a hurry? Check the bestseller top Men's Combs from Amazon. Just check the product link, the details and price.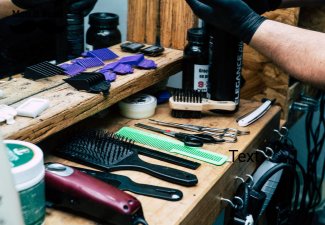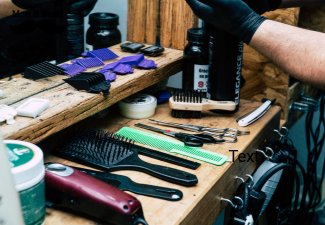 The 7 Best Men's Combs
When purchasing the best combs, it is necessary that besides looking at the material, you consider its manufacturing as well. A comb that is saw-cut and hand-finished to refine the polish and smooth the teeth is the best since it will be gentle on the scalp.
Several combs are available in the market, and it may be an uphill task choosing unless you have all the time and resources to try a variety. Below, we have listed seven combs that meet all the criteria of these essential items. Check here!
1. Kent A FOT Handmade Beard Comb
This handmade beard comb by Kent is made from cellulose acetate, which is a non-petroleum based plastic. The material is derived from plants, which prevents the creation of static in hair. The item is saw-cut to ensure a smooth surface that will not pull or snag the hair follicles. This comb is pocket-sized and ideal to fit perfectly in your jeans or back pocket to help you groom your facial hair anywhere, anytime.
Kent handmade beard comb has smooth teeth, and it is hand-polished and buffed to create soft rounded teeth that help to stimulate your skin or scalp. The microscopically flat teeth also stimulate the natural oils inside the hair cuticles as you comb your hair.
Key Features:
Pocket size 4 1/2 –inches or 113mm beard straightening and mustache comb
Saw-cut, fine-tooth comb
Hand-polished and buffed to create soft rounded teeth for skin and scalp stimulation
Microscopic smooth teeth for stimulating natural oils
Handmade from cellulose acetate
Has a smooth surface that does not pull or snag hair follicles
Specification:
Manufacturer                KENT
Product dimensions      6 x 2 x 0.1 inches
Item weight                  0.32 ounces
Item model                   A FOT
2. Wooden Beard comb and Case by Viking Revolution
This wooden beard comb is a dual-action with both fine and coarse teeth. The comb is perfect for use with oils and balms, and it gives the best grooming experience with no static or pulls, and it is excellent for taking out knots. This item makes you look and feel your best with a well-groomed beard, making you noticeable and admirable. It works great for all types of beards, whether long, short, thin, or thick.
When you don a well-groomed beard, you get the confidence to conquer the world. You will also not worry about damaging the comb since it comes with a case that makes it easy to carry around.
If you care about your beard, you will not settle for anything but the best, and this Viking comb qualifies for this. The pearl wood comb is ideal for applying oils and balms, and also necessary for the health of the beard, and stimulating the hair follicles.
Key Features:
Dual-sided comb with fine and coarse teeth
No pulls or static and great for taking out knots
Comes with a case for easy carrying around
Perfect for applying oils and balms
100% satisfaction guarantee
Specification:
Manufacturer               Viking revolution
Item weight                  0.64 ounces
3. Black Carbon Wide Tooth Comb by HYOUJIN
This black carbon comb by HYOUJIN is a must-have item if you are looking for a painless solution to tangled tresses. The detangling comb is heat-resistant, and it seamlessly glides through dry or wet hair, distributing styling mousse evenly so that no strand gets left behind. You will get flawless locks from the root to the tip.
The comb's handcrafted wide-toothed design makes it great for fast and effective detangling and styling on mid to long hair. The carbon sanded feel is made for heat resistance and for preventing static. The professional design with hand finishing makes this accessory great for straight and sleek blow-outs while keeping the hair in place.
This detangling comb helps to detangle knots easily while getting rid of any little knots and is thus perfect for use on wet hair before blow-drying. It leaves your hair silky soft and super smooth without any damage. For the best result, work on detangling from the ends to the root. Ensure that you hold each section while combing to avoid causing stress to the root area.
For wet or dry hair, brush through your conditioner to get a sleek, untangled hair before washing or blow-drying. Use the detangling comb to distribute the mousse or conditioner evenly through the damp hair.
Key Features:
A detangling comb that is heat-resistant up to 230oC
 Handcrafted wide-toothed design
Great for quick and effective detangling and styling mid to long hair
Detangles knots easily and perfect for use on wet hair before blow-drying
It comes with a darling sleek sleeve pouch for storage and carrying.
Made of carbon fiber material
Specification:
Manufacturer                HYOUJIN
Product dimension       11 x 3.2 x 0.4 inches
Item weight                  1.92 ounces
4. Cayzor Beard Straightener Comb for Men
This item by Cayzor is a 2-in-1 premium beard comb and heated beard straightener. Each of its brushes features five adjustable temperature settings, PTC technology, as well as a ceramic-coated straightener to help men get safe, rapid styling without damaging the beard or irritating your skin. The advanced PTC heating element is secure, and it delivers even, consistent heat to optimize straightening with each pass and avoid any hot spots.
The comb heats up in 60-seconds, and it features an easy-to-read LCD screen and boasts hard plastic bristles to protect your face and hair. You should use with silicone coat without touching the heating section. The temperature settings include 210/250/280/320/360oF, which caters to men with thin, delicate, curly, medium, and long hair lengths. The comb also helps to create a silky, smooth, natural, lustrous look without damaging the hair.
This tool has an ergonomic and portable design along with a sunken power button that helps to prevent Accidental operation and an automatic 30-minute shut-off feature. It is perfect for business, home, and vacation use with optimized energy efficiency. The item also makes an excellent gift for bearded men, such as boyfriends, dads, and spouses.
Key Features:
Premium beard straightening and styling
PTC technology and a ceramic-coated straightener for safe, rapid styling
Has a safe, rapid heating element.
Compatible with all types of hair.
Ergonomic and portable design with a sunken power button to avoid an accident
Perfect gift for men on various occasions
Specification
Manufacturer              Cayzor
Rated voltage              100-240V
Display                        LCD
Heater                          PTC with ceramic coating
5. Goody Hair Ace Dressing Comb
Goody hair ace dressing comb is a perfect tool to help you stay looking sharp all day. The comb is made for durability, and is ideal for everyday use. It features beautiful teeth for styling and grooming the hair with precision. The accessory is excellent for thin to medium hair making it easy for you to have a good hair day.
Goody hair comb has a perfect size for keeping in your back pocket to use anytime. The comb is inspired by the latest designer trends to let you enjoy style with value and create any look with ease.
Key Features:
Great for all types of hair
Beautiful comb teeth and great for thin to medium hair
Durable enough for everyday use
Perfect size for the pocket
Inspired by the latest designer trends to enjoy style and value
Specification:
Manufacturer                     Ace classic
Product dimensions           9 x 2 x 0.4 ounces
Item weight                       0.8 ounces
Item model number           Good Ace 7.5 – inches dressing comb black, 1 CT
6. Folding Wooden Comb by Striking Viking
The folding wooden comb by Striking Viking is a Men's hair, beard, and mustache comb that is pocket-sized. It is an all-natural 5-star hair care tool that promotes healthy hair growth and reduces breakage. This static free detangling wooden comb has smooth rounded teeth that glide through the beard and hair of all types, whether thin, thick, curly, long, or short.
This durable wood comb is handcrafted from 100% sandalwood, and is ideal for men's hair. It is also tough and long-lasting to stand up to daily use and travel. The switch flip-style makes it easy to fold for carrying with the front pocket. The comb helps to detangle and straighten your hair in position for a handsome style.
Key Features:
Promotes healthy hair care and reduces breakage
A static-free detangling wooden comb
The smooth rounded teeth glide through beards and head hair of all types.
Handcrafted from 100% sandalwood making it sturdy and long-lasting
Ideal for daily use and travel. The flip-style makes the accessory easy to fold for comfortable carrying.
Backed by a hassle-free return within 30 days of buying or a money-back guarantee.
Specification:
Manufacturer                Striking Viking
Product dimension       4.3 x 1 x 0.5 inches
Item weight                  1.76 ounce
Item model number      F
7. Kent A 81T (2.8") Pocket and Beard Comb
The 81T pocket and beard comb by Kent is fine-toothed and perfect for grooming beard for men. It is pocket-sized to help you groom your facial hair anytime, anywhere. The saw-cut comb is hand polished and buffed to create soft rounded teeth that will stimulate your scalp or skin. The microscopically smooth teeth stimulate the natural oil inside the hair cuticles as you comb your hair.
The handmade Kent beard comb is made from cellulose acetate, which is non-petroleum based plastic derived from plants. The material creates less static in hair and is saw-cut to ensure a smooth surface that will not pull or snag your hair follicles.
The beautiful teeth are polished to perfection and are ideal for styling medium to thin hair. This comb makes a unique and functional gift for the bearded man.
Key Features:
2.8 inches long x 0.5 inches wide
Saw-cut, hand polished and buffed
Great for quick styling on the go
Excellent quality comb for both men and women
Made from cellulose acetate which is less static and does not snag out hair
Rounded teeth for smooth and comfortable action
Specification:
Manufacturer                Kent
Product dimensions      6 x 1.7 x 0.1 inches
Item weight                 0.32 ounces
Item model number      a-81T     
The Different Materials of Men's Combs
The material of the comb plays a significant role when it comes to durability and effectiveness. The following are the common materials:
• Metal
Metal combs are durable and made to last. They prevent static and friction that makes it hard to style your hair. When buying a metal comb, always get one that is polished between the teeth to avoid pulling and snagging your hair.
When purchasing a plastic comb, it is good to avoid that cheap plastic that you can get anywhere. The combs may not be very durable, and they can leave ridges, lines, and seams in your hair, and their injection-molded design can snag and damage the hair.
Ensure that you get the high-end plastic combs that are of excellent quality and hand-cut. The design helps to create a comfortable finish without snagging and pulling the hair. The best plastic is cellulose acetate, which is a synthetic material that is more rubber than plastic. The combs are often hand-cut, polished to a subtle finish, and durable enough to last for several years.
Carbon combs are also durable and less static. They are steadfast and work well on dense, thick hair. You can purchase these comb if your hair is voluminous and thick.
Wood is believed to be the best comb material by most hair experts. Wooden combs are great for massaging the scalp while releasing the natural oils which condition the hair just like the brush does. Handmade wooden combs have a smooth finish that enables them to glide through your beard more efficiently than plastic or metal combs.
Wooden combs are static-free, and they help to give a fuller, healthier look that is not frizzy. They are also durable and of high-quality and will serve you for long. The maintenance of these combs is easy as you just need to rinse with water or light oil without using soap to prevent it from crack or flake over time. The types of wood used include bamboo, sandalwood, and cherry wood.
Ox or Buffalo horns are used to make quality combs that are super-smooth and less static. The horn combs like the wooden ones help to evenly distribute the natural oils in the scalp to create a healthy shine.
Factors to Consider When Buying Men's Combs
There are several men's combs in the market, and not all are of the best quality. When purchasing a comb, it is necessary to ensure that you get one that does not damage your hair or scalp and does not break easily, sending you back to the shops after a few months.
The following factors will help you get what you deserve:
• The Materials
When choosing a comb for men's hair, ensure that the material is durable and static-free. The comb should also be easy to care for and one that does not damage your hair or scalp. You can buy a metallic, wooden, carbon, or horn comb. You can also purchase cellulose acetate comb, a synthetic plastic made from plants, but avoid cheap plastic.
There are a variety of handle designs for the combs made from different materials. There are also some with two different tooth sizes for convenience. You should ensure that the handle design is comfortable on your hands when using.
You can look for a comb that features an extra-long design with a thin, pointed tail on the handle to divide the hair into sections.
A pocket-size comb is more comfortable to carry. You can either put it in your pants or front pocket or even in your jacket. You can also choose a foldable comb, which is more convenient as it doesn't take up a lot of space. The comb helps you to remain groomed anywhere and anytime.
Machine-Pressed or Saw-Cut Combs
A saw-cut or handmade comb has its teeth made by hands and then buffed and polished to provide a smooth finish. This comb does not snag or damage your scalp or hair, and it is of high-quality.
A machine-pressed or stamped comb often ends with jagged teeth that could damage your hair or injure the scalp.
When buying a comb, ensure that you choose one with a sleek design and a precise finish. It is also necessary to check the size of the teeth to make sure they are compatible with your hair. If you have thick hair, pick a comb with crowded teeth as this will help to detangle. The teeth are also ideal for uncoiling curly and dense hair as well as combing damp hair. The large spacing between the teeth allows the thick hair to pass through and get brushed easily.
If you have a thin straighter hair, pick a fine-toothed comb as this will remove tangles, create parts, and keep your hair neatly in place. The medium-tooth comb is standard, versatile and excellent for preparing to cut hair and remove tangles. An excellent idea for shaping hair.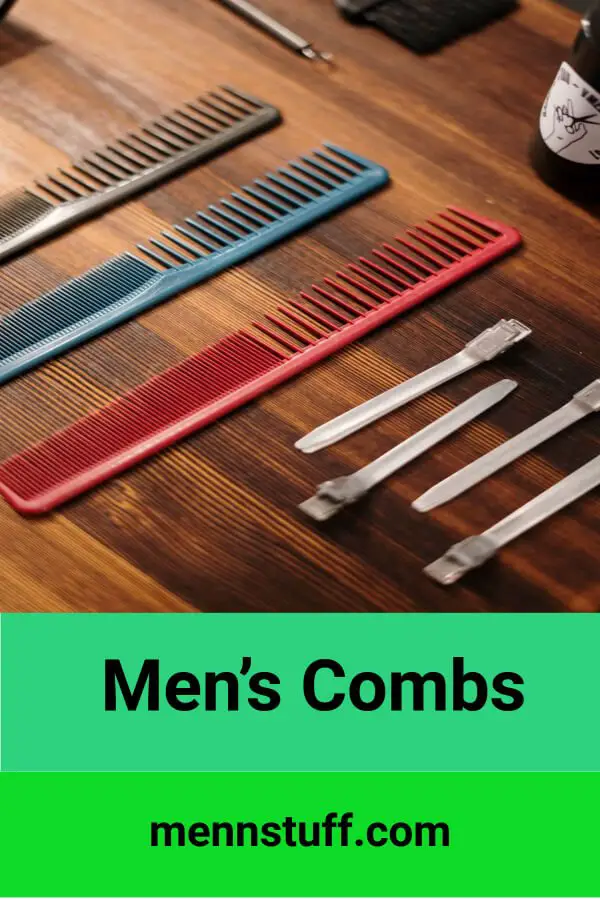 What Type of Comb to Use for Your Hair
Frequently Asked Questions about Men's Combs
Can a comb and hairbrush be used interchangeably?
Both combs and hairbrushes can be used to untangle the hair, but they cannot be used interchangeably. Combs have more teeth, they can be used on wet hair, and will give better styling control since they have only a single row of teeth.
Hairbrushes, on the other hand, can be used when you have already honed the hair and put the erratic strands into place. They can help pull hair strands within a lock into position and make the hair appear more uniform and direct it in the style you like.
What should I do with my wet hair?
Some experts believe that it is not okay to brush or comb your wet hair. But you can use a comb on the wet hair as long as you do not pull too hard. Using a comb on damp hair can help to untangle and make brushing more pleasant later.
Is it okay to use a metal comb on beards?
Metal combs are extremely tough and long-lasting, as well as easy to clean. It is advisable to buy a comb with an elegant and smooth finish to avoid devastating your facial hair. Metal combs may also be static, which means they are not ideal for long beards.
Final Word
Choosing the best comb for men should not be taken lightly, as this determines whether you will remain groomed. It is essential to consider the material making this item, portability, as well as the teeth. Ensure that the comb you choose does not damage your hair or scalp and that you will get a perfect look on your hair and beard and make you feel confident.
Last update on 2023-05-26 / Affiliate links / Images from Amazon Product Advertising API