Last Updated on October 22, 2020 by
Almost everyone has a dilemma on which bag to carry when traveling that will fit your essentials and not get in your way. We have an answer to your dilemma: the sling bag. sling bag is a timeless invention that fits into all occasions and attires. It is a lifesaver since it's bigger than a purse; to fit all your small essentials yet smaller than a backpack; to make it easy to carry everywhere. They are versatile since you can carry them to the office and carry it later when going for a hike.
Sling bags can also be worn as accessories to give your outfit a fashionable touch when you don't need them for their practicability. Just make sure to buy one that blends well into your wardrobe. There are many designs and brands of sling bags in the market, and this makes it confusing to choose the best. In this guide, we discuss the seven best slings bags for men, how to choose a quality and durable one, and frequently asked questions on sling bags. Read on and know everything you need to know about these stylish bags.
7 Best Sling Bags for Men In 2020
In a hurry? Check the bestseller top Sling Bags for Men from Amazon. Just check the product link, the details, and price.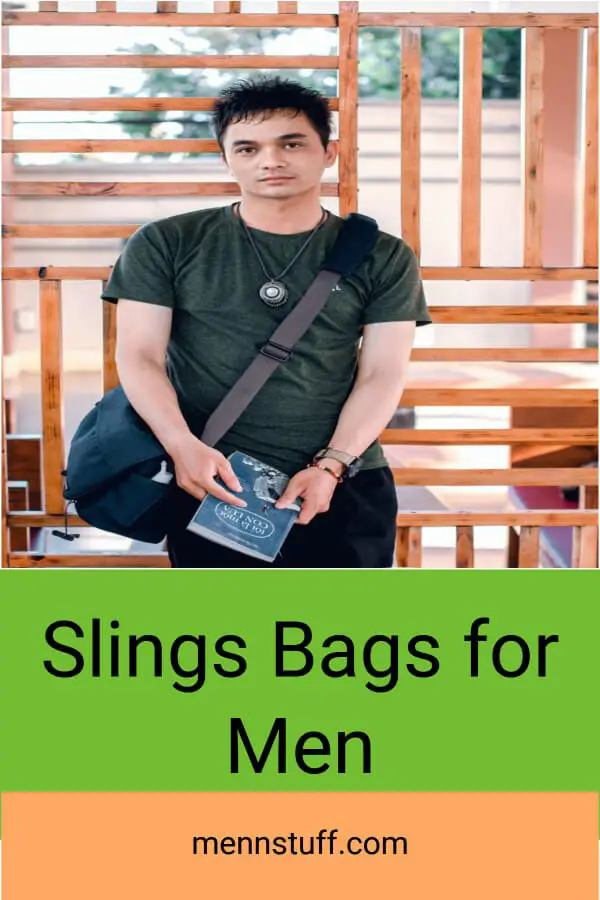 Choosing a sling bag that meets all the excellent features you desire needs research. You need to work with your budget to find one that is functional and befitting to your sense of style. This trial and error method is time-consuming and requires resources. You don't have to go through that hassle since we already did it for you. We have selected the top seven sling bags that have stood the test of time and are the best you can get in the market. Read on!
1. Leaper retro cross body sling bag
this leaper messenger style bag has a vintage look that makes it super stylish. It is an ideal every- day bag that can pair well with any outfit. It is made of a very durable looking canvas material on the outside and a softer, more luxurious material inside the main compartment. It has PU leather decoration all round the canvas making it look elegant and expensive. It has multi-functional pockets that accommodate your essentials no matter the occasion. This bag also has a buckle closure that makes it very secure. This bag also has an extra strap that gives you the option of carrying it as a shoulder sling bag or using the hand handle. If you are looking for a bag that makes you stand out from the crowd and is extremely functional, then this is it.
Key features:
Has an attractive and functional design
Numerous pockets for maximum storage space
Made of a durable canvas material
Has an adjustable strap for easiercarrying
Has buckle closure to keep everything secure
Specifications:
Brand: leaper
Material: Soft and durable Washed Canvas with Leather Decoration
2. KAVU rope sling bag
this fashionable sling bag is a favourite among most adventurers because of its practicality. Not only is it stain and water-resistant, but it also has a single wide strap to help distribute weight evenly. You can sling the bag facing right or left for easy switching of shoulders when tired. The straps length is also easily adjustable to give you the perfect fit.
This rope sling bag has two zippered pockets that provide plenty of space to hold your daily essentials such as a travel camera, iPad and water bottle. It also has smaller exterior pockets that are easily accessible for keeping your Chapstick, keys or phone. If you are looking for a trendy bag that goes well with both casual and official occasions, then look no further.
Key features:
Lightweight yet high quality
Has a durable rope strap that is soft and easy to carry
Spacious enough to fit all your essentials
Has funky patterns that make it more fashionable
Specifications:
Brand: KAVU
Material: polyester
3. Red Rock Outdoor Gear – Rover Sling Pack
red rock is a tactical and military-inspired sling bag. It comes in camouflage color themes such as olive and woodland. It is made of sturdy polyester that is durable and stylish. It has lots of pockets and convenient attachment to make your essentials fit well without overcrowding. The sling-style shoulder strap allows you to carry it either left or right to avoid straining on either side. The back panel has a concealed snap closure that makes a great anti-theft preventive when travelling with valuables.
It has a comfortable and adjustable shoulder strap and a strong handle. Not forgetting to mention that the general stitching is top-notch to handle any weight. So long as something fits inside and the zippers close, this bag can handle its weight. It also has a crossbody security strap that is adjustable and keeps the bag snug on your body even on rough terrain
Key features:
Has an adjustable ambidextrous strap for over the shoulder carry
Has a snap closure concealed carry pocket on the back panel to safely keep valuables
Has four compartments for the bare necessities and essentials
Has a sturdy construction to withstand heavyweight
Made of rugged 600 Denier Polyester with PVC lining
Specifications:
Brand: red rock outdoor gear
Model:B0094GLESS
Weight: 2 pounds
4. Outdoor Master Sling Bag
are you looking for a fashionable and compact sling bag that is quite spacious? If yes then this outdoor master sling bag is the best for you. It is very practical and has been designed with ample space for all your necessities. This bag has a discreet anti-theft pocket for storing all your valuables. The strap is ambidextrous so whether you are a leftie or righty, you will be comfortable carrying this bag. This bag is lightweight and comes with a variety of colours to suit your mood and style.
Key features:
Hidden anti-theft pocket and water bottle holder
Lightweight and compact crossbody design
Secure hook and loop closure
Reversible shoulder strap with a soft padding
ample space for your essentials and can fit your camera and laptop
Made with sturdy material for durability
Has a variety of colors
Specifications:
Brand: outdoor master
Model:B07BZYRYFR
Weight: 1 pound
5. Water fly Chest Sling bag
This is the perfect and sleek sling bag that is ideal for everyday use. It has a straightforward sling bag design and is lightweight enough for your daily commute and vacation essentials. It is made of soft and water-resistant nylon making it ideal for outdoor activities. It has plenty of storage space to fit your iPad, notebook and extra essentials. It also has extra pockets for keys, wallet and two pens. It is a nice bag for every organized gent. It also has a mesh pocket on the side to keep your water bottle safe and close. This bad has an adjustable shoulder strap for easy and snag fitting. The strap has a discreet pocket to keep your phone accessible and safe.
Key features:
Has a buckle and zipper closure
Ultra-light-weight making it comfortable to carry
Water-resistant and durable
Very Spacious and flexible
Has a sleek and stylish design
Has a mesh that makes it breathable
Specifications:
Brand: water fly
Model: B0771QNCCJ
6. Nicgid Sling Bag
if you are a hands-on person who loves being outdoor, then this is the perfect bag for you. It helps you carry your essentials safely while keeping your hands free. It is made of Durable and sturdy, water-resistant nylon material; it is also lightweight, making it comfortable to carry everywhere you go. The bag has multiple compartments to keep your essentials safe and well organized. It has a smart and unique design and an anti-theft pocket.
Key features:
It is made of high quality water-resistant and rip-resistant nylon.
Has great flexibility and you can use it both as chest pack and shoulder bag
multiple storage purpose sling bag with a large main compartment for iPad, small notebooks, large cellphone
hasfour front zippered pockets that are great forsmall items.
Has a good construction making it a strong and sturdy bag
has an adjustable shoulder strap
versatile enough for everyday use
specifications:
Brand: nicgid
Model: B06XFV5418
7. Neat pack Versatile Canvas Sling Bag
This neat pack sling bag is perfect for anyone looking for maximum storage. It has many compartments that provide plenty of room for storing gadgets, books, water bottle and a laptop. It also has RFID blocking an anti-theft pocket for keeping your valuables. It is also versatile and can be carried either over the shoulder or across the chest. It is ergonomically designed to prevent backaches and neck or shoulder pain. It is made of durable and water-resistant polyester canvas to withstand the harshest wear and tear. It is stylish and available in a variety of colors to suit your specific needs.
Key features:
Has a variety of practical storage compartments
It has versatile carry options
It is ergonomically designed with comfort padding
It is made from durable and water-resistant polyester canvas
Has an anti-theft pocket for storing valuables
Has quality zippers that don't break easily
The water bottle mesh has an adjustable loop
The main compartment is fully lined for maximum protection of valuables
Affordable and ideal for daily use
Stylish and comfortable design
Specifications:
Brand: neatpack
Model: B01KMMD7PA
Factors to Consider When Choosing A Sling Bag
A sling bag needs to be functional and stylish since you will carry it almost everywhere you go. Choosing a stylish bag is easy, but knowing the features that make a sling bag useful is quite tasking. We came to your rescue and researched on the crucial elements you should look at in a sling bag. Let's dive right in!
The durability of a sling bag will be determined by the material that it is made of. Always choose a sling bag made of sturdy material since you will be using it for a long time. You should also make sure that the straps of the backpack are durable and they won't come off quickly while you are carrying the bag. If you plan to use your sling bag for travelling, choose one whose straps are breathable. These straps will be comfortable to carry, and even when you sweat, you won't get sweat patches. If you are an adventurous person who enjoys hiking, a waterproof bag will be more durable for you. If you need a sling bag that will be your companion as you go for water sports, look for one made of nylon or PVC as these will be secured from water damage. The seams and stitching on a sling bag also have a direct impact on their durability. You should always check and ensure they are strong and professionally done.
Sling bags are smaller compared to the standard backpacks and have a sleek design. They can carry all small essential items such as your phone, wallet, money, headphones, and your small-sized water bottle. You should always remember not to overstuff your sling bag. If you need extra storage capacity, add a backpack that you don't have to carry all the time. The average sling bag has a capacity of 8- 10 litres and can fit only essential items. A sling bag is small to increase its functionality. You don't want a big bag that is cumbersome to carry and gets in your way while you are having fun.
Comfort should be your number one priority when choosing a sling bag. How comfortable your bag is willdepend on its weight when loaded. The secret to a suitable sling bag is to keep it light when wearing. Sling bags are designed forflexibility at the expense of extra stability. You have to put only the essential items in your sling bag to avoid overloading, which can cause a sore shoulder. The design of the sling bag also has a role to play when it comes to comfort. Avoid sling bags whose straps are too thin as this will press too hard on your skin when loaded. For hiking and adventure, always go for a crossbody sling bag since they are most comfortable and won't need frequent adjustment.
You cannot overlook your tastes and likes when buying something that you will use almost all the time. You need to ensure that the sling bag you choose fits your desired design and colour. Sling bags have various designs: some are shoulder sling bags; others are crossbody while others are tied around the waist. Choose a design that you like and is functional to your specific needs. The colour of your sling bag will also determine how well it blends with your attire. You can choose a neutral colour such as grey or black, that goes well with any outfit or go for a bold colour that stands out and accessorizes your outfit.
There is a wide variety of sling bags in the market, ranging from affordable and functional ones to expensive designer bags. Always have a budget that stipulates how much you are comfortable spending on a sling bag. Your budget will guide you on the features you can get in a sling bag. Having a budget also helps you to narrow down your options for easy decision making. When you have a budget, you can always compare prices from various sellers and bargain for a good deal that is within your budget.
Frequently Asked Questions on Sling Bags for Men        
Q. What is a sling bag?
A sling bag is a bag that has just one strap that runs from the top of the bag to the bottom. If the belt runs diagonally, the sling bag is referred to as a crossbody sling bag. If it runs vertically, the bag becomes a sling backpack, and if the strap runs across, it becomes a waist sling bag. Sling bags are designed to be convenient, fashionable, and durable. They are a minimalistic and straightforward way to carry your essentials. The common feature in all sling bags is that they are all worn at an angle. Sling bags are also casually referred to as a man-bag in opposition to handbags since they offer the convenience of a handbag but can be carried by men as well.
Q. Can I use a sling bag for hiking?
 If you are going for a short hiking adventure, you can carry your essentials in a sling bag for easy access. However, it is not recommended to use a sling bag for a long hike. This is because sling bags do not provide the back-support features of a hiking backpack and cannot fit all your hiking gear. Stick to your regular hiking bag for the hikes.
Q. Do sling bags cause back pains?
Sling bags are designed to be comfortable to avoid any pains on your neck, shoulder, and back. If you experience any pain as a result of carrying your sling bag, you are either carrying it the wrong way or overloading it. You should always ensure you carry your sling bag at an angle or diagonally so that its weight is equally distributed. Always ensure you do not overload your sling bag since this makes its straps weaken and cause pain on your shoulders.Always choose quality sling bags with ergonomic straps that are comfortable and won't cause strain on your neck, back, or shoulders.
Q. How do I stop my sling bag from sliding off my shoulder?
A sling bag that keeps sliding off your shoulder can be frustrating and uncomfortable. Sometimes the solution is as simple as adjusting the strap to make it fit more snugly. If adjusting the strap doesn't work, consider changing it with one that has a non-slip material.
Final word
Sling bags are currently the trend due to their stylish, minimalistic, and functional design. They are not only easy to access, but they also sit comfortably on your body, making them easy to carry. They help you carry your essentials without having to forego the comfort of a small and functional bag. Every modern man deserves to own a sling bag to enjoy their functionality and style.
Choosing the right sling bag can be confusing since several factors come to play. You need to research and know the best features for a sling bag. When choosing a sling bag, always ensure that it is made of durable and robust material. Also, ensure you select a material that can endure the type of weather that you will be exposed to. For example, if you plan to use your sling bag for rainy seasons, go for a waterproof bag. The size and capacity of a sling bag play a critical role in your choice of a sling bag. The ideal size of your sling bag should be one that fits your essentials without overloading. Your sling bag should also be comfortable to carry since you will go with it almost everywhere. We recommend choosing a sling bag with an ergonomic strap that makes it convenient to carry.
The rule of thumb when buying a sling bag is to buy one that fits into your lifestyle and sense of style. Since you will have your bag most of the time, ensure you purchase one that you like and looks good on you. Buy a colour that blends in well with both formal and casual outfits if you don't plan on having a collection of bags. Ensure you carry your sling bag the right way without overloading for it to last longer. We hope that this guide is helpful to you and will make your search seamless.
Last update on 2022-11-01 / Affiliate links / Images from Amazon Product Advertising API