Last Updated on October 22, 2020 by
Summer is everyone's favourite time of the year. It's a time to relax and bring out your pomp and style. Whether you are going on a vacation or just chilling at home, you need the perfect summer shoes for your feet to breathe. Your summer footwear should be stylish, comfortable, and functional to your routine. Your shoes should complement your choice of dressing for a polished and well thought out look. From men that love a formal look to those that prefer a casual one, there's something for everyone.  
Summer shoes are any footwear that is breathable, comfortable, and ideal for the various activities of the season. Most people consider summer shoes to be those you can wear without socks. The type of shoe you wear during this season should fit into whatever activity you will indulge in. That is why you will have options ranging from sandals to sneakers and converse or even loafers. We discovered the struggle that most men go through when choosing the perfect footwear and compiled this guide to make it easier for you. Read on to find out what you should look for in a summer shoe as well as our best picks.
Top 7 Summer Shoes for Men In 2020 (Best Picks)
In a hurry? Check the bestseller top Shoes for Men from Amazon. Just check the product link, the details and price.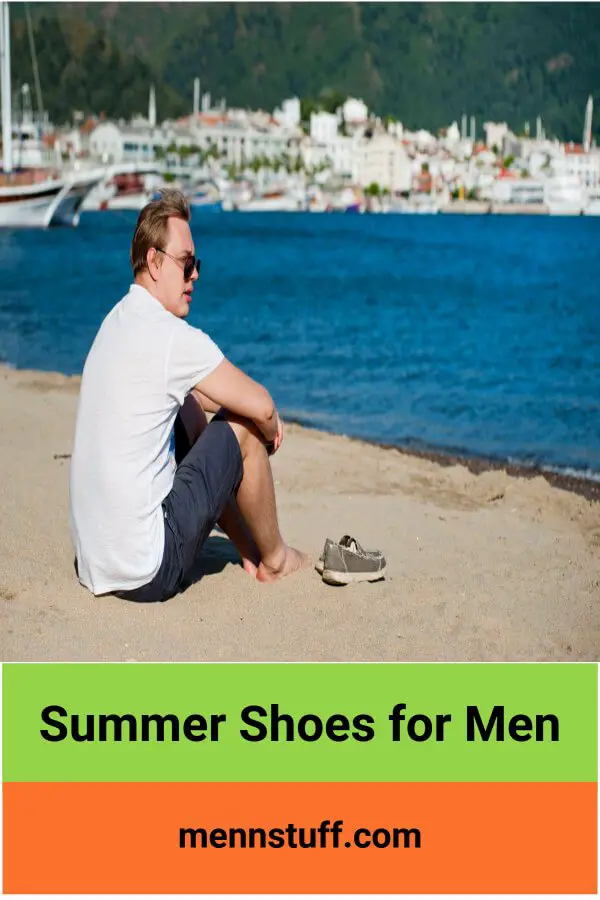 7 Best Summer Shoes for Men
There is a lot of footwear in the market that is labelled summer shoes, but some are just sheer disappointments. We embarked on intensive research that involved testing out different shoes to gauge whether they are worth the money. After the trial and error process, we are confident to present to you seven of the best summer shoes for men. These pairs are comfortable, breathable, and durable, not forgetting to mention their affordability and style. Here are our favourite picks:
1.Skechers Men's Classic Fit-Delson-Camden Sneaker
Skechers is a reputable brand in the athletic footwear industry; they are known for comfort, durability, and classy sneakers. This pair is a perfect representation of Skechers' quality sneakers. It has an air-cooled memory foam that is breathable and makes this sneaker super comfortable to wear for long hours. The shoe is made of textile and synthetic to give a flexible toe area that is comfortable from the first wear. The shoe is lightweight and can be worn semi casually with khakis or casually with jeans or shorts. The design mimics laced shoes, but they are slip-on sneakers. This gives them a classy look and makes them easy to wear for people who hate shoelaces.
Key features
Made from 100% textile and synthetic
Synthetic sole for comfort and durability
Have an air-cooled memory foam for breathability and comfort
Have bungee laces for easy wearing and removal
Lightweight enough for sports or jogging
Perfect for a casual and semi-casual look
Affordable and stylish
Specifications
Brand: Skechers
Model: Delson Camden
2.REEF Men's Fanning Flip Flop
Flip flops are the type of footwear we can't do without in the summer. When you need shoes for the poolside or short walks in the neighbourhood, flip flops come in handy. You might be wondering why these Reef sandals are so popular: it is because they have a bottle opener in the sole. The flip flops are super comfortable with anatomical arch support and a shock-absorbing footbed. The sandal also features a 360 degrees heel airbag that is enclosed in soft polyurethane.  This pair of the flip flop is also water friendly with a durable rubber outsole that gives you traction control.  These Reef sandals are the Ferrari of flip flops. 
Key features
Has a durable rubber outsole
Features an anatomical arch support
Has a church key bottle opener in the outsole that ensures you quench your thirst on the go
Has a shock-absorbing foam footbed and a heel airbag to keep your feet protected from a minor injury
Water-friendly and ridiculously comfortable
Specifications
Brand: Reef
3.Converse Men's Chuck Taylor Sneakers
Converse are stylish and lightweight summer shoes that are ideal for the perfect casual look. They are versatile and can be worn with almost any outfit. If you want footwear that is lightweight and comfortable, then this is the shoe for you. The shoe has a sturdy rubber outsole that makes them durable and suitable for long-wearing and walking in rough terrain. They also have an orthotic insole for maximum comfort, even for those with knee or leg pains.
Key features:
Lightweight and comfortable for prolonged wear
Orthotic insole to cushion you from pressure and pain caused by long hours of standing or walking
Stylish and versatile, can be paired with any casual outfit
Has a sturdy rubber sole for durability and foot protection
Made of breathable canvas material
Low cut for comfort at the ankle and better airflow
Specifications:
Brand: Converse
Model:  Chuck Taylor
4.Sperry Men's 2-Eye Leather Boat Shoe
Boat shoes are perfect for that semiofficial and chilled-out look. This pair by Sperry is designed for comfort and durability in all the activities of summer. Whether you are going to the office or for a sailing holiday, this pair will come in handy. The shoes are low cut and breathable for maximum aeration and freshness. They have a rubber out sole that has a razor-cut wave-sipping for ultimate wet or dry traction. The shoe's lacing system is stylish with rustproof eyelets for a secure fit. Featuring a shock-absorbing heel cup for extra comfort and premium leather upper, the style and aesthetic of the shoe is worth every penny you spend to buy it. When you buy this pair, you will have a hard time switching it for any other. It might end up as your everyday summer shoe.
Key features:
The upper part is made of premium leather
Has a rubber sole that features a shock-absorbing heel cup
Secure fit due to the 360 degrees lacing system
Laces are made from genuine rawhide
Perfect for everyday wear
Stylish design that is ideal for official or semi-casual occasions
Specifications:
Brand: Sperry
Model: 2-eye leather boat shoe
5.Lugz Men's Clipper Sneaker
Oxford sneakers are versatile, stylish and perfect for every minimalist. This clipper sneaker by Lugz features a breathable canvas upper for superior comfort. The outsole is made of durable rubber for excellent traction. If you are looking for a stylish shoe that offers excellent arch support, this is the pair to go for. This shoe can be worn daily for any summer activity due to its comfort. The pair is quite affordable for how it looks and feels. The comfort is addictive, and you might want to get another pair of a different colour for you to keep interchanging.
Key features:
Made of breathable canvas on the upper part of the shoe
Has a durable rubber sole for excellent traction
Cotton drill lining that protects your feet from friction that causes blisters
Easy slip-on and removal due to the elastic gore
Classic and stylish construction
Designed for comfort and adventure
Specification:
Brand: Lugz
Model: Clipper sneakers 
6.Go Tour Men's Premium Breathable Driving Shoes 
Are you looking for a fashionable and versatile summer shoe that you can wear to work and a party later? If you are, then your search ends here. This shoe can be worn as a driving shoe or as a slipper. The style you choose will depend on where you are going or the look you are after. Each shoe by go tour is carefully handcrafted for a superior shape and fit. The shoe has air ventilation upper to give you both comfort and style. The manufacturers of this shoe went into the finer details to guarantee your comfort and style.
Key features: 
Rubber sole for superior comfort and durability
Slip-on design that makes for quick and easy wear and removal
Lightweight, Flexible and Comfortable on your feet
Features a handcrafted leather upper with detailed stitching throughout
Rubber outsole is durable and delivers traction on different surfaces
Ideal for all summer activities
Inspired by the latest street styles
Specifications:
Brand: Go tour
Model: casual slip-on loafers and boat shoe 
7.Hey Dude Men's Wally Sox Loafer
We fell in love with this incredibly comfortable loafer, and we bet you will too. They are soft and plush, leaving your legs feeling protected and smooth. The upper is knitted and has soft cloth lining that protects your feet from friction. They have a wide chukka style foot area that allows total air circulation at the toes. This loafer has a flexible memory foam insole that makes your feet comfortable all the time. If your feet are prone to swelling, you should own this pair since it relieves pressure from your feet and is wide enough not to constrict your veins. The outsole is synthetic and lightweight, making it ideal for long walks.
Key features: 
Synthetic sole that's lightweight and flexible
The upper is knit with bi-component and has soft cloth linings
Has a wide chukka-style forefoot vamp with a wide and low top to allow total circulation of air at the toe area
Has a memory foam insole for extra cushioning and comfort
Two lacing options for a tight fit
Specifications:
Brand: Hey dude
Model: Wally sox loafer
Factors to Consider When Choosing Summer Shoes
The heat experienced during summer can be harsh to your feet, but with the right footwear, you have nothing to fear. You need to know what you are looking for in a shoe to get the most out of whichever you end up choosing. Here are a few crucial factors you should consider when selecting a shoe for summer.
The material of the shoe
The material that a shoe is made of greatly impacts its breath ability. During summer, you need a shoe that allows airflow to keep your feet from stinking due to the humidity and heat. The best footwear for hot weather is those made of either canvas, knitted yarn, perforated leather or unlined suede. These materials are breathable and also comfortable on your feet. If you are not a fan of slip-ons or sandals, you can find great sneakers or dress shoes made of breathable material. It would be best if you stayed away from shoes made of synthetics such as polyester since they do not absorb moisture, and this can cause smelly feet. Summer footwear needs proper care and maintenance to retain their durability since they are made of light materials.
The colour of the shoe
Summer is the perfect time to wear lighter shoe colours. It is advisable to go for whites, greys, and light shades of brown in your summer footwear options. Bright colours reflect heat and keep your feet from sweating and stinking. Brightly coloured shoes also light up your outfit and overall appearance. The colour of shoe to wear will also be impacted by the type of shoe you choose. For sandals and slip-ons, black and brown remain the classic choice. Brightly coloured sandals look cheap when not carefully paired with an outfit, and we don't always have the time to match sandals to our wardrobe. 
Personal style
A pair of shoes can upgrade or downgrade your whole outfit, depending on how you wear it. When choosing a shoe, it is essential to ensure that it is functional and fits well with your choice of clothes. If you are always in formal or business wear, a pair of breathable dress shoes or loafers that look executive are your best options. If you are mostly in shorts or casual wear, you can opt for a comfortable pair of sneakers or sandals. The type of shoe you wear should complement your personality and character. If you are a laid-back person, go for simple shoe designs with dull colours. If you love a little sophistication, go for a shoe that is likely to draw attention. Your style will also determine the brands you prefer. Always make sure that you buy a shoe that you love to avoid ending up with a pair of shoes that you might never wear.
Comfort
When choosing summer shoes, comfort is one feature you cannot overlook, especially if you will be walking in the shoe for hours. For you to know if a shoe will be comfortable, look at the arch support and the type of insoles. If you have knee or muscle problems, choose a shoe with cushioned arch support. The extra cushioning prevents pain and fatigue on your feet. You can also get a pair of orthotic insoles to make your favourite shoes more comfortable. The material of a shoe also impacts its comfort. Choose a shoe with a breathable material or one that doesn't cause much friction when wearing.
Your Budget
Quality and comfortable footwear are not cheap, but this doesn't mean you can't get an affordable and worthwhile pair. Before embarking on the search for a perfect summer shoe, it is essential to have a rough estimate of how much you are willing to part with. A budget will help you decide on the brands with the best deals and durable shoes to choose from. Apart from having a budget, you can consider buying summer shoes when there is a sale. This way, you are likely to get a quality shoe without breaking the bank. Comparing shoe prices from different sellers also helps you get great value for your money.
Frequently Asked Questions on Summer Shoes for Men
The search for the perfect summer shoe can leave you with many questions, and this is evident with the type of queries we receive every day. We answered the most common questions to help you tackle any questions you might be having. Read on.
Q. What are summer shoes?
Summer shoes are footwear meant for warm weather. They are designed to be light, breathable, and comfortable. Summer shoes make your summer experiences better by providing your feet with the comfort and protection they deserve. Slip-ons, sandals, and sneakers are the most popular and versatile types of summer shoes.
Q. How do I keep my summer shoes from smelling?
The heat and humidity of summer can be brutal to our feet, especially when we have the wrong shoes. Heat and moisture provide a breeding ground for bacteria that causes stinking feet. You should wear shoes that are breathable and allow air to flow freely. Wearing shoes made of a material that's not breathable can cause your feet to smell. If your summer shoe is breathable but still stinky, you should clean them with soap and water; then air dry them outside. You can also buy insoles that neutralize odours and keep your feet from smelling. A pinch of baking soda can temporarily be used to get rid of the odour.
Q. What type of socks should I wear with summer shoes?
Summer footwear is versatile, and some shoes, such as sandals and flipflops, can be worn without socks. If you are wearing converses or sneakers, you might be uncomfortable wearing them without socks. Whenever you have to wear socks in summer, make sure they are made of cotton since it is breathable. Invisible socks also come in handy when you want to protect your feet from blisters and still allow your feet to breathe. Invisible socks are low cut and no-show ankle socks that cannot be noticed when your shoes are on.
Q. How can I clean shoe insoles?
Dirty insoles are unsightly and uncomfortable to your feet. You need to clean your insoles from time to time to get rid of bacteria that cause smelly feet. To clean your insoles, remove them from the shoe first, then wash them with soapy water and a stiff brush, then air dry them. You can also occasionally disinfect your insoles with alcohol when you don't have time to wash and dry them. If your insole is glued to the shoe, you can clean it by using a damp cloth that has soap and rubs them till they are clean then leave them to dry. An excellent tip to keep your insoles cleaner for longer is to ensure your feet are fresh every time you wear your shoes.
Q. Can I wear leather shoes in summer?
Yes, you can. As we discussed earlier, summer shoes are footwear designed for comfort, breathability and functionality in hot weather. Some shoes made of leather meet all the qualifications of summer shoes. If you want an official look with leather shoes, you can go for dress shoes made of perforated leather. Leather shoes are classy and durable, that's why you will find even sandals made of leather. When picking the leather shoe to wear in summer, make sure it feels comfortable and does not cause your feet to sweat.
Summer Shoes: A Gentleman's Guide
Final word
Summer is the busiest yet best season of the year for most of us. We get to spend the most time outdoors with functions and events such as pool parties, graduations happening around this time. You need the perfect shoe to keep your feet protected and comfortable with long hours of standing or walking. Summer footwear should be light and breathable to keep your feet from sweating. The perfect summer shoes also need to blend in with your outfit and look stylish.
When choosing a summer shoe, put into consideration the features that are most important to you. If comfort comes first for you, pick a shoe with a cushioned insole and a comfortable arch. If you are a style enthusiast, you will find lots of trendy shoes to choose from. For the office guy who wants an official or semi-casual shoe to wear to work, pick a shoe made of perforated leather or go for the loafer.
 Buying summer shoes made by reputable brands also guarantees you quality and durability. For summer shoes, the rule is to keep them simple, comfortable and stylish. We hope that this guide helps you make an informed decision. Try out our favourite picks, and we guarantee you durability, comfort and maximum satisfaction. Enjoy your summer to the fullest!
Last update on 2023-05-26 / Affiliate links / Images from Amazon Product Advertising API