Last Updated on October 22, 2020 by
If you have little or no experience in the worksites or workshop, wearing a standard pair of blue jeans to work is ideal. But with time, you will realize that despite its popularity as the go-to garment for construction workers, the pair of jeans stains easily. This garment also wears out quickly, and is not resistant to abrasion and exposure to harsh conditions.
If you do manual jobs, you will realize with time that doing without a pair of work pants is challenging. You will keep replacing your garments since they will wear out regularly. The best work pants for men are ideal since they are made from ultra-tough synthetic materials that are resistant to exposure.
Some work pants are equipped with tool-specific pockets, knee pads and so on. Picking the best of these work gears from the several in the market may be an uphill task as it requires time and resources. We are aware of this challenge, and that is why we took our time to research on the right ones. In this guide, we highlight the seven best work pants, how to pick them as well as their benefits. Read on and choose what suits you:
Top 7 Best Work Pants for Men In 2020 (Best Picks)
In a hurry? Check the bestseller top Work Pants for Men from Amazon. Just check the product link, the details and price.
The 7 Best Work Pants for Men
Purchasing work pants may not be simple even when you know what to consider. You might need to move from one shop to the other comparing different garments. You can also take time and search from the internet until you get what is perfect or even inquire from friends. To save you the trouble, we have used our time and compiled a list of the best work pants that are durable, stain-resistant, and comfortable to wear as you work. Check them here!
Dickies Men's original work pants are the first on this list. The pair is a comfortable, good-looking utility pant that will give you value for your money. It is built using durable fabric for hard wear and natural care. The pant has a flattering flat front that looks sharp for every type of work. You can wear it to the office, field, back-shop or even in the back yard.
This pair of pants is comfortable and durable, and merchants love it for this. For those working in the office, the fit, look, price, and quality are just ideal. The fabric is comprised of 65% polyester and 35% cotton, and it is easy to care. You will get a variety of fade-resistant colours to choose from as well as a wide range of waist sizes from 26-inches to 72-inches.
Key Features:
Hook and eye closure
Machine-washable
Made from wrinkle and stain-resistant cotton/poly blend twill pants
Classic rise, original fit
Centre release
Distinctive tunnel belt loops
8.5 oz, twill, 65% polyester/35% cotton
Specification:
Manufacturer                   Dickies Men's Sportswear
Item model number        874NV 26 28
The Wrangler Authentics Men's Classic Jean is made with a relaxed fit through the seat and thigh. These 5-pocket jeans sit at the natural waist to give you a comfortable fit. The relaxed-fit garment is made from durable cotton denim that holds up over time, even if you use it for a long time.
If you work for long days on the job or in the yard, these cotton jeans will keep you comfortable throughout any task. It is also made from breathable cotton to give you a timeless fit and comfort all day. The work pants are finished with a zipper fly, embroidered back pockets, and button closure.
The jean is constructed with five-pocket styling for additional comfort. There is a watch pocket, back patch pockets, and front scoop pockets.
Key Features:
100% cotton
Machine-washable
Built with a relaxed fit through the seat and thigh
Made with durable cotton denim that makes it long-lasting
It has five styling pockets
Finished with a zipper fly, button closure, and embroidered back pockets
Sits at the natural waistline
Specifications:
Manufacturer                 Wrangler Authentics Men's Sportswear
Item model number        ZM200BK
This work pant is made from 65% polyester and 35% cotton ripstop fabric. It has a superior quality material that is constructed using premium polyester and cotton. This pair of pants is flexible and sturdy to ensure maximum performance in the field. The mechanical stretch Taclite ripstop fabric has a triple-stitching built.
The pair of pants is coated with Teflon to give them a protective finish that resists stain, moisture, and soil without compromising its breathability. The coating also makes it simple to clean the garment. This garment has eight pairs of pockets that are specially designed for the professionals on the go. The pockets include strap-and-slash seat pockets to provide ample storage and simple access to all your mission-critical gear.
The pants will offer you optimum flexibility and comfortable fit to get rid of your worries about tears and rips.
Key Features:
Constructed from high-quality material consisting of polyester and cotton
It is coated with Teflon to provide a protective finish that resists stain, moisture, and soil.
Features a gusseted inseam and a fitted appearance for maximum flexibility and comfort.
Specialized pockets for ample storage and easy access to your mission-critical gear
Lightweight, durable Taclite fabric
Double-reinforced seat and knee pads
Specification:
Manufacturer               5.11
Item model number    74273
This loose fit double knee work pant by Dickies is made from polyester and cotton. The pants feature an extra layer of fabric reinforcement at the knees to prevent wearing thin and blow out. The pair of pants is resistant to fade and wrinkle since it has a cotton/poly twill blend.
If you work for long hours, this is the right gear for you as it has a sturdy functionality. They have a metal hook-and-eye waist closure, side seam front pockets, and signature tunnel belt loops for additional support. They also have back welt pockets for a flap-free contour as well as an easy-access multi-use pocket on the right leg.
For a worker who is keen to details, you can never go wrong with Dickies Men's double knee work pant. This pair is made with comfort, quality, and value in mind. It has a distinctive design that includes easy-care, wrinkle-resistant fabrics, large pockets, and sturdy zippers and buttons.
Key Features:
Reinforced knees
Sturdy functionality
Guaranteed quality and comfort
Distinctive design with attention to details
Accessible to care and wrinkle-resistant
Specification:
Manufacturer            Dickies
Model                       85283DN 48 30
This relaxed fit cargo pant by Wrangler Authentics is another ideal work pants for men who are ready to work. It is made from 100% cotton that is machine-washable. The cargo pants sit at the natural waist in a relaxed seat and thigh. The garment is also finished with a contoured waistband and a relaxed fit leg, making you feel comfortable all day long. 
With these pants, you do not have to worry about the storage of your items since it is equipped with six pockets for maximum storage. It has two side cargo flap pockets, two slash pockets, and two back patch pockets for easy access to your items. You will store your cell phone, wallet, tools and other personal gear safely.
The classic cargo pant is functional and comfortable for everyday wear. You can wear it for outdoor work, as it is built for versatility with extra storage and a timeless silhouette. The pant is durable and breathable, and made of 100% cotton twill ripstop. The gear is also finished with a heavy-duty zipper fly and button closure.
Key Feature:
Machine-washable
100% cotton
A relaxed fit silhouette
Six pockets for quick-access storage
Comfortable and functional for everyday wear
Durable materials for breathability and comfort
Heavy-duty hardware
Specification:
Manufacturer                Wrangler Authentics Men's Sportswear
Item model number      ZM6LGBL
This original cargo scrubs pants by Cherokee is a natural rise, elastic waist pant. It has a reinforced drawstring, and it also features a functional zip fly. It gives you the security of your items as well as easy access with four side cargo pockets, a back patch pocket, and two slash pockets.
When it comes to comfort and functionality, these pants are an excellent choice. You can wear them to work, in the back yard and you can even wear them to bed. They are high-quality pants with an elastic band around the waist that makes them fit perfectly without adjusting.
Key Features:
65% polyester/ 35% cotton
Machine-washable
Men's natural rise, drawstring waist pant with a functional zip fly
Cargo pocket, Slash pocket, back pant pocket
Inseam: 31"
Specification:
Manufacturer              Cherokee Scrubs Men's Child Code
Item model number                 4000
This regular fit jean by Dickies is made from 100% cotton material. It has a hook and eye closure for comfortable fitting at the waist. It is an authentic Dickies work jean that is built of cotton Denim Twill. The jeans have a traditional 5-pocket styling and a classic fit as well as a straight leg. The outfit is engineered to last and priced to please. You are sure to love everything about it.
This comfortable pair of pants features 7-keystone belt loops that help to prevent bunching. It also has deep front and back pockets plus a coin pocket that is large enough to hold small pocketknife. The pants also have a signature stitching on the back pockets for timeless Dickies style.
The rugged jeans are ready to play or work in any situation with a classic style featuring triple-stitched seams for additional durability. There are also brass rivets that prevent rips at stress points and fail-proof heavy duty brass zippers.
Key Features:
Built of 100% heavyweight cotton denim twill
Hook and eye closure
Superior construction with 7-keystone belt loops to prevent bunching
Has deep front and back pockets as well as a coin pocket for secure storage
Quality Denim wears with a classic style that features a triple stitched seam for extra durability.
Brass rivets that prevent rips at stress points
Fail-proof heavy duty brass zippers
Specification:
Manufacturer            Dickies
Model number          9393RNB 42 30
Essential Features that Men's Work Pants Should Have
The features on your work pants are vital as they make working comfortable. Depending on what you do, you may need to consider the features listed below:
• Cargo/Utility Pockets
These pockets are suitable for holding your gear or tools, and they are plentiful. The utility pockets are for keeping more great tools, and they can be partially attached to the pants. Cargo pockets, on the other hand, are patches with secure closure such as buttons, snaps or Velcro. They are suitable for carrying small items separate from the toolbox. A back pocket can also be an additional storage space though most people do not attach a lot of importance to it.
The knee is one part that is exposed to injuries while you are working. You should protect this area of your body as much as possible. The protection can be in the form of double knee pouches for inserting knee pads. The pads can also be sewn-in to reinforce the protection.
Utility loop is similar to a belt loop. It is more significant, more reliable, and generally placed on the thigh or upper leg. The loops are used for holding a hammer with the head sitting above the loop while its handle drops down.
If your work requires you to have some freedom of movement, then a stretch fabric is ideal. It will help improve your comfort while at the same time allow you to move freely. You can also opt for a loose-fitting fabric if your workplace does not have the risk of machine catching the extra material.
Ripstop fabric refers to the method of weaving the garment. It is a unique technique used in reinforcing the fabric's resistance to tears and rips. It is also an excellent feature for those garments that will be exposed to scratch as you work. The ripstop is typically cotton reinforced with nylon, although different fabrics may be used.
The gusset is an essential feature in the work pants. It is a diamond-shaped piece of fabric that is sewn on the crotch of the garment. The feature helps prevent all the seams from coming together in one spot and improving your comfort and movement. It also prevents your pant from pinching your junk as you work.
What are The Pros of Work Pants?
Regardless of your work, having a good pair of work pants gives you comfort, protection from abrasion, as well as the flexibility to work. Whether you are a mechanic, commercial fisherman, carpenter, or a construction worker, feeling comfortable at your workplace is paramount.
The following are some benefits of purchasing a pair of work pants:
• Flexibility
A suitable work pant gives you the flexibility that you need while working. Some work pants such as khakis have enhanced elasticity due to the stretchy canvas that gives them a more comfortable feel. The trousers are more convenient to move around in as compared to other regular wear.
Most work pants are built with the convenience of the wearer in mind. They feature deep front pockets, side cargo pockets, and reinforced rear pockets for storing your tools and personal items. The pockets make it easy to access the elements as well as ensure their safety.
Some if not all work pants, can wick away sweat as compared to other forms of garments. You can work for long hours without the discomfort caused by sweat and without the fear of your clothes getting sweat stain. Most of these pants are also lightweight, and you can wear them at work and proceed to an impromptu soccer game with ease.
Work pants are built to last longer than other clothes. The materials used to make these garments are durable, and you are sure to use them for long without them wearing out. These trousers are designed from thick, long-lasting fabric that is suitable for use in tough situations. The durability of the pants eventually makes them cost-effective since you do not have to keep replacing them.
Work pants are built using better technology that makes them wrinkle and stain-resistant. The trousers remain in excellent condition that makes them look new for long. The materials are also easy to wash, and they also dry fast. Most of the fabrics are machine-washable and dryable.
The Cons of Buying Work Pants
Work pants have many benefits to the user, but they also have a few cons. The following are some of them;
• Higher price
Work pants are a bit pricey than other garments due to the technology used in making them. The initial price may be high, but you will realize that you will not keep replacing.
The initial days of working in work pants may feel uncomfortable. But with time you will get used and enjoy their functionality.
Factors to Consider When Choosing the Best Work Pants for Men
Purchasing the right gear to work may not be easy unless you know what to look for in terms of materials, cost, texture, endurance, and much more. Below are some factors that you should look for in picking work trousers for men.
• Your Personal Preferences
When looking for a pair of work pants for men, you should first know what you need depending on your job. You may be looking for trousers with side pockets, knee pads, hammer loops or other features that suit your work.
The type of fitting that you choose depends on the kind of work you do and how comfortable you want the pants to be. You may prefer a standard one that fits on the hips, bottoms, or legs, i.e. not too tight or too loose. You may also pick one that is relaxed in these areas o r a slim fit that is tighter and has less fabric. You should check your preferred pants to ensure that the size matches the chart provided.
The material that you choose for the work pants should be resistant to abrasions and other harsh conditions. It should also be easy to wash and not easily stained. Cotton is the most preferred material since it is durable and versatile. You can either go for cotton duck or Denim since they are more popular.
Cotton duck is durable woven canvas, and it often comes in khaki, brown, or tan. It has a smooth surface, and it is not prone to tearing or snagging. It is excellent at blocking the wind, and it doesn't melt when exposed to high heat. It is also easy to care for as it is washable.
Denim is a jean material that is affordable, tough, and accessible. The pair of trousers is comfortable to wear and also very durable. It is also easy to wash and very dry.
Some synthetic materials such as polyester and nylon may also be used for work pants.
The cost of the work pants depends on the materials making them as well as the features. You should look at the functionality of this garment and ensure that it meets your expectations. Ensure that you get the best value for your money.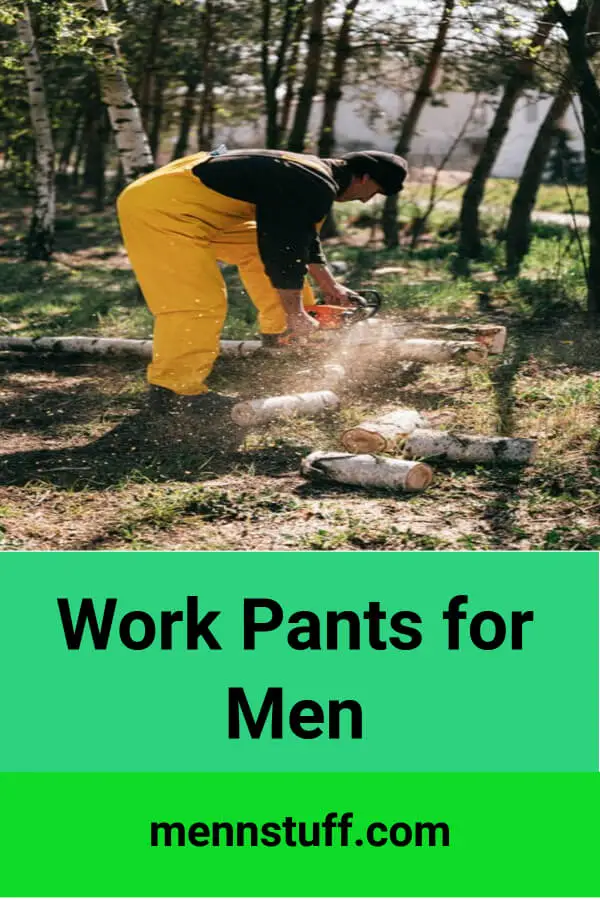 How to Wear Work Pants 
Final Word
Working with the wrong gear can affect your confidence and productivity. But if you get a pair of stylish and comfortable work pants, you can enjoy what you do. The right pair feels soft and non-restricting to allow you to move about your day quickly. The style you choose depends on where you work, for example, chinos or khakis are ideal for casual wear.
You should look for work pants made from durable, wrinkle-resistant fabric that is also easy to clean. The garment should also be easy to clean and care for.
Last update on 2023-06-03 / Affiliate links / Images from Amazon Product Advertising API