Last Updated on September 20, 2023 by Reiner Chase
Dressing stylishly for larger men involves choosing well-fitting, structured clothing, opting for vertical stripes, dark colors, and avoiding oversized garments. Accessorize thoughtfully and prioritize comfort while embracing individual style.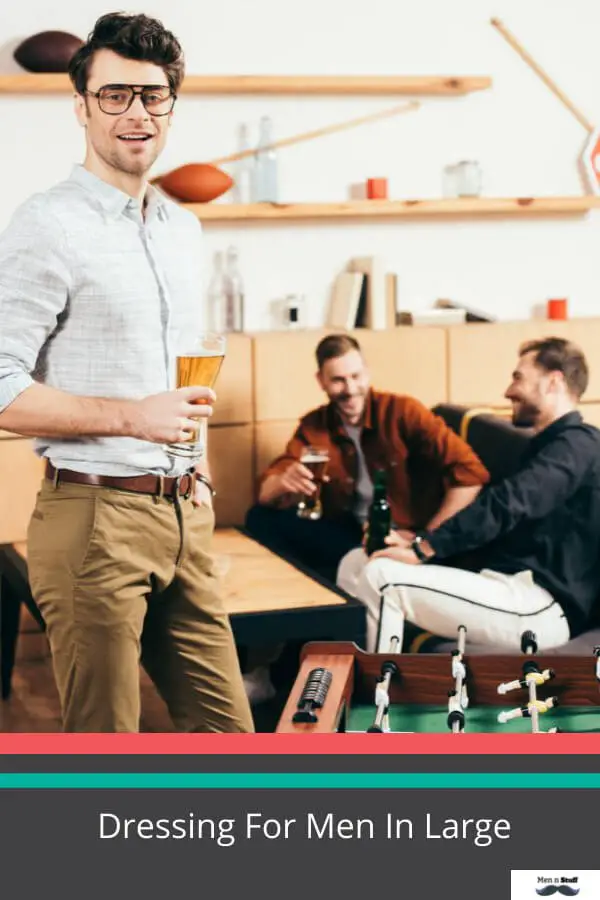 Dressing For Men In Large: Tips And Tricks
Dressing well for larger men can boost confidence and showcase personal style. Here are some detailed tips and tricks to consider:
Proper Fit is Key: Always choose clothing that fits well. Avoid overly loose or tight-fitting garments. Tailoring can be your best friend; invest in it to ensure a perfect fit.
Structured Clothing: Opt for clothing with structure and shape, like blazers, structured jackets, and well-tailored suits. These pieces can define your silhouette.
Vertical Stripes: Vertical stripes create an elongating effect, making you appear taller and slimmer. Striped dress shirts, pinstriped suits, or even striped accessories are great choices.
Dark Colors: Dark colors like navy, black, charcoal, and deep shades of brown are slimming and versatile. They create a streamlined appearance.
Monochromatic Outfits: Wearing a single color from head to toe creates a cohesive look that can make you appear taller and leaner.
Well-Defined Waist: Highlight your waist by choosing pants and belts that fit properly. A well-fitted belt can add structure to your outfit.
Avoid Oversized Clothes: Baggy clothing can make you look bigger than you are. Opt for clothing that skims your body without being too tight.
Layering: Layering can create depth and add interest to your outfits. Pair a well-fitting t-shirt with a stylish jacket or cardigan for a polished look.
V-Neck Shirts: V-neck shirts draw attention upward, elongating the neck and creating a more balanced look. They can also showcase accessories like ties or necklaces.
Proper Footwear: Wear shoes that complement your outfit and provide good arch support for comfort. Avoid chunky, oversized shoes that can throw off proportions.
Tailored Jeans: Invest in well-fitted jeans that aren't too baggy or too skinny. Straight-leg or slightly tapered jeans work well for larger men.
Accessorize Smartly: Accessories like watches, ties, pocket squares, and hats can add style to your outfit. But don't overdo it; keep it balanced.
Confidence: Confidence is the best accessory. Embrace your individual style, and carry yourself with self-assurance. When you feel good, it shows.
Grooming: Personal grooming, including a well-maintained haircut and facial hair, can enhance your overall appearance.
Shop Strategically: Choose stores and brands that offer extended sizes and styles tailored for larger men. Look for fashion retailers specializing in plus-size men's fashion.
What Looks Good On Fat Guys?
Being plus-size doesn't mean that one cannot be fashionable or good-looking. There are numerous ways to elevate one's appearance regardless of one's size. Here are several fashion tips that work great for plus-size men:
Wear Dark Colors: Dark colors have a slimming effect on the body. Burgundy, navy blue, black, and charcoal grey are perfect colors for plus-size men because these shades are flattering and versatile.
Layer it Up: Layering is a practical and stylish way to dress. It creates depth and personality to the outfit. Pair a collared shirt with a sweater or a vest to achieve a polished yet laid-back look.
Straight Cut Jeans: While skinny jeans can overly emphasize one's body size, baggy jeans can make one look unkempt. Straight cut jeans, which offer a balance between the two, are ideal for plus-size men.
Vertical Stripes: Clothes with vertical stripes create an illusion of height and slimness. They direct the eyes vertically rather than horizontally, making one appear taller and slimmer.
Tailored Suit: There is nothing more flattering on a man than a well-tailored suit. It pulls together an outfit neatly and makes one look polished and elegant.
Proper Fit: Clothing that fits properly is always more flattering than oversized or undersized clothes. Oversized clothes can make one appear larger, while undersized clothes can emphasize body size.
Long Sleeve Shirts: Long sleeve shirts tend to look better than short sleeve shirts on plus-size men as they help to create a more proportionate body silhouette.
V-Neck Sweaters: V-neck sweaters give an illusion of a heightened neckline, thus making one look slimmer. They are also extremely versatile: perfect for a casual day out or a business casual event.
Following these tips can help plus-size men feel comfortable, confident, and stylish. Remember, the key is not to hide the body, but to work with what one has and accentuate the positives.
| Fashion Tips for Plus-Size Men | Reasons |
| --- | --- |
| Dark Colors | Slimming effect |
| Layering | Creates depth and personality |
| Straight Cut Jeans | Balance between skinny jeans and baggy jeans |
| Vertical Stripes | Illusion of height and slimness |
| Tailored Suit | Makes one look polished and elegant |
| Proper Fit | More flattering than oversized or undersized clothes |
| Long Sleeve Shirts | Create a more proportionate body silhouette |
| V-Neck Sweaters | Give an illusion of a heightened neckline |
What Should I Wear If I'm Chubby?
If you're chubby, the first thing to do is ask yourself what kind of clothes make your body look good. If you have a larger chest and waist but carry weight more on your stomach, for instance, then tucking in an untucked shirt might work well—but if that doesn't feel right or looks too bulky it may be better to go with something like skinny jeans tucked into boots and a loose top. It's all about figuring out what makes YOU feel comfortable!
What should I wear if I'm chubby? Well, there are a few things that will always look good: button-down shirts (tucked or not), nice wide-leg pants without any tightness around the middle area because they give you room, and a nice top with some detail like embroidery or lace to offset the width.
What should I wear if I'm chubby? Well, there are a few things that will always look good: button-down shirts (tucked or not), nice wide-leg pants without any tightness around the middle area because they give you room to try–and even cover your stomach–and a nice top with some detail like embroidery or lace to offset the width. You can also use this as an opportunity for more color! There's so much in life worth celebrating; why shouldn't dressing well be one of them?
Which Dress Is Suitable For A Fat Boy?
*When shopping for a dress, think about the neckline and other details. A high-neck or low cut back can help minimize the width of your chest.* *A straight skirt with soft pleats will also cover up more area from front to back when you sit down.* *If you want to wear a gorgeous patterned shirt but don't want it wrinkled by sitting on your stomach, try wearing an oversized button-down shirt underneath–it'll still look great if stretched out later!*
How Can A Fat Guy Look Slimmer?
Choose slim-fit clothes that will accentuate your best features. Details like a nice lapel, sharply cut trousers, or cuffs on pants can help emphasize the good parts of you and downplay any areas where you're self-conscious. If you need more room in the chest area, try wearing buttoned shirts either open at the neckline with an undershirt underneath or unbuttoned over a collared shirt. Tops should be tailored specifically to fit your dimensions–too big is just as bad as too small. To avoid unflattering bulges above belt loops, try not buying anything larger than one size bigger than what actually fits.
How To Dress When You Are Overweight?
Don't be afraid to wear dark colors–they can make you look thinner. Darker shades also draw attention from your face, which is something most people don't want when they're overweight. Additionally, if you are not sure about the fit on a blazer or jacket, try wearing it open with just an undershirt underneath so that the hang of the jacket isn't emphasized by its close fit around your upper body area. And finally–don't forget underwear! A good-fitting pair of briefs will help smooth out those bulges better than any other type of clothing and provide more comfort overall for extended wear.
What Kind Of Cloth To Wear If You Have A Big Stomach?
If you have a large stomach, it can be difficult to find clothing that suits your shape. However, there are some tricks and tips for dressing for men with big bellies! What should I wear if my belly is protruding? White clothes will make your skin look darker because they reflect light differently than black or tan fabric. Additionally, undershirts may help cover up any fat in the stomach area so that it's not as noticeable when people see what you're wearing on top of it. These tips will help those who are struggling with weight issues dress better despite their body type."
What Should Fat Guys Wear In The Summer?
Try wearing lighter colors such as light blue, cream, or tan to help you look thinner. White clothing is not recommended because it will make your skin appear more tanned and fat-looking. Additionally, if you are feeling self-conscious about protruding stomachs (especially in a swimsuit situation), try wearing an undershirt that's long enough to cover the belly area.
These tips should be helpful for those who have problems with their weight and need some advice on how they can dress better despite this obstacle! What other ideas do we have? Let us know below! Remember: Whatever size you are–even if it doesn't match up with what society tells us–you're still beautiful!"
-Lorraine Valenti
References:
https://www.artofmanliness.com/style/outfit-guide/large-man-style/
https://www.fashionbeans.com/article/how-to-dress-well-men/