Last Updated on June 19, 2021 by
Lace wigs are a popular choice among women who want to add some length, volume, or color to their hair without the commitment of wearing it every day. They come in a variety of different types, and each one has its own unique characteristics that make them worth considering for your needs. In this blog post we will discuss three different lace wig types: full lace wigs, half-lace wigs and synthetic lace wigs so you can decide which is best for you!
Lace Front Wig 
The lace front wig is a popular choice among women who want to add some length, volume or colour to their hair without the commitment of wearing it every day. What sets this type apart from other types is its sheer appearance and natural look which means any imperfections in your skin are less noticeable than they would be with long-term extensions.
This type of wig can come pre-styled as well so you don't need extra tools such as blow dryers, straighteners and curling irons unlike many other types that require styling time before use. They also often have adjustable straps at the back for those looking for an additional boost when needed!
However because they tend not to cover all of the scalp area like full luscious hair, you may find that some bald patches are still visible in certain lighting.
For those looking for a wavy look or want to cover the scalp more completely, this type of wig is not ideal.
Pros
1. Lace Front Wigs are the perfect option for those who want to wear their hair up but still have a full head of hair
2. There are many different styles and colors available, so you can choose one that matches your style or personality
3. They're easy to maintain – just wash them with shampoo and conditioner every few weeks 
4. You'll look like you've had a fresh haircut when wearing one 
5. They're lightweight, which means they won't cause headaches or strain on your neck muscles like some other wigs do
6. Since lace front wigs don't require any glue, they're much easier to remove than traditional synthetic wigs
Cons
1. Lace front wigs are more expensive than traditional wigs
2. Lace front wigs may not look as natural as you would like 
3. You have to take care of the lace by using a wig shampoo and conditioner on it every time you wash your hair
4. The lace can also be uncomfortable or irritating for some people, especially those with sensitive skin or allergies
5. The wig will need to be trimmed at least once a month in order to keep it looking fresh and new 
6. If the wig is too long, it can get caught in things such as zippers or even door hinges when trying to go through an opening
Full Lace Wig
This type of wig is made from lace which attaches directly to the scalp. This is different from other types of wig as it covers the entire head. It can be styled in many ways, such as a wavy look or long hair style; and provides an excellent lightweight option for those who need to wear their hair up all day but don't want to use extensions that are glued into place.
Full Lace Wigs come pre-styled so there's no styling time needed before using them which saves you both money and time on your morning routine! They're also good for covering bald patches since they cover most of the scalp area unlike partial lace wigs which only cover some areas. Some people may find this type heavy because it covers more surface than any other type, whereas others might prefer how full coverage looks.
Partial Lace Wigs are made up of hair pieces that cover only specific areas on your head such as around the crown or front to back, and can be styled in many different ways like any other wig type but requires more styling time than Full lace wigs. These types of lace wigs provide a natural look because they don't fully cover all parts of the scalp so if you want something lightweight this is not for you! It's also good for those who need some coverage without looking unnatural since it does show a little bit of your own hair underneath which gives the illusion that everything has grown out naturally.
Pros
1. Full lace wigs are made from 100% human hair
2. They're more realistic than other types of wigs because they can be styled and cut to suit your personal needs
3. There is a wide variety of colors, lengths, textures, and styles available for full lace wigs
4. They can last up to three years with proper care
5. You'll never have to worry about it being too hot or cold outside – your wig will always look natural! 
6. Full lace wigs don't require any glue or tape on the scalp like some other types of hairpieces do – just clip them in and you're ready to go!
Cons
1. Full lace wigs are expensive
2. They can be hot and uncomfortable to wear
3. They are not as natural looking as other types of wigs
4. It's difficult to style them in different ways 
5. The hairline is more noticeable with a full lace wig than it would be with a regular wig or weave, which makes it look fake 
6. You don't have the option of styling your own hair underneath the wig like you would if you were wearing another type of wig or weave
Half Lace Wig 
A half lace wig looks like a regular wig on the top, but has a full lace base of hair. The other type is called "full lace from root to tip." These are more expensive than your average human-hair weave, and they're also heavier because there's no room for any air beneath them. They work well if you need an instant hairstyle or just want something fun to wear out at night without having to worry about it too much.
Pros
1. Lace wigs are a great way to cover up hair loss
2. The lace wig is easy to put on and take off, so you can switch between different styles
3. Half lace wigs are comfortable for all-day wear
4. Half lace wigs come in a variety of colors, lengths, and textures 
5. Get the full appearance of long hair with half lace wigs 
6. They're lightweight – perfect if you have thinning hair or alopecia
Cons
1. Half lace wigs are not made of human hair
2. Half lace wigs can be difficult to style
3. You cannot bleach or dye half lace wigs, so you're limited in color options
4. The texture of a half lace wig is very different from that of natural hair
5. A half lace wig will never have the same amount of volume as your own hair does, which can make it look fake and unnatural 
6. Some people may find the price too high for this type of product when they could just buy a full wig instead.
Monofilament Top Wigs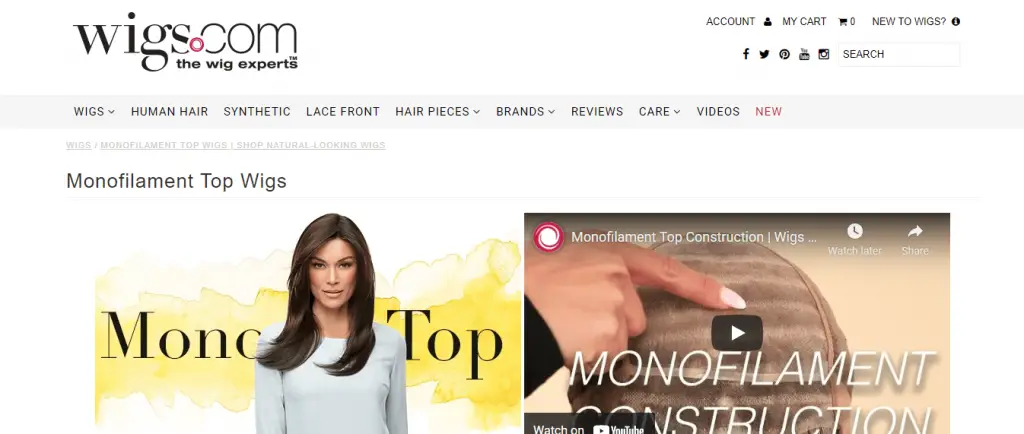 Monofilament top wigs are made of high quality monofilament material. This type of wig is perfect for people who have alopecia, thinning hair or those who want to add length and volume to their own hair without the use of extensions. Monofilaments attach themselves onto strands of your own hair so you can achieve a natural-looking long hairstyle which will stay put until you take it off at night
Pros
1. Monofilament top wigs are a more natural looking than other types of wigs
2. They provide the most comfort because they are made with human hair
3. The monofilament top wig is easy to style and can be cut, curled, or styled just like your own hair would 
4. There is no need for glue or tape, all you need is water and some bobby pins to get that perfect look!
5. Monofilament wigs come in many different colors and styles so there's something for everyone!
6. All of our products come with a 100% money back guarantee if you're not satisfied with the product- no questions asked!
Cons
1. Monofilament wigs are not heat resistant
2. They can be uncomfortable to wear
3. The hair is usually thin and lacks volume, which means it doesn't look natural
4. It's difficult to find a wig that is the right color for your skin tone 
5. Monofilament wigs are very expensive – they can cost up to $1000 or more! 
6. You have less control over styling options because of the material used in monofilament wigs (i.e., you cannot change the curl pattern)
Mono Part Wig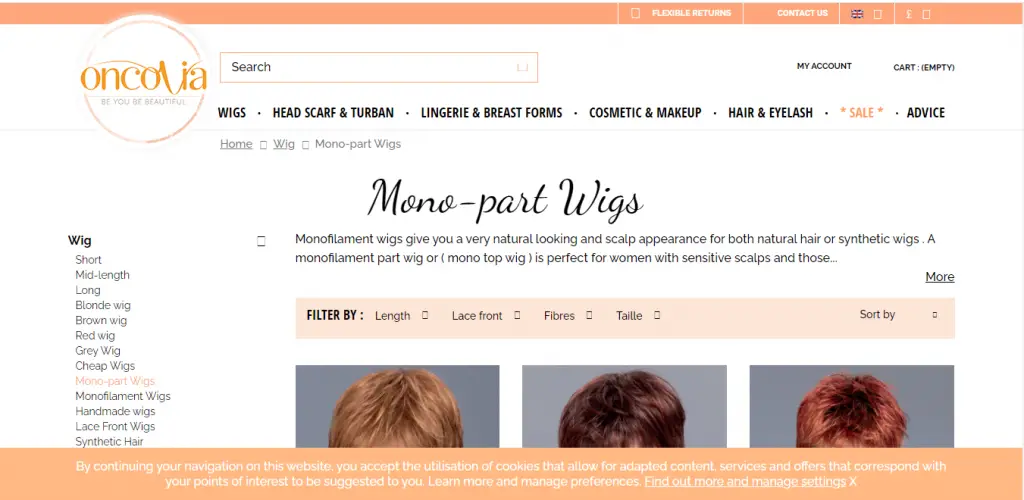 A type of lace front wig with different hair lengths and colors. The mono part separates the top from the bottom, usually creating a "part" in between which is where your natural hair falls on either side to conceal it. This style provides a very realistic appearance because there are no lines or artificial-looking parts within the hairline – just one long straight line that looks like naturally growing hair meeting at an invisible point right below your forehead. Mono Part wigs come made for every occasion including weddings, proms, concerts, and even work! They can also be parted anywhere you want so if you have any specific requests then this might be perfect for you!
Pros
1. Mono part wigs are perfect for people who want to change their hair color
2. They're also great if you have thinning hair or bald spots
3. The wig can be styled in a variety of ways – straight, curly, long, short and more
4. There's no need to worry about the wind blowing your wig away while you're out on the town 
5. Wearing a mono-part wig allows you to feel confident and beautiful every day!
6. You can even wear it with different outfits without having any problems with clashing colors or styles
Cons
1. The wig may not fit your head size, which will make it feel uncomfortable and heavy
2. The hair on the wig is often too long or too short for you
3. You can't style the wig to match your natural hair
4. The color of the wig does not match your hair color
5. It's difficult to find a mono part wig that matches with other hairstyles (bangs, ponytails)
6. You have to constantly maintain the quality of the mono-parting by brushing it daily and using heat protectant products.
Last update on 2023-06-02 / Affiliate links / Images from Amazon Product Advertising API