Last Updated on September 15, 2023 by Reiner Chase
Yes, men can wear UGGs. To find affordable UGG boots, consider outlets, clearance sales, and online marketplaces. Prices vary, but discounts of up to 50% off retail prices are common, especially during seasonal sales events.
Can Men Wear Uggs?
Uggs, the iconic sheepskin boots that were once considered the ultimate winter footwear for women, have become a fashion statement for both genders in recent years. However, the question remains – can men wear Uggs? The answer is a resounding yes! Gone are the days when Uggs were solely reserved for the ladies. Men can now rock these cozy and stylish boots with confidence. Here is a stylish guide on how men can confidently wear Uggs and make a fashion statement.
Embrace Versatility: Uggs offer a wide range of styles and colors that cater to various tastes. Men can opt for classic tall or short boots, or they can choose a more rugged and masculine style. The versatility of Uggs allows men to find a pair that suits their personal style and makes a statement.
Pair with Casual Outfits: Uggs are perfect for creating a casual and laid-back look. Pair them with jeans or khakis, and top it off with a cozy sweater or a leather jacket. This combination is not only comfortable but also effortlessly stylish.
Mix and Match with Accessories: To add a touch of sophistication to your Ugg ensemble, accessorize with a beanie, scarf, or gloves. These cozy accessories will not only keep you warm during the chilly months but will also elevate your overall outfit.
Don't Fear the Colors: While classic neutrals like black and brown are always a safe bet, don't shy away from experimenting with different colors. Opt for a bold pair of Uggs in vibrant shades like navy, green, or even red. These eye-catching hues will add a unique twist to your outfit.
Consider the Occasion: While Uggs are perfect for everyday wear, they may not be suitable for certain formal events or professional settings. It's important to consider the occasion and dress appropriately. Save your Uggs for casual outings, weekends, or relaxed social gatherings.
Take Care of your Uggs: To maintain the longevity and appearance of your Uggs, it's crucial to take proper care of them. Clean them regularly using a suede brush and specialized cleaner. Additionally, treat them with a waterproof spray to protect them from the elements. By taking care of your Uggs, you'll ensure that they stay stylish and comfortable for years to come.
Confidence is Key: The most important aspect of wearing Uggs is confidence. Own your style and rock your boots with pride. Remember, fashion knows no boundaries, and anyone can wear whatever they feel comfortable in. So, if you love Uggs, go ahead and wear them confidently!
In conclusion, men can absolutely wear Uggs and embrace their comfort and style. With the right outfit combinations, accessories, and a dash of confidence, Uggs can make a fashion-forward statement for the modern man. So, don't hesitate to grab a pair and step out in style!
Cheapest Place To Buy UGGs
Finding the cheapest place to buy UGG boots depends on various factors like location, timing, and discounts. Here are some options to consider:
Outlet Stores: UGG outlet stores often offer significant discounts compared to regular retail prices. These outlets can be found in outlet malls or shopping districts. Check for clearance sales and special promotions for even greater savings.
Online Retailers: Websites like Amazon, Zappos, and 6pm.com frequently have discounted UGG boots. Keep an eye on their deals and discounts, which can vary based on availability and season.
End-of-Season Sales: Shopping at the end of winter or the UGG boot season can yield substantial savings, as retailers try to clear out inventory to make room for new arrivals.
Secondhand Market: Consider checking platforms like eBay or Poshmark for gently used UGG boots. You can find pre-owned pairs at a fraction of the original price.
Official UGG Website: UGG's official website occasionally offers limited-time promotions and discounts, especially during holidays or special events.
Local Department Stores: Look for sales and promotions at local department stores like Macy's, Nordstrom, or Dillard's. They often run seasonal sales events.
Membership Discounts: If you're a member of organizations like AAA or AARP, or if you have a student ID, you may be eligible for additional discounts at certain retailers.
Coupon Websites: Check coupon websites like RetailMeNot or Honey for UGG-specific coupons or promo codes that can be applied to your purchase.
What Does UGG Stand For?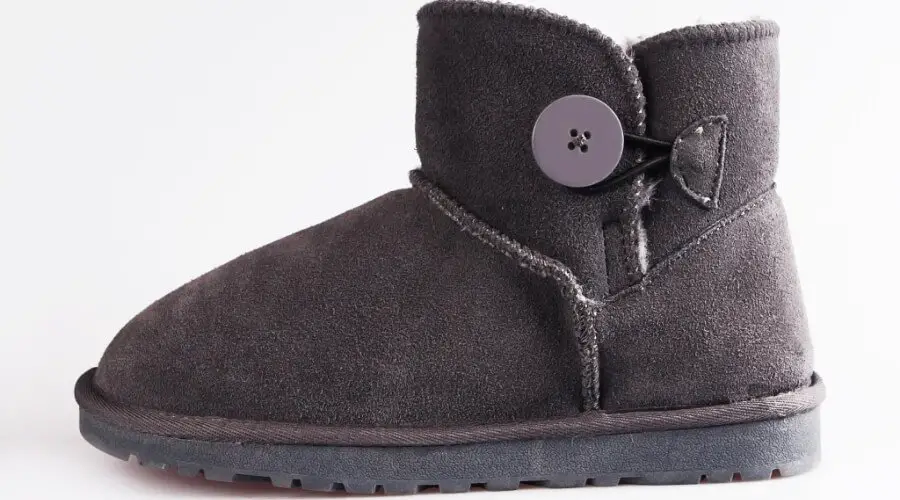 UGG stands for the name of the company that makes Uggs, called "Ugg Australia".  This is a brand which is sold in many different countries around the world. It was founded in 1978 and offers sheepskin boots to customers all over the globe! The first pairs were made by hand but now they are manufactured using machines of the same quality as handmade ones.
Are Uggs Unisex?
Yes, uggs are unisex! Men can wear them without any issues. The only thing they need to do is make sure that the size of their boots corresponds to their shoe size. Why? Simply because a man's feet will probably be larger than a woman's feet and so it may not fit as well if he wears her UGGS instead.
Are Ugg Boots Out Of Style 2023?
Ugg boots have been a winter staple for many years, known for their cozy sheepskin lining and comfortable fit. While fashion trends continue to evolve, the question arises: are Ugg boots out of style in 2023? Let's dive in and debunk some of the commonly held notions.
The Classic Appeal:
Despite changing fashion trends, Ugg boots have managed to retain their classic appeal over the years. Their timeless design and unparalleled comfort have made them a favorite among many. Ugg boots have become synonymous with laid-back style, perfect for everyday wear during the colder months.
Celebrities Still Love Them:
Celebrities often set trends, and when it comes to Ugg boots, they continue to showcase their affection for this iconic footwear. Countless A-listers can be seen sporting Uggs, proving that they are still very much in vogue. From supermodels to Hollywood actresses, Ugg boots are frequently seen on the red carpet and in paparazzi shots.
Versatile and Functional:
One of the reasons for the longevity of Ugg boots' popularity is their versatility and functionality. These boots are perfect for both indoor and outdoor wear, keeping your feet warm and cozy in harsh winter conditions. Whether you pair them with jeans, leggings, or dresses, they effortlessly elevate any outfit with a relaxed and effortless charm.
Constantly Evolving Styles:
Ugg boots have a range of styles to choose from, including the classic Mini, Classic Tall, and Classic Short. In addition to the original lineup, Ugg continually introduces new designs and collaborations, keeping up with current fashion trends while preserving their signature comfortable appeal. With different color options and variations, you can always find a style that suits your taste and complements your wardrobe.
Sustainability and Ethical Practices:
Another factor that makes Ugg boots a desirable choice is the brand's commitment to sustainability and ethical practices. Ugg ensures that their sheepskin is sourced responsibly and they prioritize reducing their carbon footprint throughout the manufacturing process. As more consumers gravitate towards sustainable fashion choices, the environment-friendly values of Ugg boots further contribute to their appeal.
Conclusion:
Contrary to popular belief, Ugg boots are not out of style in 2023. These cozy and iconic boots have managed to withstand the test of time, continuously evolving in style while retaining their classic appeal. Celebrities still adore them, and their versatility and functionality make them a go-to choice for comfort seekers. With a commitment to sustainability and ethical practices, Ugg boots have adapted to meet the demands of the modern fashion-conscious consumer. So, go ahead and embrace the comfort and style that Ugg boots bring to your winter wardrobe!
Should You Wear Socks With UGGs?
Yes, you can wear socks with UGGs in the winter. But it can depend on how cold it is outside. In really low temperatures (below freezing point), then yes but if not then no because your feet will be sweating and that's never a good thing especially when they're inside of boots!
Are Uggs Bad?
Uggs are not bad at all! They can be very comfortable and warm in the winter, but it depends on your preference. Some people like wearing UGG boots with socks while others don't wear them at all so that their feet can breathe properly. It's ultimately up to you what you prefer – just make sure they fit well for whatever type of weather or climate you're living in since wool is sensitive to high temperatures too.
Why Are Uggs So Expensive?
The price of Uggs can vary depending on the style and material that you want. You can get a pair for less than $100, but if you want to buy designer ugg boots then it'll cost more – usually around $500-$1000 USD. But in general, they are expensive because they're made with high quality materials like wool which has become very rare these days since there isn't as much demand anymore. This means that manufacturers need to spend more money buying the raw materials so it drives up prices too.
Are Uggs Worth The Money?
There are a lot of people out there that think they're worth the money. Some say it's because these boots can last for decades and will keep your feet pretty warm too, but others disagree saying that if you don't wear them often then they'll just be taking up space in your closet or being clunky to carry around with you just in case. It really depends on how much use an individual is going to get from their Uggs since some people like wearing them all year round while others only need them at certain times of the year when the weather gets colder – or warmer!
What Boots Are In Style For 2023?
As fashion evolves, footwear trends constantly change, and boots are no exception. In 2023, we can expect new and exciting boot styles to dominate the fashion scene. Whether you're a fan of edgy, classic, or eclectic looks, there's a boot style for everyone. Get ready to elevate your shoe game with our list of the top 10 boot styles that will be in vogue in 2023.
Chunky Combat Boots:
This iconic 90s boot style is making a strong comeback in 2023. Chunky combat boots with thick soles and laces bring an edgy and rebellious vibe to any outfit. These sturdy boots are perfect for adding a touch of toughness to your wardrobe, whether paired with jeans, dresses, or skirts.
Knee-High Boots:
Knee-high boots have always been a fashion staple, and they're going to continue ruling the fashion scene in 2023. From flat styles to heeled versions, knee-high boots effortlessly elongate the legs and provide a sleek and elegant look. These versatile boots can be worn with dresses, jeans, or skirts for a stylish and sophisticated appearance.
Western-inspired Boots:
If you're looking to channel some cowgirl chic, you'll be pleased to know that western-inspired boots are going to be all the rage in 2023. These bold and striking boots often feature pointed toes, intricate stitching, and decorative details, perfect for giving an outfit a touch of the Wild West.
Slouchy Boots:
Slouchy boots emerged as a hot trend in 2022, and their popularity is set to continue into 2023. These relaxed, yet stylish boots are characterized by their loose fit and gathered detailing around the ankles. Slouchy boots effortlessly add a dose of effortless cool to any ensemble.
Square-Toe Boots:
Say goodbye to pointy toes because square-toe boots are making a huge comeback this year. Praised for their contemporary and sleek feel, square-toe boots offer a modern twist to any outfit. Whether you choose ankle boots or knee-highs, these stylish footwear options are guaranteed to catch attention on the streets.
Patent Leather Boots:
For those seeking to make a statement, patent leather boots are the way to go in 2023. The glossy finish of these boots adds a luxurious and polished touch to any look. Whether you opt for ankle boots or over-the-knee styles, patent leather boots are sure to turn heads.
Chelsea Boots with a Twist:
The classic Chelsea boot gets a playful update in 2023. Expect to see embellishments like chains, studs, or unique cutouts, transforming this timeless boot into a fashion-forward statement piece. These boots are versatile, comfortable, and truly a must-have for any fashion enthusiast.
Sock Boots:
Sock boots have been a popular choice in recent years, and their appeal shows no signs of diminishing in 2023. These form-fitting boots offer a sleek and minimalistic aesthetic while providing comfort and versatility. Sock boots are perfect for both casual and dressy occasions, making them a practical choice for year-round wear.
Hiker Boots:
Enjoy outdoor-inspired style even when you're not hiking with trendy hiker boots. These rugged and functional boots are not only stylish but also practical for the colder seasons. They often feature chunky soles, lace-up closures, and sometimes even faux fur lining. Hiker boots are a perfect blend of fashion and functionality.
Metallic Boots:
If you're looking to make a bold and futuristic statement, metallic boots will be your go-to choice for 2023. These dazzling boots in shimmering silver, gold, or colorful metallic shades bring an element of glam to any outfit. Whether you opt for ankle boots or over-the-knee styles, metallic boots are sure to make you stand out from the crowd.
How Long Do Ugg Boots Last?
The lifespan of a Uggs boot will vary depending on how often it is worn and the weather conditions in which it's being used. The average life expectancy can be anywhere from one to five years, but this all depends on factors like frequency of wear and general wear-and-tear.
What Can I Replace Uggs With?
There are many alternatives to Uggs. One cheaper substitute is using a pair of wool socks with rubber grips on the soles, while an even more budget-conscious option would be a cheaper, warmer sock alternative like those made from synthetic materials or cotton.
How can I replace my old and worn out ugg boots? New Ugg boots may seem like the logical choice but they're surprisingly expensive for what you get! It's not uncommon for one boot to cost north of $150 which doesn't make it any easier if your last pair just wore through after only two winters worth of wear (or less!).
Where Is The Cheapest Place To Buy UGGs?
A good place to buy UGGs is from ebay. You can find some really cheap prices there, but you have to be careful about the seller and do your research before making a purchase of this kind!  For example, if they say that it's new when in fact it's used or if they are charging too much for shipping then those things should raise flags and make one wary. Beyond that though, the cheapest choice really depends on what you're buying: boots vs slippers etc.
Why Are Ugg Boots So Popular?
Ugg boots are so popular because they're super comfy and warm. They can be worn with anything, but most people like to wear them during the winter time or just when it's cold outside.  UGGs have also been a fashion staple for decades now which has helped make them really popular!
The first pairs were made by hand but now they are manufactured using machines with the same quality as handmade ones. The cost of production is ultimately what determines their price point at retail stores: $150-$250 per pair in North America, £50-£100 from UK retailers etcetera. Consumers continue to buy these products despite this increased markup; some even purchase multiple pairs due to an increase in popularity among influencers.
Pros
1. Uggs are comfortable
2. Uggs come in a variety of colors and styles
3. The sheepskin lining is warm and cozy
4. They're easy to slip on (and off)
5. They're durable  – they'll last years if you take care of them properly
6. You can wear them with anything, from jeans to dresses to skirts to tights and leggings – there's no such thing as an "ugly" pair of uggs!
Cons
1. Uggs are expensive
2. They're not waterproof
3. The fur is itchy 
4. They don't offer arch support 
5. You have to wear socks with them or they'll make your feet sweat 
6. Ugg boots are hard to clean and dry quickly, so you can't wear them in the rain or snow without getting wet inside your shoes
References:
https://thekrazycouponlady.com/tips/money/best-ugg-deals
https://www.gq.com/gallery/uggs-for-men-hell-yes