Last Updated on September 24, 2023 by
A white shirt is a classic choice that pairs well with black pants. It's versatile and creates a timeless, stylish contrast. You can also opt for other neutral colors like gray or pastels for a more subtle look.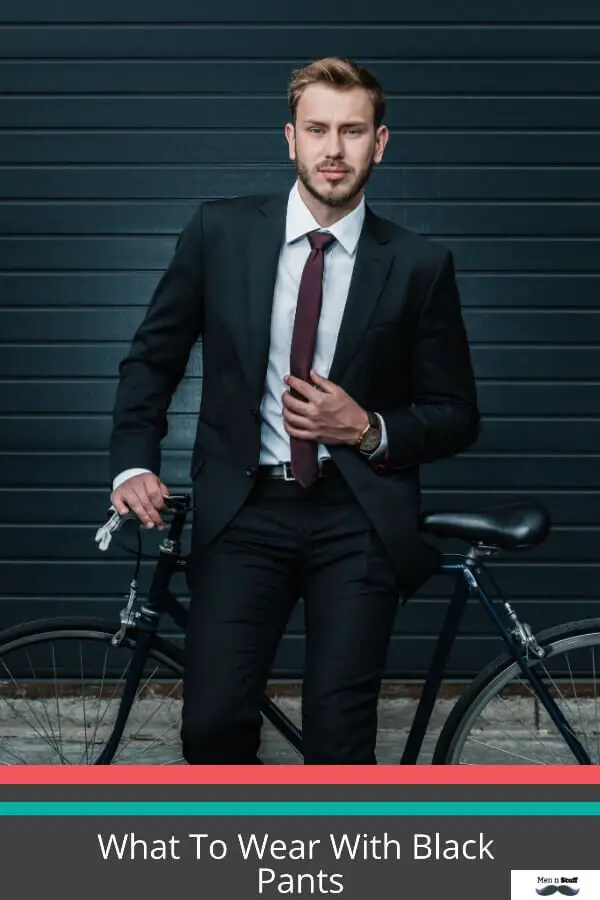 What Color Shirt Goes With Black Pants?
Black pants are a versatile wardrobe staple that can be paired with a wide range of shirt colors, allowing you to create various stylish outfits. Here's a detailed guide on what colors of shirts go well with black pants:
Classic White Shirt: A white shirt is a timeless and foolproof choice. It creates a sharp, high-contrast look with black pants. It's suitable for formal occasions, job interviews, or when you want a clean and sophisticated appearance.
Light Blue Shirt: Light blue is another classic option that pairs exceptionally well with black pants. It offers a touch of color while maintaining a professional and elegant look. Light blue shirts work for both formal and business-casual settings.
Pale Pink Shirt: For a subtle pop of color, consider a pale pink shirt. It adds a touch of warmth and sophistication to your outfit while maintaining a sense of professionalism. This is a great choice for a softer look in formal or business-casual contexts.
Gray Shirt: A light or medium gray shirt complements black pants nicely. It creates a monochromatic and understated look that's suitable for both formal and casual occasions. It's versatile and offers a sleek appearance.
Black Shirt: Wearing a black shirt with black pants creates a sleek and modern all-black outfit. This look can be very stylish, especially for evening events or parties. However, be mindful not to overdo it with too much black.
Bold Colors: If you want to make a statement, consider wearing a bold-colored shirt with black pants. Colors like deep red, royal blue, emerald green, or mustard yellow can create a striking and fashionable contrast. This is suitable for parties or creative, non-formal settings.
Printed or Patterned Shirts: Striped, checked, or patterned shirts can also work well with black pants, depending on the pattern and your personal style. Ensure that the colors in the pattern complement the black pants.
Neutral Tones: Earthy tones like beige, camel, or taupe can create a balanced and sophisticated look with black pants. These colors add warmth and are great for a smart-casual or business-casual outfit.
Denim Shirt: A denim shirt can provide a stylish and slightly casual twist to your black pants outfit. It's perfect for smart-casual or relaxed settings.
Accessories: Don't forget to accessorize appropriately. A tie, pocket square, or statement necklace can add a finishing touch to your outfit.
Remember to consider the occasion, your personal style, and the formality level when choosing the color of the shirt to wear with black pants. With the right choice, you can create a wide range of outfits that suit various settings and events.
What To Wear With Black Pants?
Black pants are a versatile wardrobe staple that can be dressed up or down for various occasions. Here's a detailed guide on what to wear with black pants:
Formal/Professional Look:

White Dress Shirt: A classic choice for a polished, professional appearance.
Blazer: Add a tailored blazer in a complementary color for a business-ready outfit.
Tie: For added formality, wear a tie that complements the outfit.

Business Casual Look:

Button-Up Shirt: Opt for dress shirts in colors like light blue, pale pink, or subtle patterns.
V-Neck Sweater: Layer a V-neck sweater over a dress shirt for a sophisticated touch.
Loafers or Oxfords: Choose leather shoes to complete the business-casual ensemble.

Casual Look:

T-Shirt: Pair with a fitted black or contrasting colored t-shirt for a relaxed vibe.
Denim Jacket: Add a denim jacket for a trendy, casual outfit.
Sneakers: White sneakers or stylish sneakers can complete the look.

Smart-Casual Look:

Button-Down Shirt: Opt for a button-down shirt in a casual fabric like chambray or flannel.
Chukka Boots: These boots strike the right balance between casual and dressy.
Accessories: Consider adding a belt and a watch for a refined touch.

Night Out/Party Look:

Graphic T-Shirt: Choose a stylish graphic tee for a trendy, edgy look.
Leather Jacket: A black leather jacket can add a cool and rebellious flair.
Chelsea Boots: Sleek Chelsea boots are a great footwear choice for a night out.

Athleisure Look:

Hoodie: A fitted hoodie pairs well with black pants for a comfortable, sporty vibe.
Athletic Sneakers: Sporty sneakers or running shoes complete the athleisure style.

Seasonal Variations:

Summer: Opt for lightweight, breathable fabrics like linen or cotton. Pair with sandals or canvas sneakers.
Fall/Winter: Layer with sweaters, coats, and scarves for added warmth and style.

Accessories: Don't forget to accessorize with belts, watches, and sunglasses to elevate your look.
Remember that the fit of your black pants is crucial. Ensure they are well-tailored and the right length. Experiment with different styles and color combinations to create a range of outfits suitable for various occasions while wearing your black pants.
What To Wear With Black Pants From Summer to Fall?
Black is a neutral color, and fits in every fabric and with every color. Your style should always be according to the season. Let's see what suits best with black pants in different seasons:
Autumn And Winter: – You can wear woolen dark color shirts like navy blue, gray, maroon, etc., and a trench coat or pea coat when it is cold. But do not forget to carry an umbrella with your formal or casual dress.
Spring And Summer: – You have to choose the shirt's color according to the rising temperature. You can wear bright color shirts like red and yellow polo shirts, t-shirts, etc.
What To Wear With Black Pants In Formal Gatherings?
A suit is the best option for any formal gathering. Suits are the standard dress code for any formal event. A shirt, coat, pants, and a tie come inside a complete suit. The pocket square has to be there. It will enhance your coat's beauty.
What To Wear With Black Pants In A Semi-formal Event?
In semi-formal events, plain t-shirts instead of shirts are the perfect match, and there is no compulsion to wear a tie. You can also wear suspenders, a waistcoat or a vest instead of a blazer or coat.
Some Casual Outfits
Here we are going to give you some options that you will definitely like. You will choose an outfit from these options:
1. Varsity Jackets:- This jacket gives a sporty and relaxed look and protects you from cold as they are made with thick fabrics. You can wear it with a shirt or t-shirt as an undershirt.
2. T-shirt:- If you love to wear a t-shirt, choose only plain ones because it can become an outfit of the day. Any color of a plain t-shirt will go with black pants.
3. Polo Shirts:- You can wear polo shirts comfortably when you don't have time. This shirt is like a t-shirt with three buttons and collars.
4. Tank Tops:- This top is usually used in Gym because it is a loose top and very light to wear. You can also wear it when you are at home.
5. Crew Neck Jumpers:- You can wear it with any collared shirt as an undershirt. 
6. Hoodies:- You can wear only hoodies with black pants. These are the best suited with dress shirts and bombers. Black and white hoodies always top the trending list when paired with denim jackets over them.
7. Button-Down Shirts:- People usually prefer to tuck in button-down shirts to have a radiant look for business casuals and to show belts. Leather belts in brown and black colors are preferred. For short sleeves, it is not necessary to tuck in; you can wear it as casuals.
8. Flannels:- It is also known as a checkered shirt for its iconic patterns. You can also wear them as dress shirts or wrap them around your waist to get street vibes.
9. Turtle Neck Shirt:- You will love to go with the turtle neck beneath the suit as it is best suited. Black turtle neck shirts will be the best match with black pants.
10. Trench Coats And Pea Coats:- These are meant for the fall and winter season. They are made up of thick and heavy fabric to give you warmth and to deal with cold weather.
11. Casual Blazers:- Casual Blazer can be worn in different seasons depending on fabric, like linen and cotton will be right in summer and woolen in winter. Having a check style and printed will be an up to mark and a great pair with black pants for a stunning and relaxed look.
12. Denim Jackets:- Black or blue denim will make a pleasant contrast with a black pant. Faded blue and dark blue colors would be the perfect ones.
13. Pullovers And Sweatshirts:- Sweatshirts come in different styles and colors. You will love to wear them with black pants when it is cold outside.
Here Are Different Color Shirts And The Matching Pants:
| | |
| --- | --- |
| Shirt Colour | Matching Pants |
| White and black color shirt | Goes with every color pant |
| Plain dark color t-shirts like maroon, black, etc. | Goes with white pants |
| Polo Shirt light colors like yellow, pink, etc. | Goes with black pants |
| Tank tops of any color | Goes with black pants |
| Crew neck jumpers of white and blue color | Goes with any color pants |
Different Ways To Wear Black Pants
Black Pants For Groom Attire
Weeding day is the most important day for everyone. You can wear a black tux to get the best look on your wedding day.
Black Pants And Accessories
Accessories like sunglasses and wristwatches are best compatible with black pants, and rings, bracelets, or chains will give you a cool look.
Black Harem Pants
If you want a different and unique look, then you can wear Harem Pants with any color. It is a very loose pant made up of soft material.
Office Outfit With Black Pant
If your office dress code is black pants, you can wear it with any light color shirt. You can wear any checked or plain shirt for your office.
Three Piece Black Suit
You can wear three-piece suits at formal events to get a dashing look. You can wear light-colored shirts and a tie with them.
FAQ's
1. Which Color Pants Look Best With Light Color Shirts?
Black trousers will be best suited to light color shirts.
2. Which Color Shirt To Wear With Black Pants?
You can wear light color shirts like light yellow, pink, blue, turquoise green with black pants.
3. What Are The Most Eye-Catching Colors For Sweatshirts?
Black, Blue, Grey, Burgundy, Purple are the most eye-catching colors for sweatshirts.
References:
https://www.readysleek.com/what-color-shirt-goes-with-black-pants/
https://frenchcrown.com/blogs/news/black-pants-combinations-for-men