Last Updated on March 6, 2021 by
When you shave your skin, you just cut the visible hair on your skin. There are so many follicles underneath your skin that are invisible. After shaving, these follicles might get irritated by the blades of your razor. This irritation causes an itching problem after you shave your legs.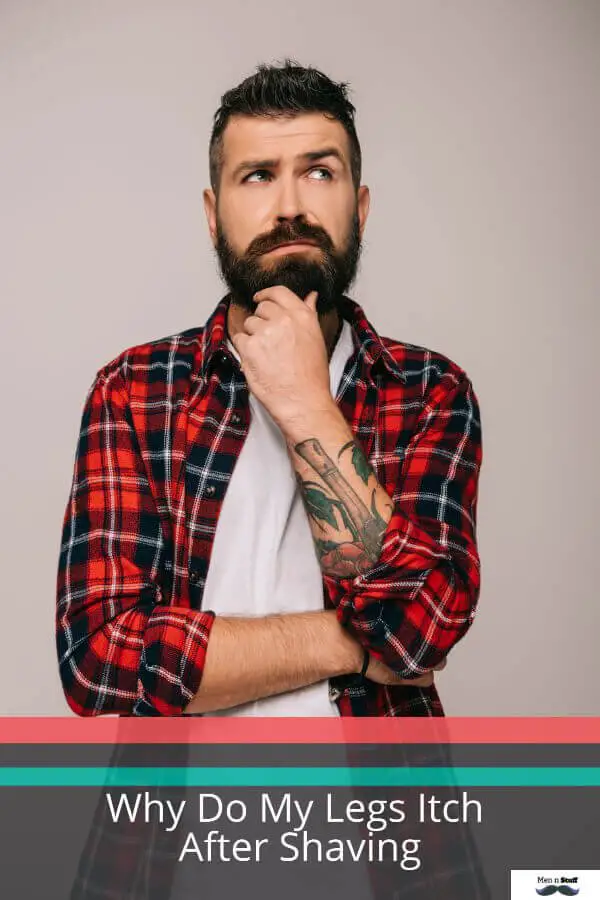 Why Does It Happen?
Shaving irritates the skin. Skin irritation causes itching and red rashes. After shaving, itching is a sign of razor burns or misleads or razors through the skin. Carelessness also causes itching problem. Myths about the regrowth of hairs and its solution may lead you in the wrong way. Take a look at why does skin itches after shaving.
1. Dry shaving: Dry shaving dehydrates the skin. Dehydrated skin causes irritation problem and so itching problem.
2. Razor burns: Itching is a result of razor burning. If your razor is dull or used too often, your skin will get red bumps and itching.
3. Incorrect shaving: It may cause an itchy problem on your skin after shaving. Try to shave correctly. Do not haste when shaving your legs.
4. If your skin is allergic, try not to use a dull razor. Bacterial, fungal problems might cause skin irritation. You might get itchy painful skin after shaving with a dull razor.
Stop Irritation. Stop Itching.
Stop Getting Irritated.
Itching is always uncomfortable after you shave your skin ( legs, bikini line, face, etc). When you shave your body area which is often covered with cloths, fabrics may rub up against your skin. It can worsen your skin irritation. Soap or spray may irritate your skin after you shave. You can stop itchiness on your skin by following some easy steps. Here you go!
Use Shaving Cream.
Shaving creams are manufactured to smoothen your shaving and soften your skin after shaving. Try to use a shaving cream that suits your skin the most. It may help to reduce your skin irritation after shaving. Try to use hydrocortisone cream. This cream is shown to alleviate your skin irritations, itchiness, etc after shaving.
Rinse properly.
Rinse your skin properly after you shave. Remaining shaving creams might cause itchiness, dryness, and redness. Lessening your itchiness, remember to rinse your skin. Don't rub your skin while shaving or rinsing. It might cause rashes on your skin and might redouble itching. Dry up your skin with a tissue or a clean towel. Remember, don't rub.
Rinse your skin properly to make sure that your pores are closed as your pores will absorb the shaving cream. It may harm your skin.
Remember to Moisturize Your Skin.
Just after shaving, remember to use moisturizing cream or lotions. Moisturizing creams and lotions prevent itching. Keep your skin hydrated by applying lotions and creams.
Itching Is a Mystery, Solve It.
Itching is a common problem nowadays that every man and woman pass through. Even after using shaving creams, lotions itching is still there to tolerate. Here some tips to get rid of itching after shaving. Let's have a look.
1. Use warm water every time you shave. It helps to open pores.
2. Never shave without shaving cream or soap. The dry shave will cause you a lot of trouble. Dry shaving causes the risk of cutting and skin irritation. Remember to rinse your legs properly with warm water before you shave.
3. Don't use hot water. Hot water dehydrates your skin. Use warm water instead.
4. Keep an eye on the direction of your hair growth. Hairs tend to grow downwards to the legs. Shave upward to get an irritation-free shaving. Shave against the path your hair grows.
5. Use wax to get rid of stubbles. When stubbles get in touch with a dull razor, hair follicles might get irritated. It will also cause infection on your skin.
6. As we know warm water opens the pores of our skin. After shaving, rinse your legs with cooler water properly. It helps you to pull out the foam of shaving cream. Remember to use moisturizing creams after shaving to close the pores.
7. Protect your skin from the sun rays. Sunshine causes the dryness of the skin. The sun's UV rays absorb the vapor within our skin.
8. Use moisturizing deodorant or deodorant soaps. They contain moisturizing oils, essential oils, and natural oils that defend your skin from stripping.
9. Replace your razor or trimmer regularly to have a smooth shave.
10. Wash your shaving kit often.
11. Take time while shaving.
12. Be careful with the new razor. A heavy strike might cut your body.
The following steps may help reduce skin irritation.
Products to Lessen Your Skin Irritation
If you are passing through skin irritation after your shaving, don't take it lightly. It may cause a big problem for your skin after getting a shave and, stubbles may irritate your skin. Try to follow the above rules and try to use the below products to get rid of skin irritation.
Products Lists.
| | | |
| --- | --- | --- |
| Sl. No. | Products | Utility |
| 1 | Leg Mask | Use leg masks to have a clean, smooth shave of your legs. |
| 2 | Leg Mask Exfoliate + Smooth With Seaweed | Exfoliates your dead cells by one use. And smooths your skin. |
| 3 | Lotion With Baby Oil | Baby oils help to keep your skin smooth. |
| 4 | Lotion With Cocoa Butter. | Cocoa butter increases your skin brightness. |
| 5 | Lotion With Aloe & Lanolin. | Keep your skin hydrated. Aloe vera contains vitamins, enzymes, minerals, sugar, amino acid, etc which are helpful to keep skin hydrated. |
| 6 | vaseline | Soften your skin after shaving. Vaseline contains vitamins, cocoa powder(sometimes) aloe vera, which is skin-friendly. |
| 7 | wax | Wax helps to pull out the stubble, that remaining after shaving. |
What Should You Skip When Shaving?
Acknowledging your problem and after using so many remedies, if you still do not get the expected result, there might some mistakes are remaining. So, let's have a look at what you should skip while shaving. These tips are not only for leg shaving but also for all kinds of shaving.
1. Stop using hot water. Instead of hot water, you may use warm water.
2. Avoid high chlorine container pools and tubs such as hot tub, swimming pools. They contain high temperatures which are not skin-friendly.
3. Avoid using soaps. Soaps roughen the skin.
4. Don't go out often in the sun. Cover your legs and skin when going out. It will prevent the sun rays to enter your skin layers.
5. Don't use the same razor often.  It might cause your skin irritation.
6. Don't go over the same area twice.
7. Don't shave daily. Shave a day after one.
8. Don't keep your razors in a wet dirty place.
9. Clean your razors or trimmers every time after you shave.
Try to avoid the above things to prevent skin irritation.
Itching Irritation? Need to Stop This? Try These.
Itching is a common problem that everyone faces after shaving. Even using shaving cream, moisturizing cream, moisturizing lotions, itching problem is beyond solving. Try these!
1. Try to use aloe vera gel. It shoots the skin immediately. Use the aloe gel from the aloe plant. It is the best way to go.
2. Take a colloidal oatmeal bath. If your legs need moisture badly, give it a try. Take a colloidal oatmeal bath. It surely provides relief to your legs.
3. Use cooling gel immediately after shaving.
4. Use anti-itching cream or gel.
5. Don't shave until your skin recovers.
6. To prevent sunburn, cover your legs with clothes.
7. Use suncream when going out.
8. Rinse your razor after every stroke.
9. Keep your razors clean and dry.
Try to maintain every tactic properly to get the best result after you shave your legs.
FAQs
1. How To Stop Crazy Itching After Shaving?
Ans:  Use aloe vera gel, anti-itching cream, or moisturizing lotions immediately after shaving. Cool your legs at room temperature after shaving. Use wax to remove remaining stubbles on the leg after shaving. Don't make it haste. Be careful. Use soothing gel, hair removal sprays to get rid of stubbles that are remaining on your skin after shaving. Don't rub your skin.
2. How Do I Prevent My Skin Irritation After Shaving?
Ans:  Don't use the same razor often. Before using, change the blades from your razor and clean it thoroughly after shaving. Make it dry and keep in a dry place. Old and dull razors may cause skin irritation so fast. Red bumps, razor burns, and red rashes are the sign of using dull and old razors. Strop using old razors. Replace your razors after using it twice or thrice. To stop skin irritation open your pores by taking a warm wash and then shave your skin.
3. My Skin Got Rashes Every Time I Shave, How To Solve This?
Ans: Rashes, bumps, and razor burns are the sign of using a dull razor. Check your razor properly before using it. Clean it thoroughly after every stroke. Shave the way of your hair growth. Don't force your razor too much, it may cut your skin. Don't stroke the same way twice. Wash thoroughly your legs with warm water before the shave. Must use shaving cream. After shaving, apply aloe gel or lotions to your shaved area to prevent rashes.
4. Should I Use Medicine To Stop Itching?
Ans:  Medicine mightn't help you so much if you shave incorrectly. You need to shave your skin perfectly to stop itching. If your itching is beyond solving after doing a perfect shave, you may go to a pharmacist. Before using any medicine, make sure to take advice from a pharmacist. If your skin is allergic, try not to use any medication without consultation.
5.  Is There Any Way To Stop Itching Without Medicine?
Ans: Yes, there are ways to stop itching without taking any medicine. Medicines are good for health problems, but they drop many side effects to our body. It's better, not to take medicines often. Shave your stubbles or hair correctly. Use shaving cream before shaving. Try to have a clean shave. Must use clean shaving kits. Apply essential oils or lotions after shaving. To smoothen your skin, use aloe gel. Don't rub your skin so often. After using shaving cream, wash your skin thoroughly. Follow instructions step by step to get a better result.