Last Updated on September 22, 2023 by Reiner Chase
Men's fashion can seem limited due to traditional norms and a slower pace of change. It often focuses on classic styles and colors. However, recent trends show a shift towards more diverse and expressive options, expanding choices for men's fashion enthusiasts.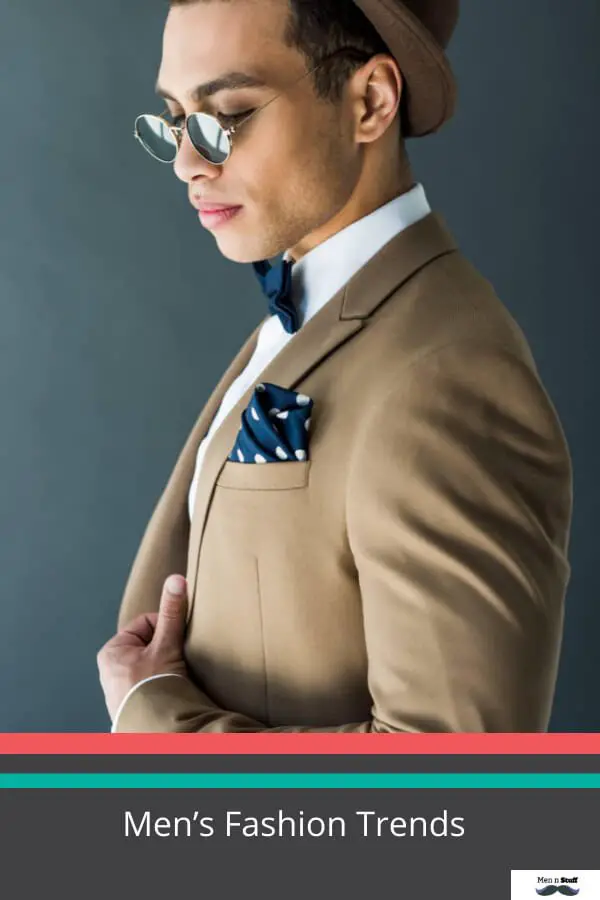 Why Are There Limited Options For Men In Clothing Than Women?
The world of fashion has long been dominated by women's trends, but that is beginning to change. However, one thing seems to stay the same – the lack of variety in men's clothing compared to women's. Why is this? Here are some possible factors:
Traditionalist Mindset: The conservative and traditional mindset plays a major role in defining fashion trends. Men's clothing has always been simpler and fewer in variety compared to women. A well-tailored suit, a crisp shirt with formal trousers, or a smart casual t-shirt with jeans are staples that have stood the test of time.
Societal Norms: This stems from a societal expectation of seeing men in certain types of clothing. Over centuries, it has become normal to see men in less flashy and less varied clothes as compared to women. Breaking from this norm often leads to criticism and mockery, which demotivates designers and individuals from experimenting.
Perceived Complexity of Designing Men's Clothes: Designing men's clothes is perceived as a complex job due to the limited scope of experimentation. On one hand, there is a need to offer new designs and on the other, adhering to the traditionally accepted styles restricts the opportunities.
Public Demand and Purchasing Behaviour: Men have historically shown less interest in fashion compared to women. Women usually own a wider variety of clothes and are more interested in new trends, hence companies produce a larger range of options for women, further limiting the choice for men.
Retail Space Constraints: Men's fashion is usually allocated less space in boutiques and department stores. This limitation makes it nearly impossible to provide a wide variety of styles and options for men.
Why is Men's Fashion so Boring?
Men's fashion is often seen as boring for a number of reasons. These include:
Socialization: Men are often socialized to be more conservative in their dress than women. This can lead to men feeling less comfortable experimenting with different styles or trends.
History: Men's fashion has traditionally been more focused on functionality than style. This is reflected in the limited range of silhouettes and colors that are typically available to men's clothing.
Marketing: The fashion industry is often more focused on women's fashion than men's fashion. This is because women's fashion is typically seen as being more profitable. As a result, there is less variety and innovation in men's fashion.
Fear of judgment: Some men may be afraid of being judged by others if they wear something that is too different from the norm. This can lead to men playing it safe and sticking to traditional styles.
Lack of interest: Some men may simply not be interested in fashion. They may be more concerned with practicality and comfort than with style.
However, there are some signs that men's fashion is becoming more diverse and interesting in recent years. This is due in part to the rise of social media, which has given men a platform to express their personal style. Additionally, more and more men are becoming interested in fashion and are willing to experiment with different styles and trends.
Ways to Make Men's Fashion Exciting
To make men's fashion more exciting, various strategies can be employed to break away from traditional norms and embrace creativity. Here are some ways to infuse excitement into men's fashion:
Experiment with Colors and Patterns: Incorporate bold and vibrant colors into outfits. Try mixing and matching different patterns like stripes, checks, and florals for a unique look.
Accessories Galore: Elevate your style with accessories like hats, scarves, ties, pocket squares, and statement belts. These small additions can make a big difference.
Layering: Layering allows for creativity. Combine various garments like vests, cardigans, and jackets to create visually appealing and functional outfits.
Try Different Fabrics: Explore different textures and fabrics like velvet, suede, linen, and leather to add depth and richness to your wardrobe.
Custom Tailoring: Invest in custom-tailored clothing to ensure a perfect fit. Tailored suits, shirts, and trousers can make a remarkable difference in your appearance.
Streetwear Influence: Incorporate elements of streetwear, such as sneakers, hoodies, and graphic tees, into your wardrobe for a trendy and urban-inspired look.
Cultural Fusion: Explore fashion from different cultures and incorporate elements like kimono-style jackets, ethnic prints, or traditional clothing for a global fashion fusion.
Vintage Revival: Embrace vintage fashion by incorporating retro pieces from different eras. Vintage clothing stores offer a treasure trove of unique items.
Unisex Fashion: Consider unisex or gender-neutral clothing that challenges traditional gender boundaries and offers a fresh perspective on style.
Fashion Forward Brands: Explore fashion-forward brands that push boundaries and experiment with design, offering unique and exciting clothing options.
DIY and Upcycling: Get creative by customizing and upcycling your clothing. Add patches, embroidery, or distressing to give new life to old garments.
Fashion Influencers and Blogs: Follow fashion influencers and read fashion blogs to stay updated on the latest trends and get inspiration for your style.
Fashion Events and Shows: Attend fashion events, runway shows, or exhibitions to gain insights into cutting-edge fashion and discover emerging designers.
Personal Expression: Ultimately, use fashion as a means of personal expression. Don't be afraid to showcase your personality, interests, and values through your clothing choices.
Collaborate and Share: Exchange fashion ideas with friends or join online communities to share and discuss exciting fashion discoveries and trends.
By embracing these strategies and allowing for more creativity and self-expression, men's fashion can become a vibrant and exciting realm that breaks away from traditional limitations and opens up a world of possibilities for style enthusiasts.
Who Chooses Men's Clothes?
Usually, men don't spare their time buying clothes for themselves. Thus, the shopping is done for them by their partners. If you check out the fashion shows, new trends are coming out to inspire men to wear floral and different patterns. 
So, women, being experimental freaks, buy such clothes and experiment with them on their partners. Women usually choose feminist colors, and shades depending upon their partner's age. And trust me, the clothes look nice, as they are bought while keeping the latest trend or different experiments in their minds. 
Why Is The Demand For Women's Clothing More Than Men?
The demand for women's clothing is indeed more than the need for men. It is because women are more fashion-minded than men. Also, society and men both demand more of women.
At the same time, the men are simple and go with the same kind of clothing trend. It is not that they don't like to style, but they see themselves wearing the same clothes with comfort.
Do Men Wear Floral Pattern Clothes?
Men usually think of the floral pattern as feminine, but it is not valid. The fresh and floral prints look good on men as well. As instanced by dark solid colors, floral print will look perfect if you wear them in the right way.
The floral shirts are going on-trend; men team up floral shirt with jeans and shorts. It gives them the vibe of freshness. The floral pattern comes in a different color and a different floral design that men can try. That depicts that men are comfortable in styling and wearing floral pattern clothes, especially shirts.
Men's Fashion Trends
Men's fashion trend that never fades. Let's know about a few of these trends here:-

| | |
| --- | --- |
| Fashion Trends | Usefulness |
| Oversized shirts | The most comfortable and relaxed appearance |
| Vintage shirts and t-shirts | Modern office wear |
| Shorts | Comfortable casual wear |
| Mix and match | Gives an exciting and different look |
| Forever black  | The most trending and sharp color as fashion style for men |
Loosening Up:- The year 2019 almost finished the trend of form-hugging clothes. These clothes are tight fitted clothes that fit well to your body. 
The loose-fitted clothes are oversize clothes that don't fit perfectly on your body and are loose for you. They are comfortable to wear in winters and summers as well. 
Tailoring And Knitwear: – Texturing and layering have been integral to one of 2019's hottest tailoring trends. A suit worn with Knitwear was in trend everywhere for almost 12 months. Stuffy shirts were substituted with fine-gauge roll necks, which looked cool on men. This trend was good for skinny people. 
Since then, it has been in the trend with a simple and elegant look. These knitted ones can be replaced with a shirt when you need to dress down without getting lost in the unorganized territory.
Weather-Proof Sneakers:- Having an excellent dressing sense is nothing unless you choose nice shoes to complement your dress. Styling with the Gore-Tex sneakers has hit the shelves of men's wardrobe over the year 2019.
You can consider sneakers with any dress, whether it is a party or a casual hangout. These sneakers became their savior, including the old classics waterproof versions like the Air Force to trail shoes from Hoka One One and Solomon.
FAQs
Q1. Are The Winter Boots The Versatile Ones? 
Ans: Yes. Winter boots are the most versatile ones and are appropriate for mountaineers, soldiers, workers, and riders. It has all the qualities from comfort to durability, weather-proofing, and practicality.
Q2. What Are Some Of The Tremendous Outdoor Wear?
Ans: Some of the tremendous outdoor wear can be a fleece, a technical jacket, and mountain-friendly footwear.
Q3. Which Casual Clothing Styles Look Great On Men Nowadays?
Ans: You can style the modern casual look with denim jeans, polo or casual shirts, chinos, casual jackets, or knitwear, and hoodies.
References:
https://www.theguardian.com/fashion/2014/sep/22/little-space-given-to-menswear-too-few-men-care
https://nextfashionera.com/why-is-mens-fashion-so-limited/