Last Updated on September 29, 2023 by Reiner Chase
Fossil watches are generally considered good for their stylish designs and moderate prices. They offer a balance of quality and affordability. However, higher-end watch enthusiasts may prefer premium brands. It ultimately depends on personal preferences and budget.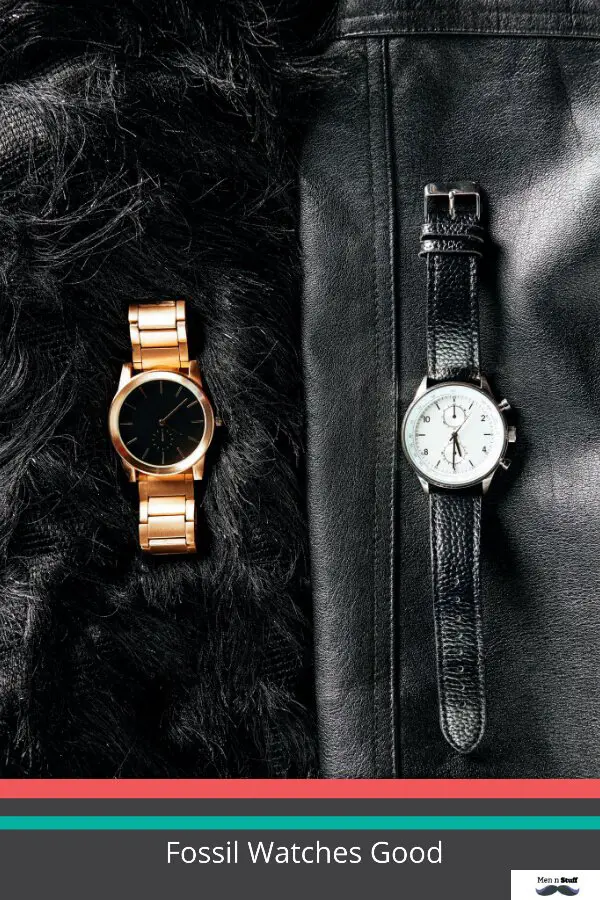 Are Fossil Watches Good?
1. Quality Build:
Fossil is renowned for the excellent build quality of its watches. They are durable, sturdy, and bear a premium feel without necessarily bearing a premium price tag. Fossil pays close attention to the materials used in their watches. From stainless steel to genuine leather, each watch is crafted with finesse.
2. Varied Styles:
Fossil offers an extensive variety of styles for all types of consumers. Whether one prefers a vintage look, a sophisticated modern design, or a sporty appeal, there's a Fossil watch to suit every personal style. This wide range is not only limited to the design but also extends to the features of the watches.
3. Technological Integration:
Fossil has actively integrated technology into its watches, offering an array of smartwatches. These watches facilitate features like fitness tracking, heart rate monitoring, smartphone notifications, and GPS. They also offer compatibility with both Android and iOS devices.
4. Price Range:
One of the significant advantages of Fossil watches is their price range. They offer good value for money, given their build quality, style, and features. Even their high-end smartwatches are priced reasonably compared to other brands offering similar features.
5. Customer Service:
Fossil has an excellent reputation for its customer service. The company provides ample support and warranty provision for their watches, ensuring that consumers feel valued and supported even after their purchase.
6. Brand Reputation:
Fossil has been in the watch-making business for over three decades, and they have consistently maintained a high reputation for their products. The brand is globally recognized and has acquired a loyal customer base over the years.
| Pros | Cons |
| --- | --- |
| Quality materials and construction. | Some complaints about the lifespan of leather straps. |
| Varied styles and designs. | Limited options for high-tech features in traditional watches. |
| Technologically advanced smartwatches. | Smartwatches have a shorter battery life. |
| Affordable price range. | Some perceive Fossil as a fashion brand rather than a watchmaker. |
| Excellent customer service. | |
| Strong brand reputation. | |
In conclusion, Fossil watches offer a great balance of style, quality, technology, and affordability that makes them a good choice for a wide range of consumers. However, like any other brand, they may have certain shortcomings, but these are far outweighed by their advantages.
Why Are Fossil Watches So Expensive?
Are Fossil watches good? If you've ever looked for a men's watch in an online or offline store, you would have probably seen the watches of the Fossil brand. However, are their watches worth purchasing? With such sensible costs, you may be worried about Fossil's quality.
Fortunately, there are a lot of brands that make popular yet practical watches. Perhaps the most crucial name in luxury-adjacent watches is Fossil, the American-based company established in 1984. 
Fossil watches, in general, is rich, with clean designs and regarding flashy accessory. They additionally have gained a reputation for being very moderate. 
However, if you do a quest for Fossil watches, you might be shocked to see some high price tags. If Fossil should be a fashion brand for the average person, for what reason some of their watches are so costly?
What Is A Luxury Watch? 
A few terms are relative. Isn't "luxury" truly entirely subjective? What one individual believes is costly; someone else may think it a pittance. There will consistently be differences in what establishes a high cost to pay for a watch. However, we should attempt to see what makes a "luxury" watch luxury. 
The main thing to comprehend is that luxury and cost are not just equivalents. While something that can appropriately be known as a luxury will generally be pricier, many costly things are far from luxurious. When looking for luxury, one must look further. 
Luxury watches have many essential attributes, including being created with phenomenally intricate expertise and limited production. If a watch has been "assembled," it's safe to state that it is not a luxurious item.
It is the reason why the majority of the lofty luxury watch brands are Swiss: Switzerland's watchmakers follow stringent rules for their watchmaking. For a watch To qualify as a Swiss watch, the watch needs to meet some genuinely explicit rules. 
But anyway, luxury watches aren't just limited to the Swiss, however. The French have Bell and Ross, and the Germans have Glashütte Original. You will likewise discover many prominent luxury watchmakers in Japan. Stateside, the pickings are somewhat slimmer; however, RGM makes some extraordinary luxury watches.
Check more: Watches Weight Chart
Is Fossil A Luxury Brand? 
If all things are considered, it does not imply that Fossil makes cheap watches or is not worth your cash. Their items are acceptable; they virtually don't satisfy the rarified guidelines we judge luxury watches; apart from that all things are great. 
Fossil does not exist in that section of watches that cost you a year's rent and plastic watches that emerge from a vending machine. They're trendy and agreeable, and they read a clock with reliable precision. You wouldn't anticipate discovering all the most advanced features on Fossil watches. However, if you're searching for those, at that point, you have to extend your budget.
Are Fossil Watches Costly? 
In case you're contemplating whether Fossil watches are in your price range, we should again return to the issue of individual definitions. A Fossil watch can cost anywhere between $70 and $1000 for some of their Swiss-made automatics.
Many dependable, durable watches cost under $100, yet you'll be fortunate to discover one that doesn't look cheap or, at any rate, somewhat little uncool. If looks and style don't make a difference to you, then Fossil might not be the choice for you.
What Does Fossil Have To Offer? 
On the off chance that you are interested in a Fossil watch, it would presumably assist with having a sense of their range of items. The watches under the "customer favorite" segment of Fossil's site sit somewhere in the range of $125 and $250, so we should take a look at some of those watches somewhat more closely.
We Have Listed Some Popular Watches By The Fossil Brand Below. Don't Forget To Check It Out In The Table Below
| | |
| --- | --- |
| Name | Price |
| Fossil Women's Jacqueline Mini ES4635 White Leather Quartz Fashion Watch | $45.08 |
| Fossil Gen 5 Carlyle HR Men's Smartwatch – Black Silicone – Powered with Wear OS by Google | $282.85 |
| Fossil Gen 5 Carlyle HR Men's Smartwatch – Smoke Stainless Steel – Powered with Wear OS by Google | $272.11 |
| Fossil Gen 5 Julianna HR Women's Smartwatch – Rose Stainless Steel – Powered with Wear OS by Google | $283.05 |
| Fossil Hybrid Smartwatch HR – Collider Dark Brown Leather | $176.49 |
Without a doubt, Fossil is perhaps the best brand available. Furthermore, for the individuals who ask are Fossil watches acceptable, there is such a significant amount on the offer. There are plenty of various models from the brand intended to meet the client's particular necessities; however, the Grant by Fossil is the best in each respect.
The chronograph quartz has all you require on a regular watch. But still do your online research before buying an expensive watch. I am sure that you will be back again to buy a Fossil watch. I agree that it cannot be the best watch if you search for a watch to last for centuries.
So do all the research that you want to do but in our opinion, you would save a lot of precious time of yours buy buying one right now, so what are you waiting to grab one of our Fossil watches according to your choice right now.
Is Fossil Worth The Cash? 
Fossil is not the leading watch in the mid-range watch game. However, regardless of whether you believe you're not getting a Fossil brand watch, you actually may buy one. 
Diesel, an Italian clothing company, started selling an excellent range of quality watches in 2000; however, these watches are licensed as Fossil watches. 
Fossil has a similar licensing with Marc Jacobs, DKNY, Burberry, and various designers. Consequently, you may be paying more cash for the same watch with a more lofty brand name. 
Whatever the name on the watch face, it's suggested that you do your research.
Finally, regardless of whether a Fossil watch will be worth your cash relies upon your conditions and purposes behind purchasing a watch. In case you're searching for something that will one day be a family heirloom, look somewhere else. 
Assuming, notwithstanding, your primary concern is a moderately stylish and practical accessory, Fossil likely has something for you.
FAQ
1. Do The Dials And Chains On A Fossil Watch Get Scratches With Time? 
Some of the stainless-steel straps that are painted get scratched over the long run, yet the non-painted stainless-steel chains and dials don't scratch.
2. How Might I Get My Fossil Watch Fixed? 
Visit Fossil's site and download the watch repair forum.
3. How Might I Change Or Swap My Fossil Watch Band? 
It will help on the off chance that you push that little ridge on the spring bar. You can do such with the assistance of a spring bar too.
References:
https://twobrokewatchsnobs.com/fossil-watches-review-and-info/
https://exceptionaltiming.com/are-fossil-watches-worth-the-money-heres-how-to-decide/