Last Updated on September 24, 2023 by Reiner Chase
Yes, leather jackets are warm as they provide insulation against cold weather. They are versatile for various styles, including pairing with jeans for a casual look or layering over dresses for a more edgy or classic appearance, making them a popular fashion choice.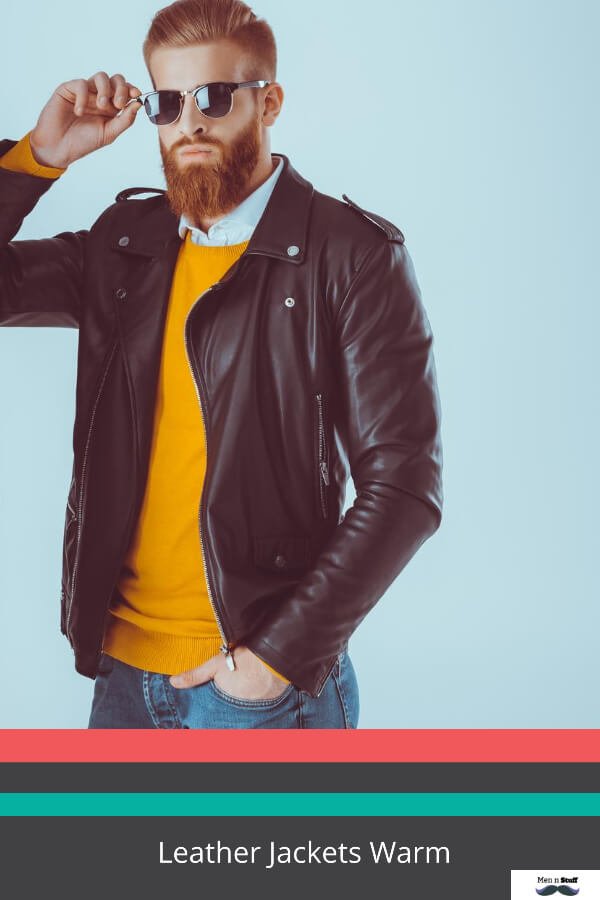 Are Leather Jackets Warm?
1. Insulation and Heat Retention
Leather jackets are indeed warm due to their insulation properties and heat retention. They are made from natural animal hide, which provides good insulation, effectively blocking out the cold air and retaining heat.
2. Layering Opportunity
The versatility of a leather jacket permits the option of layering with other apparel items. During colder months, one can layer a leather jacket over a sweater or hoodie for additional warmth.
3. Wind Resistance
Due to their sturdy and robust character, leather jackets offer excellent wind resistance. When faced with windy conditions, a person donned in a leather jacket can rely on it to shield against the chilling effects of the wind.
| Insulation and Heat Retention | Layering Opportunity | Wind Resistance |
| --- | --- | --- |
| The natural animal hide provides good insulation, effectively retaining heat. | Leather jackets allow for layering, providing additional warmth during colder months. | Leather jackets have a sturdy, robust character, offering excellent wind resistance. |
4. Durability
Leather jackets are not only warm, but also exhibit high durability. Due to their longevity, they can be worn for many years, continuously offering warmth and comfort.
5. Thickness and Weight Matter
While all leather jackets offer some level of warmth, the thickness and weight of the jacket will dictate how warm it is. A thicker and heavier jacket will generally provide more warmth than a lighter, thinner one.
6. The Role of the Inner Lining
Many leather jackets have an inner lining made of insulating materials. This lining increases the jackets warmth significantly and is especially beneficial during extremely cold weather.
7. Fit is Key
How well a leather jacket fits will also play a critical role in its warmth. A well-fitted jacket will prevent cold air from entering and warm air from escaping, thereby ensuring optimal warmth.
In conclusion, while leather jackets can range from being moderately warm to very warm, their heating efficiency depends on many factors including the jacket's thickness, weight, inner lining, and fit.
Are Leather Jackets Costly? 
Pure leather jackets are costly, and if you want to buy a low-cost branded leather jacket, you have to wait for a seasonal sale online. Leather jackets are assets for your wardrobe as it goes with any denim jeans. Even if it is early in the fall, you can try out casual denim jackets too. 
But, is a leather jacket appropriate for wearing in cold temperatures? An ideal leather jacket is like a second skin. Let's know when you should wear your leather jacket and how you will take care of your expensive leather jackets. 
Should You Buy A Leather Jacket Online?
As the internet provides a massive buying platform, many men and women prefer to purchase expensive and imported leather apparel and accessories online. Many people can't get their desired imported leather jacket from their local store, so they rely on an online shopping site. 
Undoubtedly, online shopping sites give you multiple options, but you must be careful enough while buying leather jackets, bags, and shoes online.
There are various types of leather jackets for men and women, including leather bomber jackets, leather moto jackets, leather field jackets, leather blazers, leather vests, and leather shirt jackets.  
Leather Bomber Jacket
1. As a leather jacket is the symbol of your personality, you have to be careful while buying it. 
2. If you are gypsy and adventurous by soul,- a leather bomber jacket is perfect for you. It gives a carefree yet stylish look. 
3. By origin, the leather bomber jacket came from America, and it was first designed for a military man and was known as a flight military jacket. It kept them warm during freezing and brutal winters. 
4. Nowadays, bomber jackets are made of leather or fabric that are waist length with hem and cuffs.
5. The original bomber jacket consists of a sharp collar, front and slit pockets, broad and epaulet on the shoulder, and zip pockets on the side.
Leather Moto Jacket
1. Moto- the word comes from the motorcycle, and it is specially made up of adventurous people. The design is inspired by a motorcycle or bike rider. 
2. The leather used in making the moto jacket is lighter and softer. The jacket has clean and slick lines and chains. You can identify the Moto jacket by its band collar. 
Leather Field Jacket
1. The leather field jacket is for those men who believe in a rough and rugged style. Most American men love to have a field jacket that comes in many colors like brown, grey, black, etc.
2. It is called a field jacket because it was specially designed for farmers, but now it has its urban touch. 
3. This jacket is not slim fitted, but slightly loose in fit, zip in front, and has clean lines. This hip-length jacket is popular among the US military army as well.  
Leather Shirt Jacket 
1. The leather shirt jacket will make you look handsome, and it has a classy yet formal look. You can wear leather jackets as casual wear. 
2. Many people in love with the leather jacket want to wear it as a shirt. This jacket is inspired by the shirt's design.   
Before buying online, please check the size guide for your leather jackets. Firstly measure your chest size with measurement tape. You will find an excellent size guide online where you can easily choose the right size.
A General Guideline For Size Is Given In Table Below:
| | | | |
| --- | --- | --- | --- |
| Size | Chest Measurement (Inch) | Body Height (Inch) | Chest Width (Cm) |
| XXXS | 30-32 | 63-64 | 78-81 |
| XXS | 32-34 | 64-65 | 82-85 |
| XS | 34-36 | 66-67 | 86-89 |
| S | 36-38 | 67-68 | 90-93 |
| M | 38-40 | 69-70 | 94-97 |
| L | 40-42 | 70-71 | 98-101 |
| XL | 42-44 | 71-72 | 102-105 |
| XXL | 44-46 | 72-73 | 106-109 |
| 3XL | 46-48 | 74-75 | 110-113 |
| 4XL | 50-52 | 75-76 | 114-117 |
| 5XL | 52-54 | 76-77 | 118-121 |
| 6XL | 54-56 | 77-78 | 122-125 |
Why Should You Choose A Leather Jacket For Winter?
Leather jackets are good for extremely cold winter, but it depends on the quality of the leather. If it is made of pure animal leather, it will give you the utmost warmth. However, there are many fake leather jackets in the market, and those jackets are made of faux kind of material. 
A real leather jacket has smooth finish and is heavy in weight. You can easily differentiate between fake leather and pure leather now. 
If you are from a region where winters are brutal, you should buy an oversized leather jacket as it keeps you warmer than an exact-fit leather jacket. You can wear it over your shirt, jumpers, and T-shirts. 
How Can I Take Care Of The Leather Jacket?
Buying a leather jacket with a great seasonal offer is a big deal but taking care of it is more important. In the UK and the USA, winters are windy and wet. Pure leather is not waterproof so, you have to be careful wearing leather jackets during winter and snowfall. 
You can apply a fine coating of waterproofing first. You can buy it easily from any shoe shop, and the coating will work as a protective seal on your jacket.
Faux leather is waterproof as it has a plastic coating on it. So, it is best to wear it in the rainy season while you are going out for work. 
Styling With The Leather Jacket
Leather jackets are good for winter if you wear them with shirts, t-shirts, and jumpers. All you need to do is pick up the oversized leather jacket to layer it up. It also looks better when your coat is a bit oversized and your shirt is slim-fitted.
Here Are Some Tips For Styling With Your Leather Jackets:
1. A shirt is ideal for wearing under a hoodie or jacket. If it is cold outside, you can wear a jumper under your leather jacket and denim jeans.
2. Don't forget your accessories. You must have a pair of leather gloves for winter. Women can wear a colorful woolen scarf with brown leather jackets.
3. Winter is all about colors, so wear colorful leather boots and socks which are easily available.
4. With your oversized jacket, you can wear a bright-colored jumper. It will give you a colorful, vibrant.
5. Blue denim always looks classy but have you tried yellow or green jeans? You must try pastel shades of jeans with your brown or grey leather jacket.
As leather is quite costly, you must know some other factors before buying a leather jacket.
Choose The Original Leather
Choosing pure leather is not difficult because original leather has its texture, color, and smell. If you observe fake and pure leather closely, you will see that fake leather is light in weight and it is waterproof, whereas pure leather is not waterproof.
Mixing Color Is A Good Option.
If you think leather has only two colors, then you are wrong. Don't go with brown, black and beige.
Long-lasting high-quality quality and colorful leather jackets have been setting trends for the last few years. 
Brown and black leather jackets look classy, but if you want to experiment with leather, buy some colorful and designer leather jackets too. 
Leather Jackets For All Seasons
Leather jackets are for all seasons but they are specially designed for winter. These jackets are designed to make the airflow possible, so you can wear them in any season. However, for the rainy season, you need a waterproof coating on it. 
Maintenance Of Leather Jacket
Don't try to wash your leather jacket in the washing machine. Leather jackets don't usually get dirty. If it gets some stains then remove it gently but don't rub it. Most of the branded leather jackets have a care label. You will follow the specific washing instructions according to the label. 
Conclusion
 Many fashionable men love to make their own style statement but they get confused while buying trendy jackets and accessories. This article will definitely help those who are not aware of various kinds of leather jackets. If you read this article thoroughly, you will get a brief idea about leather jackets and the care and instructions. 
Frequently Asked Questions.
Question 1
Can I wear a leather jacket in the early fall?
Answer 1
It depends on your choice. You can wear leather jackets in all seasons.
Question 2
What are the parameters of measuring jacket size?
Answer 2
Men can measure their chest size to get a proper measurement. For women, there are three measurements- chest, hip, and height. 
 Question 3

What Is A Fleece Jacket?
Answer 3
Fleece jackets are mainly made of fiber or polyester. It is not a leather jacket.
Question 4
Can I use hot water while washing a leather jacket?
Answer 5
Hot water is not at all suitable for leather. You can wipe your leather jacket with dish soap and warm water.
References:
https://www.leathercult.com/blog/the-dos-and-donts-of-wearing-a-leather-jacket/
https://www.libertyleathergoods.com/are-leather-jackets-warm/