Last Updated on September 24, 2023 by Reiner Chase
The most popular winter jackets for men include the puffer jacket, parka, pea coat, and bomber jacket. These styles offer both warmth and style, making them go-to choices during the winter months.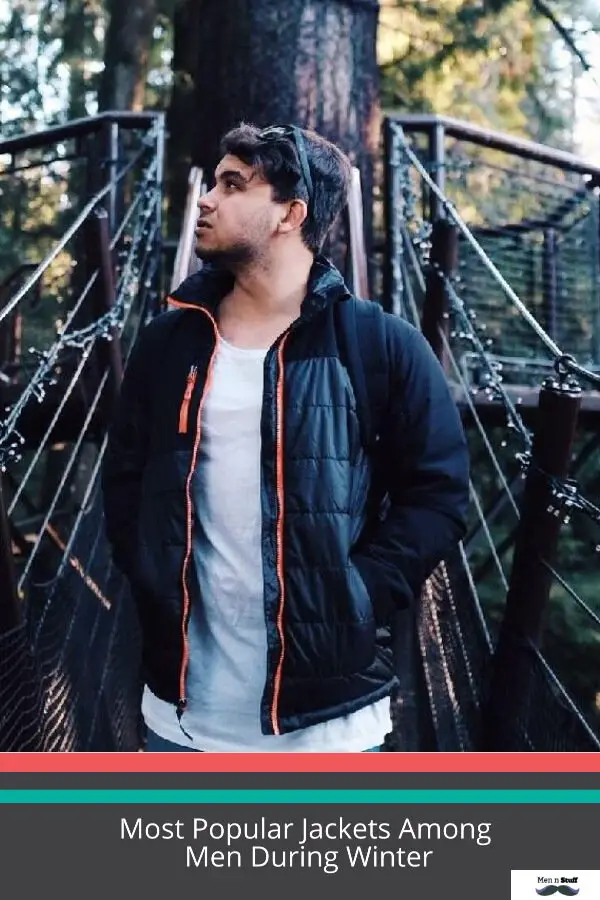 What Are The Most Popular Jackets Among Men During Winter?
1. Bomber Jacket
One of the most popular jackets amongst men during winter is the Bomber Jacket. Known for its simplicity, comfort, and versatility, it is an excellent personal statement piece that can be paired with almost any outfit, casual or formal. Its ribbed cuffs and hem provide an extra layer of warmth during the chilliest months.
2. Pea Coat
Originating from the navy, the Pea Coat has now become synonymous with men's winter fashion. It's heavy wool design ensures maximum warmth, while its broad lapels and double-breasted cut ensure a stylish silhouette. This timeless piece seamlessly merges practicality and style.
3. Parka
The Parka is a long jacket with a hood, often lined with fur or faux fur. Available in several designs, this jacket is known for its excellent insulation properties and is ideal for the toughest of winters. Its drawstrings at the waist and hem provide the flexibility to customize the fit.
4. Puffer Jacket
The Puffer Jacket is a staple of winter fashion. Known for its quilted design that "puffs" out due to the insulation inside, it offers ultimate protection against the harshest winter weather. Its lightweight design makes it highly comfortable, yet it does not compromise on warmth.
5. Leather Jacket
The classic Leather Jacket remains a firm favorite amongst men during winter. Versatile and timeless, they offer a certain rugged appeal that never goes out of style. Leather jackets also provide sufficient warmth, making them a practical choice for the colder months.
6. Trench Coat
The Trench Coat is a stylish and sophisticated option for the winter season. This double-breasted coat with a belt not only brings an air of elegance to any outfit but also provides ample warmth. Traditionally made from heavy-duty cotton, modern versions also come in wool and cashmere.
7. Overcoat
Perfectly suited for formal occasions, the Overcoat is a long coat with a collar and lapels, typically reaching down to or below the knees. It is an excellent choice for business people who need protection from winter temperatures without sacrificing style.
In conclusion, there are a wide variety of popular jackets among men during winter. From the casual bomber and puffer jackets to the formal overcoat and trench coat, every style has its unique charm and features to keep you warm and stylish.
How Fashion Changes Now And Then?
Fall is here, and with it, there is a gradual nip in the air. Winter is coming soon, and with it arrives the season to wear a jacket. Jackets are the perfect winter garment, which not only keeps you warm bay but also boosts up your style quotient correctly. 
Each year new designs and styles emerge in almost all kinds of clothing for both men and women. The same goes for Jackets. For a few years, denim jackets are all the rage, while suede or leather jackets will be trending in some years. Leather, corduroy, and denim are some of the most evergreen and classic jacket choices that rarely go out of fashion. 
Leather jackets are favorite for most men, especially for bikers. These jackets are available in a wide range in terms of cut, color, style, and price. Hence, these are counted amongst the hottest winter trends every year and are displayed on fashion magazines or other platforms. 
Types Of Men's Jackets 
1. Denim jackets: College-going boys or those who want semi-formal in workplaces, denim is the right choice anytime and anywhere. It is a perfect style when the weather is still so chilled.
2. Leather Jackets:  It gives a classy and dreamy look for all men, and is best to wear in winter.
3. Anorak Jackets: It is suitable for a retro look, and does a fine job of keeping you warm with layers underneath. More for summer wear, you can keep an anorak jacket handy when the weather forecast goes awry.  
4. Hoodies: A variation of the hoodie can withstand more wear and tear and the hoodie's fur lining edges. These are useful during snowfall or icy conditions.
5. Bomber Jackets: These are the best jackets and were initially worn by fighter pilots from which it got the name. They are perfect as high altitude clothing or when there is biting cold.
6. Chore Jackets: These jackets were designed originally for workers to fit tools in those large pockets. As the name suggests, chores are done for rugged high intensity, and durability. It is boxy and utilitarian fit with pastel shades making it no-nonsense winter wear.
Let's have a brief look at all types of quintessential and trendy jackets for winter.   
| | | | |
| --- | --- | --- | --- |
| Jacket Type | Occasion | Pair Up with | Fabric |
| Denim | Evening Wear, Parties, Clubbing, Casual Work Wear, Outings & Outdoors | Denim jeans, Khakees, Chinos, Seude boots | Denim |
| Leather | Bike rides, Travel, Night Clubs, Parties | Leather pants, denim, cargo pants, chinos, high boots | Leather |
| Anorak / Parka | Travel through polar conditions, Trekking, High Altitude activity | High Boots, Denims Thermals, Cardigans | Polyester, Leather, Acrylic Blend, Nylon |
| Bomber | Casual Wear, Evening Wear, Travel and Commute | Denim, Trousers, Boots, Chinos | Silk, Wool, Viscose, Polyester, Satin, Gauze Neoprene |
| Chore | Workwear, Industrial Usage | Pants, Denim, High Boots | Twill, Canvas, Wool, Cotton |
| Track | Sportswear | Canvas shoes, Sports shoes, joggers, track pants. | Polyester, Viscose, Nylon, Lycra |
| Coach | Sportswear | Canvas shoes, Sports shoes, joggers, track pants. | Polyester, Viscose, Nylon, Lycra |
| Quilted / Puffer | Travel and Commute purposes, Casual Outfit, Hiking & Trekking | Denim Pants, Trousers, Cardigans, Hiking Boots, Suits | Fleece, Polyester, Cotton, Leather, Silk Wool |
| Hooded / Hoodies | Casual Wear, Travel, and Commute | Thermals. Cardigans, Sweaters, Chinos, Pants, Boots | Polyester Viscose, Cotton Fleece, Woolen, Acrylic Blend |
| Sweat | Gym and Workout Sessions, Eveningwear | Baggy Pants, Sweatpants, Track pants, Denims | Wool, Nylon Polyester, Fleece, Cotton, Viscose |
| Windcheater | Travel and Outdoors, Gym, Training Sessions | Track Pants, Trousers, Sports Shoes, Canvas Shoes | Lycra, Cotton, Polyester |
| Blazer | Formal Wear, Dinner parties, | Denim, Formal pants, Khakees, Pastel Pants, Chinos | Cotton, Lycra, Crepe, Polyester, Wool |
| Trench Coat | Travel and Commute during snow or rain | Overcoats, Denim, Turtlenecks, suits | Blended, Suede, Fleece, Acrylic, Cotton |
| Macintosh | Heavy-duty work, Trekking, High Altitude climbs | Denim, Trousers, High Boots | Processed Rubber |
Style Is The Best Signature You Can Have This Winter, And The Reason Why?
Design And Style
1. In newer designs of jackets, the ones that have emerged the most are the mandarin collar jackets, high collar jackets, and china collar jackets. 
2. These are available in leather, cloth, and patchwork jackets too. 
3. They come either as buttoned-up jackets or with zippers. These have separate utilities based on how you wear and use it. 
4. For daily use, most men prefer zippers as it's easy to tackle and comfortable to wear. When paired with a pair of rugged denim pants, high collar jackets look stylish on almost all men.
Fabric
1. One of the endearing materials for a men's jacket is denim. Denim is the fabric that is probably the most diverse, wear, and tear-proof, and is steeped in historical value. 
2. It is used to make pants, dungarees, jackets, etc., since the 19th century.
Type
1. There are puffer, wool, and cloth jackets that bring back the fashion of the 90s. 
2. For men from the subcontinent, jackets have a more traditional value. 
3. There are cloth-based jackets like ethnic Nehru jackets, often worn with traditional attire, especially during weddings and other formal events that happen in winter.
Regular Wear Jackets and Outfits 
1. Track Jacket
1. When leaving your home for an early morning run or a late evening jog, this is the perfect partner to suit up. 
2. Pair it up with track pants and feel like an athlete raring to go that extra mile. The sportswear jacket is an all-purpose all-season one.
2. Coach
1. These jackets originated from the American baseball and soccer fields' sidelines. They were the identifier for coaches of respective teams with logos and brand endorsements seared onto the sleeves and the backs.
2. Its baggy yet sporty nature often attracts those with a bulky body. The drawstring waist makes it adjustable and stylish.
3. Quilted / Puffer
1. The perfect fusion of warmth and fashion, these are the most casual jackets. 
2. They are also known as puffer jackets, made of nylon and polyester with cotton or wool puffed in layers for more insulation.
4. Hooded / Hoodies
1. Hoodies are the most iconic jackets with a headcover to protect against cold winds.
2. You no longer need to carry a scarf or headgear.
3. It is the 2nd most popular jacket style after bomber amongst the youth. A hoodie signifies the perfect winter wear like no other in this list.
5. Sweat Jacket
1. They are sweat-absorbent like track jackets. 
2. Perfect casual wear for training and exercise 
6. Wind Cheater
1. The name itself says it all. Be it rain, snow, or wind; keep a windcheater if you have a plan to travel outside.
2. It is an ideal travel component for long stretches.
7. Blazer
1. When your style needs to make a point, a blazer is the best way.
2. Nothing can beat a blazer when paired with the right attire. 
3. Although it's all-purpose formal wear, blazers in winter are the best to behold.
8. Trench Coat
If you are a daily commuter of long work hours battling snow, rain, wind, or sun, then this waterproof jacket is simply the most suitable for you.
9. Macintosh
1. Named after a Scottish scientist, Macintosh is somewhere similar to a windcheater and trench coat. 
2. It is made of a specific waterproof material where the rubber is dissolved in a coal-tar naphtha solution to make it durable, tear, and waterproof. 
3. It's the ultimate jacket you can have in your collection for any heavy-duty activity like high-altitude trekking, mining, work during the rainy season, etc.
Conclusion
The best jacket for you would be to go with your style and suit you to keep you protected and warm. A bomber jacket can be the best type you can invest in, as they are versatile and come in a wide range of colors and fabrics.
Currently, the trending ones are denim, hooded, and biker jackets. For a formal look, overcoats and shearling jackets are the hottest picks. If you are looking to have a diverse collection within the same material, then leather is always the best choice to fill your wardrobe with jackets that flatter you.
Frequently Asked Questions
Questions 1.Why do men prefer jackets over sweaters?
Answer 1 – It is because jackets give a trendy and stylish look, and some men think sweaters are old fashioned. 
Question 2 – Is online buying an excellent option for jackets?
Answer 2 – Yes! Online buying can be a good option for you if you know your body size and the size chart available on the shopping platforms.  
Question 3- Is always buying a pure leather jacket the right decision?
Answer 3 – Yes! You can go for a pure leather jacket, but they need extra care. You must follow instructions while using and cleaning your pure leather jackets.   
References:
https://www.switchbacktravel.com/best-winter-jackets
https://www.outdoorgearlab.com/topics/clothing-mens/best-winter-jacket