Last Updated on March 6, 2021 by
There is no dress to be called perfect or the best dress. The best dress would depend on the way you carry and the situation or accession you are wearing. Wear whatever you like with a good fit, and with confidence, it would look the best on you.
The dress can be used for appropriate clothing for a formal or a special occasion. It is a context-sensitive word, referring to a specific product of clothing. There are some rules to govern of dressing well. Opinions vary from one individual to another according to their personal experience. When you are dressing, you also have to focus on your face value.
Menswears are abundant, so experimenting with rich and varied dresses for men can put you in a state of confusion. However, good advice can be a help. It would be best to prefer a good fit and high-quality dresses, which add value while keeping it versatile.  
There are a set of advices on a logical basis, which you can adopt while dressing or selecting a dress for yourself:
1. A Good Fit Suit: A suit is like a uniform and looks good when it fits well, especially across the shoulders. Chest and waist are relatively easier to alter than the shoulders. It looks impressive by the way you wear it, and not the brand label it has.
2. The best ones are the classic suits: Dark in color, single-breast or two-buttoned.
3. Match A Watch: Wear a watch that is comfortable and right in size. Rugged sports and aesthetic watches can fit with any dress. A watch with the dress works as a topping on the cake.
4. Choosing the right color: Allow yourself to enjoy the pleasure of color you choose. Whether it is a formal casual dress, choose the color to lift your outfit.
5. The pleasure of Selecting Jeans: It is the well-known clothing across the world. If you want to wear comfortable jeans, then wider thighs will work. However, if smart jeans, then narrow ones with sneakers or smart shoes will make you intimidated. It is the best year-round dress. Raw dark-colored denim will be an absolute pleasure according to the way you wear.
6. Appearance:  Suits need to be dry-cleaned ideally for best appearance. Use wooden hangers for suits and shirts, especially a leather jacket, needed to be cared for. 
7. Accessories: Keep minimum accessories. Dark shades will work best.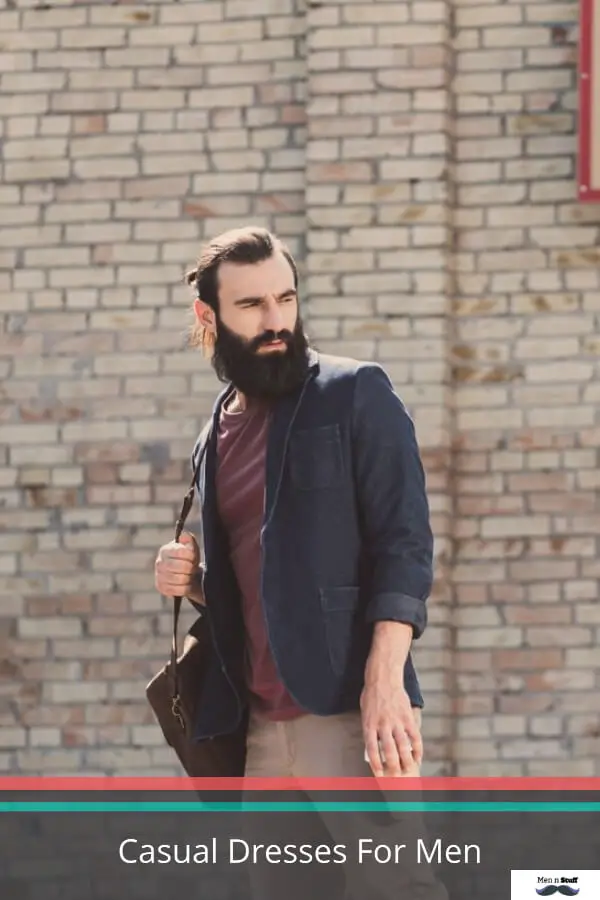 Casual Dresses For Men.
There is a specific sort of casual attire, like expressing a real sense of personal style. Whether it is upscale or rugged, casual wear for men is the dress that makes you feel more comfortable. Dressing casually is like balancing style and comfort. Trending and fashionable casual dress like ripped jeans would be the perfect one for you.
Most men intimated with a t-shirt, jeans, and sneakers pair will be a foolproof outfit. The series of casual dresses of men are the following:
Casuals are the relaxed dress with elegance as daily wear. Mix and match your casual wear with a blend of comfort and unique look. Discover the best for yourself by trying adventurous styles with different dresses. Make your casual simple, and according to place and situation.
Table 1.1: Casual Dress Type And The Garment
| | | |
| --- | --- | --- |
| S.No | Dress Type | Garment |
| 1 | Casual Dresses. | Denim Jeans, t-shirts, polo shirts |
| 2 | Smart casual & Business Styles. | Casual shirts, chinos. |
| 3 | Business professional casual style. | Casual Knitwear, casual jackets. |
| 4 | Streetwear staple. | Hoodies, cargo, and Bermuda shorts. |
Tips For Men While Wearing Casual Dress.
An appropriate casual dress style will help rock your look. It would be best if you kept a few things in mind while wearing your casuals, which are the following:
1. Choose a dress with the purpose to wear. The goal of wearing a dress will make you choose the right and appropriate dress for the situation or event.
2. Dress according to the place, occasion, or event.
3. Adding a few items like a bomber jacket, watch, or high-end sneaker will lift your dress.
4. Choose some neutral colors like black, brown, grey, white, navy, or tan to mix and match. These colors are always trending.
5. Luxurious fabrics like Cashmere or silk with bold color will elevate your personality.
6. Social context and environment should be considered before choosing the right casual wear.
7. Pull out your right style with good fit casuals.
8. Reserve and keep your belt, socks, watch handy.
Popular Casual Brands.
While shopping casuals, you need to choose the right brand to complete your look with the best garments, and accessories. The popular brands for mens casual wear that add style with superior quality are the following:
1. Adidas: High-end sportswear is brought to the street with its premium fabrics and innovative designs deserving the best to be in your casual wear list.
2. Nike: Athletic innovation for iconic sportswear, a fashion game with timeless superior designs.
3. J.Crew: Easy-to-wear best modern style casual staples with this luxury brand of low-key to win legions of customers.
4. Polo Ralph Lauren: Casual style brand of America delivers excellent and quality items to last long, from polo shirts to relaxing chinos. Best ones to elevate your dressing sense and personality of your style statement.
5. Tom Ford: Unique blend of refined materials and fabrics with bold designs to upscale your looks.
Formal Dress For Men.
Formal dress depends on the culture, guidelines and rules of your office. There are varied guidelines for attires of the employee with a certain degree of strictness. A formal dress also depends on the event or occasion you are planning. Choose formal attire specifically for the situation.
Formal attire is not a suit and a tie always. It depends on what time of the day you wear a formal dress. During daytime, a vest and tailcoat would be perfect, while formal dress at night will add a white tie. White ties are stringent dress codes for men at a birthday or a wedding party.
Semi-Formal Dress.
Semi-formal attire also depends according to the time of the day. If choosing for evenings, Black Tie or Tuxedo is appropriate. In contrast, daytime will be the best with the Stroller, pairing with a white shirt, a tie, and leather lace-up shoe with a low heel.
Business Dress.
Business dresses are matching suits of solid, dark coloured, or a pinstriped suit. Dark brown and light gray suits would give you a great look. Casual suits with vivid patterns and light colors are best for business outings for a casual business meet or event.
 Business Casual Dress.
Many variations can be worn, like jackets, blazers, sweaters, or sports jackets, flexible business attire with light to medium colors, khakis, or gray slacks.
Best Looking Dresses For Men.
Dresses for men depend on the event, situation, or occasion. Festivals have specific types of dresses. It is always good to know and understand the purpose of the situation. Choose the color combinations wisely that suit you the best. Dresses have to be selected according to the season to make you feel comfortable. Be yourself while wearing any dress pattern. Whatever makes you feel comfortable and fair would be the best-looking dress.
Men always struggle to dress better. Some tips can develop better dressing sense in you, which are the following:
1. Self-Confidence is the key to any dress to look good on you.
2. Choose your style of statement.
3. Classic or pair a shoe according to your dress.
4. Iron your dress properly.
5. Choose quality fabrics and material.
6. Focus on timeless and classic patterns, textures, and colors.
Below mentioned table consists of the best looking dresses for men:
| | | |
| --- | --- | --- |
| S. No. | Casual Dress | Formal Dress |
| 1 | White v neck t-shirt. | White t-shirt. |
| 2 | Black v neck t-shirt. | Black Shirt. |
| 3 | Denim Shirt. |   |
| 4 | Denim blue jeans. | Black trouser. |
| 5 | Rugged jeans. | Khakhi, Cream, or olive green chinos. |
Choosing Shirt And T-Shirts.
1. A white color shirt and t-shirt are a must to have.
2. Choose slim-fit shirts.
3. Dressing Guidelines.
4. Avoid wearing t-shirts if you are not toned, instead of use short shirts.
5. Avoid tucking in your t-shirt. Instead short shirt will rolled-up sleeves.
6. Layer your dresses if you are skinny. Use underlying light blue or white t-shirt, and tuck in the underlying ones.
Choosing Formal Dress.
Choose your formal dress depending on the situation and event. Below mentioned are some best formal dresses combinations for men, which include the following:
1. Simple and plain formal pants with a bright-colored shirt and loafer shoes.
2. Halt t-shirt with check pants.
3. Attractive colored shirt with chinos of any color.
4. Shirt with floral design pairing with chinos.
5. Printed shirt with chinos.
Conclusion: The best way to dress is in the confidence and the style you choose. Avoid wearing long shirts and tees. The level of comfort and a good fit will make you feel more confident and rocking. Wear your own style of a statement with a good fit.
FAQs
Q1. Can I Wear Jeans As Casual Wear?
Ans: Yes. Denim jeans are the best versatile casual clothing for men. It would be best to choose jeans with a t-shirt and high-end sneakers as your casual dress.
Q2. Which Dress Should Men Wear For The Office?
Ans: Office dress for men depends on the culture of the office. Smart casuals and business casuals would be the right ones.
Q3. Which Is The Best Casual Dress For Men?
Ans: Many options are there to choose a casual dress. However, the best casual dress would be jeans, a t-shirt with sneakers.