Last Updated on March 6, 2021 by
Yes, a man can wear a women's t-shirt. More men are enjoying to wear women's clothing as the world of fashion is now blending with genders. He only needs to take care of the colour combination and size of the t-shirt to have a cool look.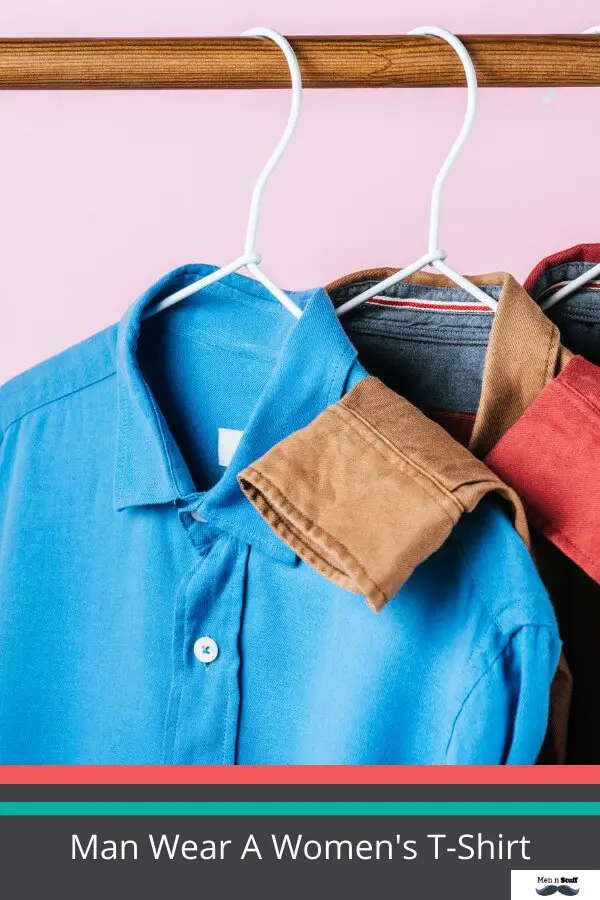 What Are Some Women's Clothes Can Men Wear
In the era of modernization, gender inequality has changed the ideas, thought processes, and opinions, even in the clothing sense. There is no difference if men wear a women's t-shirt, jeans, or other items. Gradually the society is accepting the clothing style. There was havoc when this trend started, but now you are open to wearing as long as you are comfortable with your clothes.
If women can wear men's clothes, then why not men. They can wear few clothes like shorts, trousers/Jeans, a loose tank top, a loose t-shirt, and other formal wear. Are you wondering how the dresses will look on a men's body?
Clothes look cool on both male and female, depending upon the fitting and size. Therefore, the boys can wear clothes of women which are loose fitted, especially the t-shirt. But the tight fitted women's clothes will not look cool on men's body.
Trend Of T-Shirts
The trend of wearing women's t-shirt is in trend because the loose-fitted women's clothes look good on men. Thus, a loose fitted t-shirt for women will look good on men.
It was all my opinion; yours can be different depending upon your surroundings and the experiences. Because sometimes we accept the things that society generally takes, not by our own thoughts/opinion.
Some of you might not be comfortable seeing a man in a women's t-shirt because of your own opinion.
It can be concluded that a man can wear a women's t-shirt as long as he is comfortable in his clothes.
Five Womenswears That A Men Can Wear
1. MiuMiu Shorts: -The MiuMiu's was an a-line retro skirt. It is the best-suited women's wear on men.
2. Hermès Overcoat: – Hermès overcoat emerges as the best options available for androgynous work. Slouchy tux suits, oversized felted coats with huge lapels give a stunning look whether a men wear it or women.
3. Paul Smith's pajama jackets: – These bright jackets clashing with paisley and stripes have a great demand in the market as casuals and summer outfits.
4. Rick Owens Biker Trousers: – Fashion Designer Rick Owens designed it for both genders. With some changes in knee pads and designs, it becomes suitable for women and men too. Its streamlined shapes with supple leathers and shearling surpass the baggy pant fashion in menswear collections.
5. Sacai's tailored wool and leather jacket: – This collection came out as a cluster of coats and jackets combining with zipped bikers' lapels and bulky woolen cot ridges coats. The tailored jacket emerges as a shining epitome of classy-sassy look and works as a twist in the mix.
Can Men Wear Heels?
Men wearing heels might be considered strange, and if seen them walking in the streets will give one a peculiar look. But yes, men can wear heels. Now you must be wondering how they could wear it, as the heels are specially designed for women. 
Now take an example, if you watch dancing reality shows, you must be familiar with the name Terence Lewis, the famous contemporary dancer and a judge in dance plus, DID, and other dancing reality shows. He wore heels in one of his dances. Wearing heels shoes that heels are comfortable for wearing and dancing was his requirement. But usually, men wear heels every day.
Now you must be wondering about how it could be possible. Yes, it is right. The boots or casual shoes they wear, especially formal shoes, contain heels to uplift their bodies and support them. This support helps them in moving comfortably and regulates their blood circulation.
So, next time you hear anyone saying that heels are meant for women only, don't believe them.
Table To Represent An Overview Of Women Clothes That Men Can Wear:
| | | | |
| --- | --- | --- | --- |
| Women Clothes | Can Men Wear Them? | Look | Best Suited With |
| Women T-shirts | Yes | Will give a casual look. | With Jeans and black Trousers |
| Strapless | Yes, but Should try to avoid | Will not give a great look due to broad shoulders. | Try with coats and stoles to cover them |
| Heels | Yes | It will give a great appearance but can be uncomfortable. | Best suited with light colours and fitted black pants. |
| Pajama Jackets | Yes | Will look like a nice casual and summer outfit. | Have a perfect combination with shorts or Black trousers |
| Biker's pants | Yes | Will give you a stunning look. | Best suited with leather jackets. |
Clothing Tips For Men Dressing As Womem
1. Wear strapless with caution: – As men have broader shoulders, they should not pull off the dress as a woman flawlessly; instead, choose wider straps that are more complimenting. Avoid showing your shoulders, as it will give you an awkward look. In necessary conditions to wear strapless, one should use coats and stole to cover up.
2. Form-Fitting Clothing: – It may look quite awkward to wear, but you can choose it over baggy ones as it will give a much-relaxed look. The natural outline of a women's body will be shown with form-fitting clothing and create an illusion.
3. Go With Darker Clothes And Avoid Bolder And Lighter Ones: – Dark clothes will step forward to create an illusion by hiding the masculine elements. But with light colors, we should remain more cautious as it will not hide anything. You can wear bold clothes, but it will seek more attention, so be careful before buying them.
FAQ'S: –
1. Can Men Wear Women's Clothes?
It is okay to wear women's clothes if you are comfortable with it.
2. Will Society Accept For Men To Wear Women's Clothes?
With significant society developments, there are many examples where males are also stepping forward towards women's clothing like t-shirts, crew-necks, and more.
3. Why Will Men Try Women's Outfits?
Yes, men can try women outfits to experience an erotic thrill or happiness by cross-dressing.