Last Updated on March 6, 2021 by
Yes, you can get your girlfriend out of your house whenever you want. You need to give her the notice before 30 days to get out of your house. If she denies or refuses to leave your house after 30 days, you have the right to file a case against her.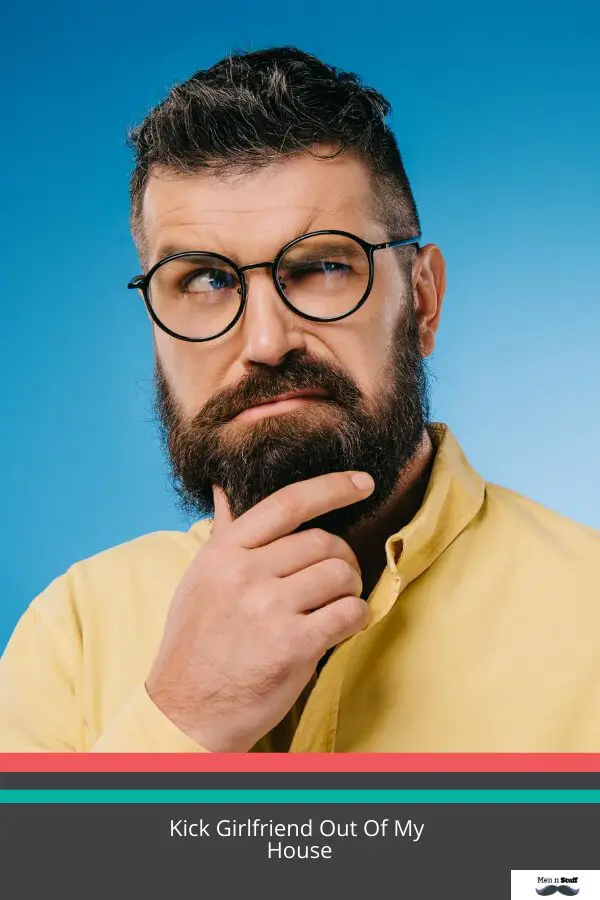 How To Ask Your Girlfriend From Getting Out Of House?
Method 1: Compromise With Her
Have a face-to-face conversation: – First of all you should share all your problems with her and tell her that you want her to leave your house. If there is a problem in your relationship, it is right that she will also have problems with you, and she will not be surprised after listening to your concern. It would be best if you try to agree with her. 
Before Starting This Discussion:
1. Talk about some other topic. 
2. Think about whether she has a place to stay or not. If she does not have one, you can keep her with you until she gets another house. 
3. Don't tell her what she has to go; instead, tell her some possibilities. 
You can tell that you both decided to live together, but now cannot together because of so many problems. You can discuss these things with your girlfriend and give her some time to think about it. 
If you also have children, you should make some easy decisions together so that both you and the children do not face any problem. 
Offer Her Financial Assistance: – It takes a lot of money to change the house, then it is not right that she gives all the money for her new house because both of you had a relationship, and she was not the only one involved in that relationship. Therefore, you must help her financially. 
It is essential to know how much you both earn. If you earn more than your girlfriend, you have to bear the entire cost of changing her house, and if she earns more, then there is no need. 
You can also decide to stay with her until she gets home security and other expenses related to the house or living style.
Method 2: Being Transparent With Your Wishes
Be direct: – If you and your girlfriend do not make any decision, you should tell her directly that you do not want to live with her in your house. If you don't want to keep your girlfriend with you, you have to be honest with her. Even if she wants to protect that relationship, you should remain transparent with her. 
If you cleared the whole thing, you should leave her alone and give her some space to think alone about this topic. 
If she forces you to re-think that issue again and again, then you should tell her that you have now made up your mind. 
Pack Her Bags: – You can pack her bag to give a clear message that you are not interested in staying with her anymore. This method can be a bit messy, and your girlfriend will also be upset by it. 
If both of you buy some household appliances together, you should agree on who will take ownership of those appliances. 
Consider moving out yourself: – If she disagrees with you, but she believes that you are the house owner, then you should leave the house for a few days. 
Method 3: Using The Legal Method
Check your lease agreement: If you are a tenant in a house and are not even married, you have every right to decide. If her name is not on the rent agreement, then you can take the decision. But if both of you have their name on that rent agreement then she also has the right to take the decision. 
Give Her A Request In Writing: – If she does not have the legal right to live in that house, you have to give her a notice 30 days before leaving the house. And only you and the owner of your house can give this notice to her. 
If she does not have any legal proof of staying in the house, you should give her a written letter in which the date of leaving the house is also written. So that if she ever takes you to court, then you have proof. 
Take Legal Steps If You Fear For Your Safety: – If your girlfriend is abusive or you have a fear that she will become violent or aggressive against you, then you need to save yourself. 
So, it would be helpful to give your girlfriend a legal notice to leave the house. And it would also help if you also take care and do not live alone with her after giving notice. 
Go To The Police: – Even after all this, if she does not leave, you should go to the police. After this, the police will take care of the whole matter and not let her do any harm. If the police cannot do anything, you can take this matter to court as well. 
Now, let's have a look at some possible reasons for the conflicts between a boyfriend and girlfriend and its remedies.
| | |
| --- | --- |
| Reason For The Fight Between Girlfriend And Boyfriend | Solution |
| You are always on your phone and do not pay attention to your girlfriend. | When you are with your girlfriend, use the phone minimum. Praise her more and talk to her on different topics too. |
| When every time you forget some important dates. | You can put an alarm and timer on your cell phone. And if you write a diary every day, then take note of it. |
| You made her your girlfriend, but you do not give time to her. | We all always remain swamped in our life, but we should always take time for our loved ones. You should go on a romantic date with her once a week. |
| You always repeat the previous fights. | One should not repeat the previous fights because it shows how strange you are. When the matter is resolved, then you should not talk about it. |
| When the girl thinks about the future, but you do not take care of that. | It would help if you cleared future expectations in advance. It reduces the chances of fighting. And both of you can spend your life comfortably without thinking anything. |
FAQ: – 
1. How Many Days Before I Have To Give Notice To My Girlfriend? 
Ans. You must give notice at least 30 days in advance. And it also depends on the law of your region and what they say about it. 
2. If My Girlfriend Is Aggressive, What Are The Safety Measures That I Can Adopt? 
Ans. Before giving notice to her, inform the police. Take a friend or family member along. Don't stay with her for a few days, and you can also take the court's support.
3. What Should You Do If You Have Children? 
Ans. It would be best if you make such a decision that your children do not have any problem.