Last Updated on September 3, 2023 by Reiner Chase
Gucci's lowest-priced items typically include small accessories like keychains, cardholders, or small leather goods. These items can start at around $50 to $300. However, prices may vary depending on the specific product and collection.
What Are The Lowest-Priced Products To Buy At Gucci?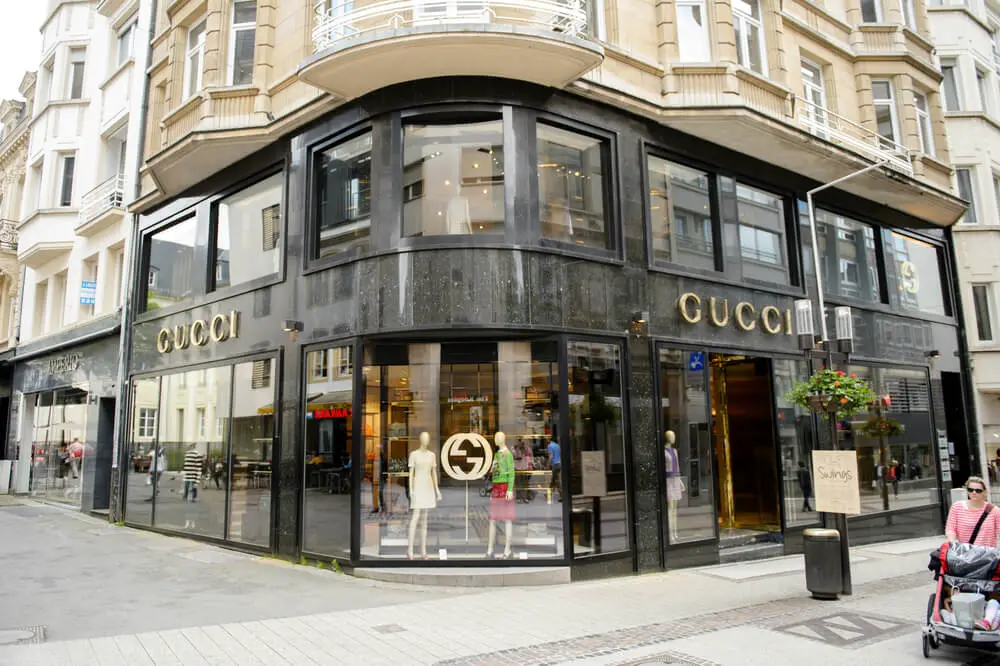 The fashion business is one of the most prominent sectors globally and generates billions of revenues each year. Some brands have become so famous in the industry. One of these brands is Gucci, a top brand popular for its high-end items. Nonetheless, the brand also sells relatively cheap products such as the Flora Gorgeous Gardenia Eau de Toilette and the L'Obscur that consumers can easily purchase.
Gucci Items Under $50
If you didn't know, Gucci also sells some items below $50. Here are some of the products.
| | |
| --- | --- |
| Item | Price  |
| Rouge à Lèvres Mat Matte Lipstick | $42  |
| Rouge à Lèvres Satin Lipstick retails | $42 |
| Rouge à Lèvres Voile Sheer Lipstick Baume à Lèvres Lip Balm Mascara | $42 |
| L'Obscur (the cheapest Gucci item in the world)  | $35 |
| The Flora Gorgeous Gardenia Eau de Toilette for Her Mini Set (however, it is valued at $49.00) | $39 |
Cheapest Gucci Items Between $100 And $150
Most items in this category have a price range. These prices range between below $100 and $150. Some of these items include beauty products and perfumes, and the online store you buy at determines the price. Here are some of the items.
| | |
| --- | --- |
| Item  | Price  |
| Bloom Eau de Parfum price range | $64.60 – $114.75 |
| Flora – Gorgeous Gardenia price range | $34.00 – $115.00 |
| Poudre De Beauté Mat Naturel Beauty Setting Powder retails  | $62.00 |
| Poudre De Beauté Éclat Soleil Bronzing Powder retails at $62.00 Bloom Eau de Parfum | $34.00 – $135.00 |
| Fluide De Beauté Fini Naturel – Natural Finish Fluid Foundation  | $68.00 |
| Flora Eau de Parfum price range  | $76.00 – $118.00 |
| Flora Emerald Gardenia Eau de Toilette price range  | $85.00 – $115.00 |
| Guilty Intense  | $78.00 – $132.00 |
If you are searching for a designer bag, the cheapest you will get at Gucci stores is the Ophidia GG Supreme Canvas Zip Pouch. Gucci sells the purse at $630, making it the cheapest Gucci bag in the market. 
Some of the affordable bags on the Gucci line also include the Super Mini Metallic Leather Crossbody Bag and the small GG Mormont bag. On the list above, the cheapest Gucci product is for beauty purposes. The product may be costly to some people, but affordable for others.
Gucci Items Under $250 Price Tag
Although $250 may seem high to the average consumer, the price is still low for Gucci lovers. You have numerous options if you want to buy yourself a designer trinket for less than 250 dollars.
For instance, you can wear Gucci's 100% silk printed scarves around your neck and a white t-shirt. You may also tie this scarf on your favorite handbag to get that instant elegance or wear it on your hair. 
You can do various things with a single item. Moreover, the scarf comes with various prints to ensure everyone gets what they wish. 
Another amazing cheap product by Gucci is the bright red key case which you can fish out of your bag quite easily. The key case comes with cute silver key chains suitable for a logo fix.
 These items are perfect gift items for Gucci-loving people globally. If you don't want to spend much for that special occasion, scroll down to see every single Gucci item below $250. You will have plenty of options.
| | |
| --- | --- |
| Item  | Price  |
| GUCCI Bracelet with Gucci Trademark Heart  | $180 |
| GUCCI Cotton Blend Socks  | $195 |
| Nylon Web Key Ring | $220 |
| Beige Cotton Lamé Socks  | $200 |
| GUCCI Silver Interlocking G Earrings | $245 |
| GUCCI Blind for Love Ring  | $235 |
| GUCCI Double G Snake Keychain  | $240 |
| GUCCI Flora Print Silk Bow | $195 |
| GUCCI GG Supreme Card Case  | $200 |
| Embroidered Terry Cloth Socks  | $155 |
| GUCCI 56mm Square Sunglasses  | $375 $225 |
| GG Link Charm Bracelet  | $225 |
| Gucci Logo Keychain  | $240 |
| GG Marmont Leather Key Case | $210 |
| GUCCI Hawaiian print silk neck bow  | $195 |
| Heart Earrings  | $200 |
| GUCCI Lamé GG Socks  | $155 |
| GUCCI GG Supreme Bees Card Case  | $210 |
| GUCCI Flora Print Silk Neck Bow | $195 |
| Silk neck bow with Flora print  | $195 |
| Socks with Interlocking G Chain  | $100 |
| Bee Crest Silk Tie  | $220 |
| GG Marmont Card Case  | $250 |
| Metallic Logo Crew Socks  | $155 |
| Necklace with Pendant Heart | $230 |
| Ophidia Key Chain  | $220 |
Why Doesn't Gucci Sell Cheaper Products?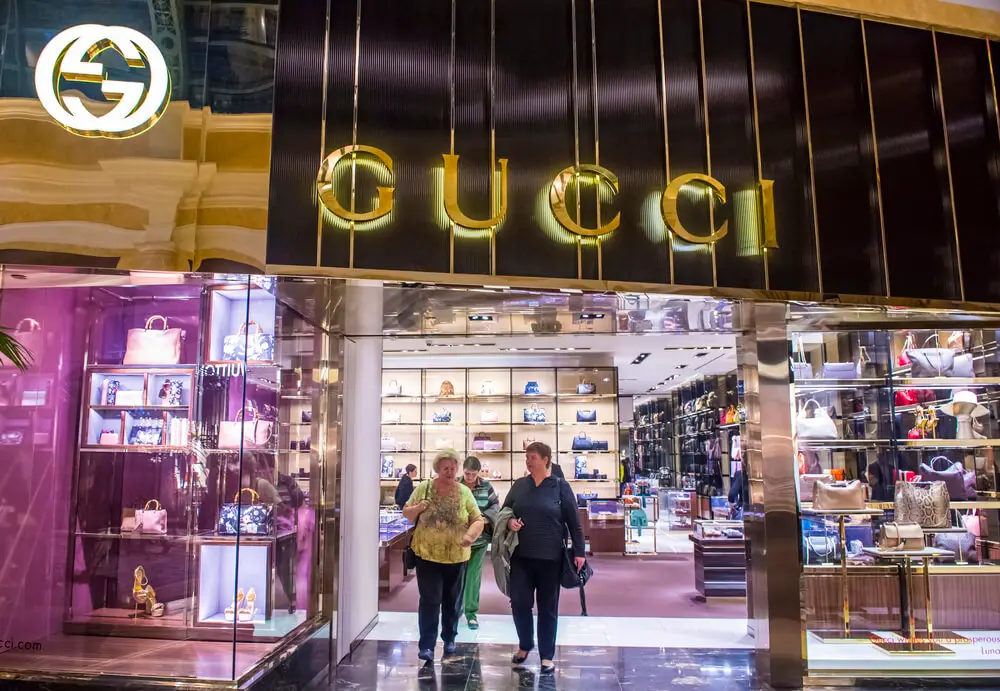 Their Products Provide status and Exclusivity
Gucci does not just sell products; it also sells status and a certain image of exclusivity for rich people. Therefore, not every consumer can afford to buy Gucci, giving a certain position to the brand.
Many people will pay more money to have the Gucci logo on their clothes because they want to show others they can afford the luxury brand. Therefore, the company likes exclusivity because they can maintain the high prices on items. 
Rich people love the exclusivity and status provided by the brand. They don't want to buy clothes that everyone else is wearing.
The Brand Has a Loyal Customer Base
Gucci ranks among the most valuable brands in the world. The brand has grown over the years and become so popular. Gucci has an extensive customer base when it launches a collection selling in less than 48 hours, the products sell out that same day at very high prices. Therefore, no matter the price, Gucci knows that its customer base will buy the products, and the clients will also pay the marketing costs.
Its Consumer Demand Is High
Consumer demand refers to a situation where consumers buy certain goods and services at a specific time. The consumer desire to purchase Gucci products should be supported by paying at a higher price. 
A consumer's income will determine their purchasing power regarding the current product price. People love buying excellent quality products as they make them feel good. Therefore, Gucci can keep its prices high because people will always buy them. The brand has high consumer demand, and the high prices will not keep consumers from buying the products.
Gucci Makes Its Products with High-Quality Materials
Gucci products are made from top-quality raw materials like leather, bamboo, and exotic skins. The brand also uses cotton and polyester for some of its products. Gucci bags are expensive because of their logo, and they are made of leather.
Not only does the brand use high-quality products, but it also has a high level of craftsmanship. Most of Gucci products are made in Italy. However, the watches are made in Switzerland and perfumes in France. Their cosmetics come from the EU. 
The labor to produce Gucci items is costly because the products are not China-made. Moreover, the brand also collaborates with popular top fashion designers. Sometimes people pay for the brand name.
Is Gucci Considered Cheap?
Gucci, an iconic luxury Italian brand, is recognized globally for its high-end products ranging from clothing to accessories. So, is Gucci considered cheap? The straightforward answer is no. Below are a few reasons why:
High-Quality Craftsmanship: Gucci products are meticulously crafted with high attention to detail. Their superior quality justifies their high price tag.
Brand's Reputation: A globally renowned brand since 1921, Gucci has maintained exclusivity, signifying wealth and class. Its vast recognition adds value to their products, therefore, Gucci is seen as an investment, rather than a cheap purchase.
Luxury Materials Used: Gucci uses premium-grade materials for their products, which drive up the production cost. These materials ensure the longevity and uniqueness of their items.
Designer's Expertise: The products are designed by world-class designers who have years of expertise and innovative creativity. The brand's consistent ability to set trends validates the cost of their designs.
High Operational Costs: Luxury brands like Gucci incur high operational costs, including the hiring of skilled artisans, marketing campaigns and maintaining storefronts in high-end shopping districts. These expenses are reflected in the price of Gucci's products.
Limited Production: Gucci items are produced in limited quantities to maintain exclusivity and demand, which elevates their perceived value.
References:
https://briefly.co.za/96556-what-cheapest-gucci-item-world-shocking-prices.html
https://www.moneyhelpblog.com/cheapest-item-at-gucci/