Last Updated on September 23, 2023 by Reiner Chase
In the USA, you can get your clothes ironed at professional laundry services, dry cleaners, self-service laundromats, and at-home ironing services. Prices vary depending on the location, the type of clothing, and the company but expect to pay around $2 to $6 per garment for ironing services.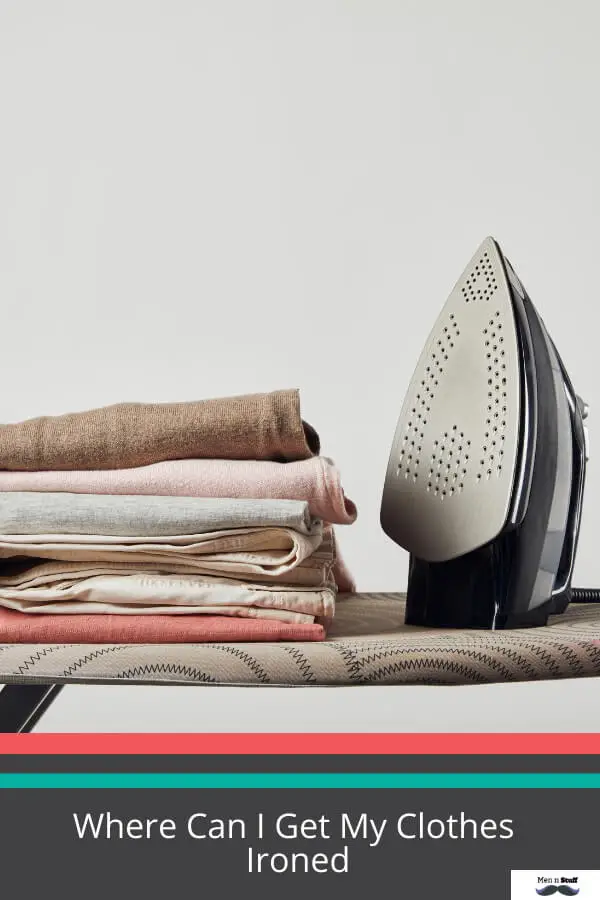 Do It Yourself
Is it a good idea to iron clothes yourself? Well, it depends on a few factors that you need to understand before ironing yourself. Some of them are: 
1. Do You Own An Iron? 
Well, if you want to do it yourself, you would need an iron. You may have it in your house, and if you do not have one, you have to purchase it from the market.
2. Can You Differentiate Fabrics Of Different Clothes?
By using a variety of fabrics, the manufacturer makes our clothes. Each has its unique characteristics. A shirt is made from cotton, so it requires a specific temperature for ironing. On the other hand, pants can manufacture from cotton, linen, wool, etc. Depending on its overall quality and thickness, it will require a different temperature for ironing. So ironing will vary to the fabric you are using.
3. Do You Understand Different Ironing Processes?
There are different ironing techniques for your clothes, such as regular ironing, steam iron, dry washing, etc. Depending on the fabric, the processes will differ from one another. So, you need to understand each process before ironing.
Where Can I Get My Clothes Ironed? 
From Laundry Services, of course! If you do not want to iron your clothes (trust me, most of us don't do), then there is a solution for you. 
You can go to your local laundry store or shop to iron your clothes. Laundry services also iron your clothes after washing them.
Laundry Services VS Ironing Services
Where can I get my clothes ironed? From the laundry or ironing services? The best choice for you is going to be laundry services. Here's why!
Usually, every day, people find themselves working around the clock for most of the days. After your work you want to come back home and go to your bed, right? 
Working people do not find the time or energy to wash their clothes daily and let them dry. They also have to iron them properly, fold, and keep them in the cupboard. 
I don't know about everyone, but it seems like a lot of hard work for me. And imagine doing that every single day. It is very inconvenient for most working people. That is why you should choose a laundry service to do all this work done for you. You can send your unwashed clothes to the laundry, and the next day, you will find them all washed and ironed. 
Here's How A Typical Laundry Service Works
In a typical ironing service, you will give your clothes to the store, and they will iron and pack it for you, but they will not wash your clothes. The store will provide dry cleaning services and other ways to make your clothes clean. But at the end of the day, you will have to wash the clothes yourself. 
So you can see the inconvenience of using ironing services over laundry services. Furthermore, you have to make frequent visits to the ironing shop as you will require ironed clothes every day. 
Here's Why You Should Choose Laundry Service Over Ironing Service?
You will have a basket of unwashed clothes at the end of the week. It is far more appropriate and comfortable for you to give it the laundry and not think about it as you will get fresh and clean clothes and perfectly ironed. Think of this scenario as hitting two birds with one stone. 
Can I Go To Any Laundry Store And Expect Good Service?
Not all stores are of excellent quality. There are good and bad service providers in every aspect of life. You will have to look for the good ones and stay away from the bad ones. There is nothing worse than getting damaged clothes from the laundry.
On many occasions, there have been cases where someone gave their clothes to the laundry and found stains on them. Many stores don't iron clothes properly and create a messy situation. So you have to be careful about the laundry's commitment towards quality and caution.
What Qualities Do Good Laundry Services Have?
Good laundry services should commit to 100% customer satisfaction. A happy customer will bring more business to the store. Good laundry services possess some important qualities.
1. Making Sure That Fabric Remains Good After Washing 
A good laundry store will give time and attention to the washing process to ensure that the fabric of the cloth is not damaged in the washing process. They preserve the quality of the clothes as their number one priority.
2. Proper Management During Inflow And Outflow Of Clothes
The store will have many customers coming in daily. A good laundry service will have the proper system built in to handle the flux. The storekeeper should use the correct method of sorting and numbering
3. Quick Response Time And Efficient Services 
People are always in a hurry. They want things to complete within the shortest possible time. Laundry services should be quick yet efficient in their delivery to the customers.
4. Competitive Pricing Strategy 
Every customer expects the best possible result at the most affordable prices. So pricing strategy is an essential issue for the laundry services. Their pricing strategy will attract many customers. 
5. Different Services To Customers
Not all customers are willing to pay the same rates because not all customers want the same quality. The laundry stores should have a segmentation of services for different types of customers. These value propositions can range from essential to premium services.
So when you think of "Where can I get my clothes ironed?" these are the characteristics of the place you should go to.
Competitive Pricing For Laundry In The USA 
Pricing can range from very cheap to very expensive around the world. 
Here's a table showing what you can expect to pay approximately for your laundries.
| | | |
| --- | --- | --- |
| Type Of Clothes | Laundry Prices | Dry Cleaning Prices |
| Suits | $8.00 | $12.00 |
| Coat | $6.00 | $8.00 |
| Trouser | $4.00 | $6.00 |
| Shirt | $4.00 | $6.00 |
| Vest/T-shirt | $4.00 | $5.00 |
| Sweater | $8.00 | $10.00 |
| Jacket | $8.00 | $10.00 |
| Shirt | $4.00 | $6.00 |
If you think that ironing or laundering is an easy job, you are very wrong. It is a challenging job because you may lose your favorite or expensive clothes if you are incautious. 
FAQ
Q1. Is It Safe To Iron Wet Clothes?
Ans: It depends on the clothes' material, but generally, you can iron wet clothes. In the laundry, when they iron clothes, they spray water on the clothes first.
Q2. How to Keep Clothes Wrinkle Free After Ironing?
Ans: If you want to iron yourself, it is too easy to handle. Just spray the right amount of water, and after ironing it with proper heat, hang the clothes immediately.
Q3. Can I Iron To Dry A Cloth?
Ans: If you dry your clothes by ironing, you can do that. Just be careful about the fabric of the clothes.