Last Updated on September 24, 2023 by Reiner Chase
Yes, you can iron non-iron shirts, but you need to be careful not to damage the fabric. Here are some tips:
Use the lowest setting on your iron.
Place a pressing cloth between the iron and the shirt to protect the fabric.
Iron in the direction of the grain of the fabric.
Avoid ironing over any seams or buttons.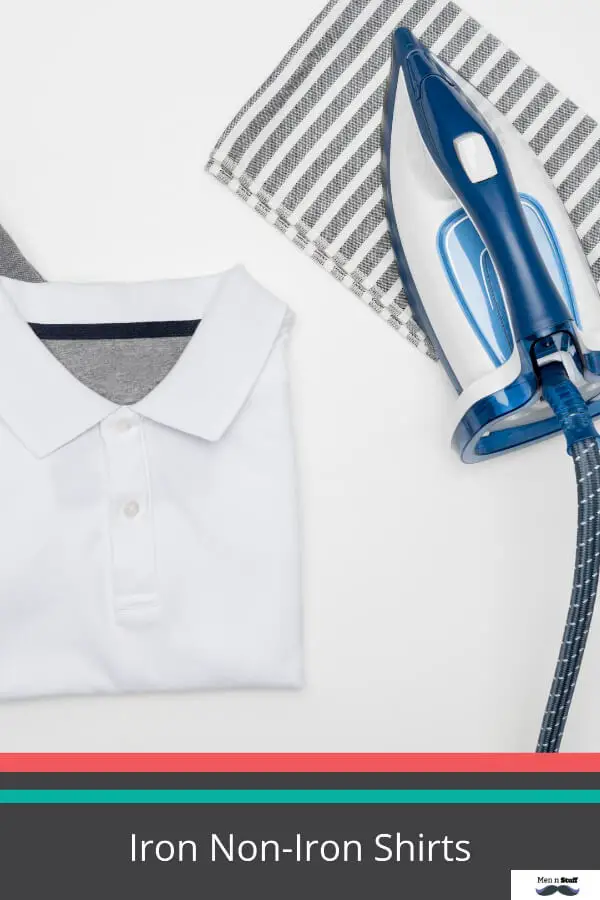 Can You Iron Non-Iron Shirts?
Ironing is one of the chores that many people find tedious. As a result, the invention of non-iron shirts is considered a significant relief by many. These shirts have a special finish on their fabric that allows the shirt to become smooth with a simple wash and dry. However, there are times when these non-iron shirts still get wrinkles and creases. So, can you iron non-iron shirts? Let's find out.
1. Understand the Nature of Non-Iron Shirts
The first thing to keep in mind is that non-iron shirts are chemically treated with a formaldehyde resin, which makes the fabric resistant to wrinkles. Heat reactivates this chemical, hence the reason why you may need to iron them occasionally to smoothen out any lingering wrinkles.
2. Necessary but Infrequent Ironing
Although non-iron shirts are designed to be low maintenance, there are circumstances where ironing may be necessary, perhaps when the shirt has not been properly dried or has been excessively crumpled. However, this will likely be far less frequent than with traditional shirts.
3. Use the Correct Setting on Your Iron
If you do need to iron your non-iron shirt, ensure that your iron is set to the correct temperature. It's best to use a warm setting, not hot. A hot iron can damage the fabric and break down the chemical treatment, reducing the shirt's non-iron properties.
4. Avoid Direct Ironing
When ironing a non-iron shirt, avoid direct contact between the iron and the shirt. It's suggested that you place a thin cloth between the shirt and the iron. This avoids damaging the non-iron finish and prolongs the shirt's lifespan.
5. Addressing Stubborn Wrinkles
In case of stubborn wrinkles, a light spray of water can go a long way in helping deal with them. Remember to spray sparingly and evenly across the shirt before ironing.
6. Use of Steam Irons
For non-iron shirts, the prudent choice is a steam iron. The steam complements the heat from the iron in activating the chemical treatment and helps in getting rid of stubborn wrinkles.
In conclusion, the ingenious design of non-iron shirts makes ironing largely unnecessary. However, in situations where ironing might be required, taking the necessary precautions is essential to maintain the integrity of the non-iron finish and ensure your shirt lasts longer.
5 Ways To Dewrinkle Clothes Without An Iron
Dewrinkling clothes without an iron is possible with these five methods:
Steam in the Bathroom:

Hang the wrinkled garment in the bathroom while you take a hot shower.
The steam from the shower will help relax the wrinkles. Leave it for about 15-20 minutes.

Fabric Steamer:

Use a handheld fabric steamer.
Hang the clothing item and run the steamer over the wrinkles, holding it a few inches away from the fabric.

Tumble Dryer Method:

Place the wrinkled clothing item in the dryer.
Add a damp cloth, like a clean, wet towel.
Run the dryer on low heat for about 10-15 minutes.
The steam generated will help remove wrinkles.

Hanging and Gravity:

Hang the clothing item on a hanger.
Gently tug and smooth out the fabric to remove some wrinkles.
Leave it hanging for a few hours or overnight; gravity will work to straighten the fabric.

Wrinkle-Release Spray:

Purchase a commercial wrinkle-release spray or make one at home by mixing water and a small amount of fabric softener.
Lightly mist the wrinkled areas.
Gently stretch and smooth the fabric with your hands to release wrinkles.
Allow it to air dry or use a hairdryer on a low, cool setting to speed up the process.
By Using A Mesh Laundry Bag
Most of the non-iron shirts are machine washable, and you could check the tags on your shirt to see details about how to wash it. If you want to wash it without any protection, the chances of getting fabric damaged or wrinkled would be there.
To avoid this kind of damage, you can use larger mesh laundry bags to button up your clothes and prevent damage to the collar or the sleeves while spin-drying. Simultaneously, a short spin-dry helps avoid causing any wrinkles by holding enough moisture in the garment. By doing so, the clothes' weight would automatically stretch forth the wrinkles.
While fading the washed items outside, always make sure to use a thick hanger that should match your shirt's size. After hanging up your clothes, straighten up the pieces and outstretch the wrinkles using your hands while banding its shape to the original. If you want to spin-dry your shirt, always make sure to unsnarl it out as soon as the laundry is completed.
Now Say Goodbye To The Dry Cleaner
Depending on your shirt's material, no-iron shirts could be damaged by the high heat, whereas dry cleaning is always performed by high-temperature ironing. You need to look at the care label, and if the shirt's label does not allow dry cleaning, it means that the garment could be taken care of with regular cleaning.
Hang Your Clothes For Wrinkle-Free Storage
All you need to do is keep your non-iron shirts hanging up using a hanger to keep them wrinkle-free. This way, your shirt won't get folded and will not get any creases. Just make sure there is always enough space between the garments to avoid any further damage from friction.
Methods To Iron A Do Not Iron Clothes
There could be nothing more embarrassing than arriving at your workplace with a wrinkled shirt. It is always way too shameful to even think about it, and I am sure many of you may have faced this.
You might be on your business trip, and unfortunately, your carry-on was not sympathetic to your blazer, or the iron in your hotel room got broken by chance. You could also be afraid to use an iron because you don't know how exactly to iron your shirt or dress, or maybe the reason could be any different. You need a DIY solution to your problem.
Occasionally, we all get in need of a quick wrinkle release before moving out the door. Of course, garment steamers are in the list's record, but there are many types of other options available.
1. Using A Flat Iron
Before styling your hair, you can also heat the straightening iron and use it to straighten the wrinkles out of your shirt. It is way too useful on the cuffs, placket (the part with the buttonholes), and collars as well.
Although I am in love with my straightening iron, especially after all, I discovered that it is useful for pressing my shirt and styling my frizzy hair.
2. Using A Hair Dryer
It is my favorite way to get rid of the wrinkles on my shirt. A hairdryer could blow the wrinkles out of your dress and a shot of cold air when merged with the hairdryer's hot air. It could set a very smooth look when you get down with it.
Yes, this is another beauty tool that can blow all the wrinkles out of your clothes. In this way, you can give your dresses a blowout as good as you give to your hair, which works pretty well.
3. Spray Wrinkles Away
For those who have not discovered wrinkled clothing until now, we would get where we are going. Downy also offers its wrinkle release spray, and many other brands provide the same in the market.
With this spray's help, all you need to do is, spray the wrinkle-releasing spray on the wrinkled areas and let them dry. This current version of the wrinkles spray could quickly get rid of odors and static along with the wrinkles. If you love to travel, it is an excellent idea to keep a bottle of Wrinkles Release sprays along with you.
If you do not have a bottle of Wrinkle Releaser spray with you, you could also use a clean spray bottle filled with water instead of wrinkles spray. It is another way to smooth out all the wrinkles. It is said to mist the specific area while also being very careful not to get the fabric too wet. Afterward, hang up your clothes and let them air dry.
Simple Ways Of Ironing
A Straightforward Way Of Ironing Your Non-Iron Clothes Is:
1. Firstly place your clothing on the ironing board.
2. Next, take a small-sized hand towel and place it on top of your clothing.
3. Now set the iron to a very low temperature. Otherwise, your clothes can get damaged.
4. Now place the iron on the top of the towel, and slowly press motion to make the ironwork through it. Just make sure to only iron the shirt where it has been covered with the towel.
Below Is The Table, The Consequences Of Wearing A Creased Shirt, And The Right Ways Of Wearing A Shirt Are Explained.
| | |
| --- | --- |
| The Consequences Of Wearing A Creased Shirt | The Right Way To Wear Your Shirt |
|   A creased shirt says a lot about you, none of which is good! |   Everyone should know what's right for them and how to choose things wisely!   |
| You don't care… If its a first date, your girlfriend won't be impressed. | Choose the perfect fit… You need to know what shirt suits your shape. The non-iron comes in 3 different fits, slim, fitted, and regular.   |
| You're unprepared… If you're in an interview,  you could miss out on that dream job! | Consider the collar and cuffs…There are two variations of each available.   |
| You are lazy… If you're meeting a client, you won't be able to close that, important business deal. | Choose the right colour… What does your colour choice say about you? White: sharp, pure, and clean. Pink: Comfortable and confident. Blue: Dependable, trustworthy   |
| It makes the wrong impression… At a family function, you could make the false impression. | Wear the highest quality you can afford… The ultimate non-iron shirts are available online, from £39.95   |
FAQs
1.How Can You Get Wrinkles Out Of A Non-iron Shirt?
All you need to do is machine wash your non-iron dress shirts with warm or cold water and afterward dry off at a low heated temperature.
2. Can You Steam A Non-iron Shirt?
Yes, and it does save a lot of your time, although it doesn't perfectly iron a shirt but is worth trying.
3. Can You Iron Calvin Klein's Non-iron Shirts?
Non-iron shirts could get damaged if ironing temperatures are set way too high, whereas these shirts require little-to-no ironing sometimes.
References:
https://www.dandyandson.com/blogs/news/everything-you-need-to-know-about-non-iron-shirts
https://silverbobbin.com/can-you-iron-non-iron-shirts/