Last Updated on March 6, 2021 by
Many people get confused while choosing their favorite hoodies online as they can't pick up their size. Some hoodies look huge, and some have exact fittings. Plus-sized men can't get their desirable hoodie due to puzzling measurement and size chart. To know your exact hoodie size, measure your chest, neck length, and head. Match your measured size with the size chart given by your online shop.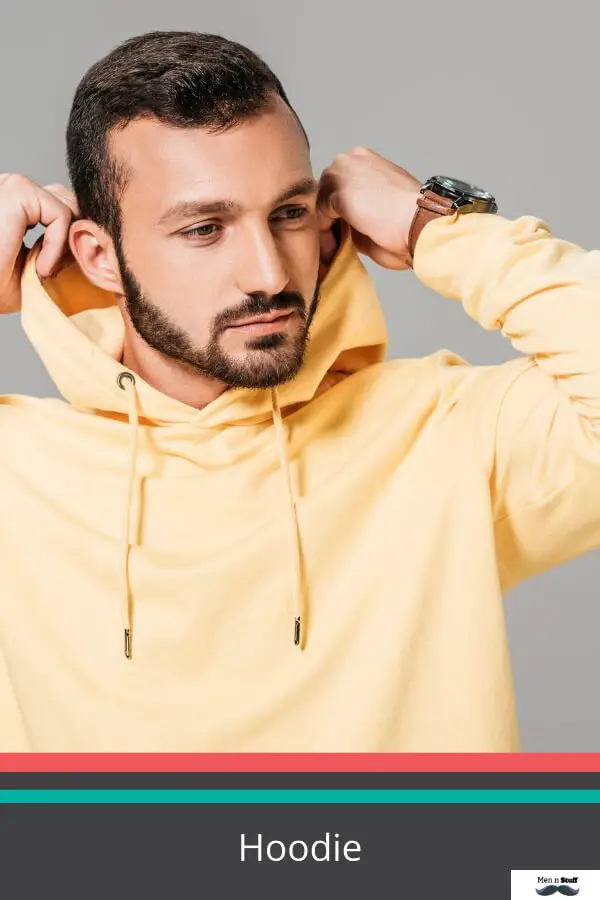 Variations In Hoodies 
Many people think 'Hoodie' comes from the Robin Hood character. 'Hoodie'- the word derives from an Anglo-Saxon term, and it went widespread in the early 90s. Today's hooded shirt or sweatshirt came into fashion from the 12th century in Europe. The hooded clothes were popular among monks.
As Hooded garments get their popularity among men and women, you can find various kinds of stylish hoodies in the market nowadays. Men can wear hoodies and denim pants of any color, but mostly dark blue, black and grey colors are suitable.
Nowadays, animal printed hoodies, natural gothic prints, and different graphic designing hoodies are showstoppers of the winter.
Different Types Of Hoodies Are Given Below:
Baja Hoodies 
1. Baja Hoodies one of the old-fashioned hoodies, and it came almost 50 years ago. This type of hoodie was initially made in Mexico. Soft materials were used during that period to make Baja hoodies. 
2. The shape of these hoodies was like ponchos and pullovers. But now, you can get Baja hoodies in many styles.
3. You can get sleeveless Baja hoodies online, and it is one of the most stylish wears. 
4. If you want to try something boho-chic fashion, you must have loose-fitting cotton Baja hoodies. You can enjoy your new hippie look with Baja hoodies with messy hair. Baja hoodies also look great with blue jeans. 
5. You will find different designs, but ordinarily, bright-colored hoodies with stripes are quite popular. Nowadays, woolen Baja hoodies are also available.
Fur Hoodies
1. One of the stylish-looking Hoodies is undoubtedly fur hoodies as it is widely available in many styles, designs, and colors. 
2. But, if you are planning to buy fur hoodies, then you should know its material. It is made of fur and gives you the utmost warmth. 
3. You can wear fur hoodies if you belong to countries with icy conditions. 
4. For moderate cold temperatures, fur hoodies are not recommended. 
5. It has a very thick layered high-quality material. 
6. Many brands add double-layered fur on the outside and inside the hoodie. For this reason, you can feel the softness and warmth of the material. 
7. As it is made of fur, it looks impressive outside. You can get it in black, maroon, grey, green, and purple colors. 
8. Fur hoodies are also made of faux fur because real fur is costly, and many people can't afford it.
Over The Head Hoodies 
1. Many hoodie lovers love to buy over the head hoodies because it gives excellent comfort. You can sleep wearing this kind of loose fitted hoodie.
2. There are two types of hoodies, pullover, and zippered hoodies. Both are informal or casual looking. 
3. Because of its light material, it gives a soft touch. It has excellent finishing and a comfortable feel.
Black Hoodies 
1. You must be wondering why black hoodies? It is because of its acceptance and popularity. 
2. Black hoodies are found in many prints and shapes. Many people customize their black hoodies according to the design they adore. 
3. Geometrical printing on black hoodies is also a popular design among youngsters, and you can wear it with any color of jeans. 
Designer Hoodies 
1. Are you bored with your formal hoodies? It would be best if you tried designer hoodies. 
2. Designer hoodies are a little expensive as top brands produce it.
3. These hoodies are readily available online, and many E-commerce sites have a vast collection of designer hoodies. 
4. As it is branded, you don't have to worry about the material because most of the hoodies are made of high-quality material. 
5. You can also get multiple options and designed while choosing your desired hoodie.  
Zip-Up Hoodies
1. By the name, you can guess that this hoodie has a comfortable zip chain. 
2. Many men and women wear a zip-up hoodie as it is comfortable and trendy looking. It can be wear as sportswear also. 
Polo Hoodies 
1. Polo hoodies give a formal look and are comfortable to wear. Many men prefer polo hoodies as it looks elegant and trendy. 
2. It comes in many solid and striped designs. The logo of the brand is visible on these hoodies.
Skull Hoodies 
1. This is a type of hoodie that covers the whole head. That is why it is called skull hoodies. 
2. If you want to buy something gothic, you can purchase skull hoodies. It comes in many colors, shapes, and designs.
3. Many teenagers lover to wear skull hoodies as it is skull-printed on the hood or the hoodie.
Slim-Fit Hoodies
1. This type of hoodie looks smart. 
2. People who love to workout prefer slim fit hoodies. 
3. It looks elegant and classy. 
Skate Hoodies 
1. Skating and hoodies are undivided pair. 
2. It comes with many graphics designs and brand logos on the hoodie. 
3. There are lots of brands in the market that produce trendy skate hoodies. Some of the brand names are Adidas and Nike. 
Sweatshirts And Hoodies 
1. Hoodies and sweatshirts are not the same. A sweatshirt is a sportswear, and you can wear this during a workout. It doesn't come with a hood.
2. Hoodies are different from sweatshirts as it comes with a cover or hood.  
How To Measure Your Hoodie?
You will get different shapes and sizes of hoodies, and sometimes it varies from brand to brand.
1. If you are buying it online- you must choose the same size option. 
2. There are mainly XXXS, XXS, XS, S, M, L, XL, XXL, and XXXL. In the size chart, you will get your measurement in two parameters: inches and the second in centimeter. 
3. First, measure your chest size with a measurement tape and then select the right measurement for you. 
4. Keep in mind that sizes differ from brand to brand, so be careful while choosing your size.      
A general size chart of Men's hoodie is given below:
Size
Chest Measurement
CM
Inches
XXXS
76-81
30-32
XXS
81-86
32-34
XS
86-91
34-36
S
91-96
36-38
M
96-101
38-40
L
101-106
40-42
XL
106-111
42-44
XXL
111-116
44-46
XXXL
46-48
116-121
How Does The Size Matter While Buying Hoodies?
Size and shape matter while you are buying online, as different brands have their size charts. Many hoodie or jacket manufacturer companies produce plus size hoodies, whereas many brands don't have an option. 
Many people love loosely-fitted hoodies, so they order one size bigger hoodies than their original chest size. You will get both sizes for men and women. The shapes are also different, and it depends on the company. 
If you want slim-fit hoodies, you must order a fitted hoodie, and if you want it loose, you can choose one size bigger.      
Materials Of Hoodies 
1. Hoodies are made of different types of materials as it comes in a considerable variation. 
2. It depends on the brands and designs. 
3. You will get cotton, fur, woolen, cotton, and polyester blended, pure polyester, Polyester, acryl, cotton hoodies, and spandex hoodies.
Conclusion
This article is a small brief note about hoodies and their size. If you are a hoodie lover and want to buy online, this information will help you select your favorite hoodie. You can measure your height and chest size before ordering your hoodie online. This is an essential part as many online shopping sites don't have an easy return and exchange policy. 
Frequently Asked Questions
Question 1. What are drawstrings?
Answer: Drawstrings can be seen around the hoodie's neck and hoodie, and it is used for the right fittings of the hoodie.
Question 2. Can you differentiate between a sweatshirt and a hoodie?
Answer: Sweatshirts with hoods are called hoodies. Sweatshirts are not hoodies because it has no hood attached. 
Question 3. What are the trendy hoodies available online?
Answer: Graphics or comics printed hoodies look cool, and slim-fit hoodies are also trendy.
Question 4. What is Anorak?
Answer: In England, hoodies are called Anorak. You can get this designer Anorak online. 
Question 5. What is the softest hoodie material?
Answer: Pure cotton hoodies are the softest.