Last Updated on September 25, 2023 by Reiner Chase
As we know that rose water is beneficial for every skin type, it's an obvious thing that it is good for men's skin and face because the structure of skin of men and women is almost similar. Men face several problems, either they are hormonal or related to the liver or stomach, which could further lead to some severe skin issues. Skin is a sensitive part of the human body, and In order to protect their skin rose water plays a vital role.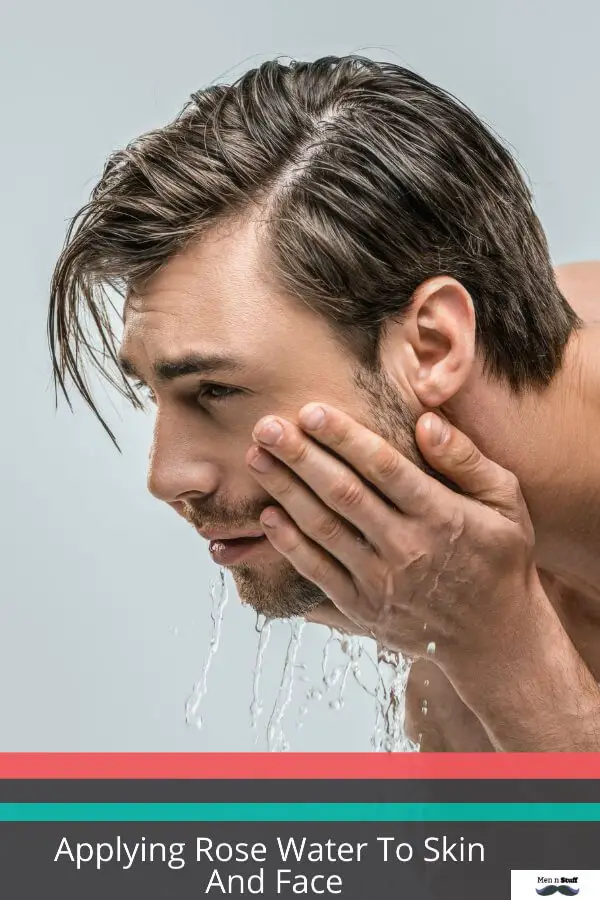 Does Applying Rose Water To Skin And Face Help Men?
Applying rose water to the skin and face can indeed benefit men, just as it does for women. Rose water has been used for centuries as a natural skincare remedy due to its various benefits:
Hydration: Rose water is a natural humectant, which means it attracts and retains moisture in the skin. This helps keep the skin hydrated and prevents dryness, making it suitable for all skin types.
Balancing pH: Rose water helps maintain the skin's natural pH balance. This is important because an imbalance in pH can lead to various skin issues, such as acne and excessive oiliness.
Soothing: It has anti-inflammatory properties that can help soothe irritated skin. This makes it useful for calming skin redness and reducing skin sensitivity.
Antioxidant Properties: Rose water contains antioxidants that protect the skin from damage caused by free radicals. This can help delay the signs of aging and keep the skin looking youthful.
Aromatherapy: The pleasant fragrance of rose water can have a calming and relaxing effect on the mind, which can reduce stress and promote overall well-being.
What Is Rose Water?
Rosewater is manufactured by distilling rose petals with steam. Rosewater is a fragrant, and it is sometimes used as a mild natural fragrance as a replacement or alternative to chemical-filled perfumes.
Rosewater has been used for thousands of years, including in the Middle Ages. It has been used traditionally in both beauty products and also in food and drink products. It furthermore comes with plenty of potential health benefits, including the following:
1. It helps soothe skin irritation. 
2. It essentially contains antioxidants. 
3. It also soothes sore throats. 
4. It reduces skin redness. 
5. It Relieves from headaches. 
6. It helps prevent and treats infections. 
7. It is known to heal cuts, scars, and burns. 
8. Also has anti-aging properties. 
9. It is used to enhance mood. 
10. It is beneficial for soothing digestion problems. 
  It is nothing but water inoculated with the goodness of rose petals. However, it has taken the beauty industry by storm with its countless skin benefits.
Rosewater is something that we all can use daily, and it is that multifaceted ingredient that is suitable for every skin type. Apart from being magical water or toner for your DIY face masks, this beauty tonic has a million other uses.
However before we begin, here are some perplex benefits of rose water for skin that you should know about:
1. It helps to maintain the pH levels of your skin. 
2. Is the absolutely hydrating and nourishing agent for your skin. 
3. It calms skin issues such as dermatitis, eczema, dermatitis, acne and all other types of skin inflammations. 
4. It also strengthens the skin's barrier function and protects the skin from harmful environmental aggressors. 
5. It controls excess sebum production. 
After mentioning the benefits of rose water on skin, here is how to use rose water in your everyday skin routine:
1. Use It As An After-Shave:
It is very helpful to use rose water as an aftershave. You could say goodbye to all the skin burns and rashes that men and women tend to get after shaving their face or other body parts. Rosewater is known to calm your skin, soothe irritation, and also to reduce inflammation. All you need to do is, spray rose water on the shaved area right after you are done to notice the best results.
2. Give Your Skin A Moisture Boost!
Doubtlessly, rose water is a power-packed dose for your skin for sure. It reinvigorates your skin by providing it the required moisture and hydration. The best way to fight dry, lifeless and dull skin is to use this beauty potion once a day. Spray it all over your face and let it dry into your skin.
3. Even Out Your Skin Tone!
Rose water could be used to lighten skin pigmentation. If your skin is slightly uneven, this would work amazingly on you. It restores the pH balance of your skin. Rose water removes all the excess oil and dirt from your skin, by unclogging your pores.
Apply rose water on your face and neck and gently massage it into your skin for about 3-4 minutes. Afterwards, rinse your face with cold water and that is it!
4. De-Stressing:
Although, it is also an antidote for stress, you can use rose water to relieve yourself from all the stress and tension that is going on in your mind and body. All you need to do is spray some of it on your neck, wrist, behind the ear and let its sweet fragrance kick off your stress!
5. Pamper Your Lips:
Rosewater is a significant way to pamper your lips. It provides moisture to your lips and makes them pink and plump. All you need to do it, take some of the rose water on a cotton pad and dab it over your lips. Afterward, apply a layer of lip balm. Presto, you have your soft pink lips!
6. Soothes Irritated Skin:
Rose water is known for having a rich source of anti-inflammatory properties that help to soothe annoying, irritated skin. Applying a little rose water helps in instantly providing a cooling effect and reducing redness and itchiness. 
Rose Water With Aloe Vera.
The two aloe vera and rose water work wonders for your skin. This toner is highly recommended for acne-prone skin. Aloe vera could solve different skin issues. Rose water could easily hydrate your skin as well as prevent skin issues. These both things are commonly used as ingredients in most skincare products. You can easily prepare this toner with two very ordinary ingredients – aloe vera and rose petals.
Method Of Preparing Rose And Aloe Vera Skin Toner.
First of all, add 4-5 drops of essential oil (use any) to it. Now, extract fresh aloe vera gel in a bowl. Next, take some fresh rose petals and blend these with water to make a fine paste, or you could simply add a few drops of rose water. Now add this gel and rose water and blend again. You can add more water if required to get the toner consistency.
After using, you can store it in the fridge to keep it fresh. Use this toner daily on your face and neck. Apply it with the help of the cotton pad. Remember to prepare this in a small quantity. Do not store it for an extended period; use until it is fresh. 
Here Is How Rose Water Helps:
Have Skin Problems? Use Rose Water For Acne And Pimples:
Rose water removes excess oils from your face and keeps the bacterial growth at par while maintaining the skin's pH balance. It helps to reduce breakouts. It removes all the oil from clogged pores and reinvigorates the skin, adding to the natural glow.
Having Dryness Issues? Use Rosewater For Dry Skin To Lock In The Moisture:
Rose water is best if used during winters as it helps to retain the moisture in the skin. As well as, it also helps to re-energie and moisturize the skin, leaving that refreshing look.  
Have Puffy Eyes? Use Rosewater To Reduce Puffiness:
Rose water has some central cooling and anti-inflammatory properties that leave your skin refreshing and reduce the puffiness around the eyes and face.
"Yeast And Mold Counts Of Rose Water During 12 Months Of Storage"
| | | | |
| --- | --- | --- | --- |
| Compounds | Rta (min)  | Rose Oilb (Hydro Distilled By Clevenger From Fresh Rose Flowers)  | Rose Water Oilb ( Extracted Bye By n-Hexane From Rose Water)  |
| Ethanol  | 8.1 | tc | 1.7 |
| Linalool  | 30.6 | 1.2 | 1.4 |
| Geranyl acetate | 42.5 | 2.3 | t |
| Citronellol | 43.7 | 32.5 | 36.7 |
| Nerol | 45.8 | 11.8 | 10.7 |
| Phenylethyl acetate | 46.9 | 0.3 | 1.4 |
| Geraniol | 48.3 | 25.2 | 21.5 |
| Nonadecane | 51.7 | 9.3 | t |
| 9- Nonadecene | 52.1 | 3.1 | t |
| Phenylethyl alcohol  | 52.2 | 1.4 | 17.2 |
| Eicosane | 56.9 | 1.0 | t |
| Methyl eugenol | 57.7 | 2.4 | 4.4 |
| Heneicosane | 58.8 | 4.5 | t |
| Eugenol | 67.6 | 0.8 | 5.0 |
| Farnesol | 52.7 | 1.5 | t |
a Retention times(Rt), 
h relative percentage(%) obtained on CP-Wax CB capillary column, 
c t (trace) = <0.1%
FAQs:
1. Is It Ok To Use Rose Water Daily?
Yes, definitely it is beyond ok to use rose water daily. Basically rosewater acts as a natural toner and could definitely be used daily. The best thing about rose water is that it normally works for all skin types, and therefore, it is completely safe to be used daily.
2. When Should Rose Water Be Applied On The Face?
You could apply rose water on your face at any time and as many times as you want. It could be used as a face mist when your skin feels tired. It is recommended to use rose water on your face at least twice a day to gain maximum benefits.
3. Is There Any Need To Wash My Face After Applying Rose Water And Before Makeup?
No, absolutely not because it soothes your face. In order to ensure that rose water works effectively, it is best to spray some rose water onto your face and allow it to dry naturally before continuing with the rest of your skincare products. This would ensure that it is completely absorbed into your skin and is not getting lifted while applying other of your skincare products.