Last Updated on March 6, 2021 by
The best tattoo spots for men would be the chest, legs, hands, and many more that we will tell you about in this article. With the men, the case starts to get complicated. What people want from a tattoo is to draw more attention to their body parts and look sexier. They want to show it off and wear it very proudly. For example, unlike women who look extraordinary with the hip or lower back tattoo, for men, it gets very complicated sometimes.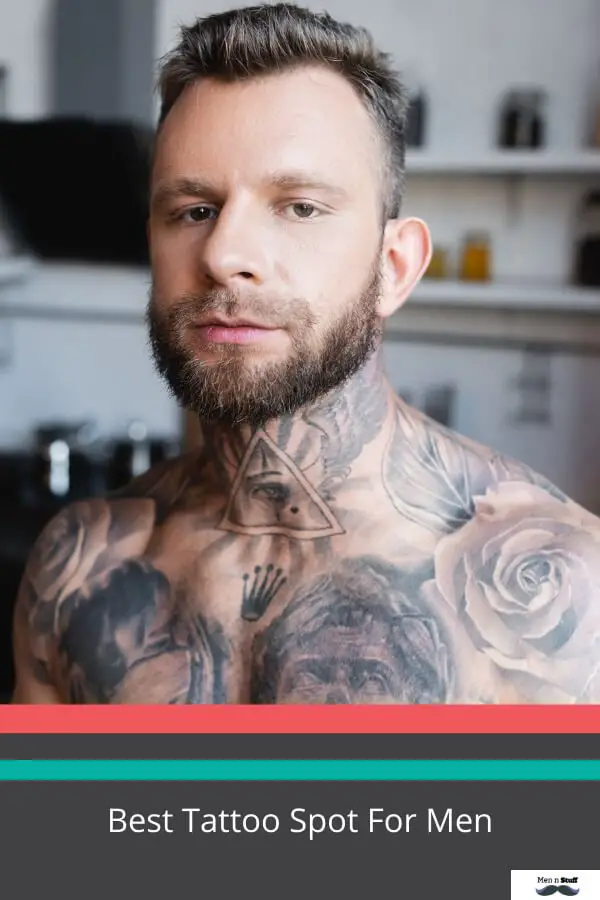 What Else To Notice? 
One more thing that should be noticed is, a tattoo looks better on well-defined muscles, so you should consider a few visits to the gym before inking.
A tattoo makes up your body's story; it is itself a chapter, which sometimes is solo, other times one of many.
A tattoo is something to take dignity, to show yourself to the world without any shame or hesitation, to be what you want to be without thinking about the world. There are some specific places on the body that highlights your works of art for the eventual effect.
Some Best Spots For Tattoo Are:
1. Chest
The chest is the best place to get a tattoo for men.
If you are willing to look tough, a chest tattoo will give you that because the area is big enough, which would result in getting an imprinted picture or any sort of great design. You would be dying to take your shirt off every time you get a chance, whereas you could guess the people's reactions around you, especially all the girls. This area is also not very painful. You would need to avoid the collarbone because it could be pretty sad.

2. Ribs
The rib cage side of the body is another best part of the men's body to get a tattoo.
If you're thinking about getting a rib tattoo, then you are in luck because you could get a full-body "canvas ink" or even just a small design. However, you need to be prepared for some arduous experience on that chair because that area has many nerves and vicinage to the bone. They are actually among the painful areas of the body because there are numerous bones, and the padding is also not the best. This should not determine you for getting a tattoo, though. As far as the artist is not heavy-handed, it would be done before you even know it.
3. Leg
The leg is another very cool place to get a tattoo for men.
From catwalks to Instagram street stars, leg tattoos are attaining more popularity day by day. Although a leg tattoo has not been given enough attention in the past, with the ink attitudes changing, you really should get some needles and pins there.
This is known for a prime location, especially if you are willing to stand out. Not many people get tattoos on the legs, another reason to get one here. You need to be sure that you would stand out in a crowd where many other people have been inked on some other popular places like arms, back, and shoulders.
4. Biceps
The bicep is a great place to get a tattoo.
You could just flex those biceps and allow the world to read the message! Is there any better place than this to get a tattoo? No, you could even hide the tattoo if you needed to do so. Also, it is not very painful to get a bicep tattoo, whereas it is another level of sexiness. This specific area is perfect for tribal tattoos, scripts, quotes, inspirational phrases, and names.
5. Back
Back is eventually another best place to get a tattoo on for men.
This is a very classy place to get a tattoo for men. The designs pledge where the tattoo would be. It could be in the middle, between the shoulder blades, across the shoulders, or the back. If you're working on some proper setup, you could easily hide the tattoo. It is sexy and masculine. Also, the end has sufficient space for you to fit any big tattoo ideas.
Nearly every man who loves tattoos would have one on his back. Due to enough space, you could even add finer details to the design, and everyone, especially women, would love to notice them. Another benefit of the site is that the pain is minimal.
6. Forearm
The forearm is a very decent place to get a tattoo on.
The forearm is one of the muscled parts of the male body, making it an admiring and a much more attractive site for a tattoo. You have the option of the small, subtle designs along with the entire forearm inked. You could easily conceal the tattoo by wearing long-sleeved shirts or jackets.
The area is easily approachable, and it is among the areas which are comparatively less painful to get a tattoo. If you want to test your pain tolerance, then be sure to get a small design first.
7. Thigh
The thigh is a very sexy place to get a tattoo for men.
Apart from being the easiest to conceal, thigh tattoos are not very painful due to the area being obese. However, you should stick to the outer part. The inner thighs are way more sensitive because of many nerve endings, which could make it a harrowing place to get inked.
In case, if you're a fan of shorts or gymnasts, you could make a statement with your tattoo wherever you go. However, it would be easier to conceal your tattoo if you attend a family gathering or work issues. Due to enough space, it is way more than perfect for inking larger designs.
8. Inner Wrist
The inner wrist is another best place to get a tattoo for men.
Do you think your wrists look too empty? A very delicately selected tattoo design may add some charm to the area. There is not enough space to work with here, and your system should be minimal. Although wrist tattoo pain is high on another level of the painful tattoos, you need to get easy because the small designs lessen the time.
Now Let's Have A Look The Following For Different Tattoo Prices.
"List Of Tattoo Prices."
| | | |
| --- | --- | --- |
| Tattoo Cost | Small And Simple Tattoo Written Type – Letters | Medium – Large Tattoo But Detailed |
|  Forearm tattoo price  |  From 50 to 150 USD |  From 200 to 500 USD |
|  Arm tattoo cost  |  From 50 USD to 250 USD  |  From 300 to 900 USD |
|  Foot tattoo cost  |  From 50 USD |  From 80 USE |
|  Neck tattoo cost  |  From 50 USD |  From 100 USD |
|  Dybala tattoo cost  |  From 100 USD |  From 300 USD |
|  Maori tattoo cost  |  From 70 USD |  From 180 USD to over 1,000 USD |
|  Back – shoulder tattoo cost  |  From 50 USD |  From 200 USD to over 1,500 USD |
FAQs:
1.Do Guys With Tattoos Look Any Better?
According to a survey, the women rated men with tattoos as more masculine, healthier, dominant, and aggressive. 
2. Where Should Men Get Small Tattoos?
Eventually, there are many places to get small tattoos, but sometimes they look more attractive on the wrist, forearm, ankle, neck, rib, and hand.