Last Updated on September 23, 2023 by Reiner Chase
Yes, Brooks Brothers is a good brand. It is the oldest clothing retailer in the United States, founded in 1818. Brooks Brothers is known for its high-quality, classic clothing, such as button-down shirts, suits, and ties.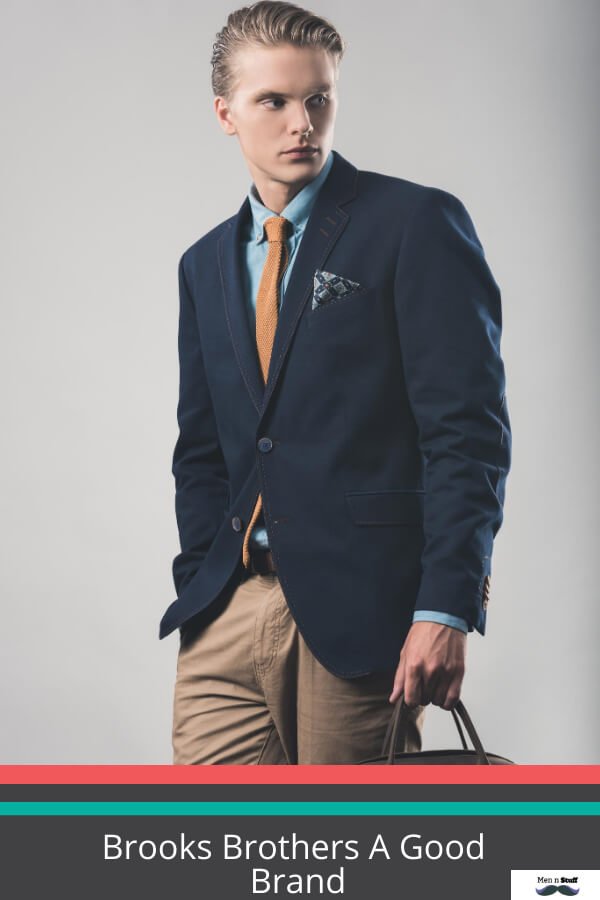 Is Brooks Brothers A Good Brand?
Brooks Brothers is considered one of the leading fashion brands. The company offers a broad range of products that cater to the needs of a diverse customer base. Here are some reasons why Brooks Brothers is a good brand:
Heritage and Legacy: Brooks Brothers has been in operation since 1818, making it the oldest men's clothier in the United States. Over the decades, it has established a reputation for providing quality, class, and style.
Quality of Products: Brooks Brothers products are known for their exceptional quality. They use high-grade materials and employ meticulous craftsmanship in producing their clothing items, ensuring longevity and comfort.
Versatile Styles: The brand caters to various styles, from casual to business, allowing customers to shop for any occasion.
Innovative Fashion: Brooks Brothers is credited for introducing several innovative fashion concepts. They are known for popularising the ready-to-wear suit, seersucker fabric, and the button-down collar shirt.
Celebrity Endorsement: Brooks Brothers has been favored by many prominent figures, from American Presidents to Hollywood celebrities, further displaying its high status in the fashion industry.
Excellent Customer Service: Customer satisfaction is a top priority for Brooks Brothers. The company provides excellent after-sales service and actively seeks to address any customer concerns.
Ethical Production: Brooks Brothers is committed to ethical manufacturing practices. They have strict standards in place to ensure their clothes are made in a fair and environmentally-friendly manner.
In conclusion, Brooks Brothers indeed stands as a symbol of quality and elegance in the fashion industry. The brand's long-standing history, commitment to customer satisfaction, and product quality make it a favorable choice for customers seeking superior fashion items.
| Factors | Ranking |
| --- | --- |
| Heritage | 5/5 |
| Quality of Products | 4.5/5 |
| Style Versatility | 4/5 |
| Innovative Fashion | 4.5/5 |
| Celebrity Endorsement | 5/5 |
| Customer Services | 4/5 |
| Ethical Production | 4/5 |
Facts About Brooks Brothers
Here are some facts about Brooks Brothers:
Brooks Brothers is the oldest clothing retailer in the United States, founded in 1818.
Brooks Brothers is known for its high-quality, classic clothing, such as button-down shirts, suits, and ties.
Brooks Brothers has outfitted 40 of the 45 U.S. presidents.
Brooks Brothers introduced the first button-down collar shirt in 1896.
Brooks Brothers introduced the first ready-to-wear suit in 1849.
Brooks Brothers is the creator of the American sack suit, which is a loose-fitting, two-piece suit that became popular in the early 20th century.
Brooks Brothers is also known for its home furnishings, such as towels, bedding, and furniture.
Brooks Brothers has over 400 stores in over 40 countries.
Brooks Brothers is a well-respected brand that is known for its high-quality products and its classic style. It is a popular choice for people who are looking for timeless, well-made clothing.
History Of Brooks Brothers
Brooks Brothers is known as the most famous as well as the oldest clothing brand in America. It was established in 1818 by Henry Brooks and his descendants' ancestors. Hence, it was named Brooks Brothers. In the early 1800s, Brooks Brothers were the very first company that introduce ready-to-wear garments, and in the very next year, they adopted their famous Golden Fleece Logo in 1850.
According to some journals, the famous Abraham Lincoln was one of the early customers of the Brooks Brothers Brand in the middle of the 19th century. Also, Abraham Lincoln himself was a very loyal and faithful customer as he was found assassinated wearing a Brooks Brothers suit.
In contrast, the Union Army, which he managed and controlled, did not fare much whenever it came to the Brooks Brothers brand. This brand gained even more popularity for outfitting the Union Army in the late 1900s. When the company assured the contract to equip the Union Army, when the quality of wool became sporadic, they pressed together rotting rags and some other scraps of fabric into something seemingly more quality clothing. At that time, the brand served the Union Army. Although unluckily, these uniforms fell apart in the battle, when the Union Army wore them for the first time.
From 1865 To 2003
There's a very interesting fact about the Brooks Brothers brand from 1865 to 2003 when they didn't manufacture a ready-to-wear black suit, and there are different multiples of theories about it. Some say that they didn't manufacture a black case out of respect for the famous Abraham Lincoln, who was told to be killed while wearing a black Brook Brothers suit.
Whereas the more appropriate explanation for this is that Brooks Brothers generally served more well-heeled purchasers, and these aristocratic people did not wear black suits. Although whatever might be the case, they have indeed offered ready-to-wear black suits since 2003.
The 1870
In 1870, Brooks Brothers was known as the first brand that introduced seersucker suits, although they could not observe any popularity for almost 30 years or so. However, they introduced something that became too popular, and a very successful model named the sack suit was manufactured and produced in the 20th century. This style became compatible with the Brooks Brothers, as well as the American clothing culture more generally. Whereas the generous cut of these sack suits allowed them to fit in a comprehensive array of body types off the shelf. They were called to be financially successful for the brand.
Brooks Brothers Today
Today, Brooks Brothers has still maintained their name and class along with some manufacturing all around the United States. However, it is essential to note that not many fabrics are manufactured and fabricated in the United States. The place that they stand today entirely refers to the assembly of these fantastic fabrics.
Products currently produced in the US also include the Golden Fleece line of their clothes, and many of the 1818 line of their clothes (but not all of it). Whereas ties are cut and stacked in Long Island, 10 percent of their most luxurious shirts are eventually manufactured in North Carolina.
Another important thing that should be noted is that Brooks Brother's garments are an essential standard of many historical film production industries and TV presenters. Furthermore, in The Great Gatsby, the suits of the Brooks Brothers were also often seen on the television show Mad Men, as well as the late-night host Stephen Colbert is also usually outfitted by the Brooks Brothers. So now we get to know that Brooks Brothers has been a leading brand of American menswear for the last two decades. Since its founding, the brand also deserves a lot of respect for basically influencing the style of menswear in every age.
Who's Buying Brooks Brothers Garments?
The American's oldest garments brand has new owners. The Authentic Brand Group (ABG) and SPARC Group, a project backed by the Simon Property Group, have recently completed their $325 million procurement of the oldest clothing brand, which is 200-year-old, the Brooks Brothers.
As formerly reported, about 125 Brooks Brothers stores would remain open as a part of the agreement. With the deal completed, the Brooks Brothers would be further managed, operated, and wholesale and e-commerce by Aéropostale, Lucky Brand, and Nautical. It has reported that ABG has now purchased the intellectual property and directly would supervise all licensing partnerships, brand development along the new business.
Brand marketing is now focusing on accommodating the Brooks Brothers for today's generation through creativity. It is also consistently growing its followers online and is launching new collaborations, which will be shared by ABG and SPARC.
Brooks Brothers hold more than 500 shop-in-shops and freestanding stores currently available in the departmental stores, specialty channels, and other outlets in 45 countries worldwide.
Here is a table of men's and women's clothing size chart by Brooks Brothers.
The Table Above Shows The "Brooks Brothers" Size Chart Of Men's Clothing.
Men's
WOVENS           
M
L
XL
2XL
3XL
4XL
Neck
15″ – 15.5″
  16″ – 16.5″
  17″ – 17.5″
  18″ – 18.5″
  19″ – 19.5
  20″
Sleeves Length
32/33″ 34/35″
32/33″ 34/35″ 36/37″
32/33″ 34/35″ 36/37″
34/35″ 36/37
36/37″
36/37″
Chest
38″ – 40″
42″ – 44″
  46″ – 48″
  50″ – 52″
  54″ – 56″
58″
Waist
34″ – 36″
  38″ – 40″
42″ – 44″
  46″ – 48″
50″ – 52″
54″
POLOS / SWEATERS
S
M
L
XL
2XL
3XL
Chest
36″
40″
44″
48″
52″
56″
Waist
32″
36″
40″
44″
48″
52″
The Table Above Shows The "BROOKS BROTHER" Size Chart Of Women's Clothing.
| | | | |
| --- | --- | --- | --- |
| Women's | | | |
| WOVENS | S | M | L |
| Bust | 34″ – 35″ | 36″ – 37″ | 38.5″ – 40″ |
| Waist | 26.5″ – 27.5″ | 28.5″ – 29.5″ | 31″ – 32.5″ |
| Hip | 37″ – 38″ | 39″ – 40″ | 41.5″ – 43″ |
| POLO | S | M | L |
| Bust | 34″ | 37″ | 40″ |
| Waist | 27.5″ | 29.5″ | 32.5″ |
| Hip | 38″ | 40″ | 43″ |
FAQs
1. Is Brooks Brothers A High-Quality Brand?
Yes, Brooks Brothers brand is an incredibly well-known brand in the market with unique and unusual designs of garments. It is expensive, but it lasts for a very long time and is worth the money.
2. Are Brooks Brothers Clothes Worth The Money?
Brook's clothes are not quite the tremendous buys as they were ten or so years ago, but still, they have the same classic style that won't ever go out of fashion.
3. Are Brooks Brothers Clothes Made In The USA?
Presently, about 70 percent of the Brooks Brothers clothes are made in Massachusetts, and 10 percent of the luxurious shirts are manufactured in North Carolina.
References:
https://www.gentlemansgazette.com/brooks-brothers-history/
https://theadultman.com/fashion-and-style/brooks-brothers-review/