Last Updated on March 6, 2021 by
I would suggest you don't need more than ten to twelve t-shirts if you wear them for work. If you are not wearing them every day, then you will need less than ten t-shirts. In any case, if you have more than 10, you need to do your laundry weekly else you might let 20 or 30 dirty shirts pile up. It is a bad habit.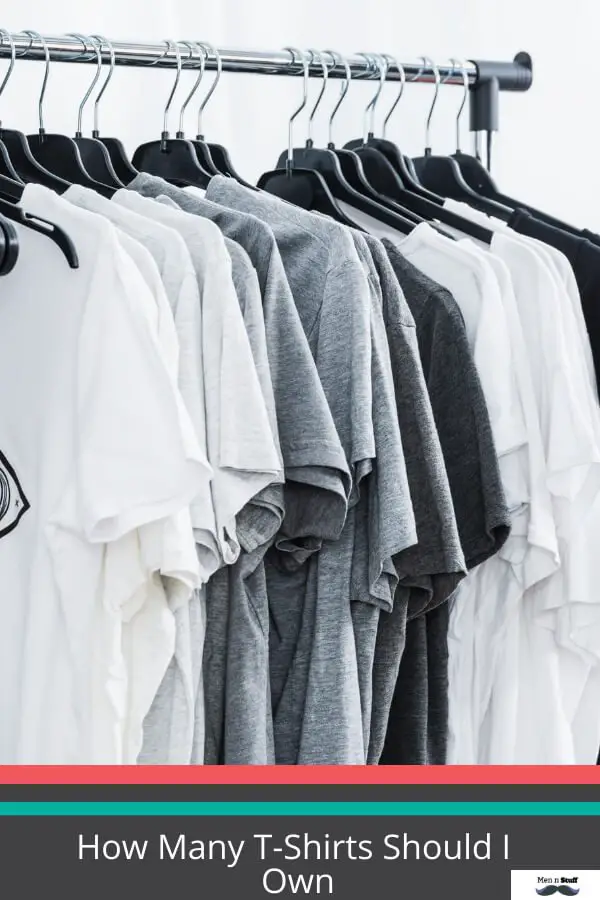 History Of The T-Shirt
It's hard to imagine life without T-shirts. Usually, t-shirts preferred are buttonless, collarless with a round neck pulled over the head. It has two variants of sleeves with long and short ones. The first T-shirt was produced and worn years ago. T-shirts were usually worn as undershirts by American Navy under their long jumpsuits. The word T-shirts didn't become a word until 1920.
Until the Hollywood stars like James Dean and Marlon Brando wore white T-shirts in their movie characters' films, T-shirts skyrocketed in popularity as an outerwear garment.
The garment became acceptable and was also associated with the rebellion movement. It was a challenging statement in politics to be called as rebellious as actually, the t-shirts were undergarments.
Many companies started to experiment with their designs and views on producing and selling their best t-shirts. During the sixties, the T-shirts were worn only by soldiers, farmers as their uniform, while in the seventies; it became the powerful platform of messaging as it is in the present times. 
The Current Market For T-Shirts
The world's biggest free music festival at Woodstock saw immense popularity for t-shirts with advances in printing and dyeing variants. Making of basic cotton t-shirt turned into a commercial success. The need for the comfort and ability to look good made this garment into a full-body innerwear. While the company named Budweiser in 1965 was the first who used t-shirts as their marketing tool, and since then, many companies are producing funny t-shirts with slogans and logos.
The American t-shirt came into its own in the '60s and '70s. The bands, Rock and Roll realized to earn a significant amount of money through selling their t-shirts. T-shirts were acceptable for daily wear clothing during the 1970s, but it was the impact of Punk Rock that defined the reason for T-shirts for youth. The T-shirt had become the canvas of limitless self-expression of artistic vision during the 1980s when it became an industry. 
Create Your Wardrobe List:
It would be best if you kept the wardrobe clean and comfortable to wear for every occasion. It takes a minimal approach to set the collection of pieces that work together and allows you to create the perfect look within a few items.
Here Are Some Of The Items To Keep In Mind To Set Up Your Closet With Essential Items That Serve As A Building Block For The Closet. 
| | | |
| --- | --- | --- |
| 1. | Outerwear  | An overcoat, denim,  bomber jacket, Trench coat |
| 2. | A Black suit  |  A black blazer  |
| 3. | A moto jacket | A leather jacket |
| 4. | T-shirts | Polo T-shirts to stripped and buttoned shirts  |
| 5. | Knitwear  | Hoodie, crew-neck sweater, a cardigan |
| 6. | Footwear  | A pair of white Sneakers, black Chelsea boots, brogue  |
| 7. | Denim | Bright blue, simple blue, black  |
Types Of T-Shirts 
Generally, men prefer to wear classic round neck t-shirts or collar t-shirts, but men prefer different t-shirts according to their taste and style in today's fashion world. Here are some of the types of t-shirts that should be included in your wardrobe. 
1. The Henley Neck Style
The Henley Neck style t-shirts are collarless versions of polo T-shirts that come with a buttoned placket of several inches deep and fits well to a muscular and overbuilt chest. It goes well with denim, khaki, sweatpants, or cargoes for semi-formal occasions. The Henley T-shirts come in various patterns and colors, but the plain ones are the best to try. 
2. Polo T-Shirt 
Polo T-shirts became famous among golfers and tennis players as these t-shirts are versatile and made to look unique with plackets of two or three buttons. Men with a lean upper body have more advantages for this exquisite style. 
3. V Neck T-Shirt 
This shirt forms a V shape at the neck, and this shirt is something that all men carry in their wardrobe. You can try v-neck t-shirts with an unbuttoned shirt. It provides both casual and formal look whereas guys with round faces and broader shoulders can have the advantage of looking slimmer and fit in this t-shirt. And men who are fitness enthusiasts can show off their biceps and fitness in these shirts. 
4. The Crew Neck Style T-Shirt 
The crew neck style is most popular among men and probably the best type of t-shirt that can be paired well for casual and formal occasions. It is characterized by a round circular neckline that fits best and works well for men with narrow and long faces. 
5. Striped T-Shirt 
A common type of t-shirt is found in every trendsetter's wardrobe. A striped t-shirt can make a man look classy and preppy and gives them comfort. Be it a horizontal or vertical line of the striped t-shirt; you can wear it with a pair of jeans or shorts for a night out or shopping etc. The striped t-shirt is available in v neck, crew neck, and scoop neck. 
6. Pocket T-Shirt 
Pocket Tees are casual wear for youth and teenagers with a printed or plain pocket on the left side of the chest, adding a little punch to a plain t-shirt. It can be paired well with oath jeans as casual wear for home or outdoors. 
7. Graphic T-Shirt 
These versatile t-shirts feature bold patterns, slogans, prints, or images printed near the chest /back area. These kinds of t-shirts are a must in every men's wardrobe, making it trendy. You can pair it with denim or jeans, and one can customize the graphics t-shirts according to their needs. 
8. Hooded T-Shirt 
Whether it is a gym trip or a football match, a hooded t-shirt is good to go with these activities. And it can make you look stylish. It is one of the versatile clothing among fashion-goers. It looks good in every season.
9. Plain/Solid T-Shirt 
The plain t-shirt is called classic for a reason, as they are a staple of the men's wardrobe. These are timeless and widely liked for their comfortable look. It can match and mix for any occasion and are never out of fashion. 
10. Scoop Neck T-Shirt 
When it comes to Scoop or U neck, plain or striped are the best to pick. It has an extra-wide neckline and looks perfect on men with a well-defined chest.
FAQ'S
Q1)  How Many T-Shirts Should I Own? 
Most professional men will not need more than 20 t-shirts. It will make you wear it at the office throughout the month. 
Q2) What Kind Of T-Shirts Should I Buy? 
It is according to your choice and style that blends well. Mostly blue and contrast colors go well for every occasion. 
Q3) What Kind Of t-shirt's Material Looks Good And Gives Comfort All The Time? 
Mostly cotton material works well during summer, and it goes well in the winter season too. You can wear a sweater with a T-shirt to protect yourself from the cold weather.