Last Updated on September 23, 2023 by Reiner Chase
Irish Spring soap is a non-toxic soap that is made with natural ingredients. It is a good choice for people with sensitive skin. Irish Spring soap also has antibacterial properties, which can help to prevent the spread of germs.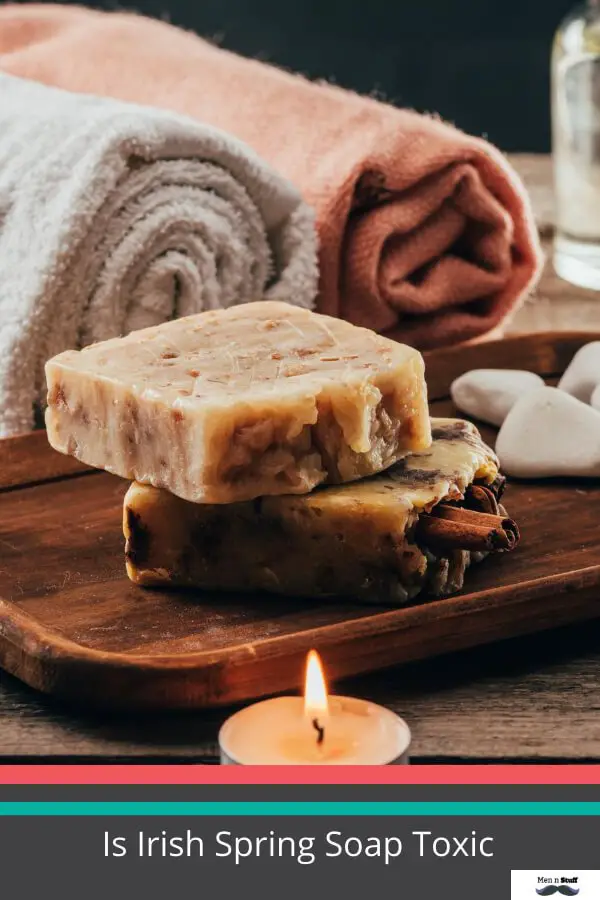 Is Irish Spring Soap Toxic?
Understanding the potential toxicity of daily-use personal care items like soap is essential for ensuring the safety and well-being of users. Let's explore the question: "Is Irish Spring Soap toxic?"
Understanding Soap IngredientsIrish Spring Soap, like many other commercial soaps, is formulated with an array of synthetic chemicals. However, the existence of these ingredients doesn't necessarily mean the product is toxic but it's better to know what they are:

Synthetic colors
Fragrances
Parabens
Sodium lauryl sulfate (SLS)
Sodium laureth sulfate (SLES)

Individual Ingredient AnalysisLet's examine these ingredients one by one:

Synthetic Colors: Synthetic colors are widely used in various personal care products to enhance their appeal. The FDA approves their use, but some people may suffer from allergic reactions. However, they are not typically considered as toxic.
Fragrances: The term "fragrance" often acts as an umbrella term for multiple synthetic chemicals. They can potentially cause allergies and skin irritation in some people.
Parabens: Parabens are preservatives with estrogen-mimicking properties, which can disrupt hormone functions if absorbed in very high amounts. It's worth noting that they are used in minimal amounts in these products.
Sodium Lauryl Sulfate (SLS) & Sodium Laureth Sulfate (SLES): Both SLS and SLES are surfactants that can dry out the skin and cause irritation with prolonged use. They're not classified as toxic but can cause discomfort for some people.

Risk LevelThe risk level of these ingredients depends largely on individual sensitivities and the concentration used. Generally, the concentration of these ingredients in Irish Spring Soap is safe for daily use. However, people with sensitive skin, allergies, or specific health concerns may experience discomfort.
AlternativesFor those who prefer a more natural option, there are a variety of alternatives available:

Handmade soaps
Organic or natural soaps
Fragrance-free soaps
Hypoallergenic soaps

The VerdictWhile Irish Spring Soap does contain synthetic chemicals that can cause minor skin irritation in some individuals, it is not classified as toxic or dangerous for general use. However, people with specific sensitivities are advised to look for suitable alternatives.
Conclusion
Benefits Of Irish Spring Soap  
Every product has some of the ingredients that may help for the solution of the problem for which a product has been designed. It helps the skin always to remain fresh and smooth. So let's know some of the ingredients used in the Irish spring soap and their benefits. These are the most commonly used ingredients present in most of the variants of the Irish spring soaps.
| | | |
| --- | --- | --- |
| Sl. No. |  Ingredients | Utilities |
| 1 | Sodium Chloride | This ingredient maintains the thickness of the soap. |
| 2 |  Water | Water can help in dissolving the ingredients of the soap. |
| 3 | Glycerine |  It will clean the dirt and give the shine and also form foam if the user mixes it with water. |
| 4 |  Coconut acid |  This ingredient will make the skin very smooth and soft. |
| 5 |  Fragrance |  It gives a good smell to the user of the product. |
| 6 |  Titanium dioxide |  It provides color to the product. |
| 7 | Hydrogenated Tallow acid |  This ingredient helps to make the skin smooth and soft. |
| 8 | Chromium Oxide Greens | It provides color to the soap. |
Origin Of Irish Spring Soap
 Irish spring soap came into existence for the first time 50 years ago, in the year 1970 by Colgate-Palmolive Company. The launching of this product took place in Germany in 1970 and 1972 in the United States. Let's know many more things about this soap in the points given as follows:
Initially, this Irish spring soap had a single fragrance known as Ulster fragrance, but with the passage of time, Colgate, the owner of the product, brought so many other varieties in the soap.
Ingredients of Irish spring soap
There are six different variants on the official website of the Irish spring soap, which have different types of ingredients in them. It has all the active ingredients to make the skin of the users fresh and clean for most of the time.
Here Are The Ingredients Of Irish Spring Soap:
Coconut acid
Fragrance
Glycerin
Green 8 and Green 3
Pentasodium pentetate
Sodium chloride
Sodium cocoate
Sodium tallowate
Tallow acid
Water
The users also get a kind of great scent, which will give a positive feeling of freshness. The claims to give 12 hours of nonstop fragrance.
Types Of Irish Spring Soap
Irish spring soap has different variants. There are a total of six variants that we found on the official website of Irish spring soap. So let's know all the variants and their primary purposes in the points given as follows:
1. Irish spring original: It gives freshness with its rich and energizing scent along with the complete lather.
2. Irish spring moisture blast: It gives the skin a soft feeling, and the user won't feel any kind of dryness on the skin. It is a different soap.
3. Irish spring icy blast: It gives a refreshing feeling with its unique and different types of excellent scents.
4. Irish Spring Aloe: It helps maintain the moisturization level of the skin, which makes the skin very healthy without tightness and redness.
5. Irish spring deep action scrub: It helps clean the skin entirely and removes even the strongest of dirt from the skin.
6. Irish spring pure fresh: it gives a complete cleaning to the skin with its main activated ingredient of charcoal.
7. The other variants are Irish Clean Scrub, Hair and Body, Intensify, and Signature For Men.
Is Irish Spring Soap A Help With Acne?
Irish Spring Soap does not help to clear acne. It helps in clogging the pores and can make it worse. The primary cause of acne is the bacteria within the pores below the surface of the skin and hormonal influences. Topical acne medication and proper cleansing can help you achieve control over acne.
However, for some people using Irish Spring Soap helped them in clearing acne as it depends on the type of skin you have. It is an excellent body wash with fewer acne-preventing or clearing properties.
It would be best if you see a dermatologist if you have a severe acne problem.
Is Irish Spring Aloe Soap Good To Wash Face?
Irish Spring Soap is a good body wash that makes your skin fresh and clear. It is the best soap for people with normal to oily skin as it contains a few skin moisturizers.
It is a harsh bar to use on your face. Irish Spring Soap is a lab-made bar made with artificial surfactants. It may result in drying out your skin and can result in more breakouts.
It would be best to avoid using soaps to wash your face. Instead, try using a lotion or cleansing milk on your face or handmade or gentle soap. Unscented soaps without colored soaps would be the best choice to wash your face.
Best Soaps For Your Skin
Here Are Some Of The Best Soaps To Pick That Your Skin Will Love.
1. CeraVe Hydrating Cleanser Bar
2. Cetaphil Gentle Cleansing Bar
3. Dove White Beauty Bar
4. Drunk Elephant JuJu Bar
5. Fresh Seaberry Exfoliating Soap
6. Lush Olive Tree Soap
Different Ways To Purchase Irish Spring Soaps
Do you want to place an order for the Irish spring soap through the online modes and various other websites available on the Internet? Well, some of the options are available from where a customer worldwide can place an order and get their favorite Irish spring soap delivered.
Amazon: This is the most popular online shopping store to order Irish spring. This store gives speedy delivery options to the customers.
Walmart: This shopping site also has a stock of Irish spring soap, and customers can choose this platform as well to place an order for any variants of the soap.
Walgreens: This platform also shows the soaps of Irish spring to be in stock, and customers can avail of the availability of the soaps from here as well.
Apart from all the famous online shopping sites, customers can place an order for Irish Spring Soap from other online platforms like Sam's Club, Target, Dollar General, Publix, etc. These online stores give shipping according to their terms and conditions. Customers can buy the Irish spring soaps from the nearby shops of their locations as well.
FAQs
Q1. Can The Users Wash Their Hands With The Irish Spring Soap?
Ans: Yes. The Irish spring soap will remove the germs and bacteria from your hands. It has got all the active ingredients to help you get rid of any kind of germs from your hands.
Q2. As Far As The Packaging Of The Irish Spring Soap Is Concerned, Is It Environment Friendly?
Ans: It uses 100% paperboard carton in which there is an availability of 35% of the recycling.
Q3.  What Is The Process Of The Work Of Odor Neutralizing Technology Of The Irish Spring Soap?
Ans:  Irish spring soap comes with odor neutralizing technology to give the freshness that lasts for 24 hours. This technology successfully removes the odor and gives a feeling of freshness.
Q4.  What Is The Scent Used In Irish Spring Soap?
Ans: The fragrance is like citrus and bergamot, followed by herbal and floral notes.
Q5. Is Irish Spring An Anti-Bacterial Bar Soap?
Ans: The new Irish Spring Anti-bacterial Deodorant Soap helps in killing the germs that cause body odor. It is designed specifically for those who have an active lifestyle.
References:
https://manscipated.com/is-irish-spring-soap-toxic/
https://www.mybestcutter.com/is-irish-spring-soap-toxic/