Last Updated on September 23, 2023 by Reiner Chase
Substitute hair gels with natural alternatives like aloe vera gel, coconut oil, or flaxseed gel. These options offer hold and nourishment. Aloe vera gel, for example, contains over 75 active compounds, benefiting hair health.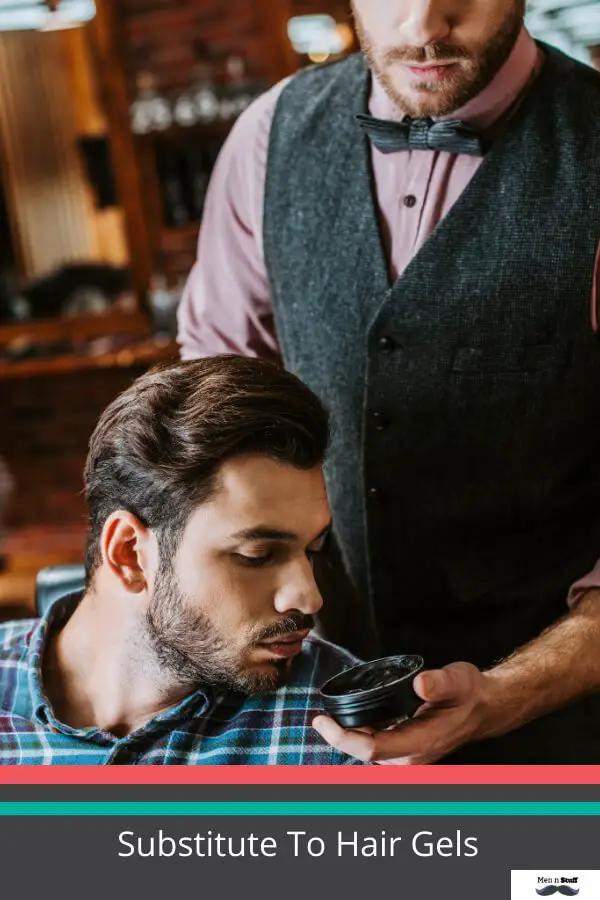 What Are The Substitutes For Hair Gels?
We use substitutes because hair gels are very harsh on the hair as they contain alcohol and other chemicals that strip off the moisture from your hair, make it dry, and result in hair loss. Alcohol in the hair gel also makes your scalp flaky, which is the root cause of dandruff. It weakens the roots of your hair and makes it discolored.
The Following Are Some Substitutes For Hair Gel:
Product  
Product Type
Brands  
Pros
Cons
Hair Wax 
-Hair wax is different from hair gel.
-It doesn't reach your scalp.
-Gives your hair a matte look.  
  GATSBY, Park Avenue, Set Wet, L'Oréal Paris, Beardo, Ustraa, etc.  
-It has a minimal amount of alcohol or no alcohol.
-It has many variants to style your hair like a glossy, matte finish, strong or loses hold, etc.  
 -It is expensive than hair gel. -You need to wash off your hair to make it normal.  
 Hair Spray
-It is a liquid
-based spray that comes in aluminum cans.  
TRESemme, GATSBY, Park Avenue, Set Wet, L'Oréal Paris, Oriflame, Streax, TIGI, Tony & Guy, etc.
–Provides volume to your hair.
-Gives you the look of your choice.
-Holds your hair all day. -Some sprays also contain keratin. 
-It gives your hair a pleasant and noticeable fragrance.  
–Contains Alcohol.
-Highly inflammable.  
 Hair Cream
–It has both the qualities of hair wax and a moisturizer.
-It is an excellent substitute for hair gel if you care for hair a lot and play safe.  
 American Crew, L'Oreal Paris, GATSBY, Arata, Tea tree, etc.  
-It moistures your hair.
–Repairs your scalp.
–Styles hair of your choice. –Prevents frizzing of hair.  
-It doesn't get hold for a long time.
-It doesn't provide as a stronghold as hair wax.  
 Hair Serum
-It is similar to hair cream more effective.  
 Streax, Oriflame, L'Oreal Paris, etc.  
–Prevents hair fall.
-Nourishes your hair.
-Provides volume to your hair.
-Protects your hair from getting damaged from outdoor conditions.  
–It is not much useful for styling your hair.  
Aloe Vera Gel  
-It is an organic product and one of the best options for hair.
Beardo, Mamaearth, Patanjali, Khadi, Aroma, etc.  
-Nourishes your hair and scalp. 
-Promotes hair growth.
-Maintains the overall health of your hair.    
–No added fragrance.  
Gelatin Hair Mask    
-It is a powdered Gelatin to use as a hair mask.
-Can be made at home.  
Mgbn, Garnier, etc.  
-Strengthens hair naturally.
-Best for curly hair. –Provides stronghold.
–Least chemicals used.  
-No added fragrance.
–It is not very useful for styling as compared to other alternatives.  
Do Hair Wax Or Hair Spray Inflammable In Nature?
Yes, hair gels are inflammable due to the presence of alcohol in them. We should avoid contact with fire after use, such as going to a bonfire or near a smoking cigarette. There is a possibility that your hair will catch fire. You must be careful and keep in a dry and cold place.
You may also find your scalp or skin itchy if you are allergic to alcohol. Avoid eye contact with these products as you may suffer severe eye problems. If it enters your eyes, don't rub them. Wash your eyes immediately by splashing fresh and clean water.
What Are The Benefits Of Using Hair Wax Or Any Other Alternative?
No Alcohol: The absence of alcohol in these substitutes protects the hair from getting thin and dull and helps retain the essential oils present in the hair. The scalp also stays moisturized and healthy.
No dandruff: It does not have a risk of dandruff, the root cause of hair loss, which makes your scalp itchy and irritating. So when there is no dandruff, you will not be embarrassed by dandruff spreading all over your clothes.
Prevents Color Loss: It is one of the primary reasons why people avoid hair gels. Hair gels are very harsh, and they turn your hair white, which destroys your look. Hair wax or other alternatives prevent discoloring of hair.
Sticky Hair: Hair gels are sticky, which allows dirt to enter your hair and get stuck. Due to this, you can't even touch your hair giving you a heavy feeling. Other alternatives do not make hairs sticky.
Long-Lasting Stronghold: Gels gives you a good hold but soon gets dismantled. But hair wax or hair spray provides you with an all-day hold, which is also the most crucial factor why you should shift to hair wax or hairspray.
Volume: The substitutes give volume to your hair, which helps your hair appear more beautiful and fluffy.
Hair Growth: Products like aloe Vera gel, hair serum, and gelatin hair mask promote hair growth and strengthen it too. It also helps your hair from getting thin, and curly, and provides essential oils and proteins needed for your hair.
Conclusion
In today's world, where everything contains dangerous chemicals, we should choose the products wisely because a slight mistake may result in severe problems. Some products will nourish your hair and strengthen it. On the other hand, some products will damage your hair and may even make you bald permanently. It's our kind suggestion that you should try to use that have natural elements and the least amount of chemicals. We should always look for long-term benefits.
Are Natural Hair Gels Really Effective?
Yes, natural hair gels can be highly effective, and their popularity has been steadily growing in recent years. Here are some key points explaining their effectiveness:
Hold and Styling: Natural hair gels like aloe vera gel, flaxseed gel, and even certain fruit extracts can provide a good hold for styling purposes. They can help you create various hairstyles, from slicked-back looks to curly styles, without the stiffness associated with some commercial gels.
Nourishment: One of the significant advantages of natural hair gels is that they often contain beneficial nutrients. For instance, aloe vera gel is rich in vitamins, minerals, and amino acids that can help promote hair health. These ingredients can moisturize, strengthen, and improve the overall condition of your hair.
Reduced Chemical Exposure: Many commercial hair gels contain synthetic chemicals, such as parabens, sulfates, and artificial fragrances, which can potentially harm your hair and scalp. Natural alternatives are free from these harsh chemicals, reducing the risk of irritation or damage.
Suitable for Sensitive Scalps: Natural hair gels are generally gentler on the scalp, making them a suitable choice for people with sensitive or easily irritated skin. They are less likely to cause itching, flakiness, or allergic reactions.
Customization: You can easily customize natural hair gels to suit your specific needs. For instance, you can mix aloe vera gel with essential oils for a personalized fragrance or add other natural ingredients like honey or yogurt for additional benefits.
Environmentally Friendly: Many natural hair gels are eco-friendly and biodegradable, reducing the environmental impact associated with their production and disposal. This is increasingly important for consumers concerned about sustainability.
Cost-Effective: Some natural alternatives, like flaxseed gel, can be made at home for a fraction of the cost of commercial hair gels, offering an economical option for those on a budget.
Frequently Asked Questions
Q1: Are Hair Products Too Expensive?
As compared to hair gels, other hair products are a bit expensive but at the same time worth the money. It gives far better results than hair gels.
Q2: Does It Provide A Matte Look?
There are various types of products available. Some give you a matte look and stronghold, and some glossy and soft finish. You can avail of the variant of your choice.
Q3: Where Are These Products Available? 
These products are available in your nearby supermarket or cosmetics shop or from Amazon as well.
Q4: Can We Use These Products Daily?
Yes, you can use these products daily. Hair experts suggest products like Aloe Vera and hair serum and hair cream as using them daily will give you the maximum benefits.
Q5: While Applying Hair Wax, Should My Hair Be Wet Or Dry?
It's better to avoid applying hair wax on wet hair to get the desired style and use it on dry hair.
References:
https://1924salon.com/alternatives-to-hair-gel/
https://haireveryday.com/what-can-i-use-in-hair-instead-of-gel/