Last Updated on September 23, 2023 by Reiner Chase
Yes, it is okay to wear a button-down shirt with a tie. In fact, it is a common and acceptable combination for both formal and casual occasions. However, it is important to choose the right shirt and tie to create a well-coordinated look.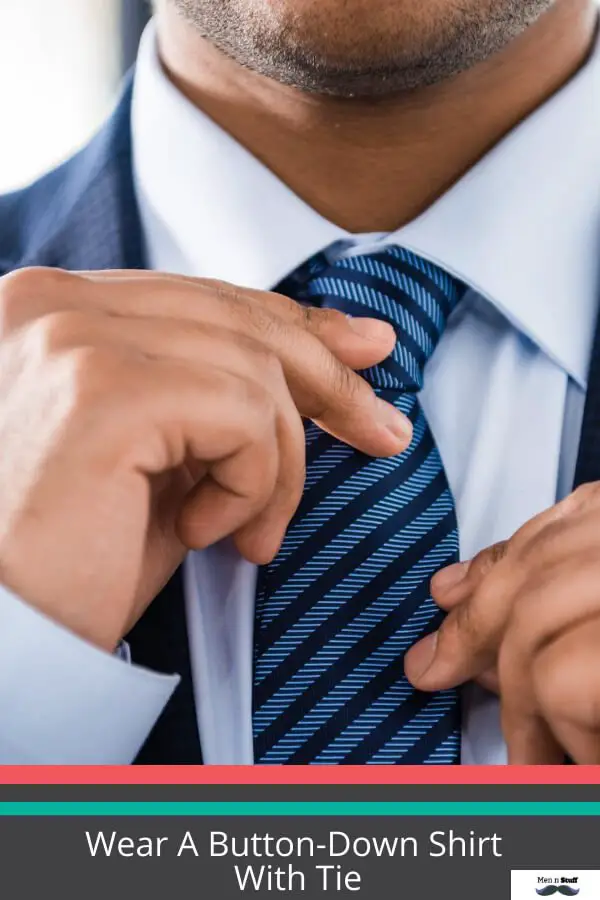 Is It OK to Wear A Button-Down Shirt With Tie?
The answer, in short, is a resounding yes. The combination of a button-down shirt with a tie can be a classic and stylish choice for many occasions. Here are five reasons to underscore this point:
Shapes the Body Profile:
The button-down shirt and tie combination can create an elegant silhouette. The vertical lines of the tie and the structured nature of the button-down can add length and symmetry to the wearer's appearance.
Versatility in Dress Code:
This combo straddles the line between formal and semi-formal, offering a great deal of flexibility. It can adequately fit into a business meeting, a wedding, or a casual dinner date.
Variety of Styling Options:
The mix of the shirt and tie offers an amazing array of styling possibilities. One can experiment with a variety of tie knots, colors, and patterns to create a unique look.
Personal Statement:
The choice of tie can serve as a gentleman's signature or a personal fashion statement. It can convey the wearer's character, personality, and individual style subtly.
Adds a Formal Touch:
A tie can immediately elevate a simple button-down shirt, imparting a tone of formality. It implies the wearer's seriousness and respect towards the occasion or the person they're meeting.
Considerations for Wearing Button-Down Shirt with Tie
Ensure both tie and shirt are clean and wrinkle-free
The tie should reach the belt line
Opt for a tie with a width that matches the shirt's collar
Make sure the shirt is buttoned all the way up
The tie knot should fit the shirt's collar style
Consider the occasion when selecting tie color and pattern
In conclusion, it's more than acceptable to wear a button-down shirt with a tie. It's about understanding the balance of style and occasion, and when done correctly, you can create an impeccably stylish and memorable look.
About The Style
The button-down collar shirt is eventually known as the most popular menswear. As its fame is widespread, there is no specific agreement on when and how it could be worn and combined with a tie.
A Sporty Classic
The button-down shirt is so delineated because it consists of a collar with two slots attached to the two buttons. Collars are stitched on the underside of the shirt, basically at the sides of the neck. In reality, it is known as one of the few benefactions offered by the United States to menswear.
However, it was designed by the end of the nineteenth century. More specifically, in 1896, John E. Brooks, who was the grandson of the originator of Brooks Brothers, was one of the American brands for which the button-down shirt became an actual clique item.
 Once during a polo match in England, in the field, John noticed that the players' collars were attached to their uniform by some buttons not perpetually to ripple to their faces during the game. He thought about it and decided that was a magnificent idea and a few months later, it drew encouragement and influences to make his company's first shirts with the buttons on the collar.
Historic Definition
According to a historical definition of button-down shirts, their achievement was such that these types of clothes became "the most emulated items of fashion history." In particular, it was during the fifties and sixties, when the button-down shirt blew up as an icon of style and elegance.
Afterward, it was usually worn by some big celebrities like Fred Astaire, Paul Newman, and Cary Grant. In contempt of the garment's sporting launch, the famous Hollywood celebrities did not hesitate to wear it with insouciance under graceful suits with a tie.
The End Of A Taboo
And here's the point that this type of button-down collar has always been promoted and notorious with young managers and those in America. They like the style of a businessman, and are even able to combine gracefulness and sportiness. As a result, it is customary to wear a button-down shirt with a tie.
However, this trend has lately spread in Europe and some other countries of the world. Many young people are not afraid to integrate or combine more formal clothing which is generally Italian, including some new trends. The famous Italian TV journalist named "Enrico Mentana" discovered this style, which also became his trademark.
What The Old Continent People Thought
Multiple people on the Old Continent carry on with the idea that the tie should be worn individually with button-less, more challenging, and firm collars.  As always, it remains a question of taste and style. But anyone willing to tie a tie around a button-down collar does not need to be feared, as indeed they are not confiding a "mortal sin." However, they should pay a little more attention to choosing the right shirt and tie.
Button-Down Collars Are Significant For All Of Us
The button-down collar eventually deserves a fine place in every man's wardrobe. You could match it with a pair of malingerer and chinos to have a very classy casual look. Whether it is for pleasure or business, every man should understand when and how to wear a button-down shirt.
Which Shirt's Collars Require A Tie?
Here Is The List Of Collar Types That Can Be Paired And Some That Cannot Be Paired With A Tie.
| | |
| --- | --- |
| Don't Require A Tie. | Do Require A Tie |
| Spread One of the most common collars is the spread collar, which comes in a fair variety of points and angles. However, "spread" basically refers to the distance that lies between the collar points.   | Forward Point   The most conventional choice, the forward point collar, has fallen out of favor with some of its impotence to be worn without a tie. A smaller opening between collar flaps allows for more of a tie knot variety. |
| Club   A unique style was forwarded by an English boarding school, looking for a way to differentiate its students. It peaked in the 1930s and has had a recent revival due to the period shows like "Mad Men."   | Button-down   The button-down collar was earlier attached to the Oxford cloth button-down shirts. Today, the button-down style could be worn with casual suiting.   |
| Button-down   The button-down collar was earlier attached with the Oxford cloth button-down shirts. Today, the button-down style could be worn with casual suiting.   | Tab   A scarce style now, the tab collar's reputation has waxed and diminished over the last century. Designer Tom Ford tried to bring it back when the styling James Bond in "Skyfall, " but it didn't stick. |
The table above differentiates in between which shirt collar requires a tie.
FAQs
1. Is It Ok To Wear An Oxford Shirt With A Tie?
Oxford shirts are informal, and they should be worn without a tie. If you want to wear them with ties, it should be worn with a sports coat or a sweater.
2. Is It Ok To Wear A Button-Down Collar With A Suit?
Yes, it is acceptable to wear a button-down collar with a suit. Although, if there is a formal occasion and you're in doubt, it is probably fine to leave it.
3. What Is The Fundamental Difference Between A Button-Up Shirt And A Button-Down Shirt?
A button-up shirt is a shirt that has buttons running up in the front. Simultaneously, a button-down shirt is almost the same but has some additional buttons on the collar of a shirt.
4. What Is The Fundamental Difference Between An Oxford Shirt And A Regular Shirt?
5. What Does An Oxford Shirt Mean?
It is a type of woven dress shirt fabric procured to make shirts that are named Oxford shirts and could be worn on any occasion.
References:
https://www.gq.com/story/button-down-collar-tie
https://www.batchmens.com/pages/tips-on-how-to-wear-a-classic-button-down-collar-shirt