Last Updated on September 23, 2023 by Reiner Chase
John Lennon's signature sunglasses are called Windsor glasses. They are round, wire-rimmed spectacles with saddle bridges. He also wore aviator sunglasses in the early 1960s and Wayfarer sunglasses in the late 1960s and early 1970s.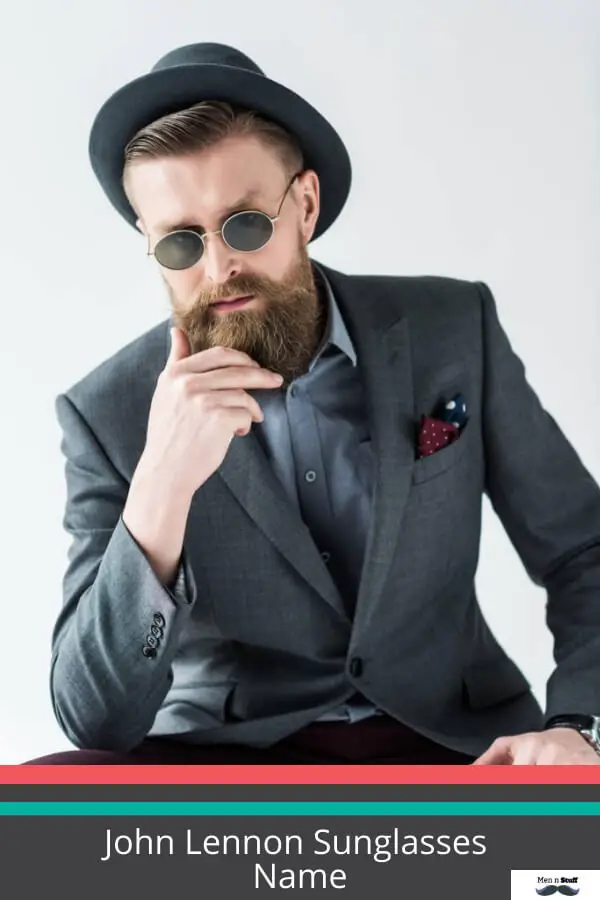 John Lennon
John Winston Ono Lennon is mostly called John Lennon (October 9, 1940, to December 8, 1980). He was a songwriter, English songwriter, singer, and peace activist. He achieved fame as the rhythm guitarist, founder, and co-lead vocalist of the Beatles.
Also known as Teashade, Windsor, or even granny glasses, John Lennon's round glasses are popularized and iconic as the artist/activist/musician himself.
Types Of John Lennon's Sunglasses
The great musician has composed many songs before his death. His fans used to go crazy about his style along with the songs. So when his glasses became widely known, many brands came forward and took out different models whose names were after John Lennon's songs. 
So let's know some of the sunglasses models with names related to some of the famous songs of John Lennon.
Teashades
The origin of Teashades can be found in the early 60s. These are round glasses. Drugs were widely consumed during that time. So, these glasses were known to hide the effects of drugs.
Since then, many celebrities have become fans of Teashades. From Gandhi to Janin Joplin in 1960, or from Liam Gallagher and Wally in 1990 to Johnny Deep, Rihanna, Lady Gaga, Sienna Miller, Miley Cyrus in 2010, and other celebrities are seen wearing Teashades.
Orange Glasses
Orange lenses were one of John Lennon's favorite glasses. He was a firm believer in Feng Shui. According to Feng Shui, orange color enhances creativity, so he sees the world through orange-colored glasses. 
Almeria
John Lennon played the role of Private Gripweed in "How I won the war?" During the shooting, he was first noticed wearing the Almeria glasses. It went on to be a part of the Beatles' image.   
Imagine Sunglasses
John Lennon composed Imagine from the time between 1970 to 1973, one of his biggest hits. These sunglasses are exclusively for men and women and are made in Italy. These glasses look stylish due to their round shape and look good on every occasion. Let's know some descriptions of these glasses.
1. These sunglasses are from John Lennon's vintage collection.
2. The sizes of these sunglasses are 49MM.
3. These glasses were named after the famous song of John Lennon.
4. The customers can have 100% ultraviolet light protection from these sunglasses.
5. These sunglasses are original.
6. The dimensions of these sunglasses are 122MM in width, and the lens is 49MM.
7. The model number of the sunglasses is JL-Imagine-SB-6005.
These glasses are now displayed in Liverpool at Beatles Museum, which receives over 300,000 visits per year. These glasses are valued at $1.5 million.
Pink Mirrored Sunglasses
1. These sunglasses have pink lenses and are 49MM in size.
2. The width of the frame is 122MM.
3. The model is named after the famous John Lennon song, imagine.
4. The model number is JL-Imagine-SB-6201.
Vintage Frames Sunglasses
These sunglasses are also made in Italy and are meant for both men and women. These round sunglasses have got a significant presence in terms of color because of their Golden color. We have given the descriptions of these sunglasses in the points given below.
1. These vintage glasses are from the original collection of John Lennon.
2. They have been named after John Lennon's song, dreamer 
3. They give a legendary and simple look, which makes the glasses very distinctive. 
4. The width of the frames is 118MM.
5. The size is extra small.
6. The size of the lens is extra small.
7. These glasses also come in pink lenses.
8. The model number is JL-Dreamer-B-600.
Measurement Of Sunglasses
Having the right measurement of the sunglasses is the first thing that any particular sunglass wearer would like to know. If you want to have the perfect size like medium, XS, etc., you must know the horizontal width and the temple length. We will mention the measurements in the table given below.
| | | | |
| --- | --- | --- | --- |
| S. No | Size | Horizontal Width | Temple Length |
| 1 | XS | 110-119mm | 110-129mm |
| 2 | S | 120-129mm | 110-129mm |
| 3 | M | 130-137mm | 130-139mm |
| 4 | L | 138-144mm | 140-150mm |
| 5 | XL | 145-155mm | 140-150mm |
How Was John Lennon Famous For His Sunglasses Apart From Songs?
John Lennon was famous for his vocal talent and as a co-founder of the Beatles. He was crazy about wearing different sunglasses. Even after his death, people like to have all those sunglasses that John Lennon wore during his life.
There are some famous brands like Ray-Ban, which John Lennon also tried. Ray-Ban is an established brand of sunglasses, and when celebrities like John Lennon wore such glasses, the brand's name also rose.
John Lennon made different brands of sunglasses very famous by wearing them regularly. Some brands used the name of John Lennon songs and sold them to the masses.
Many people started wearing them by copying the styles of John Lennon. People started moving from a standard rectangular shape to a circular shape of sunglasses.
Facts Associated With John Lennon's Glasses
Some facts associated with John Lennon's glasses that you would like to know are the following:
Friendship Of John Lennon and Yore
The Beatles toured Japan in 1966 to play a concert in the Budokan, a traditional and sacred place. However, the tour received a lot of opposition and controversy. There was only a translator and photographer, Junish Yore, who accompanied the Beatles on tour.
It resulted in a friendship between Yore and John, and they exchanged their glasses and copper cups as a token of their friendship.
Following the Japanese, Yore took out glasses when John Lennon died. It is done so that the departed soul can see life after his death. The price paid for these at an auction of the glasses by a collector was $2,000,000.   
Juan- The Caretaker Of John Lennon's Glasses: In Havana, there is a bench in the park where John Lennon's statue sits. Juan, a fan of John Lennon, places glasses on Lennon's statue at the time of tourists' arrival.
After tourists leave, the glasses are carefully removed to place on the statue again in the morning. He removes the glasses to prevent theft. Many times the glasses are stolen. However, now the glasses are always safe due to Juan Gonzalez.
Juan, a retired farmworker, watches over the iconic glasses of John Lennon. You can take a picture with the statue and sit alone, but you cannot touch the John Lennon statue's glasses. 
Political Statement For John Lennon: Yoko Ono, who was married to John Lennon, tweeted on March 2013 with various messages accompanying the blooded glasses of John Lennon, that he wore when he was shot. It was to mark a protest against gun violence. The image was re-tweeted by more than 12,000 followers, including Barack Obama.
Gary Tracy's Love For John Lennon: It is said that the optician Gary Tracy has kept Copies of the cheques that he received from John Lennon. Besides, he has kept drawings and instructions of Lennon, stating how he needed his glasses to be tinted.
In 1968, during summers, John Lennon left his glasses (round-rimmed) in his Mercedes car. It was later sold by a former chauffeur, Alan Herring, in Sotheby's London.  
FAQs
Q1. What Were John Lennon's Last Words?
Ans: Many people believed that the last official words of John Lennon were. "I am Shot."
Q2. What Is The Worth Of John Lennon's Pair Of Green Sunglasses?
Ans: The worth of green sunglasses sold in London at auction was around $183,000. 
Q3. Which Color Lenses Were The Favorite Of John Lennon?
Ans: John Lenon's favorite lenses were orange/brown.
Q4 How Did John Lennon Died?
Ans: John Lennon was shot four times by Mark David Chapman while entering his apartment building in Manhattan.
References:
https://www.allaboutvision.com/resources/human-interest/john-lennon-glasses/
https://www.eyeglasseswarehouse.com/pages/lennon-plastic.html