Last Updated on September 25, 2023 by Reiner Chase
The best way to wash a Patagonia Nano Puff jacket is to use cold water and a mild detergent. Machine wash on a gentle cycle, then tumble dry on low with a few tennis balls to help fluff the insulation.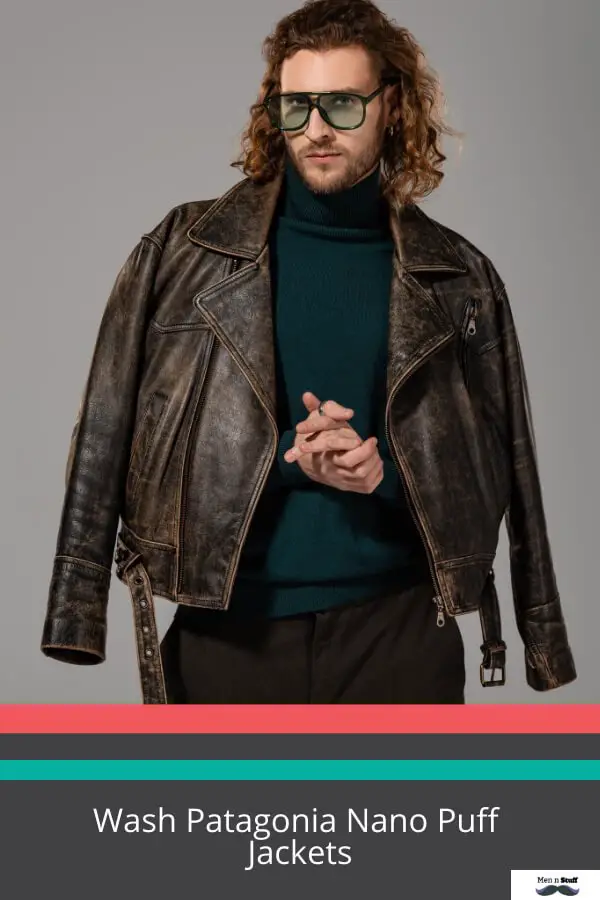 What to Consider Before Washing Wash Patagonia Nano Puff Jackets
Before washing your Patagonia Nano Puff jacket, consider these important factors:
Read Care Label: Always check the care label attached to the jacket for specific washing instructions from the manufacturer.
Spot Cleaning: If the jacket has only minor stains or spots, try spot cleaning with a mild detergent and a soft cloth before opting for a full wash.
Empty Pockets: Make sure all pockets are empty, and zip or fasten any closures on the jacket.
Remove Excess Debris: Shake the jacket to remove loose dirt and debris.
Close Zippers and Fastenings: Close all zippers, Velcro, and other fastenings to prevent snagging or damage during washing.
Use Appropriate Detergent: Choose a mild, non-biological detergent specifically designed for outdoor gear. Avoid using fabric softeners or bleach, as they can damage the jacket's materials.
Machine Wash: If the care label permits machine washing, use a front-loading washing machine on a gentle or delicate cycle with cold water. Avoid top-loading machines with agitators, as they can be harsh on the jacket.
Tennis Balls or Clean Shoes: To maintain the loft of the synthetic insulation, add a few clean tennis balls or specialized clean shoes (designed for this purpose) to the washing machine. This helps break up clumps and restores the jacket's insulation.
No Fabric Softener: Never use fabric softener, as it can reduce the effectiveness of the DWR (Durable Water Repellent) coating on the jacket.
Rinse Thoroughly: Ensure that the detergent is completely rinsed out of the jacket. Run an additional rinse cycle if necessary.
Air Dry: While Patagonia states that Nano Puff jackets can be tumble dried on low, air drying is gentler on the insulation and fabric. Lay the jacket flat on a clean surface, and avoid hanging it, as this can cause stretching.
Fluff and Shake: Periodically fluff and shake the jacket during drying to distribute the insulation evenly.
Check for Damage: After washing and drying, inspect the jacket for any damage, loose seams, or zipper issues. Repair any minor issues promptly.
Always follow the manufacturer's care instructions and consider using a professional cleaning service for heavily soiled or stained jackets. Proper care helps prolong the life of your Patagonia Nano Puff jacket and maintains its performance.
How To Take Care Of A Patagonia Jacket?
Buying an incredible jacket ought to be a little challenging; what type to pick is the following stage, and afterward, the entire issue with color and style starts. 
The brand to buy from is likewise critical. There is a motivation behind why a few brands are more known than others and why individuals incline toward them over the other options. 
Patagonia would one say one is such a brand, which has an enormous clientele that is faithful to its items, and who can accuse them, truly? Patagonia creates extraordinary items, and we have highlighted a few jackets on our choices. 
Today we will look at the essential strides for ensuring that your Patagonia jacket is adequately taken care of.
A quality jacket is long-lasting, and realizing the right method to clean and take care of it will guarantee that it remains in excellent condition for a long time. 
We should now begin with the guide, where we will learn about the techniques for washing the absolute most famous jackets by Patagonia.
Patagonia: The Brand 
Before beginning, we might want to pause for a moment to introduce Patagonia as a way to comprehend why a guide like this is fundamental for buying this mainstream brand's jackets. 
Patagonia is an American brand, set up in California in 1973, after the split of Chouinard Equipment. Patagonia is extraordinary in many ways compared to some other brands that represent specialized in outside clothing; Patagonia was since its beginnings a clothing-only brand.
It is famous for the high caliber and superiority of its items, mainly the jackets, and building up a quality texture innovation, the H2No technology. 
Patagonia is also one of the brands that place incredible incentive in protecting the environment and does as such through a few methods, making quality items that will keep going a long time, subsequently limiting re-manufacturing. 
Something else that bears referencing is the Deluge® DWR utilization, a water repellent covering that keeps going impressively longer than the average DWR items available in the market nowadays, accordingly requiring fewer re-applications. These and different reasons shared in the above are the reason Patagonia is so beloved.
Before Washing. 
Before really washing a jacket, regardless of the type it is, there are a couple of preliminary advances that must be taken to limit the danger of damaging the jacket. 
First of all, you should check all pockets and close all the zippers, including the central one and others, such as pit vent zippers, side zippers, and pockets. An open zipper can get on the texture and tear it. That is the reason it ought to be the absolute first thing to check. 
Next, fasten all flaps and straps, which will keep them from getting captured on the texture and tearing it. 
Turning the coat back to the front is continuously suggested because it enables the coat to clean better while likewise shielding the shell from harm. 
Ultimately, after you have shut the zippers, emptied the pockets, and turned the coat back to front, it's an ideal opportunity to prepare for washing the coat, and the one thing that must consistently be done is taking a look at the instructions, which is on the label.
The Most Effective Method To Wash A Patagonia Gore-Tex Jacket 
Gore-Tex is truly outstanding; it has unique fabric technology. Its performance is magnificent, and it gives extraordinary insurance against the elements while being profoundly breathable simultaneously. 
Typically, a temperature of 105°F/40°C on a permanent press cycle setting on the washing machine is the Gore-Tex jacket's suggested strategy. 
Reduced spins and a mild liquid or powdered detergent should be used, which will prevent fabric creasing and prevent the DWR coating from damages. A mellow fluid or powdered detergent ought to be utilized. Rinse, wash, and rinse again to ensure that the detergent is cleaned out. 
Try not to utilize fabric softeners, bleach, or stain removers, since they will harm the fabric and DWR covering, reducing the jacket's performance. 
Drying should either be possible on the line or utilizing a tumble dryer on a delicate, low-temperature cycle. Regardless of whether you line dry the jacket, it ought to go into the dryer for 20 minutes, which will help reactivate the DWR covering. 
On the off chance that you don't have a tumble dryer, pressing the coat on a low setting and without steam can assist with reactivating the DWR covering. 
Finally, sooner or later, when you begin seeing that the water repellent covering isn't being reactivated by tumble drying and pressing, it implies that it ought to be reapplied. You can utilize many DWR treatments accessible and try to follow the vital steps in the packaging.
The Most Effective Method To Wash A Patagonia Fleece Jacket 
Stains are frequently a worry with these coats, and utilizing stain treatments isn't an issue. Likewise, you can depend on vinegar treatments to eliminate tree sap or gum stains, and pre-medicines for oil stains can likewise be utilized without taking a lot of risks. However, until you are not using the bleach, this method will be less risky. 
Powder detergents are favored for this situation, and a gentle, biodegradable, and non-toxic formula will be the ideal decision.
Ideally, either cold or warm settings ought to be utilized around the 105°F/40°C point. After it is washed, drying racks or lines are your smartest option. The ground drying machines can cause severe shrinkage, even in low settings.
The Most Effective Method To Wash A Patagonia Torrentshell Jacket And H2No Fabrics 
Torrentshell is a waterproof jacket that is made of H2No fabric for its shell. Hence, we will look at the right strides of washing H2No fabric, which also applies to the Torrentshell jacket. 
Sap and gum ought to be solidified with ice, and afterward scraped off with a dull blade. A vinegar arrangement would then be utilized to douse it and afterward put into the washing machine. 
H2No fabrics are waterproof fabrics treated with DWR covering, just like Gore-Tex above, which will require reactivation and re-application. 
It's ideal to depend on specialty soaps for waterproof coats. If you can't discover a specialized soap, at that point, an item free from chemicals, enzymes, bleach, softeners, and perfume will work similarly also.
The Most Effective Method To Wash A Patagonia Nano Puff Jacket 
Nano Puff is a protected coat made out of 100% Recycled polyester and protected with PrimaLoft® synthetic insulation.
It tends to be washed into a front-loading washing machine, in a permanent press setting, utilizing a mellow clothing detergent. The warm water of around 105°F/40°C ought to be utilized on a delicate cycle. 
Drying isn't excessively confounded; use either a tumble dryer on a low setting or a line/rack will turn out great. When in a tumble dryer, utilizing a tennis or dryer ball will help fluff up the insulation as it dries.
Step By Step Instructions To Wash A Patagonia Down Jacket 
Down jackets have a specific technique for being washed and dried, which is similar to the situation after the Nano Puff above. 
Utilizing a downwash is the ideal approach to clean a down jacket because these cleaners are defined mainly for cleaning down without harming it. 
Coldwater is favored for down jackets, and the washing machine ought to be on a delicate cycle. Double rinsing is an extraordinary method of guaranteeing that all the detergent has been cleaned out. 
After being washed, a Patagonia down jacket is best dried on a tumble drier with two tennis balls inside. They will assist with separating the clumps of down as the coat dries, reestablishing the jacket's loft, and guaranteeing that the protection will completely dry. 
A low-heat, the delicate setting must be utilized, and it may be essential to run the dryer more than once. 
On the off chance of drying the coat out on a line or rack, remember that it will take over one day for it to completely dry, contingent upon the climate, and that it ought to be habitually brought down to separate the clumps by hand for drying.
Here We Have Listed Some Of The Best Patagonia Jackets And Their Price Check Below:
| | |
| --- | --- |
| Name | Price |
| Patagonia zip up padded jacket for men | USD 300 + tax |
| Patagonia down puffer jacket for men | USD 400 + tax |
| Patagonia contrast logo jacket for men | USD 700 + tax |
| Patagonia quilted puffer jacket | USD 350 + tax |
That is it for this guide. Indeed, allude to the name above all else and make a point to possibly only wash the jacket when it is essential.
FAQs
1. Can I Wash Patagonia Jackets In The Washing Machine?
Yes, you can wash Patagonia jackets in the washing machine. Only take appropriate precautions while washing.
2. Which Technology Is Used To Make Patagonia Jackets?
H2No technology is used to make highly effective Patagonia jackets.
3. Which Is The Best Way Of Drying Patagonia Jackets?
Patagonia jackets can be best dried on a tumble drier with two tennis balls inside.
References:
https://www.quora.com/What-is-the-best-way-to-wash-Patagonia-Nano-Puff-Jackets
https://www.tevamountaingames.com/how-to-wash-patagonia-nano-puff-jacket/