Last Updated on January 26, 2021 by
Every other guy has his own choice. Some will say that black is the forever best color, and some would say that brown is classy. It's all about your preference for which color wallet you want to have.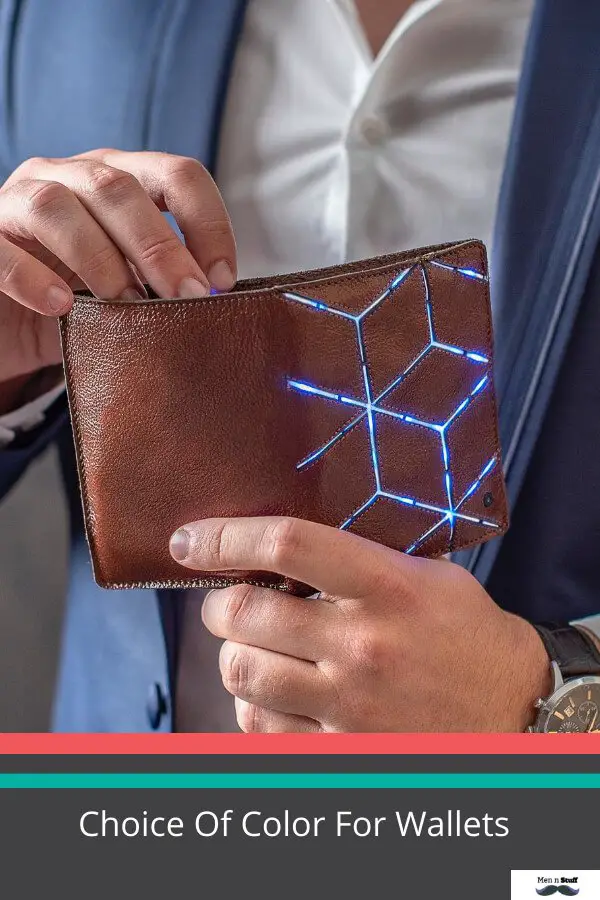 Choice Of Color For Wallets
The wallet's choice also depends on what kind of clothes you are wearing or the situation like if you are going to a party and you want your friends to notice your wallet, then you should go for Brown as it's a lighter color and would grab more attention.
Everybody has their taste and is happy with it. Humans are the most complicated species in the world; our preference is never the same. It changes with time and situation depending on the benefits, but sometimes difficulties arise when we have to choose something minutely different. The choice between black and brown color wallet is one of the most common issues that men face. Today I'm going to tell you everything about wallets and when you should use the black or brown wallet.
What Is The Importance Of A Wallet In A Man's Life? 
There are several reasons why a man should have a wallet, but the most important is to keep his belongings and money safe from any theft or weather exposure. A wallet is also essential to keeping your cards, identity proof, and crucial documents in an organized manner so that you can find them whenever the need arises.
What Are The Things You Should Look For Before Buying A Wallet? 
1. The number of sections it has for keeping documents and money, whether it's enough for you or not.
2. Does it have a separate section for coins?
3. Distinct and sufficient sections for debit and credit cards.
4. A hidden corner for an important document or money.
5. Material of the wallet.
6. Size of the wallet, as sometimes buying a bigger wallet becomes unfit for your pockets, and purchasing a tiny wallet becomes unsuitable for your documents and money.
7. Keeping all the above elements in mind, you should buy a wallet that perfectly fits your personality.
Advantages Of Having A Wallet
The table below shows the advantages of carrying a wallet.
| | | |
| --- | --- | --- |
| SL No. | Nature | Advantage |
| 1 | Time | It saves a lot of time. For example, if you drive and the cop asks for the driver's license, you take out your wallet and show him instead of searching the whole car for it. |
| 2 | Mobility | One of the essential benefits of having a wallet is its mobility; you can carry it wherever you feel like because of its small size. |
| 3 | Safety | A wallet keeps your important documents safe from weather conditions, which may damage your belongings. Not only this, but it also keeps you safe from any theft, as if anybody touches it, you can feel it. |
| 4 | Personality | An organized and well-maintained wallet reflects your personality that what kind of person you are; the wallet's choice determines your level of maturity as well.  |
Difference Between Black And Brown Wallet
| | | | |
| --- | --- | --- | --- |
| SL No. | Nature | Black | Brown |
| 1 | Colour of the clothes and accessories | You can carry it with any clothes, whether they match or not. It's on your preference. | You should wear clothes that contrast to brown color or wear matching accessories like belts and shoes. |
| 2 | Situation | It fits in every situation, whether you are going to a party or office. | It matters a lot if you are going to a party and want to highlight your wallet, then you should carry a brown wallet because it's a lighter color and grabs more attention. If you're going to keep it simple, you should not have brown as it's not as common as black.  |
| 3 | Fashion | Black wallets are very common among people due to their universal adaptability.   | Brown wallets are a bit rare; it shows the fashion sense but needs to wear matching accessories. It looks more classy. |
| 4 | Cost | Black wallets are cheap. | Brown wallets are costlier than black wallets. |
| 5 | Availability | Black wallets are readily available, and you can find all sorts of designs in black. | Brown wallets are a bit rare, and the designs of brown wallets are comparatively limited.  |
The Material Of The Wallet
The material of the wallet is a significant factor. It decides the durability of the wallet. Wallets are mostly made up of leather, but with time, the technology of wallets has evolved. Now, there are several wallet materials available in the markets. Some people prefer using fabric wallets because of their texture and design.
The most common are leather wallets. They look manlier and are more preferred by men, but leather wallets are a bit sensitive if anyhow it gets exposed to water, it gets damaged.  
So it's all up to you which wallet you want to buy. I have mentioned all the factors that are considered by fashion experts. Choose the best wallet according to your preference, and remember to check all the essential elements want to have in a wallet. Different people have different choices, so avoid buying from other's suggestions use your skills. 
Conclusion
A lot of people were confused between Black and Brown wallet. I could clear your confusion, and now you know which wallet you need to buy. I think you should have both the color in your drawer and use them alternatively according to the situation. Black is a universal color; you can use it anywhere at the same time, brown is a very classy one, and it gets the limelight.
FAQS
Q1: Which Color Of Wallet Suits Men Better?
A: It depends on your preference that which color you like the most. It also depends on where you are going to use it. 
Q2: Does Having Two Wallets Create A Problem?
A: Not at all. Instead, having two wallets is cool. You can use them alternatively according to the occasion. But keep the documents carefully as while transferring documents, you may mess up and lose something.
Q3: Which Color Wallet Is Costlier, Black Or Brown?
A: Brown wallets are costlier and are available with limited designs. They are also a bit delicate so take care while using brown wallets.
Q4: What Is The Difference Between A Rexene Wallet And A Leather Wallet?
A: Rexene wallets look very similar to leather wallets. It is synthetic leather, which is used as a substitute for leather. Leather wallets are very durable and continue to be with you for years with minor effects.
Q5: Which Is The Best Wallet Brand?
A: Several wallet brands provide premium quality wallets Montblanc, Hentley, Louis Vuitton, Harber London, Woodland, Mochi, and many more.