Last Updated on March 2, 2022 by
White clothes can be challenging to wear because they are often see-through. You can stop your pant from being see-through by wearing nude undergarments that perfectly suit your outwear such as a long top that passes your private abdomen, among others. A see-through white pant can be embarrassing, especially if everything you are wearing beneath it is being seen.
Wearing white clothing will generally make you feel good about yourself. The white is seamlessly associated with cleanliness, class, and summer! 
Also, the white imparts an aura of luxury, as associated with the cleanliness you must maintain when you own a pair of white jeans. Additionally, summer is associated with wearing a lighter shade of clothing including white pants.
The article expounds more on how you can make your white jeans not see-through.
How Do You Make Your White Jeans Not See-Through?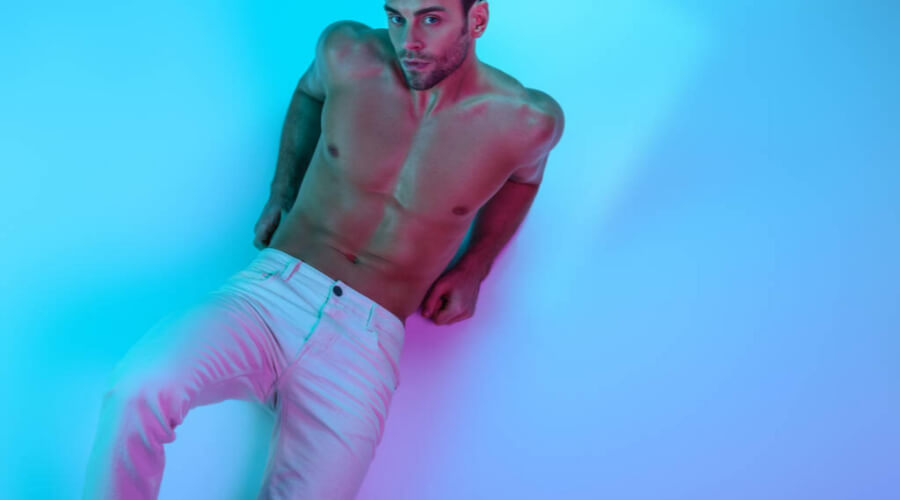 Most white garments appear to be see-through, especially that white pair in your wardrobe. You would discover that people see your undergarments through your white jeans. So how do you avoid this? 
Assuming it is summer and you want to wear all the white clothing you can, you want to dress in your white jeans; what do you do to avoid your undergarments being in full view? What comes to mind is that you can wear a white undergarment which isn't the case. You can ease the situation by wearing nude undergarments, choosing pure cotton jeans, among other remedies. 
Wear Nude Underpants
A nude undergarment will blend in such a way that it camouflages itself to look like your skin tone. The nude underwear should match your skin tone. The nude underpants will not be visible underneath the white pants, whereas the nude color is better than black or white. White color visibility is higher than the visibility of nude outfit, and black underpants is seen directly through your white jeans.
Purchase 100% Pure Cotton Jeans
The cotton jeans have minimal stretch. The other fabrics, like elastane and poly, mainly stretch themselves. The more the white pants stretch, the more they become see-through—the stretching of the jeans results in the uneven thickness of your white pair of pants. So to avoid the brawl of restricting yourself to wearing see-through clothing, buy white jeans that are 100% cotton.
Consider The Rise Of The Jeans
There are different types of rising, low rise, mid-rise, and high rise. When buying a pair of white jeans, you can go for the high-rise waist type. The high-rise waist type gives a grand illusion, and the transparent fabric is not seen as that transparent anymore.
Avoid Washing And Drying Your White Jeans With Excessive Heat
When you wash your white jeans repeatedly, the more the white jeans fade and the fabric degrades. If your white jean is 100% cotton and not see-through, you should thoroughly avoid washing and drying them with super high heat. It will ruin your jeans in the way of not personalizing them. To protect your jeans and not allow them to be see-through, then handwash and air-dry them. Do not heat too much as it loosens the fabric.
Wear A Seamless Undergarment
If you want the white jeans not to be see-through, you can wear seamless underwear. This underwear does not show its lining hence making it difficult for individuals to see them through your white jean. 
There is an endless lining, and people will not notice how the undergarment has established itself under the translucent jeans. It is more decent than the undergarments with the lining that has a protruding end.
Wear A Long Shirt With Your White See-Through Jeans
A long blouse or shirt hides the most transparent part, which is the lining of your bottom. Once you handle that, the other trouser parts will not impact your see-through jeans. The long blouse can create this decent illusion, especially for guys who enjoy a casual look. 
It isn't delightful when a person sees your private parts lining. So why not pair the white see-through jeans with your favorite long shirt?
Wear White Legging Beneath The White See-Through Jeans 
For the white leggings, they give your transparent jeans that translucent look. The more the white fabrics underneath your white jeans, the more it gets to have that translucent look.
Wear White See-Through Jeans With A Black Top
The white jeans bring out its color and appear more prominent. The blacktop or T-shirt brings out the color of your white jeans. It stands out in the outfit, and thus you will not notice the see-through part of it quite fast.
 It is all about playing with colors that avoid the problem of see-through jeans.
Few Things You Should Consider When Buying White Jeans
1. Always Keep An Eye Out For Neat Hems
In the end, finished hems on white denim are one of the best looks white jeans should have. If you discover a pair you like with an unfinished hem; you can get them hemmed by a tailor for a reasonable price. 
Look for a couple of pairs of jeans with a hem if you want a clean, sharp look. Always buy a pair of white jeans with clean hems if you're going to get the most out of your denim jeans.
2. Hold On To The Bright Color And Look Of The White Jeans
You can tend to avoid unpleasant pairs and go for faded blue jeans. Also, you can go for bright and pure white jeans. The darker shade of the white jeans isn't what you will need. However, if you distress them from natural wear and tear, that's fantastic and normal.
3. You Should Choose The Look You Want To Pull Through
You can go for a super crisp full-length trouser, a high-rise non-stretch classic, or a low-rise cool look with white denim. So, for the duration of the season, choose your fit and pair it with a button-down shirt or tee. 
Frequently Asked Questions (FAQs)
Is It Worth It To Buy See-Through White Jeans?
Yes, it is worth it to buy white jeans. Especially white skinny jeans can match and complement a variety of outfits. You can pull through different styles and outfits while wearing your favorite white denim jeans. 
Also, you can opt for the white jeans made of pure cotton to avoid the see-through fiasco. It will highly depend on the choice you make.
Are White Jeans Expensive?
The white jeans are nearly the price of the black jeans or other colors. If they aren't of the same price, they are almost the same price. You can check the seller brand's websites to establish the cost.
Conclusion
White jeans have a problem of being see-through. Most people struggle with this fact and are looking for ways to navigate the issues. You can use various ways to make your white jeans appear translucent. Some of the methods you can use include; wearing nude undergarments, buying outfits that are 100% cotton, wearing white see-through jeans with a long shirt, among others. 
White jeans being a see-through shouldn't take away your peace of mind as you can pull through different looks to avoid those stares. There are various ways described above, and you can always go for the method that works for you best. Now, what's stopping you from wearing your favorite white pants?