Last Updated on August 30, 2023 by Reiner Chase
V-neck T-shirts can complement a guy's style, offering a versatile and flattering look. Necklines that aren't too deep are generally more appealing. A study by the University of Nebraska found V-necks are rated more attractive than crew necks. Personal preference matters; choose what suits you best.
Is a V-Neck T-Shirt a Fashionable and Stylish Wear for a Guy?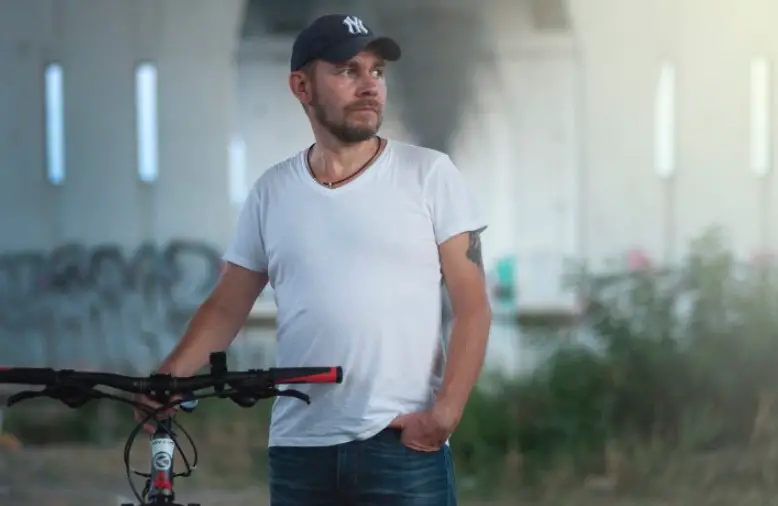 A V-neck during summer is acceptable, and you can wear it in informal settings. The V's look can fit in perfectly while a very deep V-neck is out of fashion; it is not like we are still stuck in the 60s; after all, we are in the 21st century. Ensure that you don't go for too deep V-necks as they don't look cool.
What about a V-neck T-shirt and a Shorter Guy?
A V neck benefits a shorter man more since it gives the V a vertical illusion, making them seem less boxy while "elongating" their height. A V-neck contrasts men with no angular faces. It does not suit someone with a less muscle-like physique. 
V-neck can be lovely if one becomes cautious of the fit, ensuring that the V   is not a very deep one. The type of body you have is very crucial when it comes to fitting a V-neck such that shorter people will benefit from a V-neck since it makes them look way taller than they are hence giving their facial structure a more angled look. 
How to Rock a V-Neck with a Suit
It's very fashion-forward to pair a suit with a high-quality V-neck t-shirt. Not only it being the holy grail when it comes to a casual-formal look, but it also exudes class and, most importantly, confidence. 
When pairing a V-neck t-shirt with a suit, pick out the right color. The best color option to go with this look is a light grey t-shirt or a white t-shirt. Make sure your white t-shirt has a sheen from high thread counts of high-quality cotton.
If the white t-shirt you have looks old, it's best to get a new one of the best quality to go with this look. If you are going for a night-out casual look but a sophisticated one, definitely go for a navy blue or black t-shirt and pair it with a darker suit. 
 Always go for a t-shirt that hugs your shoulders way tighter than usual and goes to your waistline; this helps give your body a more toned and masculine look. That is why it's imperative to know and get the right fit and length of the t-shirt you are buying. This kind of outfit speaks volume about the person wearing it. It tells people that you know what you are doing and you have your priorities set right. The outfit builds on the guy's confidence, and who does not want that? 
As for the suit, you have to make sure the chest size is wide enough so as it's not pinching around the buttons, The length of the sleeve should hug your wrist freely .and the pants should be resting comfortably on the cape of your shoes.  
The Type of Shoes to Pair with Your V-Neck T-shirt and Suit
When pairing shoes with your V-neck and a suit, and you wish to stand out among the crowd, it's crucial to choose wisely to differentiate a formal look from an informal one.
You have three choices of shoes that will compliment your V-neck and make a statement to the rest of the world:
Sneakers: When pairing a navy suit or a black suit and you want to make your outfit  pop and  look good, pair it with a white sneakers such as Adidas
Loafers: If the outfit you have on is white or black paired with ultra-casual pants such as a chino or pants with a wooded-like tone such as brown or light orange, then definitely pair it with a loafer. This look gives off a fun and laid-back kind of vibe.
 Oxfords:  A good quality white V-neck t-shirt with a light navy suit goes very well with a pair of brown oxfords, or you can try it on with dark brown oxfords mainly because they tend to pair well with a light-colored suit or colorful ones.
One thing that's very important for you to know is that colors play a huge role in shoes, especially when pairing an outfit while keeping in mind that everything you have on looks good on you. Do not wear bright-colored footwear that makes you stand out from the outfit you are wearing unless it fits the style of the working environment you find yourself in.
Neck Useful Styling Tips that Compliment V-Neck T-Shirts
As for the V-Neck t-shirt, never tuck it in. 
Pair denim with a white V-neck t-shirt.
Pair khaki with a navy blue V-neck shirt.
If you are going for a casual and tonal look, ensure you go black.
If you are looking for a base color that's easy to pair, go for grey. 
The Do's and Don'ts of Wearing V- Necks T-Shirt for a Cool Look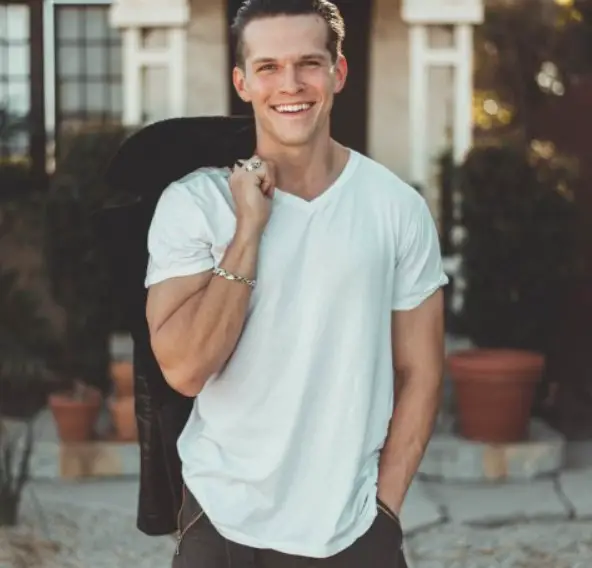 The Do's
Wear a V-neck under a blazer: If you are looking for sophistication and style, look no further; put on a V-neck under your blazer, and step out in style.
 Choose it as a layering piece: A v-neckpiece can come in handy during colder weather; hence it becomes less bulky around your neck part. It will look great, stylish, and trendy when you couple it with a vest. 
Choose colors: One can spice it up when it comes to a V-neck. Don't think because it's a V-neck; it's okay to go for any color. Remember that the color you choose conveys the true you to the rest of the world. Ensure you do a color fusion and mix it up, for example, blue, black, olive green, white, and red. Something to note is that when pairing the colors, you need to check your skin tone.
The Don'ts
Do not wear stretched V-necks: One big mistake is wearing a stretched-out V-neck t-shirt. It looks worn out and unpleasant; hence you can't look good. Therefore, ensure you get a new V-neck once you notice your old one is stretched out. 
Wear underneath a V-neck sweater: It is not fashionable; always choose a crew neck t-shirt for a V-neck sweater. Always check for compatibility when it comes to style and fashion.
5 Reasons V-Necks Look Good on Guys
V-neck shirts have been a popular choice among men for many years. They offer a stylish alternative to regular crew necks and can enhance a guy's overall appearance. If you're unsure about whether to add a V-neck to your wardrobe, here are five reasons why V-necks look good on guys.
Accentuates the Neckline:
One of the main advantages of V-neck shirts is that they accentuate the neckline, creating a more elongated and flattering look. This can enhance a guy's facial features, especially if he has a well-defined jawline. The V-shape draws attention upwards towards the face and can make a guy appear more confident and put together.
Adds Definition to the Chest:
V-necks provide an excellent opportunity for guys to showcase their chest muscles or physique. The diagonal angles of the V-shaped neckline create an optical illusion that can make a guy's chest appear broader and more defined. This is particularly beneficial for those who have been hitting the gym and want to showcase their hard work.
Helps Create a Layered Look:
V-necks lend themselves well to layering. They work seamlessly with jackets, blazers, or even sweaters. Pairing a V-neck with a well-fitted blazer instantly adds a touch of sophistication and maturity to an outfit. The layered look can create depth and texture, allowing guys to experiment with their style and showcase their fashion prowess.
Versatile and Suitable for Various Occasions:
V-neck shirts are incredibly versatile and can be worn for a wide range of occasions. Whether you're going out for a casual lunch, heading to the office, or even attending a semi-formal event, V-necks can be dressed up or down accordingly. They can be paired with jeans or chinos for a laid-back look or combined with dress pants for a more polished appearance.
Offers a Modern and Fashion-Forward Look:
Opting for V-necks can instantly make a guy appear more fashion-forward and contemporary. While crew necks are classic, V-necks provide a fresh and updated look that can elevate an outfit. They are often associated with a younger and more fashion-conscious crowd, making them perfect for those who want to showcase their trendy and modern style.
In conclusion, V-neck shirts undoubtedly look good on guys for several reasons. From accentuating the neckline and adding definition to the chest to creating a layered look and offering versatility for various occasions, V-necks can effortlessly enhance a guy's appearance. So if you haven't already, consider adding some V-neck shirts to your wardrobe and embrace the stylish and trendy look they provide.
How short should a V-neck be for guys?
For a flattering look, a V-neck for guys should generally not be too deep. Aim for a V-neck that ends just above or slightly below the collarbone. This length provides a balanced and stylish appearance without revealing too much. Ultimately, choose a depth that feels comfortable and suits your personal style.
The Final Verdict about V-Neck T-shirts
The V-neck t-shirt is one such piece of clothing that has been a fashion statement since the 60s. Whichever way you look at the V-neck, it looks good on guys. Perhaps, the t-shirt is back mainly because it works due to its style and fashion.
References:
https://modernmakeup.ca/how-to-rock-stylish-v-neck-t-shirts-for-guys/
https://roguechivalry.com/are-v-necks-in-style-for-guys/