Last Updated on September 21, 2023 by Reiner Chase
Navy blue pants pair well with contrasting colors like white, light gray, or pastel shades. These combinations create a sharp, classic look. Opt for a white shirt for a timeless outfit, or experiment with light colors to add variety to your attire.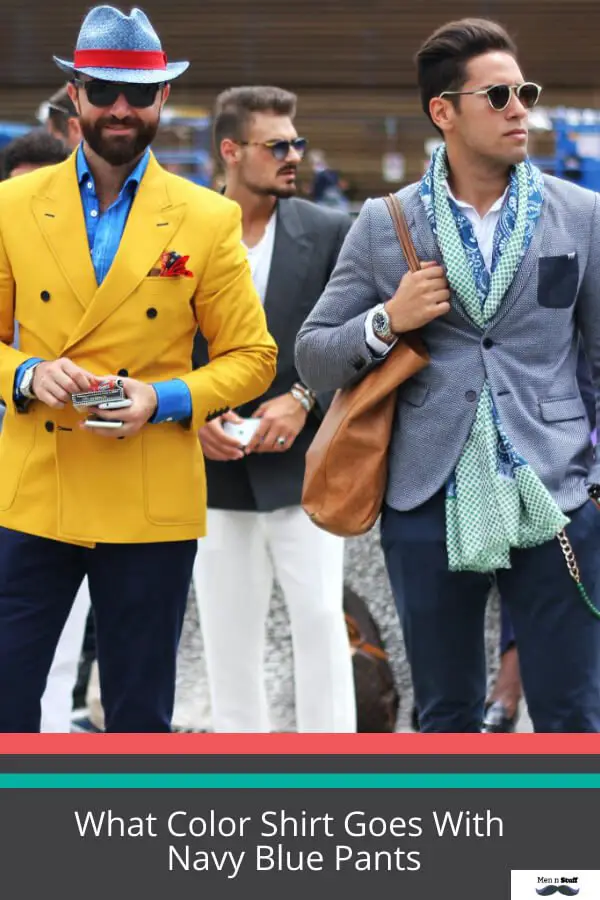 What Color Shirt Goes With Navy Blue Pants
A lot of colors go well with the navy blue pants. Navy blue is a versatile color, and it is a color that we see almost everyone wearing all the time. It's hard to choose what to pair up with navy blue pants, but then again navy blue will go with any color. Here we will discuss a few deal-breaker combinations that will look amazing together. 
1. Navy Blue And Beige
Other than the colors discussed above, several shades contrast nicely with navy blue pants. Neutral colors such as beige will go well with navy blue pants. Contrast is always the key to style. Navy blue pants and beige will be a show-stopper if you wear them in combination. 
2. Navy Blue And Brown
Navy blue and brown are two elementary colors, and when put together they will be a good match. Brown is always the best choice to wear with navy blue, be it a brown bottom and a navy blue top or navy blue pants and a brown top. These two colors will be the perfect match for formal wear or a casual outfit.
3. Navy Blue And Pink
Baby pink or light pink will make a heavenly match with navy blue pants. This neutral tone will be a hit in your neutral tones wardrobe. Pink will be just the right color to wear now and then with navy blue pants. 
4. Navy Blue And Baby Blue
These two colors, when worn together, look perfect, and they are in trend these days. Navy blue pants with light or baby blue will look great together. This combination will make you look sophisticated and trendy altogether. 
Checks And Patterns 
As far as colors are concerned, we have discussed a set of colors that would go with navy blue pants. But, colors are not the only thing that we should be concerned about when it comes to shirts. There are different shirts, like shirts with checks or other prints. With navy blue pants you can wear both checked and pattern shirts. 
However, the best pattern that would look good with navy blue pants is striped for designs. Striped shirts will complement the dark shade. They are a perfect and easy option. Both horizontal and vertical stripes will go well with navy blue pants.
Everyday Office Wear
You can wear navy blue pants anywhere, and on any occasion, whether daily or formally. If you want to wear it in the office, you have to pair it up with a shirt that goes with pants and looks decent. Keep in mind the pattern of the shirt and wear it according to the occasion. Occasionally, for office wear, it is preferred that you pair navy blue pants with white shirts. However, you can pair it with anything for everyday wear, and it will look fine. 
Skin Tones And Navy Blue Pants
Many people think they cannot wear specific colors if they have a particular complexion. I would like to disagree with that. Navy blue pants happen to go with everything as well as every face. 
In the table below, we will look at what colors pants and shirts go with different complexions. 
| | | | |
| --- | --- | --- | --- |
| Complexion | Will Navy Blue Pants Be A Good Option?  | Color Of Shirts | Which Colors To Avoid? |
| Fair | Yes | White, Light blue, pink, beige, red, black | Bright colors, like yellow and orange |
| Average | Yes | Beige, white, brown, black | Dark and light shades |
| Dark | Yes | Beige, blue, khaki, dark grey, brown | It would be best if you avoided bright shades  |
FAQs
Q1. Are Navy Blue Pants In Fashion These Days? 
Ans. Yes, navy blue pants are in trend these days, and they have been in the movement for a very long time now. 
Q2. Is It Okay If I Pair Up A Navy Blue Blazer With Navy Blue Pants?
Ans. There is nothing wrong with pairing a navy blue blazer with navy blue pants. However, wear a shirt that has a neutral tone, so it contrasts nicely with both. 
Q3. What Shirt Would Look The Best With Navy Blue Pants For Casual Wear? 
Ans. Navy blue pants and a khaki-colored shirt seem to be an evergreen pair, as they would go together well, and they also do not look formal. 
Q4. Can A Purple Color Be Paired Up With Navy Blue Pants? 
Ans. It depends on the shade of purple. If it is a shade that compliments the navy blue pants, it can be paired up with it, if it looks terrible, you should avoid it. 
Q5. Can My Shirt And Blazer Be Navy Blue Just Like My Pants?
Ans. In my opinion, you should not go with such a combination. Try to stay away from tonal outfits as it will not look good, but will look terrible. 
References:
https://quiltnco.com/what-color-shirt-goes-with-navy-blue-pants/
https://bellatory.com/clothing/what-color-shirt-goes-with-navy-blue-pants