Last Updated on September 27, 2023 by Reiner Chase
There are a number of ways to get wavy hair for men, including using a curling iron, using a diffuser attachment on a blow dryer, or getting a perm. Perms are the only method that can create permanent waves, but they can also be the most damaging to the hair.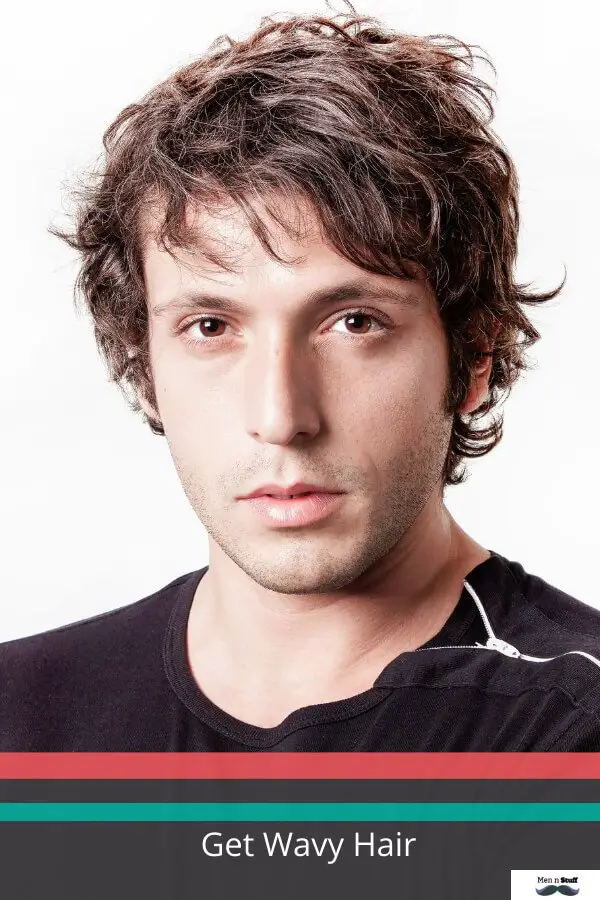 Different Ways To Get Quick Wavy Hair Men.
To have the best look, the textural styling will help you to possess the standard style. Textured haircut like crop fade, texture styling are prominent nowadays. Texture styling adds volume, shape, and dimension to any style; it gives a striking look. It's quite common for men with curly hair to have to straighten to possess a stylish look. But now the trend has changed as men are urged to have curly hair than straight ones.
| | |
| --- | --- |
| Methods | Benefits |
| Hair Products | Better Nourishment. |
| Salt Spray | Enhance texture. |
| Mousse | Moisturize the hair. |
| Blow-drying | Best curls without fizz. |
| Balayage | Less dryness |
| Braiding | Effective twists |
Here are three ways for men to have relaxed wavy hair with hair products, blow-drying, and hair braiding. The exceptional outcomes are the best way to nourish your hair. The braiding method also ensures consistent results as it's best for lengthy hair.
1. Add Hair Products.
If your straight hair starts curling due to fizz and humidity, it is the right time to begin your initiative to have permanent curls. It is to boost up the texture of the hair. Few products are there to enhance the curl by adding nutrients to the scalp. Let's ponder over the various methods to have straightening without heat. After a shower, dry your hair with a towel and add the products with your fingers. Let it dry. This will create perfect waves when it gets dry.
2. Salt Spray.
The salt spray is commonly known as Sea Salt spray, which will give a significant result. There is a wide range of products available in the market. The salt spray is available in a wide range at different prices, and some Sea Salt sprays are available with conditioner and oils to have better nourishment. If your hair becomes dry, the conditioner will help you to get back it's moisture.
Salt Spray is easy to use; apply it in damp hair and dry to elevate moisture in the scalp. Scrunching the hair with the finger will help you have a better texture, and it boosts up the wave's patterns.
Salt Spray strengthens the wavy pattern, and it can also be used as a pre-styler and other products to make the hair look dense. It is the best product to elevate the look of the hair.
3. Mousse.
Like the salt spray, mousse also adds texture increases the volume, and thickens the hair. Mousse is nothing but lightweight foam, which blends well with the scalp; it makes the hair flexible with moisture to have an outstanding style. It can be used with the blow dryer to have perfect wavy hair.
4. Blow-Dry.
Add a little bit of heat to have the ultimate stylish curly hair. This method involves products and styling. The hair has to be twisted after heating to have a clear wave in the texture.
Add heat resistant, salt spray, and mousse before blow-drying to possess healthy curly hair. Add hair cream to make an individual twist to the hair to enable curls in the hair.
To create twists with a few parts of the hair to have curls. You can also twist while blow-drying. It depends on your convenience. The diffuser or attachment can be used to have better curls. It helps to get curls with minimum fizz. Gently scrunch the twists while blow-drying, and continue the process until the hair is completely dried up. Add hair spray or salt spray to have a good look.
5. Raid.
The final method to have wavy curls is braiding. The most straightforward process, but it requires lots of time and energy. It depends on the length of the hair. Apply salt spray or curl cream to braid the hair with twists, then let it dry. This will give a significant result. The men with long hair can tie like a ponytail to have a curl at the bottom.
To have the waves to look natural, follow the above steps to possess a neat look. The second medium-length haircut can be braided and put into one more extensive section. Afterward, later it can be divided Into sections. Which can be styled later as per your desires.
These were specific instructions to be followed to make the straight hair wavy for men. It becomes more accessible when the right products are used. Twisting while blow-drying and braiding the damp hair is the best option to have a cool stylish wavy look. These were the best steps that prominent stylists also followed. By following them meticulously, you can have curls faster. Consistent methods are to be followed to have significant results with a distinctive look.
How To Make Straight Hair Wavy Permanently For Guys?
Indeed, few methods are followed to have curly hair, but it can last for a particular time. Everyone wants it to last forever; we don't want to do the same process repeatedly. So the following instructions will help to possess curly hair permanent.
But for men, it's a bit tricky to enable this process. It requires lots of attention and hard work to enable permanent wavy hair for men. People primarily use sea salt spray as they feel it is more effective and efficient.
The stylist Often uses the sea salt spray, but it will probably not give you the expected result. It is believed to provide significant development, but in reality, it cannot show you the best wavy hair as you desire.
Perm, the process involved in enabling wavy hair is permanent. It is the right option, but a few challenges have to be faced while utilizing this process. Adaptability is the foremost tool to have a significant result, and the following steps are recommended to be followed to have relaxed curly hair permanently,
1. Wash your hair thoroughly to prevent it from various issues.
2. To avoid dryness, apply a heat protectant.
3. Use sea salt spray to have curly hair.
4. Blow-dry will help you to get significant results.
5. Adapt your hair to get a wavy texture, dry your hair from the bottom, and scrunch it properly.
6. Try to make curls in the hair, wrapping the strands of hair with your fingers to get a better outcome.
7. Use the styling products in the end to have a clean, perfect stylish look.
These were the steps to be followed meticulously to have permanent curly hair.
How Often Should Men Wash Their Hair?
You shouldn't wash your hair daily, and it is strictly advised and insisted by all the stylists. Many men apply shampoo every day to eliminate oil from their hair, but it will lead to various issues. A dry scalp makes the sebaceous glands produce more oil, which creates a vicious cycle. So, shampooing twice a week. If you shower hair every day, rinse the hair with water and massage gently using light conditioners like Baxter of California Daily Fortifying Conditioners to break up sweat and oil.
Many men shampoo their hair every day to eliminate oil. Shampooing strips the scalp of sebum, the sebaceous glands' oil to protect and waterproof hair and your skin. A dry scalp tells the sebaceous glands to produce more oil, creating a vicious cycle.
To get the scalp to produce less oil, start by shampooing every other day for 2-4 weeks. Then shampoo twice a week. There may be an adjustment period, but keep going. You can still shower every day. Rinse hair with water and massage in a light conditioner like Baxter of California Daily Fortifying Conditioner to break up sweat and oil.
Showering more in summer and less in winter can also create a difference in hair growth. Less shampooing on winter days can create a significant impact on the routine. Hair conditioners should prioritize having a healthy scalp, which is free from itching and dryness.
On hectic days if you don't find time to shower. If you don't have time to shampoo wash, it's advisable to use dry shampoo to have a moisturized scalp without dryness.
FAQs
1. How To Get Curly Hair For Black Men?
Some of the prolific products will help you to a greater extent transform frizzy hair into perfect curls. Before starting to use any product use, Shea moisture coconut and Hibiscus curl and shine conditioners while showering.
2. How To Get Soft Hair For Men?
Healthy hair is always soft and soothing hair. A well-balanced diet also helps you to possess silky hair with all the nutrients present in it.
3. Can You Get A Permanent Wavy Hair?
Yes, you can get permanent wavy hair by following all the guidelines shared by us in the above article.
References:
https://www.menshairstyletrends.com/how-to-get-wavy-hair-men/
https://cuttersyard.com/how-to-get-wavy-hair-for-men/