Last Updated on September 27, 2023 by Reiner Chase
Whether or not Supercuts is good is a matter of opinion. Some people love it for its convenience, affordability, and friendly stylists. Others find that the quality of haircuts can be variable.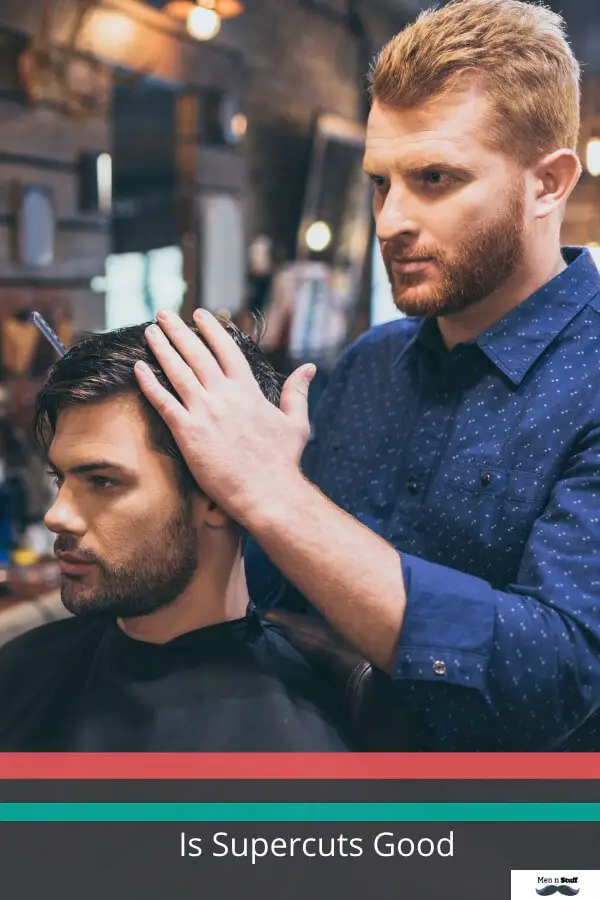 Is Supercuts Good?
The question "Is Supercuts good?" is subject to each individual's unique requirements and preferences when it comes to hair care and grooming. Nonetheless, several compelling factors contribute to considering Supercuts as a reliable hair salon franchise. Here are some points worth considering:
Professional Stylists: Supercuts employs trained stylists who are proficient in modern techniques and trends in professional hairstyling. Whether it's a simple trim or a complex hairdo, the staff at Supercuts is equipped to handle their clients' requests efficiently.
Convenient Locations: Given that Supercuts is a widespread franchise, it is often easy for customers to locate a store nearby. This makes it incredibly convenient for people who seek professional hair services without needing to embark on long commutes.
Walk-In Welcome: Unlike certain salons that operate strictly by appointment, Supercuts extends the courtesy of accepting walk-in customers. This flexible approach can be particularly beneficial for individuals with unpredictable schedules.
Competitive Pricing: The services offered by Supercuts are priced in a range that is reasonably competitive compared to other hair salons. Customers can avail of top-notch hair treatments without having to break the bank.
Broad Range of Services: Supercuts provides a vast array of services, from haircuts and styling to hair treatments such as coloring and conditioning, catering to both men and women. This variety caters to everyone's grooming and aesthetic needs.
Product Offering: Supercuts does not only offer haircuts and styling services. They also sell a variety of professional-grade hair care products. This allows customers to maintain their hairstyles and take good care of their hair even at home.
Accessibility for All Ages: Supercuts has an offering for all ages. They are known for their kid-friendly approach which might be a deciding factor for families.
In conclusion, while personal preference plays a significant role in choosing a hair salon, the scale tilts favorably towards Supercuts due to their competitive pricing, professionalism, convenience, and range of services. However, individual experiences may vary based on factors such as specific salon location and stylist.
About Supercuts.
With a vast number which ranges around 2700 no-appointment salons across the USA, Supercuts offer quality, consistent haircuts at the particular spot. The professional stylist considers each minute aspect of hairdressing, which is what someone expects from Supercuts.
Additionally, to give a final touch to every Supercut, some salons offer Hot Towel Refresher services. Ultimately, it will leave you clean and ready for the entire day working.
Supercuts offer hair-related services like women's haircuts, men's haircuts, color services, kids' haircuts, and even waxing. This makes an individual look sharp. One can even opt for professional haircare products at affordable prices. Some of the product lines that can be opted for are Biolage, Paul Mitchell, Nioxin, American Crew, and many more.
Supercuts is an official hairstylist and official hair Salon. Even they have partnerships with Major League Baseball.
Supercuts offer services across the globe. To find the best one that suits you near you. Go and grab a deal at Supercut Around!
Supercuts Prices.
Supercuts can be easily considered when you need a quality haircut instantly. Supercuts allow the customer to take walk-ins and offer the best in class services with less or even no notice. This frequent service is rare to find.
Also, Supercuts offers an exclusive variety of hair services to its satisfied customers across the country. To give a complete solution in one place, the company also offers hair care products far more affordable than other competitors. This is to be noted that Supercuts prices are very affordable, which can't be denied.
However, to get a brief idea of the costs and pricing, the table below could be of great help:
Adult
| | |
| --- | --- |
| Supercut | $14 |
| Supercut 2 (Haircut & Shampoo) | $18 |
| Supercut 3 (Haircut, Shampoo & Blowdry) | $25 |
| Supercut 3 (Medium – Shoulder Length Hair) | $28 |
| Supercut 3 (Long-Shoulder to Chest Length Hair) | $31 |
| Supercut 3(XLong – Below Chest Length Hair) | $34 |
Kids
| | |
| --- | --- |
| JR. Supercut | $12 |
| JR. Supercut 2 Haircut & Shampoo | $15 |
Hair Care
| | |
| --- | --- |
| Shampoo | $6 |
| Tea Tree | $10 |
| Conditioning Treatment | $10 |
| Awapuhi Wild Ginger | $15 |
Blow Dry Styling
| | |
| --- | --- |
| Medium (Shoulder Length Hair) | $15 |
| Long (Shoulder to Chest Length Hair) | $13 |
| X-Long (Below Chest) | $22 |
Wax
| | |
| --- | --- |
| Lip Wax | $6 |
| Brow Wax | $8 |
| Chin Wax | $6 |

Trims
| | |
| --- | --- |
| Neck Trims | $5 |
| Bang Trims | $6 |
| Beard Trims | $6 |
| Mustache Trims | $3 |
Hair Colour
Full – Head
| | |
| --- | --- |
| Normal | $85 |
| Medium | $95 |
| Long | $105 |
| Xtra Long | $115 |
| Touch Up | $45 |
| Full Heads Headlines – Roots Only | $85 |
| Half Head Headline – Roots Only | $50 |
| Toner | $15 |
First Time Colour
| | |
| --- | --- |
| Normal | $65 |
| Medium | $75 |
| Long | $85 |
| X-Long | $95 |
| Front Headlines | $35 |
Half Head Headlines
| | |
| --- | --- |
| Normal | $50 |
| Medium | $60 |
| Long | $70 |
| X-Long | $80 |

In the past, if you were dependent upon other salons for your hairdressing needs, then you will realize that Supercuts pricing is simply affordable.
When it comes to employing, Supercuts is comprised of impeccably qualified employees who are equipped to satisfy every customer who walks through the door.

Additionally, unlike other salons, Supercuts focuses on offering prices as cheap as possible, and this is where the difference between Supercuts and other salons is quite visible.
The most attractive feature is that Supercuts does not require an appointment. This is where it proves highly choosy for working adults. A customer is required to walk in and choose the services which are needed. That particular service could be anything from a simple haircut to a facial wax. Everything can be found under one single roof.
The professional staff always wants its customers to stay satisfied in every way possible. Without a specific complaint, you will get the service of your need within a fraction of a minute.
Services Offered.
Haircuts – Quick and easy dry haircut. No appointment is needed. Their professional stylists are ready to fit your style needs if you wish to get an easy and quick dry cut at Supercuts. It fits those who wish to update their tidy look and, therefore, need a quick trim.
If you find yourself stuck at work and don't have much time to stay in appointments, then Supercuts is your call. With hassle-free services, one can quickly get the work done within a few minutes.
If you starve for cool looks and that too quickly, then head towards Supercuts salons and have some refreshing hair services. No appointment is required! However, it's recommended to wash your hair 24 hours before getting a haircut done.
Shampoo And Haircut.
If you have more time to spare at Salon services, you must consider having cut and shampoo services. Supercuts' advanced shampoo and cut services include a shampoo as well as a conditioner before your cut.
As soon as the cleaning is done, the stylists are ready to fulfill your style needs. It depends on whether you wish to have a restyle for your hair, a quick trim, or wish more space into your tired look.
Stylists at Supercuts are well aware of the techniques and trends that help in dressing your hair. This is why you will be given the best advice on what kind of shampoo and conditioner will benefit your hair, and this is just because Supercuts got the hold of multiple products and services.

For instance, if you are looking to expand your hair's life, then Supercut's color-saving shampoos and conditioners will be of great help. These are specially designed for those who use multiple products on their hair rather than using a cleaning option.

This is what makes it a perfect service to combine simplicity with style.
Also, to deliver it with ease, one can shop on Supercuts store offline or even online store, and get them delivered with free delivery options.
Color Services.
One must not forget that all the color packages include a color protection treatment and a regular cut.
On the other hand, Supercuts is widely known for its speedy services and convenient walk-in policy. Therefore, be assured to leave the salon with a color of your choice and a service of immense convenience.
Skin Test.
Before opting for any color service, a customer will be required to go for a free skin test. This would be done at least 48 hours before starting the color service.
Beauty.
Did you had a look at your nails, lashes, and brows and just realized that they need TLC?
Indeed, at Supercuts, an individual benefits from opting for a wide range of beauty treatments that are quite affordable and help you feel alive.

Starting from waxing, threading, lash, and brow tins to false lash and get nails. At Supercuts, one can find everything that he needs in the fuss-free beauty bars.

As they offer services appointment-free, this means that one can walk in directly and Opt for the services of his/her choice.
Hair Treatment.
Do you need a long-term enhancer or a fast nourishment fix? At Supercuts, there's a trick for the same. One can opt for services and reward themselves and their hair with a salon professional hair treatment.

Take advice from your stylist at Supercuts about the hair treatment that you should opt for and which will suit your hair type. This is because Supercuts has such a great variety of treatments that cover different hair types.
The trained professionals at Supercuts will determine the treatment that will suit your hair type, and an individual just needs a short one-to-one consultation.

Also, Supercuts specializes in 3 different types of hair treatments. These are blow-dried into the hair to moisture boost for brittle or dry hair, and maximize the effect. Also, protein boosts for damaged and weak hair and even the super boosts. It incorporates protein and moisture to provide hair that extra bit of love it deserves.
Quick Observations.
When you spend a lot on a cut, you are paying for a specialist stylist's taste and considering the reputation.
You are also paying for a luxury experience.
You might also be paying for popularity.
FAQs
1. Which Hairstyle Should Be Chosen For Office Purposes?
There are several formal styles that one can look at while visiting Supercut Salon. However, there are some specific styles for the ones dressing formally. Such styles could be an excellent option to consider.
2. Can I Visit Supercuts At My Convenience Time?
Yes, you can visit the Supercut at your convenience time. We offer a no-appointment service. One can easily visit the store and get the job done at the earliest.
3. I Am Suffering From Severe Hair Issues. Will Supercuts Offer Some Helpful Solution?
In case of severe hair issues, you can easily visit supercuts near your place and talk to our hair specialists. They will help you to choose and apply the product related to your haircare.
References:
https://www.thecoldwire.com/is-supercuts-good/
https://www.townandcountrymag.com/style/mens-fashion/a2867/supercuts-oscar-blandi-haircut/