Last Updated on September 22, 2023 by Reiner Chase
Under Armour's HeatGear and ColdGear cater to different climates and activities. HeatGear is ideal for hot weather, wicking sweat to keep you cool, while ColdGear is designed for cold conditions, retaining body heat to keep you warm. Choose based on your climate and activity.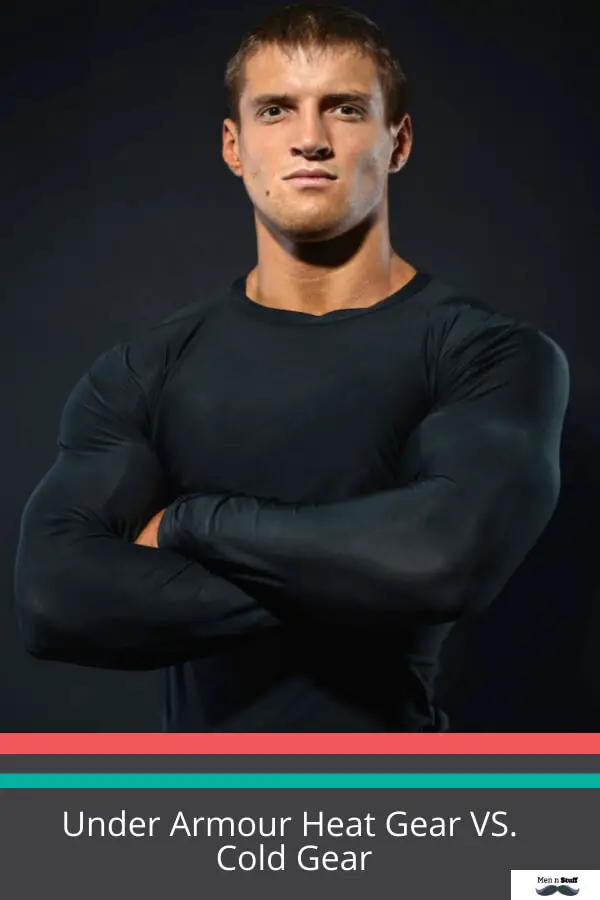 The Sports Brand Battle – Under Armour Heat Gear Vs. Under Armour Cold Gear
Under Armour Heat Gear
Basics: Heat Gear uses lightweight fabric that soaks the sweat off your body and keeps you cool and dry in the summer season.
Features Of Under Armour Heat Gear
Moisture Transport System: Hydrophobic fabric is used to make the t-shirts soaks the moisture off your body and brings it to the top for evaporation to happen.
Odor Control: It uses anti-microbial fabric that stops producing bacteria to stop growing and helps you feel refreshing.
Ultra Violet Protection Factor: This protects the person wearing the t-shirt from the sun's UV rays. Sunlight is healthy for all of us, so it sets a screen that omits the UV rays.
Other Features: Additional features of the Under Armour heat gear includes:
Normal ventilation+ armour stretch
Modular protective fine+360° reflectivity
Wind resistance+ armour grip
Fabrics Used:
Under Armour Tech – This is a classic, super-soft, affordable natural material that feels like cotton but serves synthetic material.
Charged Cotton- It is much better than cotton. It feels, weighs, and serves as cotton, but it also soaks the sweat 5% faster than natural cotton.
Under Armour Catalyst- It is made of recycled plastic. Surprising right? But it feels soft warm, and the best feature of this fabric is to regulate temperature.
Under Armour Cold Black- It is shocking how the dark colors act as light colors in the sun.  It means it retains less heat. It is added to all other advantages of a normal Heat Gear.
Heat Gear Flyweight- Just like the name, it is lightweight, and every mesh is placed in a position so that the sweat could evaporate faster. It also comes in different sizes- fitted, semifitted, compression, and lose.
Heat Gear Sonic- Sonic is the newest innovation of under armour. Sonic is a material that, if compressed with the skin, increases muscle power. It is also called second skin and is available as shorts, tanks, pants, shirts, etc.
Under Armour Heat Gear Vs. Cold Gear
The Under Armour Heat Gear and Cold Gear has not yet produced the FR (flame resistant) fabric. These have the leading technology offers in many developed fabrics for the people working in construction, manufacturing, warehousing, transportation, and many more. The brand produces two different fabric categories, one which elevates heat and the other which elevates cold. 
What Is The Heat Gear? 
When you need to soak away the sweat and still maintain work-appropriate clothes, Under Armour Heat Gear is the perfect choice for it. It is the best choice to provide comfort in hot weather, apart from that, it also provides SPF protection. 
What Is Cold Gear? 
Under Armour's cold gear technology is a lightweight technology that keeps you warm and comfortable in cold weather. It uses the thermo conductive fabric to absorb heat and retain your mind. 
Difference Between Coldgear And Heatgear Based On Different Parameters:
Climate: ColdGear is worn during the winters during outside activities like skiing, snowboarding, winter workouts, and other winter activities. It resists cold and keeps your body warm. While heat gear is worn during the summer season for basketball, football, and other summer workouts. These are not only made for exercising, but they can also be fashionable for workplaces, etc. 
Materials: Heat Gear is made of microfibers, and it absorbs sweat and has a sweat-wicking ability. Cold Gear is made of four-way stretch fibers that scatter the body heat and reflect it on your body. 
Styles: Heat Gear offers different t-shirts like sleeveless, short sleeves, loose t-shirts, fitted t-shirts, baseball caps,  polo t-shirts, etc. Cold Gear has vests, jackets, pullovers, sweaters, etc. 
Price: Heat Gear costs less than Cold Gears because they have thin materials in them. As of late 2010, the prices ranged from $19.99-$54.99. Cold Gear ranges from $27.99-$277.99.
Color And Prints: Both cold Gear and Heat Gear are available in usual color pallets like grey, navy blue, and black.  Heat Gears also comes in light shades to serve in the summer season. 
When To Wear Under Armour Heatgear? 
You should wear Under Armour HeatGear when you're engaging in physical activities in hot or warm weather. HeatGear is specifically designed to help you stay comfortable and cool in these conditions. Here's when to wear it:
Hot Weather Workouts: HeatGear is perfect for outdoor workouts in the summer when the temperature rises. Whether you're running, cycling, playing sports, or doing any physical activity, HeatGear will keep you dry by wicking away sweat from your skin.
Humid Climates: In humid regions, where perspiration doesn't evaporate easily, HeatGear's moisture-wicking properties are essential. It helps prevent discomfort, chafing, and overheating.
Training Sessions: If you're hitting the gym, attending fitness classes, or doing weightlifting, HeatGear provides a lightweight, breathable option to keep you feeling fresh during your workouts.
Layering: HeatGear can also be worn as a base layer under other clothing in cooler temperatures. It helps regulate body temperature and moisture when layered with additional clothing.
Everyday Comfort: Some people opt to wear HeatGear as their everyday clothing in hot climates because of its moisture management and lightweight feel.
Outdoor Activities: Whether you're hiking, camping, or playing outdoor sports during the warmer months, HeatGear offers a comfortable and moisture-wicking option to help you stay dry and cool.
When To Wear Under Armour Coldgear? 
Under Armour ColdGear is a line of performance apparel designed to keep you warm and dry in cold weather. It is made from a soft, moisture-wicking fabric that traps heat and transports sweat away from your skin. This helps you to stay warm and comfortable, even when you are exercising or sweating.
Under Armour, ColdGear is ideal for wearing in a variety of cold weather activities, including:
Winter sports such as skiing, snowboarding, and ice skating
Running, cycling, and other outdoor workouts
Hiking and camping
Walking and commuting to work or school
Everyday wear in cold weather
You can wear Under Armour ColdGear as a base layer under other clothing, or you can wear it on its own in milder weather. It is also available in a variety of styles, including shirts, pants, tights, and jackets.
The Difference Between Cold Gear And Heat Gear include:
| | |
| --- | --- |
| ColdGear | HeatGear |
| It is made of lightweight and thick fabric that reflects your body's warmth.  | It is made of 100% polyester to wipe and Fasten the evaporation process.  |
| It makes you feel relaxed and comfortable in summers. | It makes you feel warm and cozy in winter.  |
| We wear it when the temperature falls to 55-0 degrees, | We wear it when the temperature rises to 75-100 Degrees |
About Under armour 
Under Armour was founded on the 25th of September 1996 by kelvin plank. He was the former team captain of the University of Maryland football team. At that time, he was only 24 years old. Plank began his business from his grandmother's basement in Washington, DC. He used to travel all over the east coast with nothing but just an appeal in his car trunk. 
After Washington DC, in his grandmother's basement, he moved his business to Baltimore. It was after his first bulk order can towards the end of 1996. He made a sale of $17000. After a couple of moves like this, he finally reached tide point, where he built the headquarters 
It promotes its products by sponsorship deals with many bright celebrities, athletes, professional teams, etc. When players wear it in a field, it competes with all other sports brands too. One of the fabulous strategies would include the collaboration of this brand with a wrestler turned celebrity, Dwane "the rock" Johnson. He is the face of the brand ever since January 2016
Why Do Most Sportspeople Choose Under Armour?
For safety reasons, if you need safety, wear to tolerate all weather conditions, this is the best choice. It doesn't only follow the warming and cooling steps, but also it is fashionable to wear and feel good about. 
It protects employees from many risky conditions:
• Prevent frostbite, hypothermia, trench foot, and chilblains in chilling weather. 
• Fight against heat exhaustion and heat stroke in extreme heat conditions 
FAQs
1. What Are The Different Fits Of Cold Gear? 
Ans. It comes in different fits like compressed, fitting, loose fit, etc.
2. When Do We Wear Heat Gear? 
Ans. You can wear heat gear when the temperature rises to 75-100 degrees
3. When Do We Wear Cold Gear? 
Ans. You can wear cold gear when the temperature falls to 0-55 degrees. 
References:
https://www.sportsunlimitedinc.com/under-armour-heatgear-vs-coldgear.html
https://oureverydaylife.com/differences-between-under-armour-coldgear-heatgear-12429085.html