Last Updated on January 21, 2021 by
Under Armour and Nike, both are highly popular brands. It all depends on the preference which you choose. Nike has been around for decades; it's recognized as a succeeding brand, Under Armour, though very good in quality and is used by lots of sports stars. Both have a past that is not the same. It all depends on your comfort and experience which brand you need to use because both are unique in their way.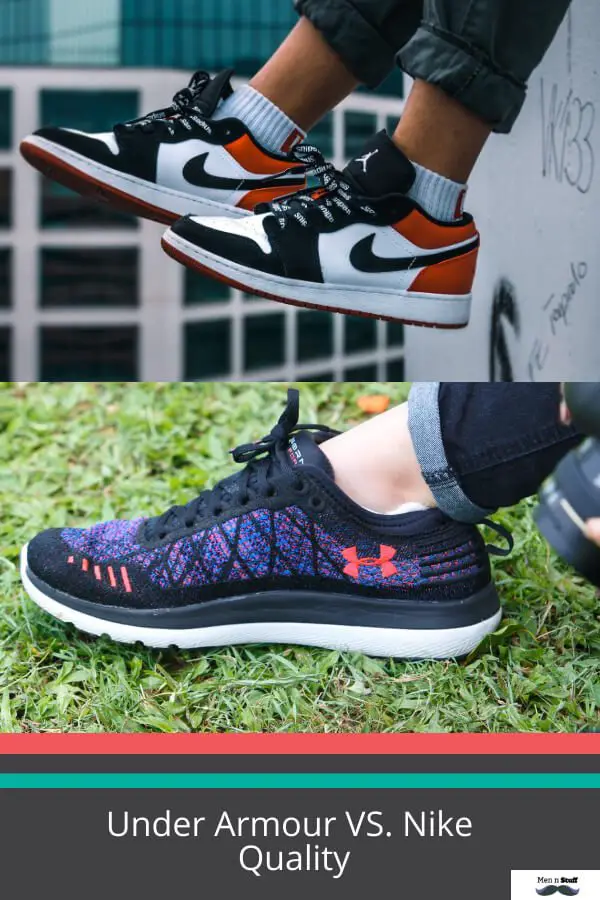 Under Armour VS. Nike: Which One Is Best?
In terms of sports clothing, shoes, and accessories, there is a wide choice of brands. Nike and Under Armour have been two of the sports community's most prominent brands ever since. Which is better between Under Armour vs. Nike? Let me know in the comments section.
Although Nike was born long before Under Armour became a thing, we cannot ignore that Under Armour has made its name internationally and locally famous. Its products are also popular with sporting athletes from various sports worldwide.
Under Armour VS. Nike
Though Nike is currently among the top competitor, Nike remains the leader in the world of sports goods manufacturing and distribution with a wealth of experience. They also have the most significant demand at home and abroad. Nike is still the first alternative for athletes in the world of sport.
We would try to see every part of how they worked and why they continue to grow with their businesses to understand both companies better.
Comparison Nike VS. Under Armour 
Under Armour
1. History: September 25, 1996
2. Products: Sports clothing and accessories
3. Marketing and Finances: $10.7 billion
4. Sponsorship: Football, auto racing, baseball, basketball, boxing, and more
5. Controversies: Historic mural covering, hunting video, public boycott
Nike
1. History: January 25, 1964
2. Products: Athletic shoes, apparel, and sports equipment
3. Marketing and Finances: $114.5 billion
4. Sponsorship: Tennis, track and field, basketball, football, golf, and more
5. Controversies: Child labor, factory strike, sweatshops
We'll explore their qualities in-depth to see what makes them work to understand more about both businesses; they both belong to the same sector, and comparisons would be more straightforward.
We have selected these comparative points to know which business is best for goods and how they treat and deal with setbacks.
1.) History
The first reference point we will explore is this group. We'll know how many of their customers have made both businesses famous and respected. We can also see how the organization began before it was globally recognized.
Under Armour
Under Armour, Inc., a US-based manufacturer of accessories, casual wear, and sportswear. Its headquarters is in Baltimore, Maryland, while other regional offices work worldwide. It is the scale and operation of the company.
On September 25, 1996, in Washington DC, Kevin Plank founded Under Armor from the 
of his grandmother's basement.
Nike
Nike, Inc. is also a U.S. based company in the foreign market design, production, manufacture, promotion, and sale of clothing, footwear, and accessories. Beaverton, Oregon is the headquarters of the company.
The business started on 25 January 1964 and was formed under the name Blue Ribbon Sports by Phil Knight and Bill Bowerman. Only on May 30, 1971, the name was changed to Nike, Inc. This company is currently the largest retailer of sports clothing and sports shoes in the world.
2.) Products
The next group to be mentioned is the types of goods these two businesses produce for sports fans and athletes.
Under Armour
Under Armour, clothes were sold, and athletic shoes, jackets, t-shirts, jeans, hoodies, shorts, and leggings have now been made. Sports equipment like bags, hats, gloves, and protective clothing are also provided. Under Armor also manufactures American basketball, baseball, football, and other sports uniforms.
The company launched in 2009 and eventually gained a reputation in basketball and running shoes. When it comes to shoe design and quality, you have captured Nike's Basketball Shoes' hearts. They compete with the younger generation.
Nike
Nike manufactures various items in three areas: equipment for sports, streetwear, and gathering materials. Their first goods are running shoes. They are now also making jerseys, cleats, shorts, and more for various sports, such as soccer, track field, ice, baseball, and tennis.
In 1987, the company launched Nike Air Max as its first line of shoes. Afterward, they found other product lines. The newest is an Air Zoom Yorker cricket shoe collection. They also have several items for various sports and outdoor activities.
The brand became a symbol of fashion at the beginning of the 1980s, particularly for young people. Everything with the Nike logo has been a positive thing for adolescents.
3.) Marketing And Finances
Let's look at the marketing strategies of these two companies.
Under Armour
Under Armour enters into sponsorship deals with many well-known athletes, university and professional teams to market their products and compete with others. They also use product placements and a marketing campaign to either dress an actor in return or advertise the show at a fee.
Nike 
Nike also has to sponsor agreements, close to what Under Armor has. Yet this is just one of the marketing tactics. They still have television ads and use new technologies to view their goods online.
4.) Sponsorship
The two companies use this category as an advertising technique for the marketing campaigns of both companies.
Under Armour 
Sponsorship arrangements with different sports teams have been signed under Armor. Here is the list of games Under Armor supports, including the following: U.S. and Australian football, car racing, basketball, boxing, judo, golf, gym, shooting, ice hockey, and professional martial arts, paintball, rugby league, rugby syndicates, skateboarding, skiing, snowboarding, surfing, swimming, and tennis.
Many universities and colleges which gave way to the brand's young popularity are also well known to support them. Also significantly affected by Steph Curry's association with the brand.
Nike
On the other hand, Nike promotes well-known sports stars using Nike products, like tennis or golf, to promote the brand. In 1984, Michael Jordan was also funded, and it was a significant increase in sales and advertisement. They also sponsor sports programs at different universities.
Nike agreed to the NBA in 2015 that all teams must wear the brand. In 2015, they invested billions of dollars in sponsoring basketball NCAA men's and women's teams. They also endorse various causes such as HIV prevention by collecting and sending medical treatment funding and education to people who have AIDS. Nike launched a campaign to give back to their respective societies all workers from various parts of the world.
5.) Pros 
Under Armour
1. Rapid growth business
2. Provide creative goods
3. Has top sponsors of athletes
4. Inconceivable wages
Nike
Has high followers
Subject to other brands
Stable gain
China and Europe competition producing quality goods
Winner
Nike because has the advantage of experience and comforts. Plus, enough investment to compete with new products. Nike also occupies the number one spot in the industry. Many people who can afford it will go with Nike.
| | | |
| --- | --- | --- |
| Comparison Parameter | Nike | Under Armour  |
| Quality Products | Excellent  | Good |
| Creative goods  | Less | More |
| Experience | More | Less |
| Marketing  | Marketing tactics  | Sponsorship  |
FAQs
Q.1) In This Battle Between Under Armour VS. Nike, Which Is Experiencing The Only Criteria To Look At? 
Not many buyers have changed the way they think and not just rely on the brand name and the experience
Q.2 Which One Is The Best Between Under Armour And Nike?
Nike because it has the advantage of experience and a significant investment to compete with new products. Plus occupies the number one spot in the industry.
Q.3.) What Are The Controversies Of Both Nike And Under Armour?
Under Armor and Nike don't always have rainbows and sunshine. There have also been drawbacks for both firms.
Under Armour
The drawbacks are related to politics. The consumers disagreed and decided to boycott Under Armour.
Nike
A massive strike ensued in a shoe factory in China manufacturing different brands, including Nike, due to underpayment, which has been going on for almost 20 years.