Last Updated on September 8, 2023 by Reiner Chase
Apple Bottoms was a clothing brand known for its curve-hugging jeans, primarily targeting women. Founded in 2003 by rapper Nelly, the brand aimed to celebrate diverse body shapes, but it faced challenges and eventually became less prominent in the fashion industry.
What are Apple Bottom Jeans?
Apple Bottom Jeans is a brand of women's denim wear that has gained widespread popularity for its unique design and styling. The brand is an essential part of pop culture because of its mention in various songs and media. Here's an exploration into the world of Apple Bottom Jeans:
1. Foundation and Growth of Apple Bottom Jeans
The brand was launched in 2003 by rap artists Nelly, Yomi Martin, and Ian Kelly. The brand aimed to provide jeans that fit and flatter women's curves, rather than the other way around. The slogan "Apple Bottoms jeans are for the women who don't have to try too hard," spearheaded the brand's mission.
| Year | Event |
| --- | --- |
| 2003 | Brand launch |
| 2007 | International expansion |
2. Design Philosophy of Apple Bottom Jeans
The beauty of Apple Bottom Jeans lies in its focus on celebrating women's natural body shapes. The brand proudly supports all body types by providing jeans that accented their curves, especially around the hips and buttocks.
3. Apple Bottom Jeans in Popular Culture
These jeans were popularized by the hit song "Low" by Flo Rida, featuring T-Pain. The lyrics, "Shawty had them Apple Bottom Jeans (jeans), Boots with the fur (with the fur)," has created a deep association of the brand with the song.
4. Varieties of Apple Bottom Jeans
The brand, initially focusing on just jeans, has expanded its line to include other clothing items like jackets, boots, accessories, and even perfume. However, their jeans remain the most popular product.
5. Where to Purchase Apple Bottom Jeans
Apple Bottom Jeans can be purchased on multiple online platforms like Amazon, eBay, and the brand's own website. They are also available in various retail stores across the United States and internationally.
6. Celebrities and Apple Bottom Jeans
Numerous celebrities, including Oprah Winfrey, Alicia Keys, and Ashanti, have been seen wearing Apple Bottom Jeans. This has further solidified the brand's presence in the fashion world.
In short, Apple Bottom Jeans represent a fashion statement tailored for, and dedicated to, the celebration of women's curves. The blend of comfort, style, and the promotion of body positivity have sustained the brand's popularity over the years. Whether they are being sung about in songs or worn on the streets, Apple Bottom Jeans have left an undeniable mark in fashion history.
Quick Facts Of Apple Bottom Jeans Brand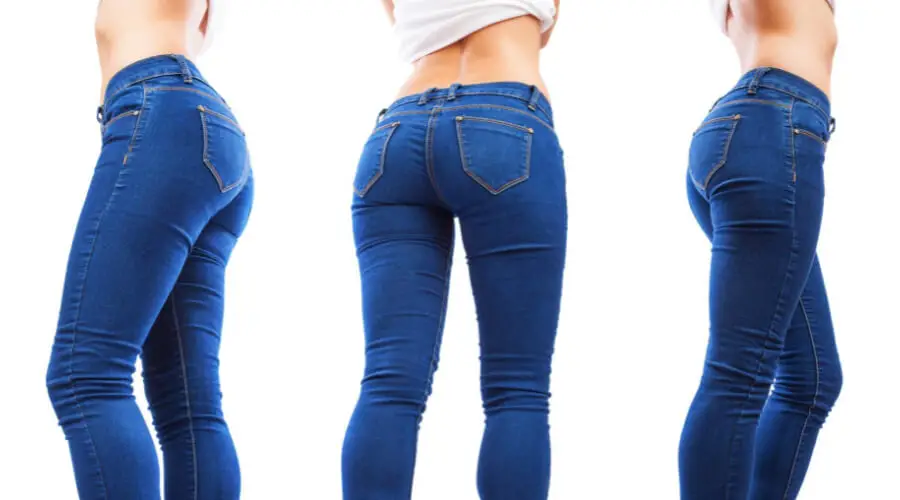 The brand was founded by a stylist and fashion designer in 2002. The company is one of the first clothing brands to be established as an online-only store.
10+ Interesting Facts about the Apple Bottom Jeans Brand:
The jeans are sold at a range of prices from $19 to $99.
Their products are made in California, with the exception of some items that are sourced internationally.
The company has stores in Sweden, Norway, Canada, France, Australia, and Great Britain.
The brand's logo represents an apple tree with bare branches – they were originally called "Apple Tree Jeans" after the logo but they changed the name to Apple Bottom Jeans because their jeans had low waistlines and big pockets giving them this look.
From its inception, Apple Bottom Jeans has been committed to producing only "authentic" jeans that are built to last with quality materials and craftsmanship.
The company's slogan is "We're not fake" which shows they stand behind their commitment to authentic products rather than following trends that are often short-lived and end up hurting the brand.
The fashion brand Apple Bottom was designed to complement women's curves. It has been worn by celebrities such as Beyoncé, Rihanna, and Nicki Minaj and was launched in 2003 by rap artist Nelly in partnership with Yomi Martin, Nick Loftis, and Ian Kelly.
The brand started out by making jeans but now makes women's and girl's clothing, perfume, and accessories
In 2006, Apple Bottom was the 6th most searched-for denim brand on Google.
The last ad campaign from Apple Bottom was in 2010 and featured Nelly.
The brand Nelly hinted on their social media on March 7, 2020, about a comeback.
Why are Apple Bottom jeans so popular?
Apple Bottom jeans gained popularity for several reasons:
Celebrating Curves: The brand and style were designed to celebrate and accentuate the curves of women's bodies. In a fashion industry that often favored slimmer figures, Apple Bottom jeans offered a more inclusive and body-positive option.
Diverse Sizing: Apple Bottoms recognized the importance of offering a wide range of sizes to cater to women of all body types. This inclusivity resonated with many consumers who felt underrepresented in the fashion world.
Celebrity Endorsement: The brand received a boost from celebrity endorsements, particularly from rapper Nelly, who founded Apple Bottoms. His influence and visibility helped bring attention to the brand.
Unique Styling: The jeans often featured unique and eye-catching embellishments, such as embroidered back pockets, which added to their appeal.
Trendy Aesthetic: Apple Bottoms tapped into the trend of low-rise jeans in the early 2000s, which were popular among young adults and added to the brand's trendy image.
Versatility: The jeans were designed to be versatile and could be dressed up or down, making them suitable for various occasions.
Cultural Impact: The song "Low" by Flo Rida featuring T-Pain, which mentioned "shawty had them apple bottom jeans," became a massive hit. This pop culture reference further increased the brand's visibility and desirability.
Empowerment: For many women, wearing Apple Bottom jeans represented a form of empowerment, allowing them to embrace their bodies and feel confident in their appearance.
Fashion Evolution: As fashion trends evolve over time, certain styles and brands become iconic for specific eras. Apple Bottoms became synonymous with the early 2000s and the hip-hop fashion of that period.
Niche Appeal: While not everyone wore Apple Bottom jeans, the brand found a niche market of consumers who identified with its message and style.
It's worth noting that fashion trends are subjective and can vary greatly by region and personal preference. Apple Bottom jeans addressed a particular niche within the fashion industry and resonated with individuals who appreciated their unique approach to style and body positivity.
How to style Apple Bottom Jeans
Pair with Heeled Boots:
For a casual, yet trendy look, pair Apple Bottom jeans with a pair of heeled boots. They are perfect for giving a casual, yet elegant edge to an everyday outfit.
Sporty with Sneakers:
Show off the casual side of Apple Bottom jeans by pairing them with comfy sneakers. Add a graphic tee for a fun weekend look.
Cozy with Sweaters:
Pair Apple Bottom jeans with a cozy oversized sweater for a relaxed, comfortable outfit perfect for a casual day out or being home.
Go Classy with Blazers:
To achieve a more professional look, pair your jeans with a stylish blazer. Choose a neutral color for a timeless feel, or experiment with patterns for a bold statement.
Accessorize:
Don't forget to accessorize! Wear your Apple Bottom jeans with stylish sunglasses, chic scarves, or trendy hats that compliment your jeans and overall outfit.
| Outfit | Styling Tips |
| --- | --- |
| Heeled Boots | Provides a trendy edge to the outfit, perfect for casual wearing. |
| Sneakers | Great for a casual weekend look especially when paired with a graphic tee. |
| Sweaters | A cozy outfit, perfect for casual day-outs or a relaxed day at home. |
| Blazers | Adds professionalism to the outfit, go bold with patterned blazers. |
| Accessories | Compliment your outfit and the jeans with stylish accessories. |
Remember, the key to styling Apple Bottom jeans is to aim for balance. If you're wearing something tight on the bottom, look to balance it out with something looser on top, and vice versa. Experiment with different pairings, and most importantly, wear what makes you feel good.
Conclusion
In the last 2 years, the company has been exploring many different opportunities from a variety of industries. With a team of 12 members, they have partnered with SMARTY to produce high-quality clothing and enhance their online presence.
Apple Bottom Jeans Brand has also been working hard to expand its reach into the Asian markets. The company has already started advertising its products in Hong Kong, Singapore, Japan, and South Korea.
Apple Bottom Jeans Brand is an American denim clothing company specializing in casual wear for both men and women.
References:
https://en.wikipedia.org/wiki/Apple_Bottoms
https://www.tailored-jeans.com/blog/apple-bottom-jeans/