Last Updated on September 18, 2023 by Reiner Chase
The best kind of shirt to wear over a t-shirt depends on the occasion and your personal style. Some popular options include button-down shirts, flannel shirts, denim jackets, and hoodies or sweatshirts.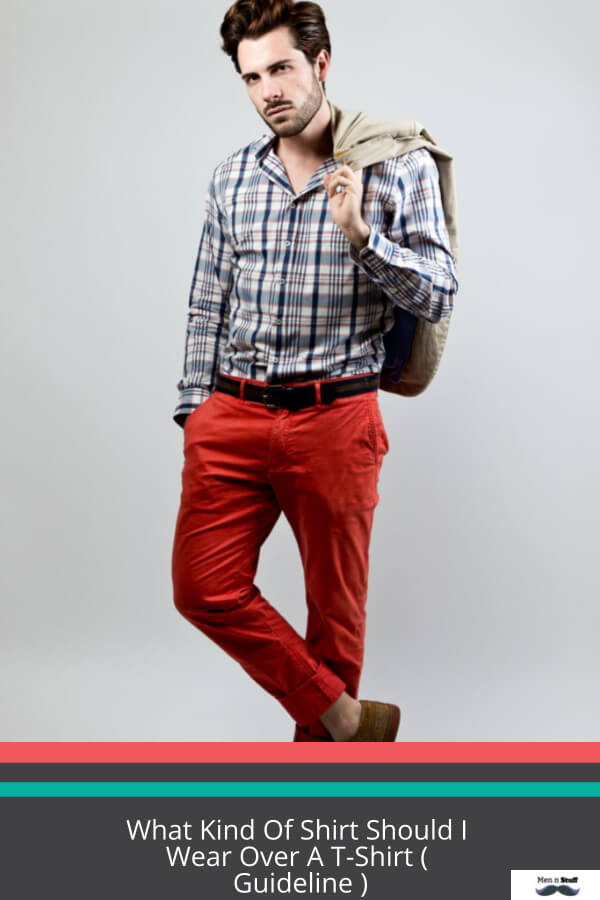 What Kind Of Shirt Should I Wear Over A T-Shirt?
Choosing the right shirt to wear over a t-shirt can elevate your style quotient, adding depth and character to an otherwise plain outfit. Whether you're headed to a casual meetup or a more formal event, layering a shirt over a t-shirt is all about striking the balance of comfort and style. Here are some brilliant options to consider.
1. Denim Shirts
A denim shirt fits the bill perfectly when it comes to layering over a t-shirt. It provides a casual and laid-back look. Opt for light shades of denim for a daytime look and go for dark ones for an evening out.
2. Button-Down Shirts
Button-down shirts are a classic choice. Worn open or partially buttoned, they offer a neat appearance. A lightweight, solid colored button-down shirt over a contrasting t-shirt gives a sophisticated yet cool look.
3. Flannel Shirts
For a rugged, outdoorsy vibe, flannel shirts are a great choice. These shirts lined with soft fabric keep you warm and stylish, especially in cooler months. Pair them with a solid or graphic tee.
4. Linen Shirts
Think summer and beaches, think linen shirts! These breathable shirts are perfect for warm weather. Pair a light, airy linen shirt over a white or light-coloured tee.
5. Plaid Shirts
Plaid shirts bring a vibrant burst of character to any outfit. They match well with plain, minimalistic t-shirts as the plaid pattern becomes a focal point.
6. Chambray Shirts
Chambray shirts offer the appearance of denim but are lighter and softer, making them excellent for layering. Wear a chambray shirt over a graphic t-shirt for a stylish contrast.
7. Leather Jackets
For a more edgy and bold look, a leather jacket over a t-shirt is ideal. It's a classic that never goes out of style. Choose from a range of colors such as classic black, brown, or even more bold shades like red.
| Shirt Type | Limited Conditions | Good Match |
| --- | --- | --- |
| Denim | Good at any time, may be heavy in extreme summer | Solid T-Shirts |
| Button-Down | Best in formal events or casual outings | Contrasting T-Shirts |
| Flannel | Ideal for cooler months | Graphic Tees |
| Linen | Perfect for hot weather and beach outings | Light-Coloured T-Shirts |
| Plaid | Works well in relaxed, informal gatherings | Plain T-Shirts |
| Chambray | Great for when you need lighter fabric | Graphic T-Shirts |
| Leather Jacket | Edge and boldness, best for evening or cooler weather | Any T-Shirt |
Each type of shirt brings its own charm to an outfit. The key is to contrast without clashing—calm tees pair well with busy shirts and vice versa. It's equally important to consider the occasion, the weather, and your comfort. Remember, personal style is about individuality and fun, so don't be afraid to experiment.
5 Ways to Dress Up a T-Shirt for Day Looks
Dressing up a T-shirt for daytime looks can be stylish and versatile. Here are five ways to achieve this:
Layer with a Blazer or Jacket:

Add a well-fitted blazer or jacket to instantly elevate your T-shirt.
Opt for neutral colors like navy or charcoal for a classic look, or experiment with bold colors or patterns for a more fashion-forward statement.
Combine with jeans or chinos for a smart casual ensemble.

Pair with Tailored Trousers:

Tuck your T-shirt into a pair of well-fitted tailored trousers.
Choose trousers in materials like wool or cotton for a polished appearance.
Accessorize with a belt and leather shoes to complete the look.

Knot or Tuck:

Create a stylish twist by knotting the front of your T-shirt at the waist.
Alternatively, tuck the T-shirt into high-waisted pants or a skirt.
This technique adds a touch of femininity and can highlight your waist.

Accessorize Thoughtfully:

Use accessories to enhance your T-shirt outfit. A statement necklace, scarf, or belt can make a significant difference.
Choose accessories that match the style and color palette of your T-shirt and outfit.

Footwear Matters:

Elevate your look with the right footwear. Swap sneakers for loafers, ankle boots, or dress shoes.
The choice of footwear can shift the overall feel of the outfit from casual to smart-casual or even semi-formal.
3 Ways to Dress Up a T-Shirt for Evening Looks
Transforming a T-shirt into an evening-appropriate look requires strategic styling. Here are three ways to dress up a T-shirt for evening events:
Add a Statement Skirt:

Choose a statement skirt in a luxurious fabric like silk, satin, or sequins.
Tuck your T-shirt into the skirt to create a polished silhouette.
Opt for a high-waisted skirt to accentuate your waist.
Accessorize with a chic belt to define your waist further.
Complete the look with high heels or stylish sandals for an elegant finish.

Layer with a Dressy Blazer or Cardigan:

Select a dressy blazer or cardigan in a rich fabric or a bold color.
Wear it over your T-shirt for a sophisticated layered look.
Pair with tailored trousers or sleek pants.
Choose accessories like statement earrings and a clutch purse to elevate the outfit.
Heeled pumps or ankle boots can add a touch of glamour.

Statement Jewelry and Glamorous Bottoms:

Opt for eye-catching, statement jewelry such as chandelier earrings, a chunky necklace, or bold cuffs.
Pair your T-shirt with glamorous bottoms like sequin pants, leather leggings, or a metallic skirt.
The contrast between the casual top and the dressy bottoms creates a stylish juxtaposition.
Complete the look with strappy heels or stiletto ankle boots.
Consider a sleek clutch bag to enhance the evening vibe.
When dressing up a T-shirt for evening looks, it's essential to focus on the details. Luxurious fabrics, statement pieces, and thoughtful accessories can make all the difference. Tailor your outfit to the specific occasion, whether it's a dinner date, cocktail party, or night out with friends, to ensure you look chic and sophisticated.
Are There Any Rules To Follow When Going For A Shirt?
When choosing a shirt, several guidelines can help you make a stylish and appropriate selection:
Fit: Ensure the shirt fits well. It should be neither too tight nor too loose, with sleeves reaching the base of your wrist.
Occasion: Consider the context. Formal occasions demand dress shirts, while casual events allow for more relaxed choices.
Color: Neutral colors like white, light blue, and gray are versatile and suitable for various occasions. Bold colors and patterns are more casual.
Collar Style: Pay attention to the collar. Spread collars are dressier, while button-down collars are casual.
Fabric: Choose a fabric based on season. Cotton is versatile, but linen suits summer and flannel is ideal for winter.
Patterns: Classic patterns like stripes and checks are timeless. Bold prints and graphics are more casual.
Tuck or Untuck: Dress shirts are typically tucked in, while casual shirts can be worn untucked. Check the shirt's hemline; if it's even, it's usually meant to be untucked.
Sleeve Length: Roll up sleeves for a more casual look, or opt for long sleeves for formal occasions.
Button Placement: More buttons signify a formal shirt, while fewer buttons make it casual.
Cuff Style: French cuffs are formal, while button cuffs are casual.
Layering: Consider how you plan to layer the shirt. A thicker shirt may not work well under a blazer.
Personal Style: Your personal style and comfort matter. Choose shirts that align with your preferences and personality.
Body Type: Shirts can accentuate body type. Vertical stripes can make you appear taller, while horizontal ones add width.
What Is A Shirt Under A T-Shirt Called?
A shirt under a t-shirt is called an undershirt. The purpose of wearing one is to protect the top layer from sweat and odor that can be caused by excessive movement throughout the day. They're also great for keeping your clothes fresh as they help absorb any perspiration or dirt before it gets onto your clothing, which can keep stains at bay. There are many different types of shirts available in stores like cotton tees, light thermal shirts, tank tops with built-in bras (for women), etc., so there's definitely something out there for everyone!
Can I Wear My Shirt Open Casually?
Yes, you can wear your shirt open casually. However, if the top button is undone and there are no visible stains or rips in the fabric then it could be a sign of sexual openness which may not be appropriate for some companies.
References:
https://www.readysleek.com/shirt-over-t-shirt/
https://www.bewakoof.com/blog/4-shirt-and-t-shirt-combination-for-men/