Last Updated on January 21, 2021 by
Ray-Bans sunglasses are made in Italy and China. The well-known sunglasses of Ray-Bans are Aviator and Wayfarer models. Ray-Bans is a classic American/Italian eyeglasses and sunglasses brand created by Bausch & Lomb, the American company, in 1936. Bausch & Lomb sold the Ray-Ban brand to Luxottica Group, an Italian eyewear conglomerate. The selling price was around $640 million.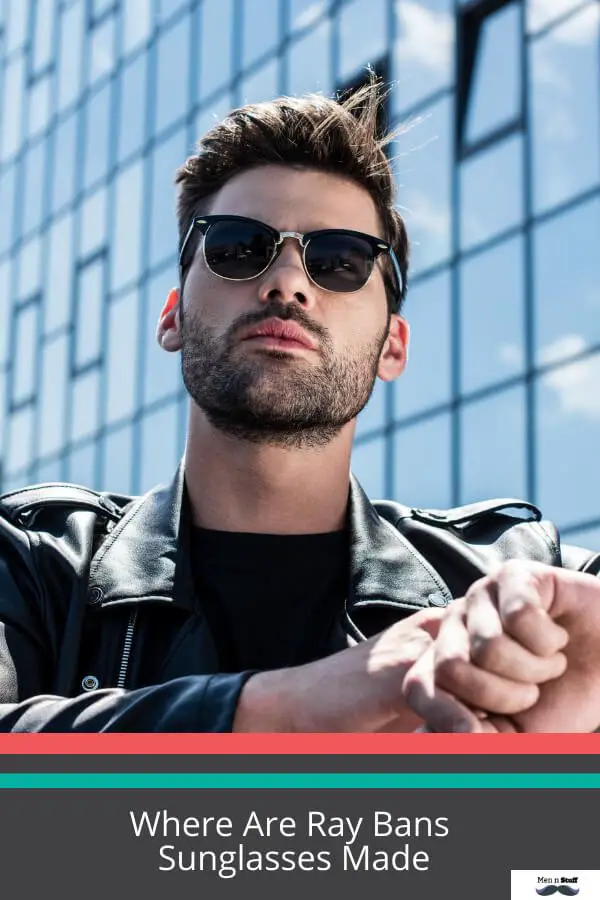 Origin Of Ray-Bans
In 1929, John A. Macready, the U.S. Army Air Corps General, worked with a medical equipment manufacturer, Rochester, Bausch & Lomb, to create sunglasses for pilots. The idea was to develop aviation glasses that would reduce the pilot's distraction due to the sky's white hues and intense blues. 
The prototype "Anti-glare" was created in 1936 with green lenses and plastic frames, which could exclude glare without concealing vision. In 1938, they added the impact-resistant lenses. The following year, they redesigned sunglasses with a metal frame, patenting as the Ray-Ban Aviator. 
In 1919, the Luxottica group acquired Bausch & Lomb's Global Eyewear Division along with Ray-Ban.
Ray-Bans Lines Of Sunglasses From 1950 To 1987
The well-known sunglasses of Ray-Bans are models of Aviator and Wayfarer. The Aviators sunglasses became popular after General Douglass MacArthur wore them during the Second World War. Here are some of the sunglasses models introduced by Ray-Ban from 1950 to 1987. 
| | | |
| --- | --- | --- |
| Sl. No. | Year Of Launch | Sunglasses Models. |
| 1 | 1950 | A  squarer framed Echelon also called Caravan. |
| 2 | 1965 | Olympian I and II. It gained popularity when Peter Fonda wore these sunglasses in his film Easy Rider in 1969. |
| 3 | 1980 | Ray-Ban added Clubmaster with a brown line frame to its model line. It became the third best selling style of sunglasses after Aviator and Wayfarer. |
| 4 | 1987 | The General was introduced similar to the original aviators. |
Top Three Sunglasses Of Ray-Ban
Aviator Sunglasses
Ray-Bans Aviator sunglasses were initially designed in 1937 for the Aviators in the U.S. It provides exceptional quality and iconic style with comfort and performance. You can discover all colors and types available online for men and women. If you want to choose your style, you can pick custom Aviator sunglasses. 
The metal frames of Aviator sunglasses are adjustable for fitting and are hypoallergenic, while its premium frames are available in alumium, denim, gold, leather, velvet, and wood. Its classic uniform color lenses are available in different colors. The gradient lenses are darker at the top, and its top down is tinted, and the evolve colorful lenses can change as per the light. 
Wayfarer Sunglasses
In sunglasses' history, the iconic Wayfarer sunglasses of Ray-Ban are one of the most recognizable styles. The Wayfarer selection of Ray-Ban comes with Original, Folding, and New Wayfarer. You can select the one through its variants of the gradient, polarized, wooden colors lenses, etc. You can search for your style and customize Wayfarer with a wide range of combinations.
Its frames are acetate made from renewable resources, high-quality plastics, titanium, liteforce, and carbon fibre. The nylon and propionate frames are performance sunwear and make it perfect for sports.
Clubmaster Sunglasses
The 50s inspire Clubmaster sunglasses of Ray-Ban. These sunglasses are timeless, vintage, and the right choice for your inner intellectual due to its sleek design. It includes the well-known Clubround frame shape. Both of them come with polarized and gradient lenses with customizable features.
Features Of Ray-Bans Timeless Sunglasses 
Ray-Ban is one of the classic sunglasses brands since 1930. It is well-known for its high-quality frames, making them stylish and trendy accessories for more than 80 years. 
There are many ways to judge the right sunglasses. Ray-ban being one of the top brands of sunglasses offers the best quality sunglasses in the market. Here are some of the features that make Ray-Bans, one of the best sunglasses brands in the market.     
Ray-Bans Sunglasses Are Functional
Being a fashion accessory, Ray-Bans made its sunglasses to give you style and protect your eyes. All lenses of Ray-Ban provide UV protection. The protection level varies according to the types of lenses.  
Types Of Lenses
Classic Lenses from Ray-Ban absorb around 80% of visible light and block most blue light. They provide natural vision without altering the colors you see.
Mirrored Lenses help reducing glare to give visual comfort while you are in water or snow. Colors look brighter and clear with these lenses.
Polarized Lenses enhance contrast, blocks over 90% of reflected light, and eliminate glare. Everything you see will look brighter and more apparent with these lenses.
Vintage-Style coloured and gradient lenses are from the legend collection of Ray-Ban.
Prescription Lenses is another unique feature of Ra-Ban sunglasses. You can select classic frames of Ray-Ban and customize them into prescription lenses as per your requirement. 
To make perfect sunglasses for you, Ray-Ban has equally quality frames, as are their lenses. You can check the size guide of Ray-Ban to get the ideal fit for the best performance and fashion.
Being Stylish And Iconic
Ray-Ban has a wide range of stylish selection of pairs. The top three classic pairs of Ray-Ban are the Aviator, Wayfarer, and the Clubmaster. The original Wayfarer is added in Ray-Ban in 1952 and is worn by many celebrities. Many brands tried to replicate these frame styles but no one could compare it to the authentic and original design as Ray-Ban.
High-Quality Frames And Lenses
Ray-Ban provides high-quality frames and lenses to its customers. Their sunglasses come with complete protection from harmful rays of the sun that allows you to be both safe in the sun and stylish. The frames provided by Ray-Bans are strong and durable, making them worth buying as they last for a more extended period.
Offers From Ray-Ban
Ray-Ban keeps on organizing events that makes it the perfect time for you to choose the right sunglasses. It gives discounts and many attractive offers during those events. For latest updates on Ray-Bans discounts and offers, you can visit their website and stay tuned to buy the right pair of sunglasses at the right time.
How to Spot The Authentic Ray-Ban Sunglasses?
Many brands are replicating Ray-Ban sunglasses. If you want to check the Ray-ban sunglasses' authenticity, here are some tips to check for it.
Tips To Check The Authenticity Of Ray-Ban Sunglasses 
Ray-ban sunglasses are made with a cut from a one-piece acetate, durable, and high-quality materials.
Ray-Ban sunglasses are made in Italy and China. Often people get confused when the origin of manufacturing pops up as china. However, the fact is that Ray-Ban's manufacturer Luxottica has its factories both in Italy and China with same quality standards.
All sunglasses and eyeglasses of Ray-Ban come with Iconic packaging. It has shiny and silver paper box with logo of Ray-Ban on it. Most of its cases are like real leather and have different cases for the models. Besides, it provides you with a cleaning cloth, including a Ray-Ban logo on it. There is a small booklet with every pair of Ray-Ban's sunglasses and eyeglasses about the guidelines and authenticity certificate.
Most of the Ray-Ban products have RB, the logo of Ray-Ban, over left lens of its eyewear, while the polarized versions are engraved with P. Its products also have high-quality stickers with a logo of Ra-Ban over them.
Ray-Ban eyewear comes with model number and size details over the inside left temple arm.  
All these tips will help you spot the authentic Ray-ban products. Check for your next sunglasses as Ray-Bans from its official online platform or the nearest store.
What Makes Ray-Ban The Popular Brand?
Ray-Ban, a brand of eyeglasses and sunglasses, is best known for its Aviator and Wayfarer sunglasses styles. From entrepreneurs to celebrities to men on the street, it has adorned everyone's eyes. It has carved a place successfully in millions of hearts with its iconic style of eyewear. They come with moren technology and the highest clarity of lenses. It has its benchmark and is 100% worth the price. 
Frequently Asked Questions
Q1. What Are The Unique Features Of Ray-Ban Sunglasses?
Ans: Ray-Ban sunglasses are durable, strong, and come with UV protection from harmful sun rays.
Q2. Are Ray-Ban Sunglasses Durable?
Ans: Ray-Ban sunglasses are durable because they are manufactured with a one-piece acetate using high-quality materials.
Q3. Which Is The Most Expensive Model Of Ray-Ban Sunglasses?
Ans: The most expensive sunglasses of Ray-Ban is the Aviator Solid Gold which costs around $32000.
Q4. Where Is The Ray-Ban Sunglasses Manufactured?
Ans: Ray-Bans sunglasses are manufactured in Italy and China by the Luxottica group.