Last Updated on January 25, 2022 by
Are you unable to determine the best gym between Anytime Fitness and Planet Fitness? The two are the most prominent and largest Gym chains in the USA. These two fitness entities provide the best services at reasonable prices, but they are not similar in terms of the atmosphere, equipment, and amenities.
In a nutshell, both gyms are excellent. However, which surpasses the other depends on individual taste and requirement. Your preference might settle for Anytime Fitness, but that does not necessarily mean that person B will agree with your decision.
Let's cut a long story short and drive the point home! Suppose you cannot decide between the two facilities, then this article is the answer to your worries. We have analyzed the two prominent gyms in-depth and highlighted their differences, advantages, and disadvantages. At the end of this page, you will make a sound decision regarding the gym that best suits your needs. Read on!
What Are The Differences Between Anytime Fitness And Planet Fitness?
Let's start by appreciating that the two chains of gyms are separate entities under separate management. On the other hand, we must accept that businesses are run differently; hence, regardless of offering the same services, Anytime Fitness gyms and Planet Fitness gyms have glaring differences. The outstanding difference is that while Anytime Fitness facilities are small, Planet fitness Facilities boasts larger facilities.
A Table Highlighting The Differences Between Anytime Fitness And Planet Fitness
| | | |
| --- | --- | --- |
| | Anytime Fitness | Planet Fitness |
| Cost | The membership fee varies from location to location. The average cost is $27-$30, and bi-weekly taxes. | The classic plan costs $10 a month and taxes, while the Black card plan goes for $22.99. |
| Contract Duration | Duration varies according to location. Some locations offer 12 and 24-month plans, while others offer monthly contracts. | Offers monthly plans, but the black card requires a 12-month commitment. |
| Equipment | Treadmills, Stationary bikes, rowers, bikes, elliptical, and rogue echo | Cardio and resistance machines. |
| Policies | Membership is transferable.No strict dress cord. You may terminate your membership by providing a 30-days notice.No dropping of weights is allowed. | No weight dropping.No working out on a crop top or sports bra and minimalist shorts. No membership transfer You are allowed to cancel membership subject to terms and conditions. |
| Group Training | Availability of group training sessions. | No group classes |
| Personal training | All personal trainers must be certified by an accredited institution | All personal trainers must have certification. |
| Amenities | Smoothie bars, Lockers, red light therapy, massage chairs, and tanning booths. | Has smoothie bars, lockers. Massage chairs, tanning booths, and red light therapy. |
| Gym Atmosphere | Welcoming environment. | Serene atmosphere |
| Operating Hours | Accessible any time. | Open 24/7 |
| Locations | Gyms are distributed in 4500 locations in Europe, North America, Oceania, and Asia. | Has presence in 2000 locations, mainly in the USA. |
Overview Of Anytime Fitness And Planet Fitness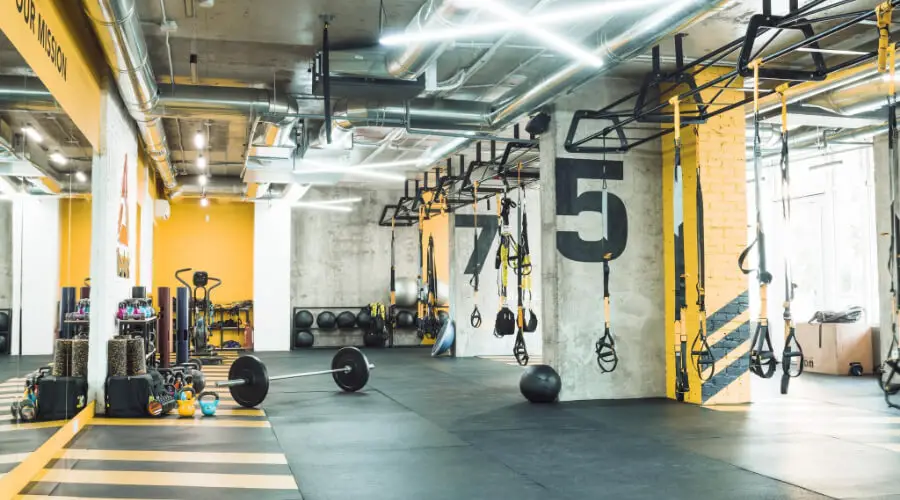 Enrolling for a gym membership is a strenuous process, bearing in mind that you have to pay the registration fee and meet a few other requirements. It isn't worth registering in a gym and realizing later that it doesn't meet your needs. Let's walk together so that you can get an in-depth understanding of these two chain gyms.
Anytime Fitness
Anytime Fitness facilities boast exceptional strength and cardio machines and are open to members 24/7, meaning you can access your favorite gym any time of the day. The facilities are small, but they offer free weights and other functional training equipment to meet the goals of all members.
Anytime Fitness clubs ensure members are motivated by organizing challenges and events that enable them to interact, hence fostering friendship among members. The interaction grows too strong communities knitted together for a common purpose, thus a robust support system. 
Pros Of Anytime Fitness Gyms
1. The clubs have certified personal trainers with a positive reputation.
2. The clubs have a welcoming and positive environment.
3. Gyms are open 24/7. Thus, you can access the facility at any time of the day.
4. If your membership is 30 days and above, you are free to use it in accessing any of their facilities globally.
5. The facilities are suitable for newbies and veteran gym-goers.
6. Anytime Fitness allows you to transfer membership.
7. You have an option to cancel your membership at any time.
Cons
1. Expensive membership fee.
2. You are prohibited from dropping weights.
Planet Fitness
Planet fitness is renowned for its budget-friendly gyms, primarily based in the USA. The gyms' primary aim is to offer a non-intimating environment that is judgmental-free.
According to their slogan, all are welcome to the gym. However, it is unfortunate that cross-fitters, Powerlifters, and bodybuilders have no place in the gyms as they don't have equipment befitting them.
It is important to note that Planet Fitness doesn't have barbells and heavy dumbbells. If you enjoy doing overhead presses, Planet Fitness isn't your gym. No overhead presses are allowed at the facilities.
Planet Fitness facilities don't have deadlift platforms and squat racks.
What's Prohibited At Planet Fitness?
Large water bottles, excessive noise, and chalk used are not entertained at Planet Fitness. If the facilities' employees deem your action to be intimidating to other members, they can ring the alarm for you.
If you are a weightlifting enthusiast, please stay away from Planet Fitness facilities. The gyms are ideal for treadmill fanatics, light dumbbell lifters, people not interested in strength training, and beginners.
Pros Of Planet Fitness Gyms
1. The facilities provide members with free Wi-Fi connectivity.
2. Black card members have the freedom to use their membership at any facility regardless of the location.
3. The gyms provide affordable and pocket-friendly membership plans.
4. Black card membership affords you discounts at Reebok.com
5. There are no hidden charges.
Cons
1. The facilities don't have squat racks, barbells, or deadlift platforms.
2. You are not allowed to carry large water bottles.
3. No chalks are allowed in the facilities.
4. The facilities allow light dumbbells with a maximum of 50lbs.
5. You are not allowed to transfer membership to another individual.
Choosing Between Anytime Fitness And Planet Fitness
So, which gym is better between Anytime Fitness and Planet Fitness? All these facilities are excellent. However, they don't offer the same services. Each facility is suitable depending on your fitness goal. If you prefer non-strength training or are a beginner, planet fitness is the gym that meets your ambitions.
However, if you are a gym veteran who craves powerlifting and bodybuilding, Anytime Fitness gyms are tailored for your needs. 
Frequently Asked Questions
How Much Should I Pay To Be A Member Of Planet Fitness Or Anytime Fitness?
To be a member of Anytime Fitness, you have to pay a fee ranging between $27-$30 and bi-weekly taxes. Joining for the first time requires paying dues worth two weeks and an initiation fee of $99 used for administrative purposes. Additionally, you are required to pay $25 for the key fob.
On the other hand, Planet Fitness comes with two membership plans; Classic and black card. The classic plan goes for $10 per month plus taxes, whereas a black card is worth $22.9 per month. Both memberships require that you pay a $39 annual fee.
The Takeaway
Gym clubs all over provide different services. While Anytime Fitness offers strength training, Planet fitness focuses on light training suitable for beginners and treadmill runners. Both facilities are fantastic, but your choice primarily depends on the kind of training you desire. If you have doubts about the best gym that meets your requirements, this page has analyzed them for you to make an informed choice.