Last Updated on August 20, 2023 by Reiner Chase
Camel toe in yoga pants can result from tight fits and low-quality fabrics. To avoid it, choose well-fitting pants with a gusseted crotch, moisture-wicking material, and proper sizing. 42% of women experienced camel toe in activewear, per a survey by OnePoll.
The Anatomy of a Camel Toe
A camel toe is a slang term for someone's genitals to become visible in tight clothing, typically yoga pants. The protrusion is created by underwear that is too small and tight around the crotch area.
This can create a bulge in the front, which many people find unflattering. It can also cause discomfort by squeezing genitals together, creating friction and chafing. While camel toes often occur because of clothes or exercise, they are not always intentional.
Medical professionals have warned against wearing anything too snug on the pelvic region. They argue that anything below the waist should be roomy enough that you could slide your hand between your skin and your garment.
The Causes of Camel Toe from Yoga Pants
A Camel toe from yoga pants is usually caused by loose fabric, which bunches up between the legs, or if you're wearing tight-fitting yoga pants with no underwear, your vaginal lips may show through.
It's not always just an issue of how tight your clothes are; it could also be because you have too much fat in the pelvic area. Fortunately for all of us who get camel toes, there are many ways to avoid this embarrassing and uncomfortable problem.
However, to understand how to avoid the camel toe situation, let's first explore its causes:
Thin Fabrics: The closer the fabric is to your body, the more likely you will experience camel toe. Always wear underwear underneath snug-fitting clothing such as leggings, lycra shorts, etc.
Going Commando (Lack of Underwear): When you don't wear pants under leggings or other thin fabrics, they can slide inside and create a plumber's crack instead of a camel toe.
Undersized Yoga Pants or Swimwear: Try on your yoga pants before purchasing them to ensure they fit comfortably. Ensure you buy a size up if the crotch is tight and leaves little room for movement. One way to prevent camel toe in leggings, tights, or underwear is by wearing two pairs of undies instead of one!
Low-Quality Stretchy Pants:  Try buying stretchy yoga pants made of high-quality materials such as Lululemon. They tend to stay put better than cheaper alternatives, but be careful when pulling them over your thighs.
How to Avoid Camel Toe from Yoga Pants
The camel toe is a real but avoidable problem for many women. The issue typically arises when wearing tight-fitting clothing, like leggings and yoga pants. There are a few methods to help prevent this unfortunate phenomenon from occurring.
One way is to wear underwear that sits below your hips or underwear with built-in shorts like boy shorts or briefs. Another option is to use an absorbent pad that you can insert inside your underwear and place between your thighs while wearing tight-fitting clothing.
Below are additional hacks to help you avoid the embarrassment of camel toe: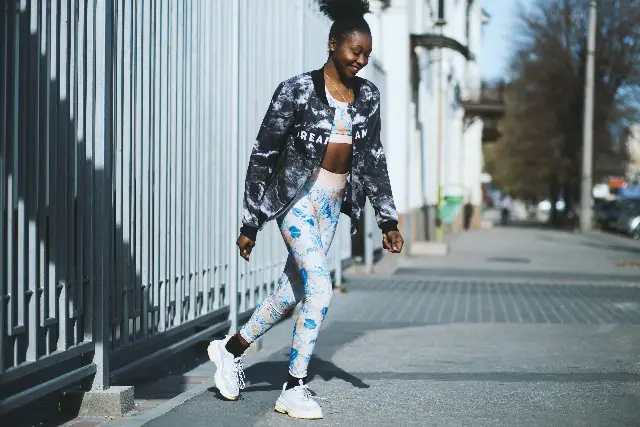 1. Wear Leggings with a Flat Front Panel
While this might be unpleasant and a little embarrassing, there are some things you can do to prevent camel toe from happening. When buying yoga pants or any other tight-fitting leggings, for that matter, purchase ones with a flat front panel.
This prevents the fabric from bunching up in between your legs. Moreover, it would help if you tucked your shirt to eliminate any chance of unwanted camel toe. A high waistline is also helpful when it comes to avoiding this problem.
2. Use a Camel Toe Guard or Concealer
Camel Toe Guards and Concealers are new products designed to help prevent this embarrassing situation. The guards slide into your panties to flatten your pubic bone, while concealers can be applied directly on the skin. They're made from natural latex, so they're body-safe and easy to remove when you want to go for a run or head to bed after a long day at work.
Camel toe guards can often be found in stores like Walgreens, Amazon, or Walmart, where they're sold as an undergarment accessory.
3. Use Camelflage
Camelflage is a new product that will keep your yoga pants from showing too much when you bend over. You can put a sticker on the front of your pants to cover up any unwanted camel toe. They're disposable, so you only have to buy them once.
 If you're tired of embarrassing moments caused by camel toe, it's time to try these stickers. They're cheap and straightforward, so why not buy a pack and see if they can help you feel more comfortable in your yoga pants? They could save you from future embarrassment.
4. Wear Camel Toe-Proof Underwear
It's time to put an end to camel toe, and don't think you are safe just because you are at home. Most people find that sometimes their yoga pants will ride up when just sitting around, and they walk around with a camel toe before knowing it!
Is this even possible!? It can be embarrassing enough when we see it in public, but now it is happening right at home in front of kids!
The ideal way to stop this madness is by wearing underwear or tight-fitting shorts underneath your yoga pants. This helps to eliminate any unnecessary bouncing while remaining comfortable. It also prevents you from dealing with that unsightly camel toe situation that can be difficult to hide.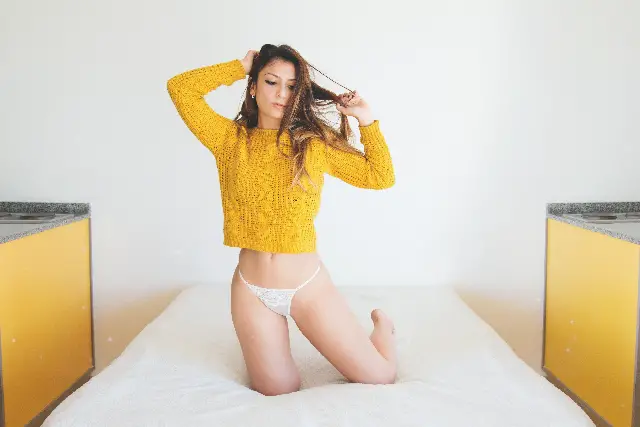 5. Wear Loose Pants
The first step is to ensure you're wearing loose pants. If you're not, then it's likely that your camel toe will become more pronounced. It's also important to wear a bottom with some stretch so that it doesn't dig into your crotch and cause discomfort.
Next, ensure you wear tight-fitting underwear or a leotard and thin tights. The clothing needs to be close enough to your skin that it won't show any lumps or bumps.
6. Wear Yoga Pants with a Gusset Crotch
Do you wear yoga pants with a gusset crotch to prevent camel toe? I hope so; if you don't, chances are that you've had camel toe from your yoga pants before, and it's not a pleasant experience. It's downright embarrassing.
Buy women's clothing with a gusset in the crotch area to ensure this doesn't happen again. If you're still unsure whether there is enough room for your lady parts in these clothes, look at them on Amazon and see how many people have given them high ratings for their comfort level and roominess!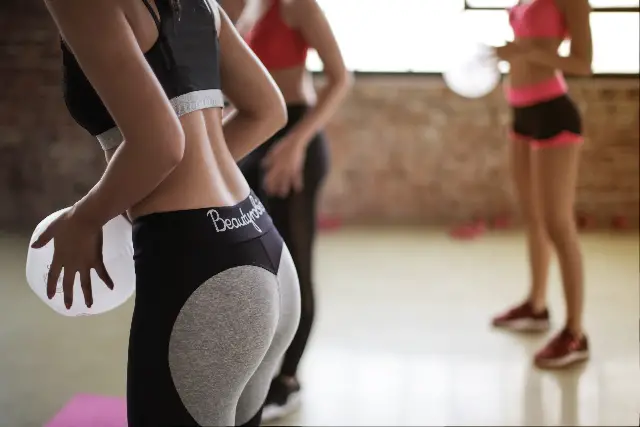 Frequently Asked Questions
Can Camel Toe from Yoga Pants Make a Woman Sexy?
One might ask, can a camel toe make a woman sexy? The answer to this question is no. A camel toe is not sexy. It's awkward and uncomfortable. It doesn't help that it often happens when you're in yoga pants, tight jeans, or on any other occasion with close-fitting pants.
Do you know what makes a woman sexy? – Her confidence and attitude! If you feel confident about your body and like yourself, people will see that too!
How to Avoid Camel Toeing in Leggings
Camel toe can be avoided in leggings by following these detailed steps:
Choose the Right Size: Opt for leggings that fit snugly without being too tight. Sizing up can prevent the excess fabric from gathering in the crotch area.
Look for a Gusseted Crotch: Leggings with a gusseted crotch have an extra piece of fabric sewn into the crotch area, reducing the chances of fabric bunching up.
Quality Fabric Matters: Select leggings made from high-quality, thicker materials that provide proper coverage and support. Avoid flimsy or thin fabrics that are more likely to bunch.
Seam Placement: Check the location of the seams. Leggings with front seams may increase the likelihood of camel toe. Opt for leggings with center seams or minimal stitching in the crotch area.
Avoid Super Tight Waistbands: Waistbands that are overly tight can contribute to camel toe. Opt for leggings with a comfortable and slightly looser waistband.
Opt for Moisture-Wicking Fabric: Moisture-wicking materials not only keep you dry during workouts but also reduce the risk of fabric clinging and bunching in the crotch area.
Try Different Styles: Experiment with different styles of leggings. High-waisted leggings may offer better coverage and reduce the chances of camel toe.
Wear Seamless Underwear: Choose seamless underwear or thongs to minimize the appearance of lines and prevent the fabric from getting bunched up.
Use Shapewear or Liners: Some women find using shapewear shorts or liners with leggings helps prevent camel toe by providing a smoother surface.
Check in the Dressing Room: Before purchasing, try on the leggings and do a quick bend and stretch test in the dressing room to ensure they stay in place and don't bunch up.
Regular Adjustments: While wearing leggings, make occasional adjustments by gently pulling down the fabric in the crotch area to avoid bunching.
Layer with Longer Tops: Wearing longer tops can provide extra coverage and reduce the visibility of any potential camel toe.
The Final Thoughts
The Camel toe from yoga pants is one of the most embarrassing things that can happen to a woman, and it can be brought on by wearing tight clothes like yoga pants. It's crucial to find underwear with sufficient coverage when wearing tight clothing, so you don't experience this pain in your life.
Look for briefs, boxer briefs, boy shorts, or granny panties if you wear tighter clothing often. These types of underwear will hold everything in place without any weird bunching around the legs or waist.
Nonetheless, if you experience camel toe from tight clothing, there are ways to deal with it too! Several products are available at stores such as Target, Wal-Mart, etc., but you could also use panty liners or bandaids until the problem disappears. The idea behind these items is to cover up the area where your camel toe has occurred and help keep everything in place while preventing uncomfortable friction.
Reference1: https://www.theyoganomads.com/prevent-camel-toe/
Reference 2: https://www.paragonfitwear.com/blogs/news/avoid-camel-toe-in-leggings